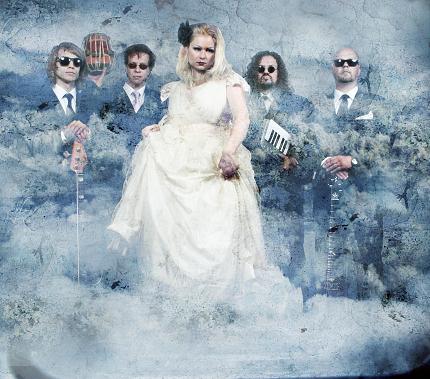 Contemporary Dead Finnish Music Ensemble is a musical community that was formed in 2000, consisting of seasoned musicians with a shared vision: To revive the art of creating and releasing sophisticated, progressive music of the kind that went underground and disappeared from the charts and music press in the 1980's and 90's.
Listening to their latest album Land Of Hope, I think they have succeeded. It is a very good album. 
I got in touch with them for their story so far. Antti Pesonen kindly answered my questions. 
----------------------------------
When and by whom was Contemporary Dead Finnish Music Ensemble formed and do you have any background from other bands ?
The Ensemble was formed by myself on the grounds of "Tekniikan ihmeet" (Technical Wonders) which was a grand one-off project. During one year we composed a 42 minutes long prog-epos called "Väylien hälyä" (Channel Noises), performing that and some other songs on one gig only and recording an concept album containing the musical work. Tekniikan ihmeet in it's own was formed on the basis of my long lived previous band "Paha kurki" (Evil Crane), in which we were already working together with Matti Jalava and Rami Talja (aka Qumma).
Whose bands were you influenced by ?
We have a long lists of influences, most notable the great original progressive groups like Yes, Genesis, UK, ELP, Pink Floyd and King Crimson but also jazz-rockers like Mahavishnu Orchestra, Return to Forever, Wigwam, Pekka Pohjola and the more basic rock bands Deep Purple, Jethro Tull, Talking Heads not to forget classical composers like Stravinsky, Prokofiev, Wagner, Sibelius, Webern, Berg, Lindberg…  
To start with; please give us your (long or brief) thoughts and lowdowns on....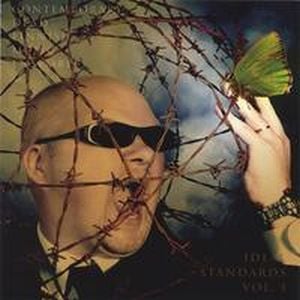 Ideal Standards Vol. 1 from 2004
IS Vol. 1 started out as a continuation for "Channel Noises" but when it became clear that the same line-up was not anymore possible, it turned to a documentation of my earlier compositions as well as some new material. From there it was clear that we needed a new band for this music. For a long time we had wanted to work with a female vocalist and I had written many of the songs for that purpose. In Katja Sirkiä we had found an excellent interpreter.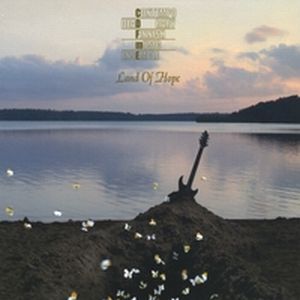 Land of Hope from 2009
With the ball rolling Land of Hope was to be the easy successor for Vol. 1, the Volume 2, a sister album if you like. However, as usual in life, things change and it took also about four years to make! On the way it became a little different in style - not so dark - and we didn't want to name it Vol.2 so it was named after one central song on the album.
It can be seen as three sections: tracks 1-3 (Returning, Stranger in my Hometown, Psycho Rollercoaster) are sorts of hard rockers, tracks 4-6 (The Orange Tip, Land of Hope, All I Need) more melodic and acoustic stuff and the rest (ThinKing Music pt. 1, Kharon (On the Ferry) is a feast for the real prog fans!
What is the latest update on your band and what is your plans for this year ?
We have been marketing Land of Hope, upgrading the website and hopefully start to rehearse for gigs. We have also made a version of "Grand Old World" to a upcoming Flower Kings tribute album.
How is the writing and creative processes in your band ?
I'm afraid the music writing lies pretty much in my hands now, he he. I get strong feedback from the other guys and sometimes good suggestions on which might work better but in the end I'm calling the shots. I think that it is a good thing because it gives listener more coherent vision from our already quite diverse material. I try not to repeat myself very much and think that in the world there is already SO MUCH good music that it is stupid to pollute it with some haphazard copies from other pieces.
In a way I'm constantly thinking music and when it's time to compose something - when a particular work is needed - I will produce it. Sometimes it takes longer sometimes it comes very rapidly. If I have a lot of free time in my hands, I start to compose just for the fun of it. Or I might be triggered to compose by finding interesting new sounds from my synthesizers or guitar pedals. Of course more complicated pieces with thematically advanced forms will take more time just because they are more laborious.
Sometimes I get an idea of the title or lyrics for the song but usually the lyrics are made by someone else. Either before or after the music has been done. I write if I have to but I like to express myself primely musically. That doesn't mean that we don't appreciate the lyrical point of a song, on the contrary. I respect writing so much that I let someone better than me to take care of that. On LOH most lyrics are written by Make Latvanen or Matti Jalava, both excellent writers.
How would you describe your music and which bands would you compare your music with ?
Vocal-oriented prog-influenced pop-rock combined with hard hitting intensive symphonic rock. Progressive without being pompous in a needless manner. One way to describe our music is trying to imagine a heavy battleship in space that is loaded with white lilies and red roses and in the place of the engines there are colossal flocks of hummingbirds. Heavy solid bottom, eclectic middle-ground and delicately powerful top makes CDFmE strong and personal sounding.
Our music has been compared to bands like Flower Kings, Ayreon, White Willow and Spock's Beard. Also, Kate Bush meets Pink Floyd meets King Crimson meets Martians… or something!
How has the reactions been so far to your albums and how easy/difficult do you find it to get any gigs ?
The reactions has been quite favorable! Both albums have had positive reviews e.g. in the leading finnish Prog-Magazine Colossus and other publications as well. One thing that has been mentioned often is the imaginative use of different elements and that the music evolves and keeps interest. Also the high level of musicianship is widely recognized.
Finding gigs really isn't easy in a small country like Finland. However, even finding time to rehearse a proper setlist is hard enough with a group of adult people who have small kids etc. Hopefully in the near future we can be seen performing live because that's the ultimate reward in playing music!
From where can your albums be purchased from ?
What is your five favourite albums of all time ?
In no particular order: Inner Mounting Flame by Mahavishnu Orchestra, Peter Gabriel III by Peter Gabriel, Close to the Edge by Yes, Abbey Road by The Beatles and Selling England by the Pound by Genesis.
Thank you to Antti for this interview.


Edited by toroddfuglesteg - July 31 2010 at 09:39