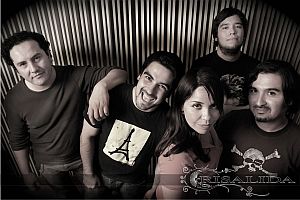 Crisalida from Chile is probably an unknown band to those of us living outside Chile. Which is a pity because both their albums is very good. Crisalida therefore deserves more recognition.
I got in touch with the band and Rodrigo answered my questions.
-----------------------------------------------------------------------
When was Crisalida formed and do you have any background from other bands ?  

The band was formed in the year 1997, basically by the interest of Rodrigo and Cinthia in developing a more progressive and experimentally side; the idea was initially to join together to doing covers of our favorite bands and to start knowing each other as musicians; in a couple of weeks we decide to do music our own music, beginning with a lot of improvisation that it ended up into really cool song for us.
Rodrigo Sanchez our drummer comes from a very well know chilean band called Total Mosh. The style was Thrash Industrial, with whom he had the honor of opening the show for PANTERA in Chile. Besides him Rodrigo Castro was part of the progressive metal band Coprófago while all the other members had their own career as soloists.
Whose bands were you influenced by ?
As musicians we're always searching of new musical horizons, but I believe that are main influences are very marked by bands as: Pink Floyd, Porcupine Tree, Anathema, Los Jaivas (Chile), Rush, among others.
To start with; please give me your (long or brief) thoughts and lowdowns on.........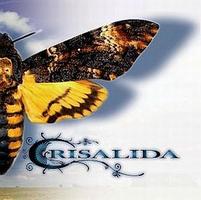 Crisálida (Homónimo) from 2006
Chrysalis (2006) was ours first LP. My impression is that it is an album of progressive metal with very powerful topics and intelligent lyrics, modern sound and powerful vocal lines.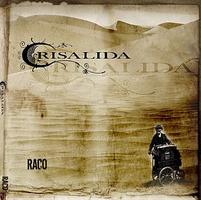 Raco from 2009
On the other hand, Raco (2009) shows a more mature moment of our career. We tried to demonstrate something really musically, that could remind us a more Art Rock, Ambient and Folk sounding, with a full range of dynamics. When Raco went ou, we decided to make a slightly ambitious change in our live shows introducing live visuals that let us create a complete new atmospheres and a special environment during every live performance. This album and the whole show gave to us the possibility of having performed in some really big festivals here in Chile, and to play as the opening acts for the shows of Deep Purple, The Gathering 2007 and 2010.
How is the writing and creative processes in your band ?
The process happens for several stages, but the most important for us is to develop a concept, the wind for example, and let the improvisation occur, so everyone could take part of it ; the when the idea makes sense for us we begin to add little by little our parts until the song this finished.
How would you describe your music and which bands would you compare your music with ?
We could define Chrysalis as an Art Rock band. In terms of musical comparisons Chrysalis has things of Porcupine tree, Anathema, The Jaivas (Chile), Rush in sort of speak. We always want to that our music sounds as journey and hopefully, that every person who could see us live could join us in it.
How easy/difficult do you find it to promote your albums and to get gigs ?
I think that Chrysalis is enjoying a crop of good shows, but it has not been easy; here they are only a few producers that have a genuine interest in doing shows for the progressive scenes... but besides that, Raco has given us some huge satisfactions since we have not stopped playing since we launched. Today, we think that for nobody it's easy to do all stuff related to promote an album. Fortunately we have an awesome crew of people that without them we hardly ever make it this far.
What is your plans for the rest of this year and next year ?
We finished doing our last shows of the tour and we recently started to make our new album. That we've planned to release near the end of this year.
What is your five favourite albums from Chile (of all time) ?
One of them is "Alturas de Machu Pichu" from Los Jaivas, wich is a latinamerican masterpiece, they are really exceptional; Quilapayún with the Cantata de Santa María (a genuine masterpiece of the Chilean folklore; and Fulano's "Trabajos inútiles".
Anything you want to add to this interview ?
Thank you to Luis and Crisalida.

There are more Crisalida listening samples


Edited by toroddfuglesteg - August 06 2010 at 10:28