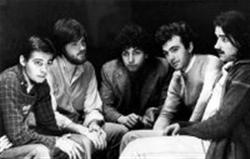 Picchio Dal Pozzo does not really need an introduction. Their debut album is one of the greatest albums in the progressive rock genre. It is a truly incredible album and a must have for any music lovers.
Although Picchio Dal Pozzo are an Italian band, they are widely accepted as being a Canterbury scene band. A position their other releases cemented.  Their music has been described as romantically melodic overtones, swiftly implemented time signatures and jazzy interplay in concert with the proverbial peaks, valleys, knotty twists and circuitous turns. I just call their music great.

It is therefore with great pleasure I bring you this exclusive interview with Paolo Griguolo from Picchio Dal Pozzo.
--------------------------------------------------------
What is Picchio Dal Pozzo up to these days ?
"Well, we could say we're slowly wakin' up after a long sleep. The very restart was in 2002, when we met again (Aldo De Scalzi, Aldo Di Marco, Claudio Lugo and me:the 'survivors') and recorded
[email protected] valdapozzo
. After this recording session, we had few gigs as a quartet, playing only material out of this album. The feeling was great, so we dedided, in 2008, to take the chance offered by Yugen, a prog band from Milan, and set up the official come-back of PdP. The live CD of this concert will be published and available in few months, the title is
a_live
. Now we're rehearsing with a new line-up and will be ready for the beginning of this summer: Aldo De Scalzi (voice, keybds, wx7 and alto-sax), Aldo Di Marco (drums), Paolo Griguolo (guitars, flute), Dado Sezzi (percussions), Edmondo Romano (soprano-sax, flutes, bagpipes), Massimo Trigona (bass), Luca Cresta (keybds).
Picchio Dal Pozzo was born in Italy in 1973. Who started the band, which bands influenced you and why did you choose Picchio Dal Pozzo as your band-name ?
"Aldo De Scalzi, Andrea Beccari, Giorgio Karaghiosoff and me met at ground school when we were 6 years old, we were schoolmates. We used to play in the small school-band, that means only classic music, Telemann, Corelli, Bach, Mozart a.s.o. We had a good musical education and we started play together on our own when we were about 12, so around 1969. We listened to every kind of music, classic, jazz, rock, country, pop. Our favourite was and is Frank Zappa. An other musician that had a great influence in PdP's music is Robert Wyatt. Picchio dal Pozzo is the character of a nonsense-poetry written by G. Karaghiosoff in form of collàge. The lyric is recited by Cristina Pomarici, our first live sound-engineer, in the first album Picchio dal Pozzo. There's no main reason for this choice, the production needed a name for the band and we were not so much ready for the question 'what's your name'"
How was your formative years and how did you get your first record deal ?
"A. De Scalzi's brother, Vittorio, played with one of the most famous italian bands, New Trolls. In the early '70s he set up a recording studio with his father, so we had the chance, first, to look at the 'adults' playing and recording music, after a while, to start working in the studio as apprentices. After few years they founded a label, GROG, and we were one of the bands that got a record deal purpose."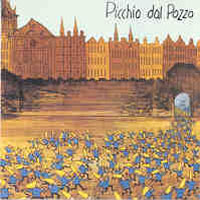 Your first album Picchio Dal Pozzo from 1976 is rightly regarded as a prog rock classic and the artwork (front cover) is iconic.
Please give us a presentation of this album which has inspired so many people. The music, the recording, lyrics, the musicians, the artwork, the tracks.........
" We had no ready tracks at the beginning of our first 'adventure'; only workpieces to develope and put together, it has been like a big jigsaw puzzle. Fortunately GROG gave us more than a month time, so we could not only put the tracks together but also experiment new take techniques, exspecially mics placements, sound filtering and editing. In these years you had to reverse the tape indeed if you wanted for example a reversed reverb. This was a crazy job in the job, but very amusing.
All the lyrics of the album are related to our love for 'intelligent nonsense', tongue twisters a.s.o.. The only one a little more descriptive is 'l'upupa' introducing the second part of Napier.
The choice of the artwork for the cover has been very 'casual'. We were sitting in the office speaking to Renata, the label secretary. Behind her, hanging at the wall, there was a calendar designed by Heinrich Ellermann, a german designer for children artwork. We found it lovely and very in tune with us. We asked him the license for using it, he said 'yes'.
There were mainly two reasons for having 'external' musicians in our album: the first, we had no drummer, the second , we loved collaborations and exchanges. In Genoa we were considered crazy people and Picchio dal Pozzo a crazy band. Therefore a lot of friends, and among them a lot of musicians, came to vist us in studio to see what we were setting up. It has been a pleasure, to involve them actively in our project.
Arriving at the end of our work, we decided to dedicate the album to Robert Wyatt in a 'sheltered and italianized' way: dedicated to Roberto Viatti.
Please tell us more about this artwork which I, and I guess many others, would be happy to have framed on my wall.
"There's not much more to tell. The guy looking through the portal is Mauro Fiore, Giorgio Karaghiosoff's cousin, who created the pictures patchwork inside the album. I repeat myself, the choise of this artwok for the album cover happened by chance, a kind of 'last minute'. Evidently it has been a good chance.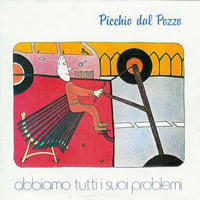 Please give us a presentation of your second album Abbiamo Tutti I Suoi Problemi from 1980. The music, the recording, lyrics, the musicians, the artwork, the tracks.........
" This album signs clearly the end of the 70's. A radical change happened from the early 80's till now, in music and, generally, in social and political attitude. The realization has been a very hard work. We were looking for new methods of composing and this took a lot of time for experimenting and rehearsing. We spent 10-12 hours daily on the instruments looking for new directions and this for months. The very example is 'Strativari'; for this composition we decided to choose the notes, the hight, the length and the instrument they were to be played with really by chance, drawing lots. There are mainly two kinds of tracks: very short and based on the syllabication of the lyrics, long with no lyrics based on composing experimentation.
The musicians: Aldo Di Marco (drums), Andrea Beccari (bass), Aldo De Scalzi (keyb, alto sax, guit, vocals), Paolo Griguolo (guitars, violin), Roberto Romani (tenor sax), Claudio Lugo (alto sax). This has been the official band line up from 1976 till 1981. Giorgio Karaghiosoff, one of the 'magic four' founders of the band, left in 1976. The artwork for the cover is a painting by R.Romani, the title is 'Mister Fagiolo' (Mister Bean). The lyrics by A. Di Marco.
There was a 21 years long gap between your second album and the third album Camere Zimmer Rooms. What happened during this long time ?
" In fact, Camere Zimmer Rooms has been recorded in 1977 and never released till 2001. At the end of 1981 we realised that Picchio dal Pozzo was 'out of the times and lines', no concerts anymore, no music schools, nothing. We were 24 years old more or less and everybody had to choose his way. Most of us stopped with musical activity at all, Aldo De Scalzi, Claudio Lugo and me continued profesionally following different directions, Aldo Di Marco stayed in between, let's say a sort of part-timer.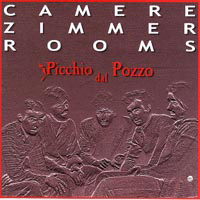 Please give us a presentation of Camere Zimmer Rooms from 2001. The music, the recording, lyrics, the musicians, the artwork, the tracks.........
" Camere Zimmer Rooms' comes out of a test. We had just bought a new P.A. System. So we decided to make a sort of sound check for the gigs. We set up the equipment in the recording studio and tested the P.A. playing some titles we used to play live and recording on a 16 track at the same time. After a while the studio needed the tape for other jobs and we had to mix down the 'test'. I rescued the tape from several removals and kept it in a drawer for years. In 2000 i got contacted by a guy for an interview and i told him about this unreleased record. After few weeks Steve Feigenbaum of Cuneiform Records called me on the phone saying he was interested in publising this unreleased work; this is the way it happened. The lyrics of 'Il Presidente' (The President) are an ironic newspaper article about a famous impeachment of G.Leone, italian president in 1977.'La Città' (The Town) is based on a graffiti drawn on a wall we found in Turin. The rest of the lyrics are written by me. I'd say that this album belongs to the most active period of Picchio dal Pozzo.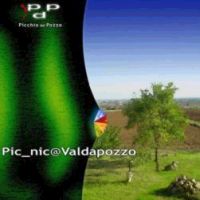 You returned again in 2004 with [email protected] which was a collection of new and old material incorporating pieces of music from the sadly deceased Area
frontman Dimitrio Stratos. Please tell us more about this album.
" After the publishing of Camere Zimmer Rooms an other event, by chance, convinced us, the time of a reunion had arrived. Aldo De Scalzi called me, he had found in the old recording studio the tape we recorded for Demetrio Stratos during one of his solo exibitions. Demetrio has been a very important figure for Picchio dal Pozzo and perhaps the most famous fan of us. The tape was really
in bad conditions (we unrolled it completely on the floor and cleaned it up with alcohol!) but at the end we succeded in digitalise it. At this point, we decided to spend a week on a farm called Valdapozzo, a kind of full-immersion, and to carry out an album dedicated to Demetrio. We used the material as 'sound' not as 'voice'. The music is completley new and composed during this amazing week excepted 'Pugni Chiusi', a song that Demetrio sang at the beginning of his career with a band called 'I Ribelli'.
What is the current label situation and the situation regarding availability and distribution of your albums ? What is your experiences with the music/record industry ?
" We tried to find out the situation too, you can find the result of our researches on our web-site (www.picchiodalpozzo.com), clicking 'Buy CD'.
Mostly, we're not very enthusiastic about the official music industry, there are on the opposite some indie labels that produce huge efforts and a good job. The web is changing deeply the situation in a positive direction, in my opinion . There's still a big lack regarding live music, concerts, gigs that, from our point of view, are foundamental for bands like us.
Your band has been categorised as a Canterbury scene band and I personally agree with this although I also feel Rock In Opposition and Jazz is also good descriptions on your music.
But I guess you also have your own opinions. So how would you describe your music ?
"As you use the term 'categorised', our answer is 'we hate categories'. We all have had a 360° musical education and of course a lot of influences like everybody, but we never had the intent to belong to a category or a style, we never followed a trend or a fashion. Categorising is often the sign of fear of freedom, the need of having everything labeled. So, I'd say that Picchio dal Pozzo's music is 'music all round' composed and developed by common work. Everybody is free to find the right place for Picchio dal Pozzo on his shelf.
The Canterbury scene is probably the only music scene in the world with no geographic relevance to the place it has been named after. What is your view on this scene and which Canterbury scene bands do you like ?
" Yes, I agree, no geographic relevance and perhaps no relevance at all, there's not even Chaucer involved! I think that the main merit of the 'canterbury' musicians has been hybridization, the stepping out of styles, rules and labels. This has produced, even if sometimes unawares, a political and social message. Technically, what I like most, is the development of vocal lines.
My favourite bands are Hatfield and the North, Henry Cow, Gong and Matching Mole.
Picchio Dal Pozzo has been around since 1973. How would you compare the music scene back then with today's music scene ?
"We're speaking here about a 40 years gap and of course a lot of things have changed. I'd say that one of the most important factors of this (r?)(de?)evolution has been technology. Nowadays everyone has the possibility to have in his livingroom a professional recording studio with recording softwares, wonderful instruments samples, powerful postproduction means; in other words, everybody has the chance today, to express himself at a quite high professional level and this is the positive side; on the other hand, we are overfloated by a massive amount of music, often produced with any kind of know-how, knowledge and taste. Lately i rarely listened to something interesting or at least 'new'. Speaking about prog, it has become a sort of antique trade with almost no evolution. When you try to go a bit foreward, you automatically are considered out of prog; so we could say that prog is a kind of vintage movement. All this of course decided and ruled by music critics.
There is some links from the Picchio Dal Pozzo homepage to the band members side projects. Please tell us more about these projects.
" Well, the best thing for everybody is of course to have a look at the sites personally. Briefly:
Aldo De Scalzi is a quite famous 'soundtracker' in Italy with his friend and associated Pivio

Aldo Di Marco 'swings' between architecture, graphics and music

Claudio Lugo teaches Saxophone and Composition at the Conservatory of Alessandria, very involved in musical improvisation performances

Paolo Griguolo acts as sessionman mainly in the Caribbean, works actually on a project based on environment sounds and is Managing Director of Events International Ltd. (www.events-international.com)
Please tell us more about the gigs and festivals you have played.
" Our live activity has been mostly from 1977 to 1981. In fact we didn't play so many gigs; the problem has always been the RIO slogan: the rock shows the record companies don't want you to hear. We had our own P.A system and, for a period, a van too; more a nightmare than a van. We often played for audiences expecting some 'dancy' stuff for the evening, the memory of staring eyeballs and dropped jaws is still vivid . Going back to your question about music categories, we used to say " we play acrobatic rock ", that's a good definition of Picchio dal Pozzo's music.
What is Picchio Dal Pozzo future plans ?
" As saied, we're slowly starting a Picchio dal Pozzo project again. We're now ready and available for concerts, have met good musicians we're comfortable with and mainly nice guys. This is our near future. The long term plans dipend obviously on how Picchio dal Pozzo's new activity will run in the next future. The new line-up works well and slowly new wishes appear behind the horizon, we'll see.
Please name your five favourite albums
" Of course this is my personal choice:
Ruth is Stranger Than Richard (R.Wyatt),
Life In New York (F.Zappa),
Freedom Now Suite (A.Ayler),
The Magic of Satie (Jean-Yves Thibaudet),
The White Album (Beatles)
A big thank to Paolo for this interview.
A big thank you to Picchio Dal Pozzo for their music. 
Their bio is here and their homepage is here