This band from Germany is almost unknown. Yet, their debut album is very sought after on Ebay and other places where it change owners for small fortunes. 
Carol of Harvest plays a dreamy blend of Progressive Rock and Folk with female vocals that might be compared with Mellow Candle and early Clannad mixed with Jane, Pentangle and Renaissance.  
Carol Of Harvest released a new album last year where they picked up the baton from their debut album. I got in touch with the band through Axel and here is their story.
When and by who was Carol Of Harvest formed and do you have any background from other bands ?
No I have no background from other bands. I did play the guitar and I had and still have a lot of songs that I wanted to play with a band.
In 1975 I met Robert Högn(drums – he was in the same school as I), Heinz Reinschlüssel (bass – he was living with me in a flat together with my brother and my girlfriend Rita), Jürgen Kolb (keyboards) and Beate Krause (vocals).
Why did you choose that name ?
I had a book with poetry from Walt Whitman called leaves of grass. One poetry was named "a carol of harvest". I liked it very much :
A song of the good green grass!
A song no more of the city streets;
A song of farms--a song of the soil of fields.
So I deceided to call our band carol of harvest.
(Another reason was, that we smoked a lot of selvegrown grass at that time – carol of harvest – for our first gig we had a poster with a wonderful plant of marihuana – carol of harvest was the right name.
To start with; please give me your (long or brief) thoughts and lowdowns on.........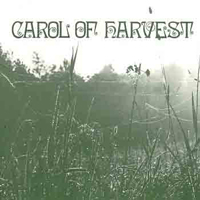 Carol of Harvest from 1978
The songs on the first record were my soul, my life, my thinkings, my feelings – at that time. Youth always should fight against establishment, against injustice.
I am thankful that our first record was and still is rather successful. My last record I sold for
€ 960 
All the time people ask me for a new edition of the first record.
So it was a good time 30 years ago, but now we have 2010 and people and things must change.
It was time to create something new !!!!!!!!!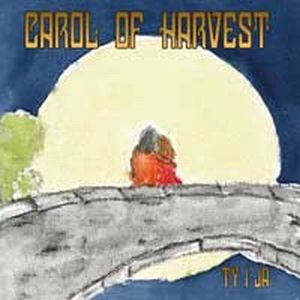 Ty I Ja from 2009
The songs from the CD Ty i Ja have been waiting for a long time on the harddisk of my Mac.
It was planed that I sing the vocals on the record but life had its own plans.
  I met Ewa Grams a singer from Poland and I decided to let her sing in her mother language.
  The lyrics - we translated from English into Polish. Some lyrics are written by Ewa Grams on her own.
  The only songs I sing are "in between and "lucky" together with Ewa and I think this was the best solution, cause Ewa has a wonderful voice and I never was a singer.
The songs on Ty i Ja have a larger spectrum as on the first record.
  There are songs with a melancholic character, rock-songs, jazzy songs and also prog-rock songs.
I like the CD very much and specially the singing of Ewa and the guitar solos of Stanley.
The lyrics are about love, hope, friends, spiritual development and joy. They are very personal and express the way we are.
Some how it was magical but in the end everything we needed to publish the new Cd came to us.
A friend of mine (John Silver) did a very good job and mixed the songs in his studio. A good friend of him played wonderful guitar solos on some tracks and now the CD is out and we even received an award from Radio Indy in America.
What was the lyrical topics on your two albums ?
I think on the first record it was "put on your nightcap" denouncing the bourgeois in the world.
On "Ty i Ja" We love the title song with the same name very much – its a a pure lovesong – very private.
But my favourite is "Dzis raz i na zawsze". Here is a translation:
"Today and forever"
Everyday you watch these innumerable, sleepless faces
These lost souls
Walking around without any aim
They lost sense out of their eyes
Give them your hand
Show them, that their dreams are still alife
Lead them to the place
Where they could remember
How it felt to be stroken by the wind
Gazing at the sun
Beleaving, that there will come better days
There, they could expierience
What is worth in life
Find their lost souls again
And realize how to live wihout any lies
They could rise against the sky
Looking for truth
They could arise their hands
Calling:"Here we are – so we are"
And in the end they will fly like free birds
Rise up to the sky – to live
They will forgive people their wounds
Today and forever
Today and forever
To live without suspicion and without lies
To live without suspicion and without lies
Music: Axel Schmierer
Words: Ewa Grams
Ewa´s favourite is "nagi".
"Nude"
In the mirror – thousand faces
You are an actor
Let them fall down – only for one moment
You are still in love with your masks
But the show is already over
Just put off your acting cloths
You just want to feel truth – not your falschoods
Totally nude – you shout out
Yes – that`s me
For the first time
You see yourselve in the mirror
You are laughing into a face – without lies
In the mirror – thousand faces
You are an actor
Let them fall down – only for one moment
You are still in love with your masks
The show is already over
Totally nude – you shout out
Yes – that`s m
Music: Axel Schmierer
Words: Ewa Grams
There is more than a thirty years gap between those two albums. Please tell us more about this long gap and what you were up to in that period.
After the time of carol of harvest was over in 1980, we all followed different ways in our lives.
I became father of three children etc.......
  I began to study social-work and became a Non-medical practitioner.  
I never stopped making music and so our new Cd Ty i Ja came out in February 2009.
How is the writing and creative processes in your band ?
This is very easy to say: I sit down, play my guitar and the ideas come to me from somewhere I dont know. This is great. There are times when I dont make musik for several days, but than I have to play again – I notice that something is missing in my life.
I can express my feelings and thoughts with my music and this is very helpful for me.
When there is a riff or chords I like, I record it with logic on my G5 (Apple) and this is the beginning of the creativ process.
Ewa´s writing depends on what she experiences in her life . So there is a lot of stuff .
How would you describe your music and which bands would you compare your music with ?
  I think that our music is somehow "multicultural" - there are a lot of influences, like jazz, rock, folk, songwriter or prog-rock. It is not so easy for me to compare it with other bands, but I think this is not so important.
What is your latest update and what is your plans for this and next year ?
We are planing to bring out a new CD in 2011. I have musical and lyrical stuff for 50 records, cause I never stopped making music – music is my best friend and it is a wonderful way for me to express myselve – may be the best.
Also we want to make some akoustic gigs here around our hometown.
My dream is to play "Ty i Ja" live with a symphonic orchester – but I know this must not remain a dream – I can realize them.
What is your five favourite albums and which bands has influenced you most ?
Camel – I can see your house from here (with Phil Collins on the phantastic song "ice")
Camel – Nude (with phantastic Mel Colins)
Pink Floyd – The darkside of the moon
Clannad – Best of
Carol of harvest – Ty i Ja
Mostly I am influenced by the band camel. Other bands I like very much are the early Genesis, Yes, Gentle Giant, Clannad, Pink Floyd.
A big thank you to Axel for this interview

Carol Of Harvest is a new discovery for me, but that is what ProgArchives is all about; new discoveries and mind-blowing music.