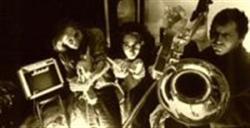 Shub-Niggurath is a legendary Zeuhl band from France. They have been compared to Magma a lot. But it is unfair to brand them as just a Magma copycat band. There is far more to Shub-Niggurath than that. Their music was original and very sophisticated. Their debut album a classic album and an essential album for Zeuhl fans. 
The band broke up twenty years ago and their members are not easy to get hold of. I managed to get hold of Franck Fromy through Soleil Zeuhl and he answered the questions I asked him about his time in Shub-Niggurath. 
################################
Please tell us more about your background. Who was your musical inspirations ?
Before we start this interview, I would like to thank you for your interest into all these musics that more or less failed to exist in their time, when created, but that still live 30 years later - thanks to people like you.
As I will speak alone for the SHUB NIGGURATH band, you will only get my own view. It's a bit restrictive but that's so. As I left the band in April 1987 I cannot answer any question about the later area of Shub Niggurath.
At the time, my fav' band was GENTLE GIANT – a major musical encounter. Also King Crimson, Yes, Genesis, PFM, Gong...
Afterwards came Magma, Weidorje, Art Zoyd, Univers Zéro, Présent...
There is two different spellings of your band. Shub Niggurath and Shub-Niggurath. Who is the correct spelling ?
No importance at all.
When did you start up Shub Niggurath and with whom ?
I don't remember clearly but I think the band got together in October 1982 after 2 bands merged into 1 : APSARA & GORGONUS (Véronique, Jean-Luc & Alain from Gorgonus ; Ann & me from Apsara).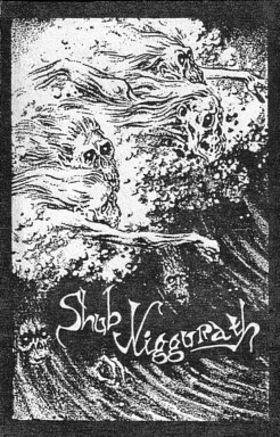 Please tell us more about the first demo from 1985.
We used that demo for promoting the band & it helped much indeed as we played a few dozens concerts. It's been recorded "at home" with an 8 tracks recorder, one musician after the other. An interesting work that helped the creation process & made our musical skills grow.
I remember the mix has been difficult because everyone needed to be OK with it – if not, we had to start again. The production itself was a DIY affair (basic photocopies for the cover etc.).
How did you get your first record deal ?
We self-produced the tape, no label.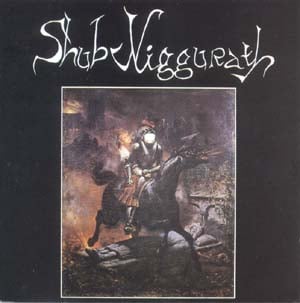 Your debut album Les Morts Vont Vite from 1986 is a very scary dark album, best enjoyed when hiding behind a sofa. Please tell us more about this album.
This album is clearly romantic-influenced. No intention of scaring people : our sole aim was to allow a glimpse into our minds that we wanted to be magnificently deep, gruesomely deep sea 
We wanted to create the dizziness of a timeless dimension. The abyss is often dark, are you afraid of darkness ? 
We had a problem with the drums as our drummers changed too often. We couldn't choose among them & the compositions were difficult (at times too free-form, at other moments too written…).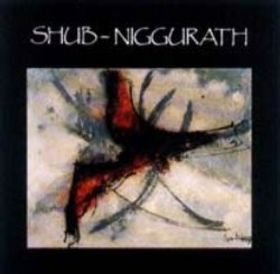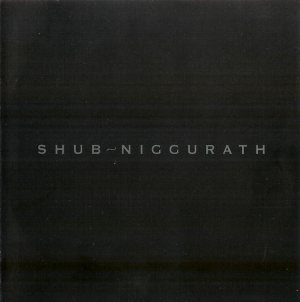 I left the band in 1987, after parting with Ann. I left with a stomach ulcer but the music has since been one of my best love partners.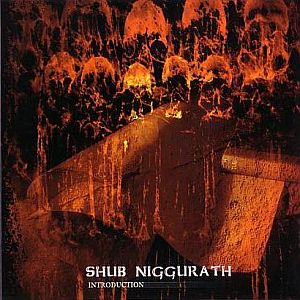 Your new album is called Introduction and is a re-release on CD of a tape unleashed in the 1980s. Please tell us more about this album.
A team of passionate people has saved this tape from oblivion, I didn't even remember its existence until Alain Lebon sent me the pictures of the original cover.
The mastering work with Udi Koomran was captivating – trying to restore the original sound. I take this opportunity for thanking all these passionate guys, without whom many music & musicians would be forgotten. So, thank you to Udi Koomran, Alain Lebon, Eric Lumbleau, Leor Hardy, Roberto Cavallera, Thierry Moreau & Phil Kime.
Music wise, I would describe Shub Niggurath as a very French avant-garde band, somewhere between Zeuhl and Rio. But how would you describe your band ?
At the start we wanted to play progressive rock but very quickly we shifted towards MAGMA, UNIVERS ZERO, ART ZOYD, PRESENT.
Although not enough electric for me, but there were also influences from Olivier MESSAIAN, Edgard VARESE, Igor STRAVINSKY, Carl ORFF…
We could have done something serious with such a "romantic drama" rock band!
During the years from 1983 to this day, your band has had periods of hibernation and some sporadic local gigs in the Paris area. When was your band in hibernation and when was it active ?
While I was in the band we worked a lot : 2 rehearsals sessions of 3-4 hours each per week. Sometimes more. This, during the 4 years I was involved. Afterwards, I don't know.
Is there any gigs and/or festivals you remember with great fondness ?
Nothing special….
What is the status of Shub Niggurath today ?
The band does not exist since nearly 20 years !!
You and Shub Niggurath unfortunately suffered a tragedy when your bassist Allan Ballaud died of cancer. Please tell us more about your memories of him.
Alain was a friend and he still is. Nowadays I still refer to him. He was a generous bass player with a majestic sound. Even after I had left the band we continued playing together. Our projects alas stopped because of his death.  
Do you, as Edith Piaff once wrote, have no regrets or is there anything in Shub Niggurath you wish you could had done differently ?
I have NO regrets at all, it was a wonderful experience, very positive. I learned a lot, I shared great moments with good & interesting people. Some music remains of this period, that's fine.
How do you think Shub Niggurath will be remembered ?
A dark French rock band – somewhat a Magma satellite.
What is your five all-time favourite albums ?
VARESE Amérique
GENTLE GIANT Free hand
KING CRIMSON Red
MAGMA Tristan et Iseult & Udu Wudu
Thank you to Franck for this insight in Shub-Niggurath.
Their music has been preserved by both Soleil Zeuhl and Musea

Shub-Niggurath's PA profile is
here
&
other good online shops