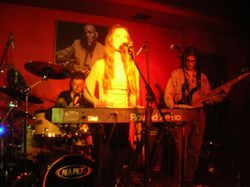 Eternal Wanderers is a progressive rock band from Moscow, formed by the Kanevsky sisters in 1997. Since the very beginning of their activity the musicians have been working with complex musical structures, trying to reproduce in sound everything that they love in progressive rock. In 1998 the band gave their first concert, after which they became an essential part of Moscow's underground scene, attracting the people with the uncommonness of their live performances, like using psychedelic slide shows on a big screen behind the stage. In 2006 the band's lineup finally stabilized, so soon after EW entered the studio to record their first full-length album, "The Door To A Parallel World". 

I got in touch with them and this is their story so far, told by Tatyana. 
##############################
When and where was Eternal Wanderers formed ? Did you have any background from other bands ?
The project Eternal Wanderers was formed in July 1997 in the town Sergiev Posad, Moscow region, Russia. For a long time there were two members in the project: Elena Kanevskaya (vocals, keyboards) and Tatyana Kanevskaya (guitar), and only in 2006 EW were joined by a bassist, a drummer and later a flutist, and became at last a true rock band.
At the moment the members of Eternal Wanderers are: Elena Kanevskaya (vocals, keyboards), Tatyana Kanevskaya (guitar, back vocals), Dmitry Shtatnov (bass guitar, back vocals), Sergey Rogulya (drums) and Dmitry Drogunov (flute).
Before joining EW, Dmitry Shtatnov played in the art/progressive rock band Quorum, in which he continues to play until now (Dmitry is Quorum's founder and leader). Sergey Rogulya played in the rock band called Den Rozhdenya (Birthday), and Dmitry Drogunov played in the pop-rock band Volframoviye Nity (Tungsten Threads).
Is any of your members involved in any other bands or projects ?
Dmitry Shtatnov, Elena Kanevskaya and Dmitry Drogunov are involved in an art/progressive rock band Quorum. The band has recorded its first album Klubkino Puteshestviye (Klubkin's Voyage) which is to be released at the end of 2010 or maybe in 2011.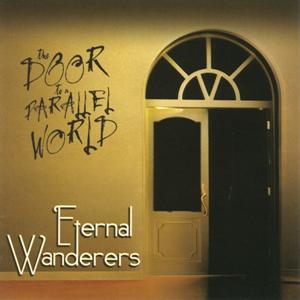 Please give us your long or brief afterthoughts on your only album to this date The Door To A Parallel World from 2008
Well, there always must be the beginning. On the whole we are satisfied with the album as with the first one, though of course now we see some drawbacks, some parts could be better played, or better recorded, some compositions better mixed. But there was a point where we had to stop. We hope that the next album will be better in all respects. Among our most favorite compositions of the album it is possible to name How Long I'd Been Facing The Dark and Revival.
What is your latest update and your plans for this and next year ?
At the moment EW are working with the new album, we have almost finished recording and in October we are planning to give the recorded material for mixing and mastering. We are planning to release the new album in winter or in spring 2011.
Here I want to mention another direction of EW's creative activity. It can be defined as the mixture of traditional electronic music, ambient, electroacoustic experiment with live vocals and guitar themes. Two electronic compositions were released by the Russian label of electronic music Electroshock Records in 2001 and 2003. In 2004 – 2006 EW recorded five compositions for 75 minutes album. In 2008 - 2009 the material was revised, some tracks rerecorded and the album mastered. If everything goes well, it will also be released in 2011.

How is your writing and creative processes ?
The peculiarity of EW's creative activity is that the compositions performed at present have been accumulated for several years. That's why pieces differ enough from one another, from songs to long instrumental works, from rock guitar motives and rhythms to heavy keyboard-computer experiments. In some periods heavy and gloomy mood prevailed, and in some ones it was a very hard music. Then there have appeared many ballad songs. There is light in some pieces, and grain of sadness in others. And sometimes it is just a plunge into some other worlds...
After EW became a band, we make new compositions together. Usually one of the members creates the conception of a song, including the basic form, musical themes, and verses. And then every member works with his / her own part, and at rehearsals we polish up the arrangement. We also like to play psychedelic improvisations during rehearsals, and sometimes take ideas from them.

Just to give those of us who are unknown with your band a bit of a reference point or two: How would you describe your music and which bands would you would compare your music with ?
The music style of Eternal Wanderers may be described as art/psychedelic/progressive rock. It's the main direction of EW's creative activity. Another direction is electronic music (traditional electronic music, ambient and electroacoustic experiment).
Generally, it is possible perhaps to say that the music of EW is about Joy and Sadness, Life and Death, about infinite Space, Eternity, Beauty of the human soul and distant stars, about marvellous worlds which passed away untimely, where reality and fantasy merge into a single whole...
EW don't aspire to follow any style or genre as well as the creative activity of certain music bands. Though the latter, no doubt, influences in one way or another. Various people said that in EW songs there was something from Pink Floyd, ELP, Yes, Camel, Bjorn Lynne and also mentioned names absolutely unknown to us. Really among the preferences of EW it is possible to name Pink Floyd, Steve Morse Band, Deep Purple, Yes, ELP, Bernd Kistenmacher, Solitaire, Roger Waters, Klaus Schulze (early works), Artemy Artemiev, Art Zoyd, Univers Zero.
How is life in Moscow these days besides of those horrendous wildfires outside Moscow ? Is music your main occupation or do any of you have daytime jobs outside the music scene ? 
Life in Moscow is bustling and busy as life of any megapolis. As to fires, their consequences were felt in Moscow as nasty smog covering the whole city. Visibility and smell were awful. In shops it was hard to find medical masks or respirators, and also electric fans and air-conditioners. But really there was no panic. Moreover, many people it seemed didn't care. Most of people didn't wear masks, many walked in the streets and in the parks, and in the suburbs it was even possible to see cheerful companies having picnic beside the river. Well, after all those political and economic changes, crisis years, etc. etc. what is hot weather and a few days of smog?
Music is the main sense of our life, but unfortunately we must have other daytime jobs to earn our living. Elena and Tatyana are financiers, Dmitry Shtatnov is an IT-specialist, Sergey Rogulya is a manager in a transport company, and Dmitry Drogunov works in photography.

To wrap up this interview, is there anything you want to add to this interview ?
We are very grateful to those who have appreciated EW's music, it provides a stimulus for further work and perfection.
Thank you to Tatyana for this interview