Daedalus is an experimental progressive band from Genoa, Italy. The project takes its origin from the idea of creating something new and really original in the actual musical whirl. The quest for DAEDALUS members started a long time ago and went through a tiring period of investigation in a quite limited panorama of prog musicians. Finally in April 2000 they joined together and started working hard to reach their so wished musical identity.

I got in touch with them through Fabio Gremo, their bassist and main composer. Here is his take on Daedulus. 
----------------------------------
When was Daedalus formed and do you have any background from other bands ?
Daedalus started playing together in 2000 in Genoa, our hometown, when I decided to gather musicians to give birth to this progressive project. Some of us had previous experiences in different bands, mainly playing rock and metal when we were students. At this time some of us play in other bands, too: I am a member of "Il Tempio delle Clessidre" (a progressive rock band featuring Stefano Lupo Galifi from "Museo Rosenbach" on vocals), "Thought Machine" (electro-metal) and IANVA (acoustic symphonic folk), in this last together with Davide La Rosa and Andrea (as a sound engineer).
Whose bands were you influenced by ?
The main idea in Daedalus music was to create something new collecting our tastes and studies, trying to merge the elements we found in the music we liked in our youth and to take them a step forward. Of course we don't want to hide our sources of inspiration, 'cos they are a precious part in our musical style. We grew up listening to classical music, Queen, Iron Maiden, Dream Theater and so many others who will always have a place in our heart. It's almost impossible to completely get rid of them in our songs, as well as in the songs of anyone else, I think.
To start with, please give me your (long or brief) thoughts and lowdowns on.......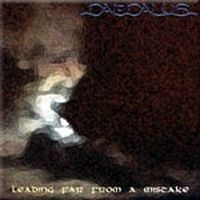 Leading Far From A Mistake from 2003
This is our first album, we recorded it with a very low budget, all by ourselves. The songs in this work are very complex, with a huge stratification of different melodic lines supporting one another and a lot (perhaps too many) of instrumental sections. The main target in this album was to amaze the listener with a constant flow of changes in rhythm, meter and atmosphere.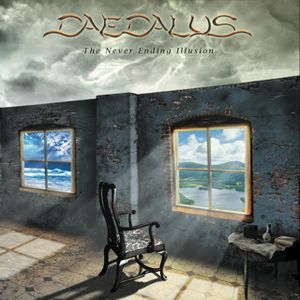 The Never Ending Illusion from 2009
The second album is surely more mature and inspired, we tried to use our technique as a means rather than a goal. The lyrics are deeper and much more involved in our private lives. The main target in this album is to communicate emotions to the listener... this is also the way we are following in our third album, "Motherland", which we are mixing at this time (august 2010).
Your latest albums is from 2009. What is the latest update on your band and what is your plans for this year ?
Since the release of "The never ending illusion" we had a number of gigs to promote it, then we started to think about our next album "Motherland". The work is almost done, we've drawn a draft for the front cover and we'll assemble all the pieces in the next few months, then we'll have to promote it as well.
How was the writing and creative processes in your band ?
Usually we write songs one by himself, we don't create songs from jamming sessions. Most of the times I bring the score to my band mates and we start from it. Each of us improves his own part and writes his solos, then we together define the arrangement and give the song its final form.
How would you describe your music and which bands would you compare your music with ?
In spite of the definition of the music we play (i.e. progressive metal), we always try to break the boundaries of what has become typical in such a genre. We even used elements from electronic music and Italian folklore, in order to give a different vest to our songs here and there. We now avoid using very long instrumental sections and furious technicalities, concentrating on melody and mood instead. In a certain way, I can say that now we are more similar to Pain of Salvation than to Dream Theater.
How easy/difficult is it to promote your albums these days and how easy/difficult is it to get gigs ?
For an almost unknown band all of this is incredibly difficult, 'cos we have to do everything with just our own strength. Our record label is quite small, so we had no promotional tour after the release of the last album. We had to pay for promotion and by now we found no-one willing to manage our gigs full time. It's always a struggle between us and the venue administrators, 'cos here in Italy they prefer bands who play famous mainstream songs rather than original music.
What is your five favourite albums of all time ?
"Queen II" by Queen
"Seventh son of a seventh son" by Iron Maiden
"Scenes from a memory" by Dream Theater
"Remedy lane" by Pain of Salvation
"Felona e Sorona" by Le Orme
Anything you want to add to this interview ?
I wish to thank you so much for your kindness and for this nice opportunity, hoping to reach and feed the interest of your readers and to see you soon during our next gigs... don't miss "Motherland"! :)
Thank you to Fabio for this interview



Edited by toroddfuglesteg - October 04 2010 at 04:28