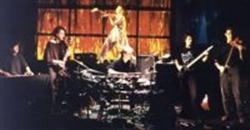 Ensemble Nimbus formed in 1992, is a Swedish quartet (keyboards, clarinet, viola and percussions) that belongs to the tradition of Scandinavia's orchestral-grade progressive-rock with a touch of Univers Zero. A very modern and lively twist on the Zamla/RIO/Zeuhl type sound, but high-tech and very very lively, featuring Hasse Bruniusson (ex-Zamla Mammaz Manna) on drums. Bruniusson is also a member of the better known Roine Stolt's Flower Kings where he is the bands percussionist. Within Ensemble Nimbus he also plays acoustic & electric drums as well as adding the percussion. This band, yet another Swedish band, is described as the "second generation of European ... RIO.

I got in touch with Haakan for the Ensemble Nimbus story.
##################################################
Your biography here in PA is pretty extensive and I refer everyone to this biography for questions about your formation and members. But why did you choose that name ?

Actually I quite don't remember how the name came up to me but I wanted to include "ensemble" to announce that it was not a regularely rock set up with just guitar,bass and drums only, but including more of a classical touch with instruments used in our band like Clarinet,Bassclarinet & Violin,Viola. I guess Nimbus was chosen mainly because of the diversity of it's meaning/different meanings (if you don't know them,do find out) trying to tell that the music also is rather diverse in styles and moods.

Please give me your (long or brief) thoughts and lowdowns on.......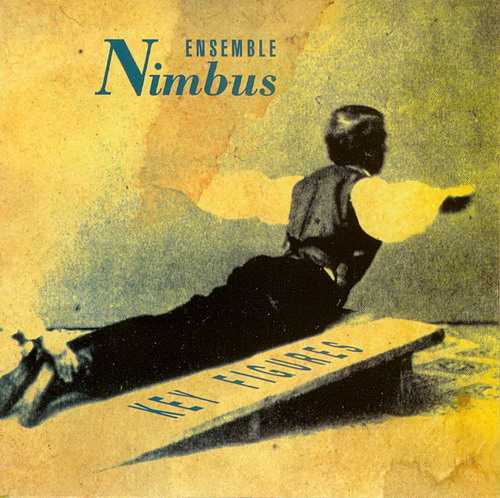 Key Figures from 1994 

Well the debut CDalbum was something extraordinary and a brand new social experience with the band and the attention in media and so on.
Musically as the times goes by you get more critical about how it was done both in the matter of composition/arrangements,playing skills and technically recorded. At the same time you have to remember that it was made very fast and by very low budget circumstances and with low technical standards, so with that in mind I can still be satisfied with the result. It was luckily enough brilliant mixed down by Roine Stolt !
At the same time it was way ahead of it's time by using digitilized electronic drums and sampled sounds, which unfortually was not so well accepted in this genre by all people when it was released. This became widely used by The King Crimson ten years later !
Unexeperienced in the CD record label business it soon became a nightmare, even though it was released by a small independent Swedish label APM with whom we had already signed contracts for the next coming release.This which took us years of trouble to get rid off and finnally we became able to release some more music. This situation resulted in a very bad way for the continuation and further existing of the band, ultimately leading the keyboard player to soon leave it all behind.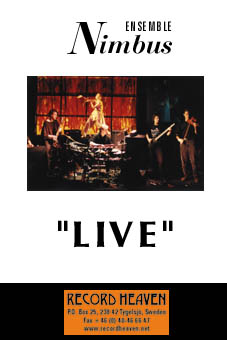 Ensemble Nimbus Live from 1995 

Here you you can see and listen to some new arrangements we did perform live with the tunes from the album Key Figures, along with more loose and improvised parts in between them. This mix of two concerts were extremely intense and with allmost no time for any preparation or soundcheck at all in this small Theatre before the first show took off. Everything was directly improvised in front of the audience regarding the light, sound, scenery and the acting on stage by the dancer, the painting artist and the band itself (very unrehearsed too due to several prior circumstances like sickness , broken equipment ,etc.)
Due to this lack of preparation it became a tremendous work trying to get any film material worth enough to produce a release out of it.The soundtrack was mixed and recorded directly on to a 2 track DAT Master tape and the mixerboard caused some bad distortion on most of the material from the second show, making it even more difficult to edit. So either it was unusuable film parts or unuseable music recordings that made it impossible to get the whole show together in one piece. Reconsidering those troublesome circumstances it was great that we after some years of editing could make a Video release out of it after all.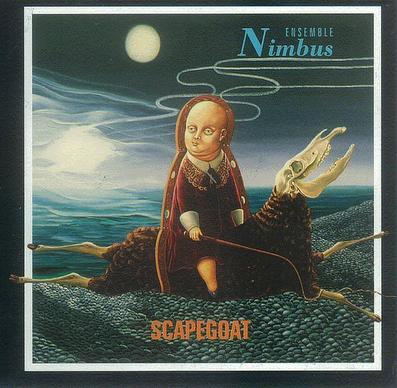 Scapegoat from 1998

This is in my opinion still the best Ensemble Nimbus CD release, because prior to Key Figures (which was a bunch of different and diverse tunes just put together) this album was more of a concept album with one track leading into the next one more smoothly. The music is more dark in atmosphere compared to KF and therefore not as accessable to all maybe.This time we wanted also to include improvised music on the record, which I really missed on KF. Taking the bad critisism of using digital drums very hard we decided to record with completely accoustic drumkit on this next album release.
Originally many of the tunes from Scapegoat and Garmonbozia was ment to be released as a double album. Due to the long delay of a second possible release we had more material, both composed and improvised recordings to choose from and we decided to make one strong and more conceptual release out of all this instead. Having more music material to choose from and more time spent in the studio this was now possible to realize. Now when I am able to look back upon it we could have made an even more strong album if not omitting som of the tunes that later turned up on Garmonbozia.On the other hand the Garmonbozia album might have ended up a little bit weaker instead.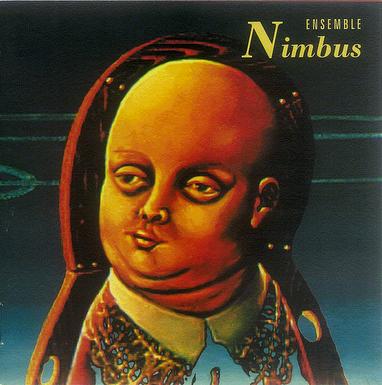 Garmonbozia from 2000

This is the second/twin part of Scapegoat and therefore we used the similar album cover and layout to resemble them of each other estethically.
Musically this album is again more diverse in music styles and including more tunes composed by Hasse Bruniusson than previously. Like on the Scapegoat album it's including both composed and even a little more of short improvised tunes in between. Here is also the tune Scapegoat turning up instead of upon the Scapegoat album  On some of the improvised tracks we used computer programs för the first time to edit and recompose the material.Regarding music technology this is the most superior recording and also it's including some of the best tunes ever delivered by Ensemble Nimbus.

That album was released ten years ago. A new album was announced, named Seven Signs, but never released. What have you been up to since the release of that album and what is the latest update on your band ?

The band through the years became more and more sporadically working and only in the studio and focusing almost entierly on improvising and learning new technical devices and tools to develop new forms of improvisation and learning different computer programs, improving the studio equipment, etc. The recorded composed material for the Seven Signs album was originally recorded on analog 16 channel tape recorder and than transfered into a digital 16 track recorder. From the digital recorder it has finally been transfered into a computer music program with lots of troubles and misstakes on the way to where it's now.
On the way to the computer the tunes have also been partly re-recorded and recomposed a several times. We engaged Chris Cutler from Henry Cow etc. to record drumparts some years ago, which has been a long and hard work editing in the computer and we still don't know how much of it that can be used in the end. The computer environment gives you almost endlessly variations and possibilities to orchestrate and recompose your musical ideas and very easy to get lost on the way. We keep working on it with the pace of a snail....Meanwhile two members have got families with a couple of children and civil works taking all of their time and one of them is now living in Brussels in Belgium. Hasse Bruniusson and I have been occupied  with another band called  Flying Food Circus who has released one CD and one live DVD as well as making concerts every now and than (on tour with Flower Kings etc.) during the last seven years or so.The music is entierly composed by Hasse and some of it was material ment for Samla Mammas Manna before they broke up. Hasse and I have also been working with Mikael Ramel doing records and concerts every now and than too.I myself has also been focusing on playing Sitar and making concerts with NorthIndian classical raga music together with a tabla player during the last five years or so. To pay my dues I have also been working a lot in a regular coverband for several years now.
In summer 2008 we did a reunion concert with Ensemble Nimbus including a mixture of the original members and members from Flying Food Circus. Some of the rehearsels were recorded and maybe some of it will be useful for a future release.Sadly enough now when we have the equipment and possibilities to make a real good sounding record, it's almost impossible to finance a new CD release due to the actual scene of free downloading of all music and the nearby death of the CD format itself. Am I right or Am I wrong ?
How was the creative and song writing processes in Ensemble Nimbus ?
From the beginning I was the only composer and I arranged most of the material too,than after a while the other members arranged the tunes together with me but still it was my compositions only. After sometime we started to play Hasse's compositions as well and arranged them all together in the band more or less. Most fun of all was when we started to improvise more and more which made us all into instant composers, all together at once !
Just to give those of us who are unknown with your band a bit of a reference point or two: How would you describe your music and which bands would you compare your music with ?
Ensemble Nimbus is instrumental progressive/art rock with a strong dose of complexity and risk, with rapid and frantic rhythm changes. Rather inspired by the old RockInOpposition scene but in spite of this, the music present a strong melodic component and are quite more affordable than those of the darkest bands in the RIO like Univers Zero, Art Zoyd, and Present. Maybe it's more comparable to Zamla, Nimal, Miriodor, L'Ensemle Raye, Albert Marcoeur.
Read more, look & listen at:
">http://www.myspace.com/ensemblenimbus
"><http://www.myspace.com/ensemblenimbus#ixzz0xp8nQhhk>
How is the current availability of your albums ? 
There is only one album currently available on the market as far as I know and that is SCAPEGOAT, the Garmonbozia album might be available if you are lucky on MUSEA or on WAYSIDE, maybe some other small distributor elsewhere like MELLOTRONEN have one copy or to I don't know. It's out of print anyway and I don't have any copies for sale. Key Figures has been out of print for many, many years now, the VHS Video (in PAL System only) LIVE  I still have a very few copies left at home if anyone is still using that stoneage format !
If you cannot find any of those items on the market you can always buy it directly from:
www.tap-records.com

During the hopefully only temporary downtime of Ensemble Nimbus, what has the members been up to outside the band ?
I have already mainly answered that question above, two members are not into music business anymore, Hasse has his own project Flying Food Circus alongside doing recordings with The Flower Kings, also recording and performing with Mikael Ramel and I have joined with Hasse in both Flying Food Circus and Mikael Ramel and  I've also been doing my own recording projects with Orient Squeezers, Tween Deck2, In The Labyrinth and performed live on sitar & tabla playing North Indian Classical Raga music and performing with the old 70ties Swedish Proggbands Handgjort, Charlie & Esdor.
Anything you want to add to this interview ?
If anyone is out there in the proggworld reading this with his pocket full of money and crazy enough to be willing to finance the remixing and remastering digipack CD re-releases of Key Figures, Scapegoat,Garmonbozia and Ensemble Nimbus Live 1995 on a DVD, and release a brand new CD Seven Signs, or maybe "The Complete Ensemble Nimbus Box", including it all in one package ? please send a note to:
[email protected]
Thank you to Haakan for this interview