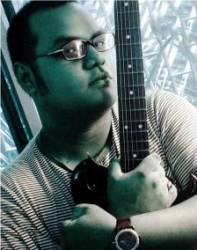 Amogh Symphony created quite a sensation last year with the pretty radical Abolishing the Obsolete System album. Amogh Symphony comes from India and brought a radical new approach to both progressive rock and metal.†
I got in touch with it's mainman Vishal Jit Singh for the Amogh Symphony approach to music.
~~~~~~~~~~~~~~~~~~~~~~~~~~~~~~~~~~~~~~~~~
How was your childhood, how and when did Amogh Symphony become reality ?
First of all, thanks for the honor, Torodd. I have been listening to different kinds of music since childhood( my parents are musicians ). I started off as a careful critic listener when I was around 9 or 10 years old. Initially, I was totally into 80s rock, blues and reggae music. My parents always used to make me hear lots of cassettes from different bands and artists like Stevie Ray Vaughan, Muddy Waters, Eric Clapton, Little River Band etc. To make them feel happy, I started listening to them all and I really liked it. This habit developed my mind and upgraded my knowledge about different styles of music. Being a normal aggressive kid back in teenage days, Metal was my favorite style of music. But when I started jamming with other musician friends everyday, I learned everything in a technical way. I believe progressive music writing and cooking are very similar. For example, whenever I listened to bands like Ozric Tentacles, Nile, Chick Correa and the Electrik Band, I always thought things like ďI wonder how would it sound if Ozricís ambience fuse with Chick Correaís chromatic textures and Nileís tempo? I know it sounds funny, but there must be some common point where they all can meet each other. We can combine mixed vegetable with Prawn and Cheese, canít we? Letís seeĒ. These thoughts and the hunger inside me gave birth to Amogh Symphony. I still do this. I think one should cross the stage of ďactive ear listeningĒ to become a progressive rock musician. My job is to make music based on visuals, commercials and stuff. So everyday I have to make something new. Itís just like the regular Windows updating process from the internet. †

I have only heard about one other Indian prog band called Phenom. I know there are some big metal festivals in India. But how is the Indian rock and metal scene at the moment ?
I canít tell much about the Progressive bands because I am not very much involved in the scene here. I think there arenít many quality prog music artists and bands in India except Hydrodjent a.k.a Keshav Dhar and Motherjane. The reason I call them ďQualityĒ because they are not just into ďcomplexĒ songwriting but they have a sound of their own which is not ripped-off. There are lots of amazing Death metal, Thrash metal and Jazz bands/artists. Metal is existing in India since quite a long time. There are some really great festivals that happens every year. Like Independence Rock(Itís a two-days Festival with the biggest rock and heavy metal crowd.) and Resurrection-Deathfest(The biggest metal festival). Both these two festivals happens in Mumbai City. There is another one called ďGreat Indian RockĒ which happens every year in New Delhi. There are many festivals now. Some metropolitan cities are known for their particular scene. For example, Bangalore is known for itís Goregrind and Brutal Death metal scene. Mumbai is known for Jazz players/bands and Death metal bands. And New Delhi is known for its Alternative rock and Fusion scene. There are many good bands here with excellent musicianship. But at the same time, itís a fact that there arenít big record labels here except DSR(Demonstealer Records) and OML(Only Much Louder). Another controversial fact is that most of the bands sound a lot like their influences such as Lamb of God, Meshuggah, Sikth, Pantera and Periphery. But I must add that it happens everywhereÖ..which is definitely not a good thing in my opinion. But at the same time, there are some really unique and phenomenal players here who need exposure.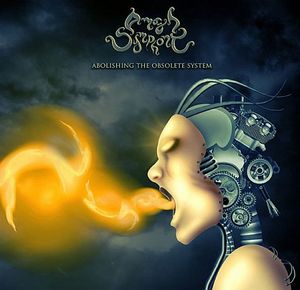 Please give us your long or brief after thoughts on your only album to this date Abolishing the Obsolete System from 2009.
I think the idea and concept of Abolishing the Obsolete System really worked. I am glad progressive music fans around the globe appreciated and accepted my music. People are more open minded with the fact that progressive metal music is not limited to poly rhythms, odd time signatures, extended guitar solos and lengthy songs. I wanted to put all my thoughts in one box so that whoever will open it, that person will read my mind without hearing my words. Thatís what happened in Abolishing the Obsolete System. People grow up. So do musicians and composers. I donít restrict myself to the Guitars. I start with it because I am a guitarist. What Iíve learnt till now is that I am a composer first and then an Instrumentalist. With this thought, I decided to write the next album Ė The Quantum Hack Code. The album is almost finished. I canít tell much at the moment but I would like to say that this album is totally different than what I did in ďAbolishing the obsolete systemĒ . Instrumentation-wise, songwriting-wise and production-wise. Drummer Jim Richman did an impossible job in this album. The reason behind adding Jim in ďThe Quantum Hack CodeĒ was to bring a change in the direction, especially in the drums. You can already see, many excellent drummers are sitting at home because drum programming cracked soft wares like Superior 2.0, Drumkit from Hell are easily available for free on the Internet. Because of that, every modern band sounds like they have the same drummer and same engineer. Iíve auditioned many drummers but nobody could come even an inch closer to Jim. Plus, Iíve discovered a lot during our songwriting and recording sessions. My point is Ė If you keep some patience and let your drummer work out with your ideas and his ideas being combined, great results will come. I must add that ďThe Quantum Hack CodeĒ is more like the next step for me. ATOS was more wide and versatile. TQHC is wide but at the same time itís more atmospheric and a little dark To be more precise, TQHC is more conceptual than technical masturbation, but with a proper balance. I hope fans will like this album.
How has the reactions to this album been so far ? †
Oh, the reactions were just great. From Jazz listeners to Electronica lovers and from Progressive music fans to Brutal death metal heads, they appreciated. I didnít really think of that. If I knew that people could like it that much, I could print more CDs. There is no biggie image. I am a very small time musician. If I were so big, I could print 2000 CDs, form a lineup, paying all the session musicians with good amount of money and tour the entire World. I read each and every email from all of them. And trust me, their names and email addresses are still saved in my diary. The wait and the patience wonít go waste. We are trying our best to make you all happy.
How would you describe your music to those here who are unfamiliar with Amogh Symphony ?
That I really canít explain in one or two words, Torodd. You can call it anything you want. But yes, itís not Djent at all. You know that. Actually, whenever we say ďGenreĒ, it always limits the mind to think above so I donít really think much about it. In this album, all I know I tried to explore the style of music which could be a prototype of Post Ė Technical death, Math metal, Progressive, Avant-Garde, Fusion and Djent. Its like the never ending scale of Negative integers , Zero and Positive Integers where some like to stick to Zero because its equilibrium and the other sides are endless. In simple words, I was searching for a versatile and shapeless form of progressive metal. You can just call it Post-Progressive or Post-Metal if you want.
How percentage wise is the mix of Indian and Western culture in Amogh Symphony and do you regard your band and your musical journey as a crossover between two worlds ?
For me, geographical or cultural distinction doesnít make any sense when it comes to music composition or just playing. You can use a Sitar in a death metal track if you use your brain and think how it can be used. You can play Flamenco in a Hindustani Classical track if you know how to find out the common point of intersection between these two entirely different styles of music. As a child, Iíve grown up listening to many artists. Now I am 24. As a musician, I see myself standing on an equilibrium bar which connects both. I am not really into Indian Jazz fusion, not because I hate it but itís too vintage according to me. Amogh Symphonyís music speaks about the Human Civilization and not about any particular religion or culture. Our Civilization is vast and we have so many differences that weíve made among each other. We canít make it one politically or geographically, but at least I can do that in my music. That gives me a peace of mind. Itís more or less like God granting full demands to all of them to make them one and make everything special, precious and most importantly peaceful.
I gather Amogh Symphony is a studio project at the moment. Do you envisage to expand your project into a full band with other instruments too or is this going to be a studio project only ? †
I think 90% fans know that Amogh Symphony is a studio project. Playing Amogh Symphony live is my second priority. I wish Jim could move to India or I could move there to make a duo line-up but I am very practical and positive about the realities. Itís impossible to find musicians here with the patience and understanding to learn my tracks and follow a routine, especially knowing the fact that there is no money in progressive music but only satisfaction. I donít blame any session or permanent musician because I am one of them. I donít want to compromise at all but at the same time I donít want to make my band mates feel that I am treating them like slaves. It happens a lot in experimental music bands. There are musicians with great dedication but in the end of the day, every band breaks up because the five fingers can never be the same. That kills all the future plans. Itís a very similar situation like being in a complicated relationship with your woman. You make plans since years with her when youíre in love and if something goes wrong in between, everything gets affected. To avoid this, many guys from the new generation like to remain single. Now one can have the company of women but itís not a bonding anymore and hence your plans are on with no more compromise.
Another fact is that I am stuck up with lots of work and I want to do something for the music and film industry in India. Thatís not possible by playing live shows all around the world. But yes, may be someday for sure.
Is music your main occupation or do any of you have daytime jobs outside the music scene ? †

For living, I make music for commercials and ads with my other musician friend Prashant Vadhyar. Then Radio spots, Jingles and Short films that usually go for film festivals. We also produce music albums. Since the CD and Record Label industry in India is almost dead, we help our artists/bands in internet promotion. Apart from these all, I am active with only three projects at the moment Ė Amogh Symphony, Acrophase and Prashantís solo experimental project.†
What is the latest updates and the plans for this and next year ? †
Iíve produced some really cool artists this year and I am looking forward to their releases this year or next year. I am sure fans will like their songs/albums. Keep your eyes on the blog because itís not just about ďThe Quantum Hack CodeĒ. Acrophase(My side project with my best friend/brother Luke Jaeger of Sleep Terror, World Under Blood) is getting ready to release itís first EP Ė Microsleep in 3D which is about to get released this year end. I am excited about it because I think itís the best project Iíve arranged and produced so far. Iíll keep updating on Amogh Symphonyís official myspace and facebook fan page.
To wrap up this interview, is there anything you want to add to this interview ?

Thank you, Torodd and thanks to Prog Archives for this interview. Thanks to all the fans.
Thank you to†Vishal Jit Singh for this interview
Their PA profile is here and the homepage here