Discipline is one of those rare cases of obscurity combined with reverence. Much like Änglagård was the Swedish phenomenon, Discipline was the U.S. counterpart. They are bands that released two highly praised studio albums in the '90s, and then disappeared. The ensuing passage of time allowed them to become legendary. The most obvious difference from Änglagård being that the Discipline albums are still readily available.

Even though they did not have an official release until 1993, the band had been around since 1987. I got in touch with Matthew Parmenter for the Discipline story.

-------------------------------------------------
When was Discipline formed and do you have any background from other bands ? 
 
Before forming as a band, we met in high school. Fresh out of middle school, Jon Preston Bouda was a sort of blues guitar prodigy whom I met through the school's jazz band. We jammed occasionally. Picture a bunch of gangly teens with 1980s hair making loud organ-driven space jams under strung up holiday lights. We played some parties, played some Beatles covers, that sort of thing. 
 
Our past was undecorated, just a group of young people who did music together. We were aware of different artists. Some of us liked the contemporary '80s music and hardcore punk with its counter-culture allure. We had been raised on separate diets of 1970s top 40, blues, art rock, hard rock, Zappa, fusion, and classical music. Nothing exceptional except the wish to be an exception. I suppose every bud seeks to define its own branch. 
 
In 1987 we'd finished high school and were ready to start "playing out." We named the group "Discipline." after the King Crimson LP and started doing shows at the clubs in Detroit. To be true, we had more heart than discipline in us at the time. 
 
We recorded a album called "Chaos out of Order" and sold it on cassette tapes at these shows. Though it never saw a release on CD, the songs from that first recording were scattered through the earliest sets. 
 
To start with; please give me your (long or brief) thoughts and lowdowns on.........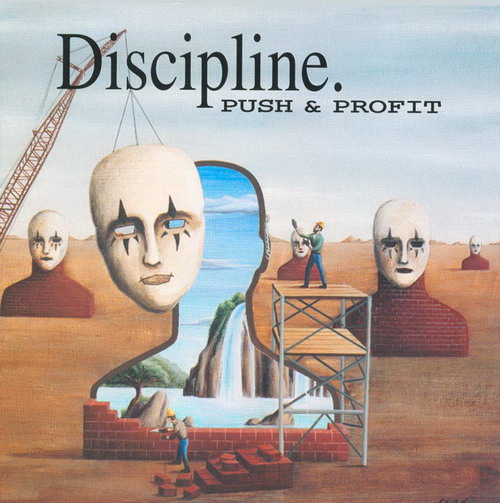 Push & Profit from 1994 
 
I think Push & Profit was released in '93 not '94. ...It surely was because we played overseas in Norway in '93 and this was just after we finished recording in '92. 
 
We recorded this first CD in a studio in Ferndale, Michigan called the Tempermill. It seems like it all came together quickly, in about a week. We mixed it a week or so later. 
 
Not long after making the Push & Profit CD, which was several years into our playing around Detroit, we learned about the new "prog" music. There was no world wide web at the time. The rock music we heard came from older siblings, the radio, or the used record shop. Some college radio stations played new British bands, but radio in Detroit avoided old art rock or progressive rock, and absolutely no one played the new so-called Prog. 
 
We thought we were quite alone until the album got picked up by distributors and we heard about other bands in the world doing their own thing, similar to our thing. This was exciting, if you can imagine, to learn that activity was going on where before it all seemed a leftover style. There was no sense of saturation, or too many bands. A few of the new bands were exceptional.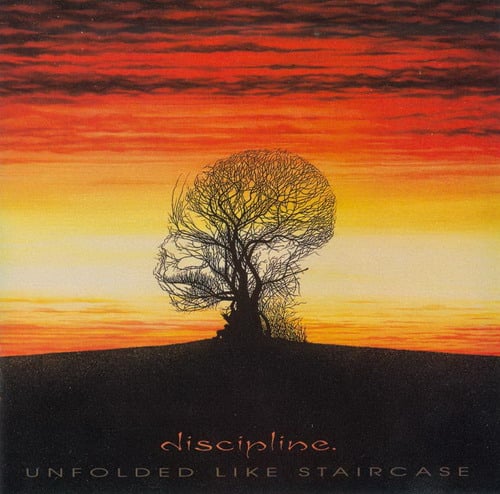 Unfolded Like Staircase from 1997 
 
Nothing much to say about Unfolded itself. It is an organic album. Quick and dirty production. Un-apologetic. Great stuff really. 
 
A possible "record deal" fell through two years before we recorded Unfolded. A record deal, any record deal, had previously seemed a holy grail for struggling bands like ours. When our own deal fell apart, I think we were a little pissed off and disillusioned. We made Unfolded on our own in spite of this. 
 
Interest from the distant festivals like ProgDay and Orion helped introduce us to new listeners. We had abandoned hope of any commercial success, label, or radio support. This is partly why we selected only long-form songs for Unfolded. Commercial radio DJs are not permitted to play such long songs because advertisements between songs take precedence over music. (Believe it.) But listeners can stomach a good musical journey now and then. 
 
There may have been a sour grapes reaction, as if to say "well, they won't play us anyway, so let's put out something they may not play if they chose to." If one elects failure and obscurity, then failure becomes a sort of success in its own right. Or so went the convoluted rationalizations and emotional bulwarks that allowed us to make Unfolded. 
 
Ironically that CD gained the widest audience. We bore the moniker "underground" proudly as if it were a badge of honor.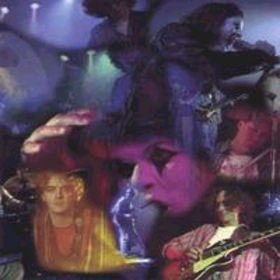 Into The Dream ... Discipline Live from 1999 
 
Mike Potter invited us to play at the Orion Progressive Rock Showcase in Baltimore. This CD is recorded from two separate live shows there. My favorite memory of Mike was at one of the ProgDay festivals. People were hanging out in this parking lot playing music, just singing and strumming guitars and stuff, then Mike brings out a flute and plays along really cool. I did not know he could play.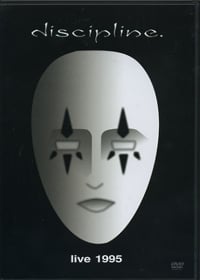 The DVD called Live 1995 from 2005 
 
This performance was originally videotaped and released in 1995 as a VHS videocassette. The show records one of the last costumed performances with the five-piece band. I loved those days, being able to focus just on singing and acting out the songs. Playing keys is not for me, and in 1995 we had a great keyboardist named Brad Buszard. Unfortunately, the U.S. VHS videotape format did not play in Europe, so our European dealers did not want it. We sold them mostly in Detroit at live shows. 
 
Ten years later in 2005 we re-released the concert on an international format DVD with lots of bonus material. Some of the bonus stuff dates back to 1988 and our earliest shows. So in the end it made for a worthwhile recording. 

 
You did a solo album called Ashtray in 2005. Please tell us more about this album. 
 
"Astray," not "Ashtray." The joke at the time was that if people disliked the music, they could use the disc as an ashtray. (A common typo.) 
 
Remember in school when kids made ashtrays for their parents in art class? Do kids still do that today, or has smoking become taboo as a pottery craft? I'll have to ask a teacher. 
 
Astray was my first attempt at a solo CD. Matthew Kennedy joined in on the bass. 
 
You split up for a while, but reformed in 2008. Please give us the latest update and your immediate plans. 
 
We are recording a new studio CD. No promises on the release date. It will be the Unfolded group, with Jon Preston Bouda, Mathew Kennedy, and Paul Dzendzel. 
 
Which bands and/or scenes would you compare yourself with ? 
 
We get compared to a lot of older bands. The mellotron sounds old, but so does the music anyway. It must be a retro sensibility in the songs and the performances. We all were kids in the 1970s, so music from that period influenced us. Not surprising. 
 
How is the writing and creative processes in your band ? 
 
I usually come in with the structure of a song and we work the ideas together to find the right dramatic effect. We learn the songs by jamming the various parts, then knit them all together. Sometimes I'll put together a rough demo in advance, but usually we just work it part by part and get it into a groove. 

 
You did a tour of Norway back in the 1990s. A bit of an unusual thing to do..... Please tell us more about this tour. 
 
Playing out in Detroit, we started doing the shows with the costumes. A couple of guys were visiting from Norway and my girlfriend brought them to a show. They dug it. It turned out they were part of a Norwegian college entertainment committee and invited us to come play in and around Oslo. 
 
We had a great time. The whole trip lasted just half a month. Aside from the few shows, we hung out with these college students and trekked around Oslo. 
 
It was in Norway that I first learned of the new term "prog" music, and a complete stranger there turned me on to the alt.music.progressive internet newsgroup. In 1993 before the world wide web and web sites took off, internet newsgroups were an online forum, and this particular newsgroup was abuzz with posts about new prog and old progressive music. The newsgroup threads led us to find progressive distributors for our music, such as Syn-Phonic, Wayside, and Kinesis. 
 
What is your experiences with the music industry and how do you think the music industry will look like in the coming years ? 
 
In the future a race of martians will invade and make earthly music illegal. During the ensuing rebellion a small band of internet pirates will discover that martians hate the sound of violins but the pirates will be powerless because they downloaded only rock and hip hop to their PCs. The martians will shut down the Internet to prevent dissemination of the harmful string sounds. As a result, classical music performers will rise up to supplant sampled pop and to set the human race free. Morgan Freeman will narrate. 
 
Anything you want to add to this interview ? 
 
I should mention the new Discipline. live CD coming out soon on the UK's Cyclops GFT label. The working title is "Live Days." It has live performances from the mid-90s period recorded at the ProgDay and Orion festivals and at some local Detroit area clubs. Looking forward to wrapping that up. 
 
Thanks for your interest in an interview. 
Thank you to Matthew for this interview