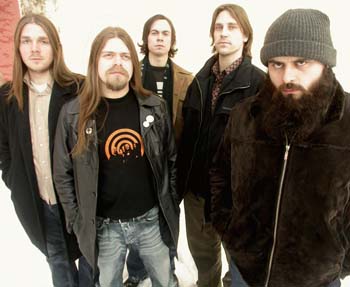 Anti-Depressive Delivery from Norway is a very interesting band. The members in Anti-Depressive Delivery have vast experience from other bands, mostly metal bands. Anti-Depressive Delivery on the other hand is a welcome return to the heavy prog sound of the 1970s. Think Uriah Heep and Bad Company.
Anti-Depressive Delivery released the rather cheekily named The Best Of Antidepressive Delivery studio album some months ago. A free download, no less.
I got in touch with Pete Beck for the Anti-Depressive Delivery story so far.
################################################
Just to start with, Anti-Depressive Delivery was formed with members from  thrash (Hellstorm), death (Betzhaida), doom (Atrox) and heavy (Fig Leaf) metal bands. With that wide varieties of backgrounds; why did you end up in Anti-Depressive Delivery and why did you choose that name ?  
Check bio on our homepage, and I don't know why our name is Antidepressive Delivery, sorry.  
Whose other bands are members of Anti-Depressive Delivery still involved in ?
Our guitar player Christian, plays in Thorns, Laserguys and Gangrenator. Haakon, our keyboard man, works with Monteè and Moving Oos, and our drummer Terje is involved in a project with ex-Lumsk guitarist Bjørnar Selsbak, and is also making music with his brother Stian (Minas Tirith) I sing with The Handycaps with ex members of Fig Leaf Aage and Paal, and ex Road bass player Kees. There may be more, but this is all I know.  
Anti-Depressive Delivery comes from Trondheim. A town with a very vibrant music scene (I have already done three interviews with Trondheim bands). How is it to be a musician in that town ?  
Nice town, not too big, friendly people, and very nice fellow musicians. There's a music academy here, and we have a lot of talented people there. No problems with finding rehearsal spaces, and bands are helpful with sharing equipment and everything. It's good to be a musician in Trondheim.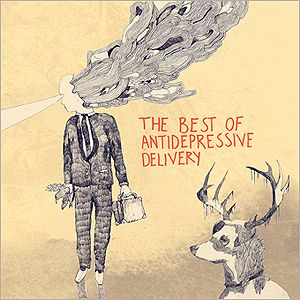 Please tell us more about your new album "The Best Of Antidepressive Delivery".  
The Best..was recorded during many sessions in 2009/10. Drums were done in Skansen Lydstudio, Trondheim, bass&vocals in Sön Studio, Rennebu, Guitars at Broholt Music, Trondheim, and Keyboards at Belsen Studios, Bergen. We have additional backing vocals by Monika Edvardsen (Atrox, Tactile Gemma), and saxophones by Kåre Kolve. Mixed in Skansen Lydstudio by Broholt, Beck and Stein Bratland. Mastered by Bob Katz at Digital Domain. Cover art by Robert Høyem, www.attheends.com  Musically, you may say that we're in the same landscape as Chain Of Foods, though there's a few new elements added. More time was spent on arranging and recording this time, so, in my opinion, this is a bit more solid than the previous. Overall sound is also a bit better, I think.
Back to your two previous albums; please give me your (long or brief) reflections > on.......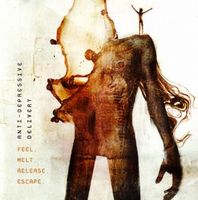 Feel.Melt.Release.Escape. from 2004
These are my personal reflections, as I can't speak for the others: On Feel..: I like a couple of the songs. Too much metal for my taste. We recorded this one in 8 days, and it was mixed during the next 10 days, so it was a very intense process, enjoyable, though.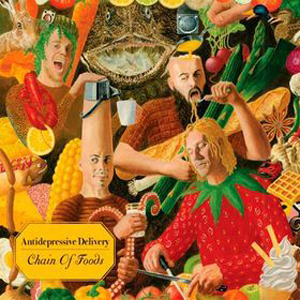 I,m very happy with that one. A nice mix of rock songs, metal elements eliminated. Difficult mixing process, enjoyable writing process, the first album I've played on that I've been satisfied with.
Please tell us more about the artwork on both albums
The artwork on our first album is by Travis Smith. American artist who has done a lot of  
covers for a lot of famous bands. It's the result of him exchanging ideas with our then bass player Tom Wahl. The Chain Of Foods frontcover is a painting by Monika Edvardsen (ex Atrox, Tactile Gemma) The rest is by the norwegian designers Trine & Kim design studio.  
Chain Of Foods was offered as a free download for a while (= my first ever > ProgArchives review), but thankfully Musea stepped in and restored my belief > in the mankind. But in your words; what happened in the period after the > release of Feel..... and until Musea stepped in ?
Well, after Feel..., there was a few gigs, and we did demos for the next album. Laser's Edge (who released Feel..), didn't want it, so we took a little break, then reformed shortly after, with me replacing Tom Wahl on the bass. We worked on Chain Of Foods which we put out on the internet as a free download in December 2007, delayed about 8 months because of difficulties in the mixing, and waiting for studio time. Around February 2008, we were contacted by Musea through our guestbook, and the Chain Of Foods CD was released in July.  
What is the latest update on Anti-Depressive Delivery and what is your plans for this year and next year ?
We have a couple of gigs coming up, and we're rehearsing new material.  
We'll start recording this autumn, and hopefully our next release will be ready by next summer, depends a bit on how much time the mixing process will take.  
Anti-Depressive Delivery is in my view a heavy prog retro band with clear references to the likes of Bad Company, The Who, Rainbow, Uriah Heep and Faith No More. But how would you describe your music ?
I would not like to describe our music very much, other than that we're a rock band  
with a lot of different influences within this wide genre. I may also add that we always try to make it sound catchy and melodic.
Your status is pretty much like Rush. Loved and rated as one of Norway's  finest by fellow musicians and pundits like myself, but ignored by the  masses. Are you frustrated by not be invited to festivals and gigs in Norway where you would fit in very well ?  
No, we're never frustrated, we'll just work hard on making better and better music,  
and if we're able to make albums that we, ourselves like to listen to, we've succeeded. Hopefully, in time, we'll appeal to others as well.
Your gigs in Norway on smaller festivals has gone down extreme well and  earned you some rapterous reviews. Please tell us more about them.  
Nothing much to say really, we just get up there and do our thing, let the  
music do the talking and have fun.
Just to wrap this interview up; do you have any regrets in your music career ?
I can only speak for myself on this: I have many regrets. I've wasted many years  
on drinking, and doing stuff I couldn't really stand in for. I used to be very easy to manipulate in the earlier years, and it's not until our last two albums I've taken control.
What is your five favourite albums from the Trondheim scene and your five  favourite albums from the rest of the world ?  
A few favourite albums from the Trondheim scene:
Stakkars Klovn - Terje Tysland
Knights Of The New Thunder - TNT
French Only - Åge Aleksandersen
From the rest of the world:
Johnny Winter - Johnny Winter
For Once In My Life - Stevie Wonder
Houses Of The Holy - Led Zeppelin
Strange New Flesh - Colosseum II
Anything you want to add to this interview ?
I just want to thank for the attention, and, I hope someone will find our music enjoyable!

Thank you to Pete for this interview

Their PA profile is
here
and
(including the free download of their latest album)