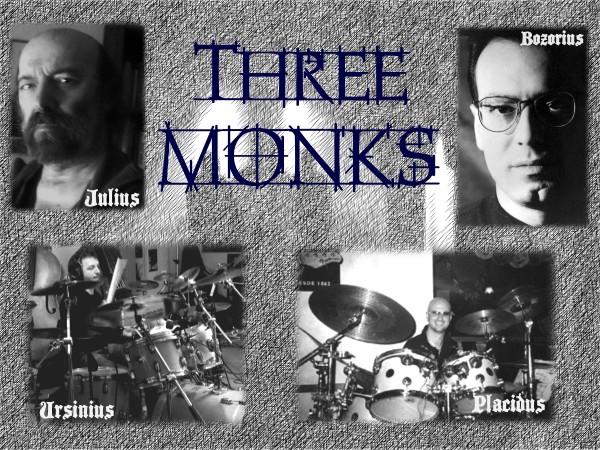 Three Monks are a unique pipe-organ focused RPI band from Arezzo, consisting of organist/composer Paolo Lazzeri, bassist/engineer Maurizio Bozzi, and drummers Roberto Bichi and Claudio Cuseri. Lazzeri was a prog-rock organist in the early 1970s until public attention shifted, at which time he began the study of romantic classical music, both symphonic and for solo organ. His prime influences came from in-depth study of the music of composer Julius Reubke (1824-1858) and his enjoyment of the progressive rock of King Crimson and Van der Graaf Generator. 

He and Bozzi decided to form a rock trio which would attempt to combine their love of classical music (neo-Gothic style, German Romanticism of the nineteenth century) and progressive rock. Bozzi has been a professional bassist/composer/arranger since the 1970s and has collaborated in countless studio projects and live tours. They joined with drummers Bichi and Cuseri to form Three Monks and in 2010 released their first work on Drycastle Records, Neogothic Progressive Toccatas. It was skilfully mixed and mastered by Torben Lysholm at Tune Town studio in Denmark. This is only the beginning; the band says there will be future works.

The biography and most of the questions in this interview was submitted by Finnforest from the RPI team. Thank you ! 
I sent his questions and a couple of my own questions over to Three Monks (c/o Bozorius & Julius) and Julius answered them.
########################################
Our Three Monks biography is pretty extensive so just let us bypass that. But why did you choose that name ?
We choose Three Monks thanks to an early video by Procol Harum in which the organist was dressed in monk clothes....Three means intrume ntal trio ( there are two drummers but they don't play together)
What is the background of your four musicians in Three Monks ?
The common background of the rhythm section is jazz - rock, rock & blues, classical too. The composer and organist comes from romantic-symphonic rock and classical music influences.
Lazzeri mentioned being a prog-rock organist in the early 70s. What band(s) did you play with, and did you do any recording or touring ?
All the bands of that period were local bands, without any recording tapes.
What are some of your favorite Italian bands of the 1970s period?
Banco and Goblin
Please tell us about some of your favorite classical composers and what you listen to from them.
My (Julius)favourite classical composers are: A. Bruckner, Julius Reubke, L. Van Beethoven and Giuseppe Verdi.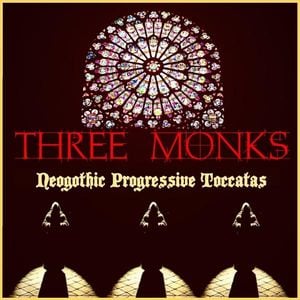 Let's go straight to the very impressive Neogothic Progressive Toccatas album. First of all, I think you deserve our most sincere congratulations for this album.
Please tell us more about the creation of the songs and the recording. How did you record the organs, the mic setup and where did you record them (in a church ?) and how would you describe the music.
Thank you for your appreciation, about the recording ( talks the bassist - producer Bozorius): meeting Paolo Lazzeri I found and incredible and unique Pipe organ sound synthetized (FM synthesis) by Julius himself, after years of study and research ( he used it for his composing career for classic organists). So we had the idea to make a whole cd with that sound, so truly and powerful. After the recording of all the tracks I proposed him to try to over dub a rock section....the first trial was astonishing...We felt that it was the right way, thinking that we could bring that sound in any stage. The greater difficulty has been sincronizing the bass and drums with the prerecorded organ tracks, without a reference click ( we have very good drummers..)
Tell us how you integrated classical organ compositions with prog-rock. How were the drum and bass parts married to the organ initially? All on paper or arising from jamming?
The arrangements of the rhythm section were a freely interpretation of the original sheet music written by Paolo Julius
Will Three Monks attempt to integrate any vocals or guitars into future albums?
We think possible to add second lines of synth but not guitars or vocals, but who knows?
Where do you want or plan to take Three Monks now ? Will there be any live shows and what keyboards would you play to recreate the songs on the road?
Actually this is a studio band, the only live performance is for solo pipe organ by other artists as Marco Lo Muscio and Alessandro Bianchi ( they have many concerts in Great Britain and all European main cathedrals)
According to the Three Monks biography I have got, you are planning future works. Please tell us more about these plans. Besides of the new album and perhaps a well deserved holiday, what is your plans for the rest of this year and next year ?
Julius is working and composing for the next cd album, adding synths to the neogothic organ.
Thank you to Julius for this interview

Also thank you for the excellent news that more is yet to come from Three Monks. 

Their PA profile is here and their homepage is here 


Edited by toroddfuglesteg - September 23 2010 at 13:04