Thought Machine from Canada is one of the new bands which can be placed somewhere between Neo Prog and Progressive Metal. They were kind enough to offer some copies of their debut album Maiden Voyage to some PA users for reviews and analysis. 
I received my copy and got in touch with the band with some questions. Brett Waye answered them on behalf of the band. 
Please tell us where and when Thought Machine started up. Did any of you have any background in any other bands ?
Well, in high school I was in an instrumental Jazz Fusion/Progressive Rock type band named "Jetavana Groove". We had some pretty interesting stuff, being 16/17 years old at the time. I mean, sure it didn't always work out musically, but we were young and still had a lot to learn. I'd say that really got me interested in playing original music, and wanting to go further with some ideas i had developed long ago, but at the time I couldn't really translate them the way I wanted to. I have always been into bands like early Genesis, Rush, Yes, and King Crimson ever since I began high school, and it was always really hard to find other peers that were into the same thing as me. I've known Scott since high school, he was always in and out of a few rock bands here and there that he wasn't extremely happy with, and at the time we never really thought of playing together because we weren't really into the same styles of music. I met Marc about 5 years ago while he was singing in a local death metal band named "Deathridge". I mean, metal was never really my type of music, I like the odd thing here and there but I'm not a huge fan, but we began talking about starting a band together, as he also played guitar at home and wanted to expand his knowledge on that aspect of music. This was 5 years ago, mind you. We talked about it but it never really came into fruition until recently.
Somewhere around early 2007, I met a friend of mine named Rob Rushton in my hometown, he had just moved there from Springhill to attend the Mackenzie College music program. He played bass at the time, but he slowly transitioned into a full time drummer. This is where I came to meet Scott again, he had left Sydney for a few years back to work out west and wanted to be in a band. So, we all started a pop band with a few other people on the premise of making a little money. However, I remember the conversations we'd have about it, wanting to make money playing what we didn't enjoy, it just became too much and eventually we had to start a side project as an outlet for our creativity. This was the foundation of what was to become "Thought Machine".

Rob, Myself, and Marc all met up and began jamming on some riffs and structures we created, and Scott joined soon after. The other band dissolved and we were left to our own devices. At first, we all wanted to go in different directions with Thought Machine. Rob wasn't really into prog rock, and wasn't really enjoying himself as much as the others. We played a couple shows after we has some songs, and it wasn't really coming together, because we just weren't all on the same page. I find everyone being on the same page is very important in a band, because if you're not enjoying yourself, why play? Soon, Rob left the band due to creative differences. We're all still friends, it just wasn't his thing, and we can respect that. Therefore, we were stuck without a drummer for some time, until Marc introduced us to Adam, a hard-hitting player who was into the right type of musical ideas as us. Marc and Adam both played in a progressive metal band named "Magnum Opus", and were also looking for a bass player, so I joined that band for a while, despite not being a huge fan of metal. In turn, Adam joined Thought Machine, and we began to re-write a lot of our songs to better fit our chosen style.
I enjoyed Magnum Opus at first to an extent, but eventually became very tired of it. Like Rob, I was just playing a style of music that I simply didn't enjoy, and the rest of the band began to lose interest in it as well. So inevitably, Magnum Opus dissolved and we were once again left to having Thought Machine as a full time project. It all began to finally come together musically in Thought Machine, and now after 2 years we are still going strong. We are all very happy with the finished product, as we find we can enjoy playing fairly technical music, while still appealing to a larger crowd.

You are from Nova Scotia, a remote part of the pretty wild Canada. How is life in Nova Scotia ?

Nova Scotia is very well known for it's celtic music. It's everywhere here! Celtic music is great, but one of the downsides to living in a place known for it is that it kind of pigeonholes Nova Scotian musicians. Many of the older audience here only want to hear what they know, and what they know is celtic. This is why we're hoping to branch out a little more so we can spread our music as far as we can, and create a good market for it. Any band can make it, whether it's the commercial market your after, or a cult following. The thing that stops a lot of musicians from doing what they want in the music business is that they quit before anything happens. We're going to keep working at it.

Sydney is a small town on Cape Breton Island, which is part of Nova Scotia. Our society is really centered around the ocean, and fishing. If I had to describe the weather, I'd have to say it's similar to places like Scotland (hence the name Nova Scotia, which mean's "New Scotland"), a lot of our weather is very overcast, and all this serves as great influence on the way we play our music. We've recently made a move to Halifax, Nova Scotia, which is a pretty big city, full of culture, and it's really fast paced, something we're not used to. We believe it can only do us good though, because there are tons of places to play, and far more opportunities for original bands here, not to mention a wider audience.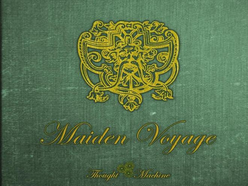 Please give us your long or brief thoughts on your only album to this date Maiden Voyage from this year. How would you describe the music ?
We are extremely happy with this album. We've worked at it for over a year and a half. We wanted it to really reflect our influences while not entirely being "copycats". We've poured our heart and soul into the music, and we've spent countless hours tightening up, and going through all the songs to make sure it's perfect. We recorded the whole album at Soundpark Studios, which is owned and operated by 9-time ECMA (East Coast Music Awards) winner Jamie Foulds. Jamie really seemed to enjoy recording us and helping with production, and it was very fun and comfortable to work with him.
As for the album itself, it is a 9 song, 65 minute album, divided into 12 tracks (the first 4 tracks are the movements of our 23 minute epic "Gordian Knot"). While the record is not a concept album, all of the songs do share similar themes, there is an overall nautical theme to the album because we feel that we have a deep connection with the sea. It also deals with feelings of loss and hardship. The album layout and cover design was done by our good friend Matthew Smith, and the 4 beautiful paintings that you'll find on the inside were done by a charming individual by the name of Kenzie Gunn, an art student in Halifax. We were very involved in making sure the art reflected the emotions and themes within the music of the album, to make it epic in both style and substance.
While the album is quite progressive, it also happens to be accessible to people who aren't normally into progressive rock. We drew from a variety of styles for this record, borrowing from influences like symphonic prog, neo prog, krautrock, pop, classical music, fusion...and even heavy metal. It's a very dynamic piece, we think that if anyone gives it a listen there will be something to enjoy.

How is your writing and creative processes ?
I'd say we had a somewhat different way of writing in the earlier days of the band, which is evident on the current album. We would come up with an interesting riff or rhythm, and we'd all build off of that, adding layers to it. From there, we usually took the song in a few different directions, to see where it would go, and to see what structure best fit the song. Then usually after the music was finished, or near finished, I would write the lyrics and vocal melodies based on the overall mood of the song. A lot of my lyrics have been written in bits and pieces through the last few years, just ideas that I have been playing with for a while, and when we create a piece of music that could compliment them, I take that chance to gather my thoughts together and utilize the different colors I hear in the music, which in turn helps me come up with the finished lyric.
    

We're always coming up with new ideas, and sometimes we'll go back to a song and tweak it a bit. Many of our songs are almost completely different on the album than how they were when we began playing them. Gordian Knot, and Persuasion are good examples of this. Persuasion originally was an 8 minute piece, and had an instrumental "part 2" after that, which brought the tune to almost 12 minutes. Eventually it sort of hit us that the instrumental section in Persuasion didn't really fit the song very well, so we put it on the back burner, and pretty much did a complete re-write. A lot of the riffs that we take out of songs are never truly gone. We just decide "Well, that's just not working" and we tuck it away for a while until we feel it's needed again. We actually used a lot of the riffs that we took out of the ending of Persuasion, and used them to finish off Breathing Lessons, and we think it worked out very well that way.

As of late, we've been writing a little differently. We've been focusing more on actually jamming out a lot of things instead of pre-meditated riffs, it's a really interesting way to write because it can surprise you sometimes, the things that you can come up with on the fly. We're looking into using a lot of that technique for the new album, but on the current record, you'll be able to catch some of that style of writing on the song Young Guns. This is one of the most recently written songs on the album, and a lot of it came from just jamming it out. We like to think it worked out pretty well.

I gather Thought Machine is a full band. How is your gigs and tours situation in Canada and your part of Usa ? Any plans to tour outside this area ?
Right now, due to the move, we are taking a month's break just as we get settled in, but we are part of the mentorship program for contact east, which is a trade show that takes place in Antigonish, Nova Scotia. There they set us up with numerous industry professionals, and we will have a chance to gain more business contacts. We are currently selling the album from various local cd stores in the Sydney and Halifax areas, and we will begin to play bars again once we get all of the moving problems out of the way. We plan on booking a few small Canadian tours starting october, but nothing across the border as of yet, we want to gain momentum first. We are hoping to someday get around to your side of the world soon enough!

Is music your main occupation or do any of you have daytime jobs outside the music scene ?

Well, we are hoping to make it our full time occupation, currently we are working part time jobs. Scott and I are attending the Music Arts program at NSCC (Nova Scotia Community College) so that we may further improve our musical knowledge, and our business sense. We're looking to teach music and play session work as a supplement to playing in Thought Machine. The program will give us a lot of experience in the musical field, and can only improve our chances at making music our career.

What is the latest updates and the plans for this and next year ?
We have already begun writing our next album. We are taking quite a different approach to things than what we have done on our Maiden Voyage album. We don't want to tell you too much about it, but I can tell you that it is going to be a true concept album, and it will be intended as one continuous piece of music. We've recently drawn a lot of influence from bands like Them Crooked Vultures and The Mars Volta, so you can expect the new material to sound a little bit harder edged than Maiden Voyage, while still keeping our progressive feel.
Meanwhile, we will continue to promote Maiden Voyage and tour. We promise to hold the torch high for progressive rock!

To wrap up this interview, is there anything you want to add to this interview ?
We would just like to thank progarchives.com for introducing us to a great deal of bands that we've listened to over the years, and we hope that the site keeps going strong, as it shows no sign of stopping. We would also just like to thank the fans, for without them we are nothing!