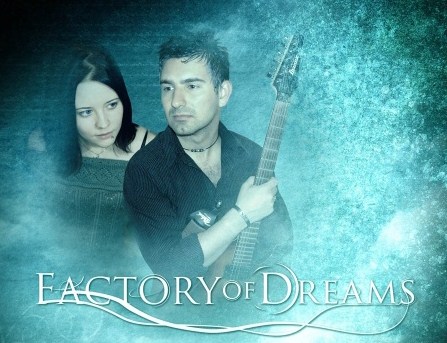 Factory of Dreams is a collaboration between multi-instrumentalist and songwriter Hugo Flores and vocalist Jessica Lehto. This Portugese band plays a gothic, slightly metallic brand of neo-prog. Neither Flores nor Lehto are new to the music business, as Flores released his first album, a solo effort "Atlantis" in 2000, and then formed the band Sonic Pulsar which released two albums. Flores then created Project Creation, a band more in the prog-metal vein, and released two albums, part of a multi-album story arc, under this name.

I got in touch with Hugo Flores for the Factory of Dreams story. 
##############################
Our Factory Of Dreams biography is pretty extensive so just let us bypass that. But what was yours and Jessica musical visions for Factory Of Dreams ?
Hugo: No problem, I can do a quick bio for FoD. Here we go, Me does music, Jessica does vocals. Hope that was ok (laughs)!
Ok, so I wanted to show different worlds with this project, and try out some innovative ambient sounds' approach. This was my initial idea to start this specific band. I also wanted to write very spontaneous music that focused more on the ambiental side of me. By then I still didn't know Jessica and wasn't sure what vocals would be best suitable, music was all that mattered before jumping to vocals. This is why I am so surprised when a few people mentioned that Poles' music perfectly fits Jessica's voice, because it was the other way around, at least for Poles! But indeed they have great chemistry and the music and vocals complement each other. So, I simply started playing and in about a week I came up with some 12 ideas for tracks. This would later become our first album, Poles.
The vision for Factory of Dreams was also to make very mystical music, and occasionally use some ethnic instruments, but not as much as in Project Creation. On a few tracks you can hear the 'Factory' working, before the actual music starts evolving. Other sounds were also specially crafted to depict this bizarre World created for Poles.
The 2nd album was more complex, it didn't deviate that much from my Project Creation, even though it retained the initial vision for Factory of Dreams and a predominance of Jessica's vocals as expected. A Strange Utopia is a voyage through an imaginative mind and to impossible worlds…well, impossible considering our limited knowledge obviously, but the universe is huge with endless possibilities…
But Factory of Dreams won't stick to a formula, as you probably might have guessed by now. Each album will have a story, a type of sound and a very specific vibe. Our next album will be quite different from the first two. However, if you're familiar with our kind of melodic content, both musically and vocally, you'll know that it is FoD.
Jessica: When Hugo got in touch with me my vision was just to contribute to the overall sound and mood with my voice and have as much fun as possible with the project, while at the same time learning more about and improving my vocal technique when working with Hugo. This is still the vision I have for my part in Factory of Dreams.
I will get back to Sonic Pulsar, Project Creation and your solo career in another interview so let's bypass those for this interview. But Jessica has/had her own project called Once There Was. Please tell us more about this project.
Jessica: I started the project in 2002/2003 some time, and released a first demo in 2003. In this project I write all the music and I sing, and helpful people do the things I can't do (guitar recordings etc) or that I'm not really interested in (mixing, mastering). Of course the first demo sounds a bit horrible to my ears by now, but that's a good thing because it means I have learned a thing or two along the way. At the moment I'm working on a fourth demo and I have collected tracks for a fifth demo too. This music is unsigned but I doodle around with artwork a bit and sell these demos on my website. Hopefully at some point I will find people who would like to play Once There Was stuff, so a band would finally exist behind the music. Anyone interested can find some free downloads at
www.oncetherewas.com
:)

Please give me your (long or brief) thoughts and lowdowns on......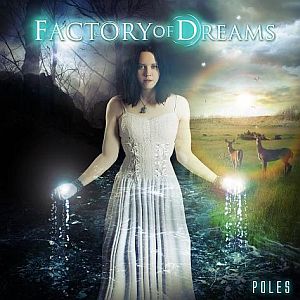 Poles from 2008
Hugo: A very special album to me. Some songs have a strange effect on me, either the intros or the evolutive melodies. It's like they've awaken something inside, ya know. 'Sight of a better Universe', 'Factory of Dreams', 'Crossing the Bridge to the Positive Pole' are examples of that feeling.
I think that this album is also an example of simplicity and complexity at the same time. The structures are relatively simple for me, but the orchestrations are detailed and thorough.
It's also an album that is more intimate, and doesn't have that band sound if you will, in opposition to A Strange Utopia.
It's also an album that reminds me of getting familiarized with Jessica's voice and also getting to know Jessica.
So, this is not band evolution, these are albums that work on their own and are specific of their time. Each album has its own sound.
Jessica: It will always be a very special album to me, since it was the first one we recorded. I had to use a much more fast-paced way of singing than I had previously tried, and it was a bit tricky but I was happy to see I was able to deal with it. All in all I mainly tried to just contribute to the mood on each individual track.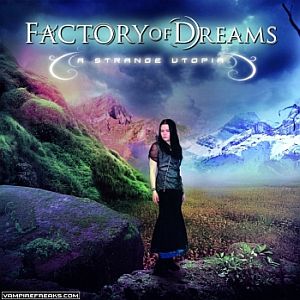 A Strange Utopia from 2009
Jessica: This album is very different from Poles and I like it equally much. Having so many guests was definitely nice, and I particularly have to mention the violin sections, I love that instrument and I love what was done on the tracks where this instrument was featured. This time around the fast-paced vocals came a lot more natural to me.
Hugo: More complex than our first album Poles, definitely. Very bold too, breaking some ground here and there for the genre…if there is a genre.
Two videoclips, which is kind of unseen for a progressive sound/band. Many guests, including other vocalists. To me it has some memorable tracks like Sonic Sensations, the opener Voyage to Utopia and the amazing violin solos from David Ragsdale on 'Slow Motion World' which has become a favorite. The downside is that people used to Poles, may have found it too complex or progressive, but I do what I wanna do and not what people want to hear.
You are currently working on your third album which I guess will see the light sometimes in the near future. Please tell us more about this album.
Hugo: First, I have to say that it'll be the most appealing album to global audiences. Not because I wanted to, but because it turned out that way. The tracks evolve according to what I felt was the natural way for them to grow. All tracks will be quite unique, very powerful, despite two songs that will be just Jessica and synthesizers and piano. One of those tracks is an old song I did on my solo album (Atlantis, 2000) called 'Something Calling me'. Jessica's voice there works incredibly well and I'm sure people will love it.
The rest of the track list is pretty much strong, punchy, bombastic and shorter, like on Poles. Actually, that's it, this album will be a stronger Poles album, much stronger…Can you see I'm excited, yes?
So, the vision for this 3rd album is to simulate the evolution of an artificial molecule, evolving into life, seeing it's own created dimension grow, change and influence its thoughts.
The sound is going to be very 'Tronic' combined with Prog, goth and metal and two ambiental tracks. Our new single, which should be out very soon, will provide an overview of the kind of sound to expect for the upcoming album.
I'm really anxious to have it complete. It has some recording techniques I had never used and turned out great. And except for a 8 minute track, all will be some 4-5 minutes long, and will have many rhythm changes, guitar riffs and vocal harmonies.
Jessica's voice is even greater than before, and she just keeps surprising me.
A new thing about this album is that I'll be singing along with Jessica on some tracks. The album is so strong, that sometimes, a male voice fits very nicely here an there, and I'm sure people will enjoy it. The new song/single will show this interaction that I'm talking about!
What is the lyrical topics on your albums and how is your creative process from coming up with a theme/riff/idea to you get it down onto an album ?
Hugo: Most of the time I start a song by playing on my synthesizers, hardly ever on guitar and sometimes vocally. Then I'll have to figure out how that melody will change and evolve through the track. Usually I just let my thoughts go and see what they come up with. When I run out of ideas I stop, means that the track is done. A few orchestrations can be arranged on top and stuff. These are the foundations for the song.
After that is settled, I begin recording the electric guitars, then the bass and later vocals. I also lay down my drums along with the synths and orchestrations, thus, before the actual guitar recordings.
I like an album with a beginning and an end, story wise. Most of the time my concepts rely on scifi visions, mysterious places and sensations. On Poles there's this invisible Factory, that 'injects' dreams on peoples minds, and a World where only one side is shown, the negative Pole. The album is a journey through that world and how a person manages to find a passage to the positive Pole. The issue is that the 'positive' land, if you will, can't really exist without its 'negative' side. The Factory serves as a mediator between places.
On A Strange Utopia, I try to show a voyage through a universe populated by planets with landscapes and societies unlike anything seen before, such as a land made of and created by sound and music, a land where chaos is the norm, a place where destruction can be…destructed, ..etc.. . On 'The Weight of the World' we show a place where people's mistakes and all evil inflicted on their planet, such as excessive pollution, have a direct impact on the planets mass…people become unbearable heavy and life becomes impossible. Learn from your mistakes…
How do you decide that this music/new idea is for Factory Of Dreams and that new idea is for other of your bands ? Is there any conflicts there ?
Hugo: It's not common, unless a certain track didn't make it on an album and is left over. There I have this spare one to see if it fits on a project. If the song isn't good enough, or simply doesn't please me that much, I delete it. So, like I was saying, it's not common, because when I start working on new tracks, it's already with a concept and an album in mind.

Jessica: I record vocals for three different projects but I don't have any problem separating what vocals shuld go for what band. I think that's because the music styles I work with are quite different for each project, so it just feels natural to have certain melodies and paces for one project and others for another project.
How would you describe Factory Of Dream's music ?
Hugo: To me, it's a combination of Prog with very atmospheric music and really heavy guitars. It's not the usual prog metal or symphonic metal. Sometimes we have very calm and other times very bombastic passages. Poles was calmer, Strange Utopia had all of these genres. The next cd will be bombastic most of the times and more aggressive.
Jessica: I feel that the music is quite diverse, it's obvious that with each album there's a change although you can still hear the Factory of Dreams-sound in there. There are many different elements and influences to be heard and describing the music with one genre only would maybe not really do the music justice. It may not be the most easy-listened music out there, but I suppose that depends a lot on what kind of music you are really looking for.


A question to Jessica really: Which vocalists has influenced you most and do you find any inspirations in the very active Portuguese female vocals based folk music scene ?

Anneke van Giersbergen, Sharon den Adel, Enya and Tarja Turunen have been some of my greatest inspirations. Hopefully I don't sound too much like any of those though, I hope I mainly sound like myself instead. :) Unfortunately I'm not very familiar with the Portuguese female vocals music scene, but for the Swedish one I can mention for example Anna Ternheim, she's an excellent songwriter with a  wonderful voice.

I guess Factory Of Dreams is a studio band. Is there any plans to expand into gigs, festivals and tours ?
Hugo: We never know, but it's indeed a studio project for now.
What is your experience with the music industry and the internet prog scene?
Hugo: The prog scene is quite well served by online prog radios, I'd say most airplay comes from those radios made out of passion from the DJs, unlike more commercial radios that rely on strict playlists. And these playlists, is that fair, is that what the DJs really wanna hear? Most of the time featuring only new songs from big time labels that have the power/money to place those tracks on rotation and on those playlists.. Well, there's the internet, people can now browse and buy what they want to hear, but sometimes they just don't care or don't have the will and time to do that…so they hear what they're served…
The industry is changing, there are much more projects and bands, with the internet and more accessible means to create music. But sales dropped down like hell. Piracy is a big issue and the labels must thrive to find other kinds of business models. Selling an album is nowadays very difficult, despite the online stores. So, fans must be aware of this and buy the albums instead of illegal downloads. That's the only way to keep new music comin'
But I must say that these are exciting times. The internet and the new means to promote provide lots of freedom for a band and their labels. I'm happy to be able to live these moments, they are very exciting indeed and you can immediately see a response from your fans, either via comments or number of plays/downloads.
Besides of the new album, what is your plans for the rest of this year and next year ?
Hugo: Indeed the new album is a priority that I hope to be complete by the end of the year, but before that, we want to release the single and introduce the sound for this album thru that song. It's gonna be a nice event!
Next year it's surely time to concentrate efforts on my Project Creation as well and resume work on the 3rd album. It's gonna be challenging but it's a goal I have.
Anything you want to add to this interview ?
Hugo: You can follow every news on our Facebook and myspace pages, listen to us at myspace, reverbnation or Lastfm.
And comment back, say what you think about the music, we welcome every comment and we reply back. And, very important, if you like the music buy the albums, that's the only way to help a band make more and better music.
Feel free to browse:
Thanks so much for this interview ;)
Hugo & Jessica
Thank you to Hugo and Jessica for this interview

The band links is as above.


Edited by toroddfuglesteg - September 13 2010 at 14:21