STRINGPURÉE BAND is a Finnish trio making some ethereal and luscious music.

Their bio here in PA written by Bob Moore:

STRINGPURÉE BAND is a new and innovative trio from the Northern Savo region in Finland, and who sports a sound that combines modern arrangements and studio technology with more traditional instrumentation and mood. The band's primary 'engine' is the electric version of a Finnish string instrument known as a kantele, played by Senni Eskelinen.
The band's music is all instrumental ranging from neo-folk to free-form, and reflecting the strong tradition of introspective and progressive tendencies found in much of Scandinavian music.
While still in their early stages, STRINGPURÉE BAND has the makings of a long-lasting and vibrant act with the capacity to produce interesting and innovative sounds for years to come.
Listen here:
http://www.myspace.com/stringpureeband
For those into downloads, it's available on itunes, Amazon and emusic.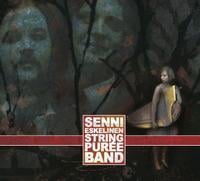 Edited by avestin - September 16 2010 at 21:22