It is my intention to present a 360 degrees wide view on the Progressive Music scene. That means bringing interviews with other interesting people in addition to artists, bands and record labels.  

Adam Baruch is widely regarded as a leading expert on progressive music in both his homeland Israel and worldwide. Israel is a country not without it's controversies. But Israel also have a very good music scene, often shrouded in the mist coming from it's political leaders and their enemies in the region.
I'm glad you used the term "progressive music" and not Progressive Rock (Prog), since my interests in music go far beyond Prog. The whole idea of labeling music by genres, sub-genres, etc. really makes no sense to me, as I view music as a total experience, completely unrelated to whatever pre-conceptions or misconceptions people use, when talking about music. Therefore the term "progressive", as far as I understand it, is not descriptive as of a certain kind of music, but rather a characteristic of its nature. It could be anything; Classical, Jazz, Rock or a mixture of the above, as long as it is progressive. Now the term "progressive" is simply an attribute, which can be applied (and which I do apply) to all Art Forms, not only music. Progress means the multi-stage process, which starts with the learning and absorbing of the past and then continues with expanding it further, sometimes gradually and sometimes rapidly. Therefore progressive music for me is music, which is based on some tradition, but at the same time takes a step further, introducing a new element, which was never used previously. I hope that you understand that this definition means (in practice), that progressive music is quite rare.
You are not a musician, but have run a record label since 1987 called Jazzis. Please tell us more about this label, its artists and why you set it up. Do you find your nationality a problem when distributing your albums outside Israel and sending bands on tours ?
I started Jazzis Records as a necessity. At the time there were no independent record labels in Israel and nobody was recording and releasing Israeli Jazz or Prog or any other progressive music. I realized that there is a lot of great music around, but it never gets recorded, so I decided to do it myself. I had a lot of experience with producing music in Europe and knew the industry, so it came naturally to me. I also had the funds to do it. The decisive moment came, when I heard Harold Rubin, one of the greatest musicians on this planet, and the thought that his music would go unrecorded just wouldn't let me sleep. That was it. Then by word of mouth the other Israeli musicians found me and I started to make more and more albums.
Later on I also brought my musical friends from Europe to record with the Israeli players and this has led to many new friendships and projects.
Jazzis was the first label in Israel to release an album by a Palestinian band, which at the time caused quite a stir. Recently I released another album by an Israeli-Palestinian band with musicians from Israel and the Gaza strip.
No, I never experienced problems with distribution of my albums or arranging club or festival appearances for my musicians, which were originated in a nationality / religion based problem, or at least I'm not aware of that. The problems are mainly due to the fact that these musicians are relatively unknown and come form a "far out there" country, whereas the competition on the record and festival markets is extremely fierce. Of course anti-Semitism and anti-Zionism are still out there, stronger than ever, but I did not experience it personally. I must be lucky to have the right friends I suppose.
You have also done some production jobs. Please tell us more about them.
I produced all the albums released on my label of course, but I also produced other albums for other Jazz labels in Europe. I've had my share of studio time in my life, sleepless nights and desperation, but the overall experience was truly amazing and educational. It made me appreciate music and the Art of making music so much more. One particular production that was very important to me was when I returned to Poland for the first time after I left in 1967 to produce the "Book Of Job" album. Poland was still under the Socialist regime at the time (1985) and this was a totally whacky experience, even politically daring and dangerous.
You are also a prolific writer. Please tell us more about your work as a writer.
I started to write about music when I was 17 years old. This was actually my first job. I was a reporter early on, but later I started to write articles and essays for many music magazines all over the world. I also wrote a few books. Now I'm almost 60 years old and in the last decade or so I started to write a lot of record reviews and publish them on the web. Over the years I wrote almost 10,000 record reviews. I've been an educator for my entire life and I firmly believe in passing on the knowledge. I have many readers around the globe and many young people got exposed to music by reading my writings, which gives me a great pleasure and satisfaction. It would be a shame if all that knowledge I accumulated over the years would be wasted after I'm gone – this is what motivates me to continue writing.
You are an expert on Progressive rock. From Israel, I like bands like Trespass, Atmosphera and bands I am sure I have forgotten in the heat of this interview. Please tell us more about the Israeli progressive rock scene and its bands.
Israel, similarly to Eastern Europe or South America, was a latecomer on the Prog scene. It just takes time for the music to trickle from the source, especially in times when there was no Net and the global communication was much slower. But by the mid to late 1970 Israel had a fair share of truly great young musicians, who were creating progressive music at its best. At least 20 different interesting bands existed then and some of Israel's most prolific composers, like Yoni Rechter, Shlomo Gronich, Matti Caspi and Shalom Hanoch established their identity then. All of them are still active and have produced excellent music over the years. Although the Prog scene dwindled somewhat in the 1980s and 1990s, other interesting musical trends emerged, most importantly the renaissance of World Music and renewed interest in traditional Jewish music and Middle Eastern music, which finally led to the creation of a new amalgam, which is perhaps a genuine Israeli music. The new generation of Israeli musicians is well educated, with many musicians studying in Europe and US. Jazz was the most successful area and by now quite a few Israeli musicians are considered top world-class players, many of them live in NY. Prog had its renaissance in the early 2000s, with dozens of new bands springing out of nowhere, so it's a lively scene. Unfortunately the Israeli music scene is tiny, with very limited possibilities to perform, which often is the main reason for many Prog bands quickly disappearing, sometimes before they make a recording.
Over to progressive music with a metal edge:
Orphaned Land
has rightly got a very good reputation world wide and this is a band Israel should be proud off. What is your view on this band and other slightly harder metal bands like the excellent
Melechesh
and the equally excellent
Salem
?
I personally have a big problem with the "metal edge", so I'll be brief on this subject. It is simply boring, repetitious music for me, which didn't change much in the last few decades. No progress there for me, I'm afraid…
Israel has a good jazz scene too. Please tell us more about this jazz scene.
Yes, it is a very active and lively scene. A lot of young people are studying Jazz music both here and abroad. There is relatively a lot of gigs, concerts, festivals, etc. but as I already said the scene is much too small to contain all the musicians, so many of them leave the country, at least for some period of time, to try their luck on foreign shores. The amount of talent is simply staggering… And the musicians now don't need my label to produce their albums, as it is so easy to produce an album on their own, which of course is great. A lot of good music was released that way in the last decade.
And then we have a couple of Israeli black metal bands who even denies Holocaust as a historical fact. I interviewed one of them fifteen years ago and I had to censor most of what they wrote due to the EU legislations (but mainly because I was thoroughly disgusted). Yes, Israel too has / had some neo-Nazi bands. How is that possible?
This is a very complex question. I don't know which bands you have in mind – I don't know them. But you have to remember that Israel is a democracy, even a liberal democracy, much more liberal than most European democracies and of course the only democracy in the region. Sometimes the democracy and freedom of speech get abused by radicals on all sides. There was only one incident of neo-Nazi (skinhead) activity in Israel a few years ago. We are talking about a few individuals in a country of 8 million people. They were all Russian immigrants, non Jews, which somehow arrived here in the big wave of Russian immigration in the 1990s, this too due to our liberal immigration laws. They were caught, sentenced and expelled from the country. This is all I know on this subject, never heard of a neo-Nazi Israeli band – this sounds like an absurd. My parents are Holocaust survivors, so just a thought of a Jewish neo-Nazi turns my stomach.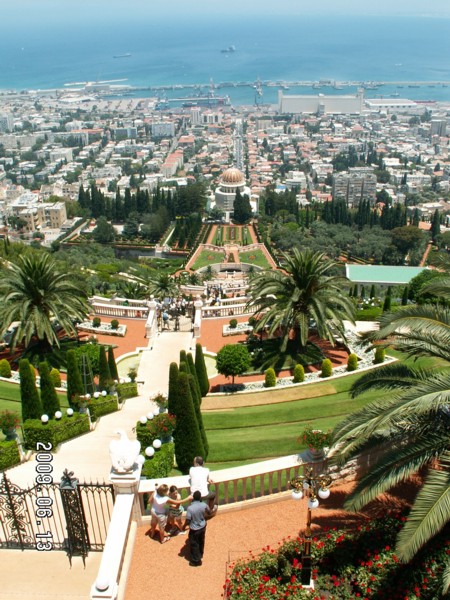 Israel has a three years compulsory military service, unless you are an orthodox Jew (please feel free to clarify). Three years can end many bands. How is it to be a musician when three years of your best youth is spent in the armed forces?  
Yes I hear this argument all the time. We of course look at this quite differently. Most Israelis are willing to put their personal lives aside for the period of 3 years to defend their country. We keep an army because we need to, not because we want to. If there was no danger as to our very existence, we would not have an army. So young Israelis are happy to dedicate their time and serve in the army. After their army service they come back to "normal" life, studies, music, careers, etc. One might even say that in many respects people at 21 are much better prepared to take crucial decisions in their life than they are at the age of 18. The fact is that we don't lack musicians here, even if they have to serve in the army first. I understand that values like patriotism lost a lot of their original appeal in Europe, but we still value it highly. We learned our lesson from the Holocaust and we don't leave our fate in the hands of others.
Is the Israeli music scene unique and different from any other music scene in your view? If yes, how is it different?
It is unique in many respects. Israel is a cultural melting point of the world. Our population of immigrants from all over the world brought with them their unique traditions, both Jewish and local, and the mixing and amalgamating process of Israeli culture is probably the most fascinating in the world. We have here people of all creeds, colors and religions, sharing a tiny piece of land and sharing their cultures. Cultures thousands of years old, with their philosophies, beliefs, hopes and dreams, which we all share now. This is a wonderful place to be, despite of its problems and hardships
How is your philosophical outlook as a national of a country where three world-wide religions often clash in violent confrontations?
These three religions are really one religion, which developed on the time scale. True believers in One God should have no problem coexisting and be brotherly. The problems start when religion becomes political, when it has earthly goals and agendas. This is when the clashes start. As hard as it might seem, I believe that these earthly conflicts are solvable, even when desperation and tragedy is overwhelming. Perhaps we need a reminder from a Higher Power to realize that we are all people and we'll have to unite and forget out differences, when facing a common obstacle. Hopefully we'll all get our senses back before the Apocalypse.
Just to give us an idea about your musical preferences, whose bands are your ten favorite progressive rock bands and you ten favorite jazz bands from the world wide scene?
I really hate to single-out bands and throw names. I know people always want a concrete example, something tangible they can look at and say – he's an idiot. I like so many bands and so many great musicians. It depends on my mood or what I had for dinner or how tired I am. But seriously, one person's garbage is another person's treasure. I have written extensively on the subject of "objectivity". Yes, in my opinion good music is absolutely good, not because I like it but because I can explain why it's good. So rather than throwing names I'd say that generally I prefer music that was made during the Golden Decade (1965-1975), not because there is no progressive music now, but because it was more progressive then. Jazz of that period is simply marvelous, as is some Pop, Rock and of course Prog. There was something in the air during those years, which made people go (musically) crazy. I love crazy! For new music to be relevant to me it has to contain some edge, which is usually achieved when World Music (that of infinite range) is mixed and intertwined with Jazz or Rock or whatever. That works for me.
To wrap up this interview, is there anything you want to add to this interview?
First I want to thank you for wanting to hear my rumblings.
I invite your readers to visit
my homepage
where they can find more of my rumblings.
I also invite your readers to visit my
on-line music shop
. No, you don't have to buy anything, but the site is organized as an on-line encyclopedia of recorded music, with each album described in detail and an infinite number of links, which will take the reader on a journey of discovery like no other site can.
Readers interested in reissues in particular might find my
reissues site
  interesting.
Peace and happiness to you all! Have fun!
Thank you to Adam for this interview