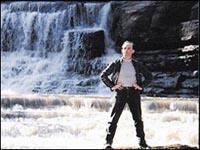 Steve Cochrane is a Canadian artist who went from New Age to prog over the course of three albums. His latest, a mixture of Genesis, Mike Oldfield, Camel, Anthony Phillips and Yes, is of particular interest to progsters. During the 80's, he spent five years working on an album based on the work of writer Ayn Rand; however, record companies balked at supplying the necessary cash; so he shelved it, chose a cheaper route and began focusing on recording with keyboards. Steve Cochrane later released four albums and the rest is history.
I got in touch with Steve for his story.
~~~~~~~~~~~~~~~~~~~~~~~~~~~~~~~~~~~~~~~~~~~~~~~~
Please tell us more about your musical background and where you were born.

I was born in Nova Scotia on Canadaís east coast and we moved to Ontario before I was 2. I have no formal musical training at all, but picked up a guitar at the age of 15 and tried to emulate what I was hearing on favourite records. The most important influence at this time was Rush, so I learned a lot of chording and solo techniques from Alex Lifeson. I also tried to sing like Geddy Lee, but that turned out to be a pointless excercise. As Rush progressed, I followed their influences and latched onto the likes of Genesis, Yes and Renaissance. I had also been playing in a handful of local bands, including one called Endpieces, which was quite ambitious. We did only original music and wrote together as a group, challenging each other and that contributed greatly to my development.
Endpieces disbanded after a few years and I decided to take what Iíd learned and focus on writing and recording. It was the early 80ís and here I was creating lengthy pieces with grandiose themes, totally oblivious to popular trends and having no idea how poorly my creations would be received by industry people. At this time, it wasnít possible to record the album Iíd envisioned without label backing or loads of money, so this project ended up on the shelf for a few years.

To start with; please give me your (long or brief) thoughts and lowdowns on.......



Heroes Awaken from 1990

By the late 80ís , MIDI technology was in widespread use, while at the same time, I liked a lot of the instrumental music I was hearing at the time, which was getting a lot of radio airplay. I saw new possibilities for what I could do as I explored this, and was soon creating what would be my first album. It was an exciting time for me as I was expanding my capabilities with keyboards, guitar synthesis and drum programming. It was a golden age for me as a composer and though some may characterize the album as Ďnew ageí, there's much more to it than that. If you have an appreciation for composition and arrangement with good use of themes and motifs, thereís much to enjoy on the album.



To See It Made Real from 1995

This begins, quite literally, where the first album ends. The arpeggio that fades out at the end of ĎA Place to Gather Strengthí fades in again at the beginning of ĎReason Is the Rising Suní. Thereís a lot of growth on this album. Technology had advanced to make audio recording alongside MIDI more realistic for the home recordist, so I took advantage of that to make something a little more organic. Youíll hear a lot of guitar on this album, especially acoustic. I also made my first appearance as a vocalist on the 11-minute title track.



The Purest of Designs from 1998

One day, I reached up to the shelf and brought down the project that Iíd been working on before Heroes Awaken. I now had the gear I needed and the ability to see it through. Probably my proggiest record, and despite the fact that the material was much older, I was now seeing it as a logical continuation of the first two albums. As such, I wrote an instrumental piece, a bit of a tour-de-force called ĎThe Promise of the Musicí, which revisits themes from all three albums and serves to tie them together as a trilogy.
The centerpiece is a 7-part, 27-minute suite called ĎSongs For Springí. Back in the dark days of the 80ís, Iíd been told that it would never be played on radio, but Iím happy to report that Iíve received royalty cheques that have proven those folks wrong.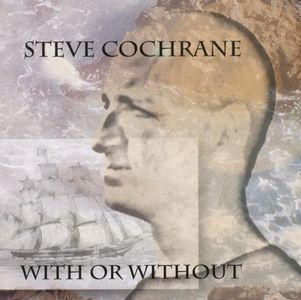 With Or Without from 2007

This project took me down a lot of different roads. After ĎDesignsí, I began working on another epic album, but various life challenges got in the way and it bogged down after awhile. Like the previous album, it ended up on the shelf for a few years. In the meantime, Iíd been taking my acoustic guitar into pubs in order to get some live experience and to at least make some of my living from music. (I did a pretty mean version of Yesí ĎRoundaboutí.) Precious little of my recorded material translated well into a singer/guitarist format, especially in a pub environment, but I did have other songs that did, so it seemed to make sense that they should comprise my next album. The idea was to finish it fairly quickly to have something to promote and sell on a local level. But I soon got adventurous and the songs transformed into something much grander. Iím extremely proud of the album, though it veered far off itís original intention.

What happened after the release of this album and what are you up to now ?

When With Or Without was released, the skies opened up and the world fell silent. Seriously though, at a time when attention spans have shrunk, I have an album that is best appreciated as a whole and without distractions. It does require a few listens and who has the time for that?
Iíve since come back to the project that I started before With Or Without and itís all coming together quite nicely. The title is ĎLa La La: Variations On a Happy Songí and it is exactly that. Itís an epic spiritual journey comprised of continuous music with no pauses. Expect to see the album in 2011.

How would you describe your music and which bands would you compare your music with ?

I would describe my music as possessing a kind of epic grandeur, balancing emotional/spiritual elements with intellectual - masculine with feminine. To fully appreciate it requires patience and attentiveness in order to understand the connections that exist between songs or sections and to get the overall flow.
Iím hesitant to make comparisons, but I do recognize where certain influences creep in. Rush, Genesis, Yes, Renaissance, Mike Oldfield - I hear them all in various phrases and sometimes overlapping. Others have made the above comparisons, but more specifically, my guitar playing has been compared to Steve Howe, Steve Hackett and Alex Lifeson. My singing has been likened to John Wetton, Ian Anderson and occasionally Geddy Lee. Go figure.

How is your writing and creative processes ?

Painstakingly slow and laboured. Iím not the least bit prolific, as itís only once in a blue moon that I come up with an idea that I think is worth pursuing. When I do have that idea, I explore it inside and out, often in my head during everyday life rather than in my studio surrounded by instruments. Itís not unusual for a theme variation to play out mentally for days or weeks before being recorded. Overall flow and structure are important to me, so I always try to stay focussed on the whole even when Iím working out small details.

You have also contributed on Ken Baird's projects and other projects. Please tell us more about this.

I met Ken in 1998 after both of us received airplay on a radio show in Kentucky. ĎDesignsí was featured on the show, so the host sent me a cassette of it. I was able to hear one of Kenís tracks on the tape, liked it a lot and discovered that he lived about a half hour from me. We met and have been friends since, sharing advice as well as moral support and occasionally performing on each otherís recordings. Iíve made small contributions as a guitarist on each of Kenís latest three albums and he played a fair bit of the keyboards on With Or Without. Weíve also played in each otherís live bands at various times in the past.
Iíve also played guitar parts on albums by Kevin Richard (Inventing Fire) and Mark Sarno (Dark Matter).

You wrote a concept album based on Ayn Rand which was shelved. Her work is regarded as fascist here in Europe, although her philosophy is the exact opposite of fascism/communism. But Rush got into trouble with the European press over their association with Ayn Rand. Why is you Canadians so fascinated with her Utopian philosophy ?

First of all, thereís a bit of misinformation on this that Iíd like to clarify. The album in question is ĎThe Purest of Designsí, which obviously saw the light of day eventually, so thereís no grand tribute to Rand that Iím hiding for fear of being slaughtered by left wing reviewers. Itís certainly not accurate to say that the album is ďbased on Ayn RandĒ, though Randís writings have been an inspiration to me throughout my musical endeavours and signs of her influence show up in various ways in most of my work. Some of the ideas expressed in the lyrics of ĎSongs For Springí are directly related to one of her non-fiction books, The Romantic Manifesto. And the opening track of the album, ĎTo the Glory of Maní was my musical response to having read The Fountainhead for the first time.
As for the rest of the question, youíre correct to state that Randís philosophy is the exact opposite of fascism/communism. More to the point, she championed the individual against the collective. I can only guess at the motives of those who would regard her as a fascist.
As far as a Canadian fascination with her philosophy, perhaps my work and the lyrics of Neil Peart have given that impression, but she has as many detractors here as anywhere else. More sadly, most people here have never heard of her.

Just to wrap this interview up; do you have any regrets in your music career?

That Iíve never gotten to a point where I can make a living doing what Iím most passionate about. In a field that places a high value on youth, Iíve developed very slowly and continue to improve my skills as a composer, guitarist, vocalist and producer. Iím doing my best work as I approach 50. Perhaps things would be different if Iíd reached this level 25 years ago when I had a full head of hair down to my butt.
No sense focussing on that, though. Iím proud of what Iíve accomplished thus far and Iíve much more work to do.

What is your five all time favorite albums ? †

This might change tomorrow, but these are five that Iíll never grow tired of:
A Farewell to Kings - Rush
Scheherazade and Other Stories - Renaissance
Wind and Wuthering - Genesis
Spectral Mornings - Steve Hackett
The Yes Album - Yes

Anything you want to add to this interview ?

Just a request for those who are reading. Once or twice a day, put aside the distractions that are a staple of modern life (log off of Facebook, give YouTube a break, shut off the TV, dim the lights) and just focus on music with attentive ears and an active, open mind. To do otherwise is just skimming the surface and the only music youíll notice is that which is brash enough to break through the noise.
One more thing. If you like it, buy it from a legitimate source so that the artist is rewarded for his efforts and can continue to create. †
Thank you to Steve for this interview

His PA profile is here and his homepage here