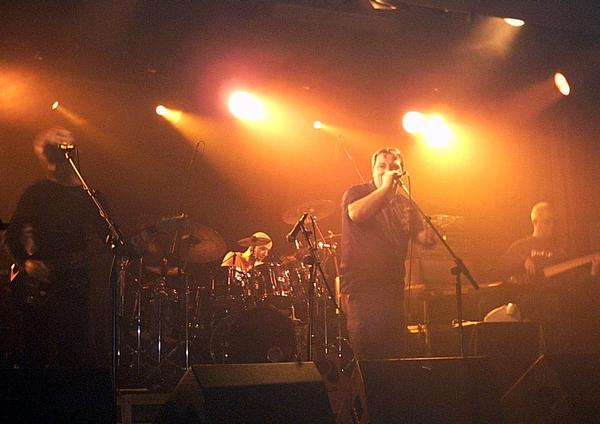 Dead Heroes Club from Derry, Northern Ireland was formed sometime after the millennium, when Gerry McGerigal (guitars, vocals), Liam Campbell (vocals, guitars) and Mickey Gallagher (drums, percussion) decided to form a band of their own. They all had previous experience in different bands, and all of them had become tired of playing only plain mainstream-oriented pop and rock music - and all shared a passion for progressive rock from the 70's and 80's.

With an aim to form a band creating an playing adventurous music that appealed to the mind the trio went out looking for other musicians in their native Ireland that would find this vision intriguing. When discussion such a possible addition a name kept popping up in conversations - Charlie Coyle. And it soon turned out that he was interested, and besides providing the bass guitar the so far unnamed band needed he also turned out to be an accomplished keyboard player; and as such covering both instruments needed for the band to record their compositions, as they at that time had yet to find a suitable keyboard player.
I got in touch with them through Shawn from ProgRock Records. The band collectively answered my questions.
+++++++++++++++++++++++++++++++++++++++++++++++++++
I visited your town Derry many times at the beginning of this millennium so that explains why I start this interview with a personal question.
Is the tavern at the bus station in Derry still serving that delicious Irish Stew ? Lovely tender pieces of lamb together with lovely potatoes. If yes, I think I may get over there again for a gastronomic visit to one of the most special places on this planet.
Yes, the Irish stew is still to be found in that pub. The pub is now called Beckett's, after the Irish playwright Samuel Beckett, one of the leading lights of the original Theatre of the Absurd movement - coincidently the title of the opening song from the 'A Time of Shadow' album. How's that for serendipity!?  
Your band comes from Derry in Northern Ireland, the most special city in the British Isles. How was it to grow up and set up a band in this city, which also was the scene for
Bloody Sunday
in 1972?  How much of Derry and
The Troubles
do we find in your songs?
Thanks for your kind words about Derry, of course it is pretty special city to us and the original inner Derry is one of the very few intact walled cities in the world. We all grew up with The Troubles, but to us that was just part of the landscape of our lives - we never let The Troubles destroy the positives of coming from the North of Ireland and this unique part of the world. As part of our heritage, our past and part of who we are, The Troubles and the struggle for normality in a chaotic world of oppression, guns and tribalism will always feed the music. Not in a necessarily overt way – but rather it is absorbed into the mood, the symbolism and the themes. There are a few occasions when the specter of Northern Ireland's political & paramilitary past and present arises into clear view. The lyrics on 'A Day in the Life of the World' (the opening song from the debut album), the lines "In my own homeland /slaughter for the lamb / if you're from the other side / for God and glory they'll take your life" from 'A Gathering of Crows' and the closing section from 'Theatre of the Absurd' (both from 'A Time of Shadow' album) are cases in point.

I know Derry had a very vibrant music scene during The Troubles and in the recent times. Were any of you involved in any other band or project before starting Dead Heroes Club?
Yes, we were all involved in different projects and knew each other well from other bands – and knowing we all shared the same 'outlandish' taste for experimental and progressive music we had a few meetings, a few jams and decided to set up a dedicated progressive rock band. We started off playing tracks like 'Squonk' by Genesis, 'Time and a Word' by Yes, and 'Time' by Pink Floyd before beginning the ultimate goal of creating our own music in our own way. A band playing in this style still remains something quite unusual on Irish soil, but we are beginning to turn some heads.

Please tell us more about Liam Campbell's solo album On the Streets of the Underground.
Yes
,
Liam released that solo album before Dead Heroes Club was formed. You can easily detect his progressive leanings on some of the songs. Interestingly two Dead Heroes Club members: Michael Gallagher (drums) & Gerry McGerigal (guitars) guest on a couple of the songs. The album sold well and is now almost completely deleted, and it is not scheduled for a re-pressing. There are, however, some final copies still available – interested parties can drop a note to the band's email address -
[email protected]
– for further info. Liam has plans for a second solo release probably early 2012 but things are only in the early stages. More info will appear on the band's websites in due course. A quick point related to an earlier question: there is a song on Liam's solo album called 'Free Derry Corner' which deals very explicitly with The Troubles in Northern Ireland.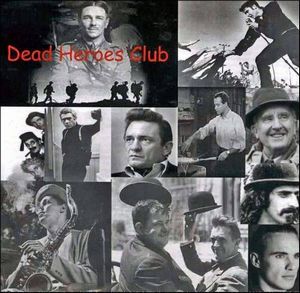 Over to Dead Heroes Club again. Please tell us more about your first album Dead Heroes Club from 2004
Our first eponymously titled album was released independently before the band was signed to ProgRock records. It served its purpose well in terms of announcing a new prog band that was influenced by the old masters but still had its own sound. The album sold extremely well, and was critically well received, getting the band noticed. Like Liam's solo release, this album is now almost completely sold out – but there are plans for a re-pressing. As before, anyone interested in getting their hands on the last of the original pressing can email  
[email protected]
if we can help we will – but the last batch of these is likely to sell out on forthcoming gigs (there may be the odd copy left in some outlets though). Dead Heroes Club still play a selection from the debut album in the band's live set, indeed the 10min track 'A Secret Never to be Told' remains a live favorite.
Above is a promo of a 5 min edit of the song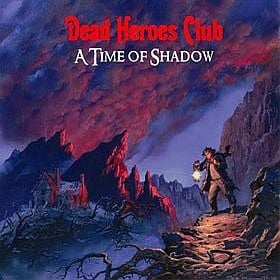 Please tell us more about your second album A Time of Shadow from 2009
The 'A Time of Shadow' album is a clear statement of where we are musically. We decided to approach the songwriting for the album in a very open way, allowing the songs to lead the way, some songs ended up over 15 mins, some 4 mins. We also allowed the mood of the music to feed the lyrics and visa versa. There are some very dark moods on there, but some piercing light as well; there are moments of power and grit, and some more delicate and atmospheric passages – we wanted that spectrum of sound – but believe it all feels like a unified work. Also, we were very lucky to acquire the services of the J.R.R. Tolkien artist Ted Nasmith to design the cover for us. He worked in close unison with the band discussing themes, lyrics and moods before attempting to interpret the title 'A Time of Shadow' for a cover illustration. We are all very pleased with how it turned out. Also we are very happy with how the songs are sounding live at the moment.

Why the five years long break between the albums ?
Good question. We don't plan such a long break between albums again. Between the first and the second, however, we experienced a member leaving (on good terms) - bassist Charlie Coyle. It took a while to find a suitable replacement – with the attitude, playing style and commitment we needed. Thankfully we have found that in Wilson Graham who has added a new dimension to the band. We had a few other problems also but rather than list things here, suffice to say such events contributed to the album's title 'A Time of Shadow'.

Just to give those of us who are unknown with your albums a bit of a reference point or two: How would you describe your music?

That's difficult! Our sound is driven by power, emotion and melody, and we hope that we have our own musical soundscape, although as one reviewer states 'the blood of Genesis, Floyd and Tull flows in [our] veins". Indeed maybe it would be wiser to allow the critics to describe our music. The
'Prognosis'
reviewer said, "Dead Heroes Club present a full symphonic prog musicality, clearly influenced by the 70's greats but bringing those references to a modern approach." The
Jerry Lucky
Prog Files state: "Stylistically Dead Heroes Club blend elements of different eras of Genesis, think Wind and Wuthering or Trick of the Tail with more than a hint of the recent work from Echolyn"
Classic Rock Music
offers: "Ireland has a progressive rock band of its own and one to be mentioned in the same breath as modern proggers Spock's Beard, The Flower Kings, Glass Hammer and Porcupine Tree." Craig Hartranft of
Dangerdog
says "DHC combines impressive and creative progressive rock, steeped in the classic tradition, with brilliant lyrics". And Jeff Perkins of
Eurorock
kindly writes, "This is thinking person's prog. A Time Of Shadow has a powerful collection of thought provoking, imaginative, and inspirational lyrics the likes of which I haven't heard in a long time"
Hey who are we to argue with those guys? But seriously, it's nice to have so many views that taken together add to describing our music as stylistically modern but with a clear classic prog influence.
What is the latest update on Dead Heroes Club and what is your plans for the rest of this year and next year?
We are currently in pre-production for a new studio album, and are excited by how the new songs are sounding. There will be more news about that as things unfold but the album should be out early next year. Also, we are due to play 'Summer's End', the UK's most prestigious Prog festival, on Oct 10th – and are showcasing one of the songs written for the new album in our set. We are also in talks concerning a UK tour in the spring – we will keep the websites updated about that. We would love to do a few shows in mainland Europe or the USA but logistically things would have to be in place – nevertheless, you never know.

Besides of music, what else are you up to in your lives?
We all have busy lives, Michael (drums), Wilson (bass) & Chris (keys) all teach aspects of music and have other musical projects on the go. Gerry (guitar) plays in an acoustically based band that features the music of Joni Mitchell amongst others. Liam (vocals) lectures in English, and has recently won a literary award for his play 'The Harbinger'; he also has an academic book on the works of J.R.R. Tolkien coming out in December 2010.


Back again to Northern Ireland. I lived there for some years and  travelled all over this part of the world which is best described as the Garden Of Eden. Stunningly beautiful, in other words. What is the words you want to use on Northern Ireland?
Thanks for your kind words – they pretty much say it all – Ireland contains some of the most striking landscapes under the sky – all the history, heritage and legend of Ireland is fused with a story of the land, the green fields and the protective mountains – all of which are older than the politics which threaten the soil.

Anything you want to add to this interview?
Thanks for speaking with us Torodd, we hope that the interview provides others with some insight into the nature of Dead Heroes Club, and we hope that some may enjoy listening to the music as much as we enjoy making it. We will be updating our myspace site with regards the new album as things unfold, and should be launching a brand new website soon.
Right – we're off to try some Irish Stew…
Kind regards, Dead Heroes Club

Thank you to Dead Heroes Club for this interview and all the best



Edited by toroddfuglesteg - September 20 2010 at 15:35