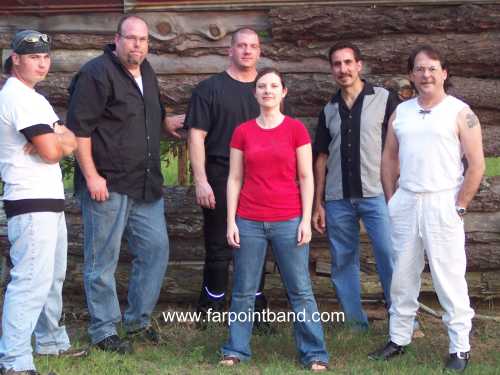 Farpoint are a 6-piece outfit from South Carolina whose melodic style alternates between acoustic folksy ballads and harder-edged blues rock. In addition to standard rock instrumentation, they use classical guitar, mandolin, flute and various types of percussion. Vocal duties are shared between two very different vocalist, female Dana Oxendine's angelic voice and Clark Boone's husky/gravelly type reminiscent of Ritchie Havens on "How Can I" and "Icarus Ascending" from Steve Hackett's "Please Don't Touch" album.

I got in touch with the band for their story. Kevin answered my questions. 
============================================
Why did you choose that name and which bands were you influenced by ?
We wanted a name that was simple, and easy to remember, but also had meaning. "Farpoint" actually came from an episode of Star Trek: The Next Generation, but to us it also implies striving for something that is difficult to reach or attain.
As for our influences, there are so many. The usual suspects I guess, like Yes, Kansas, Pink Floyd, Moody Blues, Genesis, ELP, and so on. Rick, our drummer, was a huge Rush fan, and likes a lot of metal leaning stuff like Iron Maiden or Queensryche, but he also loves stuff like the Beatles and Dan Fogelberg. In addition to the prog stuff, I love music with a folky slant like John Denver or Cat Stevens, and I also love a lot of classical, particularly Bach. The other members each have their own musical interests as well, so you could say our influences range from rock, pop and country to Celtic, classical, and jazz...If we like it, we'll listen to it!
What is Farpoint's ethos and musical philosophy ?
Our musical philosophy is quite simple: We write and play the music we love. We don't try to write a particular type of music, or focus on one particular style to fit into a certain genre or subgenre. I think the result of this is that the songs on any one album tend to be pretty diverse, yet still end up sounding like Farpoint.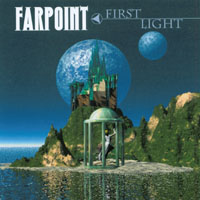 Over to your albums. Please tell us more about your first album First Light from 2002
First Light was kind of an experiment for me. We had been playing out for 4 years or so, and had a bunch of songs, and so we decided it was time to put out an album. We had purchased some recording gear, but none of us had a lot of experience with recording, so I kind of dove in head first and started learning as I went. Unfortunately, this does show in some aspects of the recording quality on the album, but it was a great learning experience, and truly a labor of love, and I think that also shows through in the songs. A couple of my favorite Farpoint songs were on that album, including our 14 minute "epic," "To the River."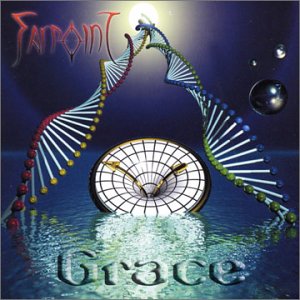 Please tell us more about your second album Grace from 2003
Grace was a kind of loose concept album. It was actually supposed to be the first Farpoint album. I'm pretty sure all the songs on Grace were written before most of the songs on First Light. With this one we had a big improvement in audio quality, as well as adding a great lead guitarist in Mike Avins. There was actually another song that was a part of this concept, an instrumental called "Bad Mojo," that didn't end up on the record. We have a recording of it somewhere...Maybe it will get released one day!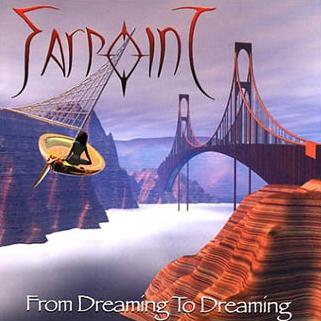 Please tell us more about your third album From Dreaming To Dreaming from 2004
I felt like we took a big step forward with this album, in terms of recording quality and songwriting quality. A lot of the credit for that goes to our lead singer at the time, Clark Boone. Clark and I had shared most of the songwriting duties on the first 2 albums, but he wrote the bulk of this one, and I think he wrote some really fine songs in this time period. Plus, we had our original drummer and co-founder, Rick Walker back in the band, and Rick's enthusiasm and talent added a lot. Mike was also now fully integrated as a guitarist, and I was learning my way around the recording console, so I think all of that shows in the final product. To this day I am extremely proud of this album, and it seems to be a fan favorite as well.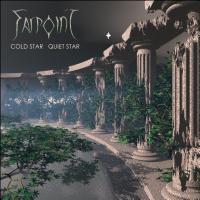 Please tell us more about your fourth album Cold Star Quiet Star from 2008
This album represented a major change for us. To explain that, I need to back up a few years. After the release of From Dreaming to Dreaming, we were out there playing as many shows as we could to promote it. By late 2005, we'd been going non stop for about 7 years. People were getting tired and frustrated. Rick and I had a concept for another album, and not everyone was onboard with the idea. So, in December of that year, the band split up, with the understanding that Rick and I would continue working on the new music and see where it would lead us. Since the music had been written with Farpoint in mind, there were of course male and female vocal parts, and flute parts. So, we auditioned a bunch of people, and ended up with Dean Hallal on vocals, and Jennifer Meeks on vocals and flute. Around this time our bass guitarist, Frank Tyson, decided he wanted to be a part of it, and when we listened, it just sounded like Farpoint, so we decided to revive the band.
The album is different from previous ones in that it is much more concept-oriented, and largely instrumental. There are lots of recurring themes or developed themes in different keys, tempos, or time signatures. We spent a ton of time arranging minute details, which is why it took so long to finish. But I think the end result was worth it. And it's gotten by far the best reviews of any of our cd's to date.
What is the latest update on your band ?
Well, we have currently finished the recording of our 5th cd, which will be entitled Kindred. We recorded it at Charleston Sound, which is the state-of-the-art studio owned by Jeff Hodges (of Man on Fire). Jeff is also mixing and producing the album, and so far it sounds amazing. It is in the final mixing stage, and we hope for a release this fall. At that point we plan to get out there and play a few shows to support it, and we already have a few songs in the works for the future.
How is your creative processes from coming up with a theme/riff/idea to you got it down onto an album ?
Interesting question. I guess it's really different from song to song. Sometimes I'll come into practice with a fairly complete song. Sometimes someone will bring in a phrase or a verse, and we'll all work on it as a group and see where it goes. Often it goes nowhere, but once in a while the magic will be right and it will take on a life of its own. Then, as we work through the songs, we just kind of see which ones feel right and which ones go together, until there are enough to make an album. Rick and I recently wrote a new song while I was here in the US and he was temporarily stationed in Iraq. I sent him a lyric, and he wrote the next line, then we went back and forth. I took the finished words and put them to music that very evening, and we had a complete song which will likely end up on the 6th Farpoint album. Appropriately, the song is called "Half a World Away."
Just to give those of us who are unknown with your music a bit of a reference point or two: How would you describe your music ?
It's always difficult for me to describe it, but what I've said in the past that most people seem to agree with is "folky art-rock with a progressive edge." We love strong melodies, harmony, dynamics, and diversity. I'd like to think that those things come through for the listener as well.
How is the availability of your first albums and what is your experience with the music industry and the new internet music scene ?
The first three albums are still available, but in very limited supply. Since the split in '05 and reformation with a new lineup, it's unclear if we will ever repress these albums again. But for now, all of our albums are available through CDBaby, Syn-phonic, Kinesis, and a few other outlets.
Our experience with the music industry is basically this: If you are going to get out there and make music, you'd better do it because you love it, or otherwise you are going to be let down in no time. It's a tough world out there, and there is a ton of competition, but if you truly love what you're doing it's not really hard work, even when things aren't going your way.
As for the internet music scene, it's been great for us. Our touring has been limited to the southeastern US, yet we've sold lots of cd's, and made many fans and friends, all over the world. It's the internet that has made that possible.
Are any of the Farpoint members involved in any other bands or projects ?
Funny that you would ask, I actually have a project in the works right now with several other guys from established bands in or around the prog scene. Hopefully we'll have a major announcement to make on that front by early 2011. Beyond that, I also play with my church praise band, and occasionally at my local community theater. Dave Auerbach, our current lead guitarist, plays in a rock/pop cover band, and Dean sings with his church as well.
To wrap up this interview, is there anything you want to add to this interview ?
Well, I'd like to thank you for the interest in Farpoint, for the opportunity to expose our music to a broader audience, and for doing such a great job with the ProgArchives website!
Thank you to Kevin for this interview