Formed in 1998 by Lorenzo Giovagnoli (vocals and keyboards), Odessa was completed with three of prog's finest musicians on guitar, bass, and drums. The band presents original compositions as well as covers. The music is deeply rooted in the history of Italian progressive rock. Of particular interest is Lorenzo's voice singing in Italian with a strong voice.

That sounds interesting to me. I got in touch with them and Lorenzo answered my questions.
====================================================
When was Odessa formed and do you have any background from other bands ?  
Odessa were formed at the end of the year 1998, with the main goal to record what would be our first album, "Stazione Getsemani". At the time I had just started running a restaurant with my family, and the business was so demanding that I had to take a break from my university and any musical activities. In.
Thanks to this I was contacted by several labels and journalists, among 1994 I had recorded a demo tape with my band, Oscuri Manifesti, and sent it to several fanzines and magazines for consideration. The rock magazine "Metal Shock" blessed our work with a "Top Rated" review and "Demo of the Month" award. The review spoke about Italian progressive music of great quality - not that I knew much about Italian progressive music at those times, but maybe my songwriting led me naturally to those atmospheres whom Loris Furlan, music critic and owner of Lizard Records. We became friends, and in 1995 I invited him to Bologna when I debuted in the role of Jesus in "Jesus Christ Superstar" with the company "Undici Meno Due".
So, around June 1998, Loris phoned me saying that Mellow Records had the funds to produce a new Italian progressive band, and he had been asked for advice. He wanted to know if I was interested, and if I had some songs that he could listen to. To be honest, I hadn't been making music for a at least a year, but, seen the opportunity, I answered enthusiastically that I would be able to produce some songs in little time. So I frantically rearranged some of the material I had written for Oscuri Manifesti and composed some new tunes, and in November found other guys that would play on the "Stazione Getsemani" album, recorded in the last week of January 1999: Valerio De Angelis (bass), Boris Bartoletti (guitar), Federico Filanzi (drums).  
Giulio Vampa (guitar) and Marco Fabbri (drums) joined Odessa in 2002 replacing Boris and Federico, though Marco is not collaborating with the band anymore. Now we can announce that we have a new drummer called Marco Pacassoni, with whom we happily did our recent mini-tour in Indonesia.  
Why did you choose that name ?
Again, this came from Loris. While I wanted to call this new band by the old name Oscuri Manifesti, he suggested that Odessa would be more representative of our music (Odessa can in fact recall bands like Area or Osanna, and even refer to the first Bee Gees album that contains many progressive influences), and more easily memorized by a foreign audience.
To start with; please give me your (long or brief) thoughts and lowdowns on.......

Stazione Getsemani from 1999
Cons: It was recorded in 6 days, after 4 rehersal sessions, by a band who had never played together before; Musicians are great but I feel the lack of time, the lack of experience and that some passages are not oiled up by the live playing.
I am also not very happy about the voice, I was suffering from a serious form of highfever, due to the presence of cats around the studio (This one was chosen by the label and we couldn't change location).
So I had to record everything on antihistaminics; besides, I even had to leave some raw vocal sessions on the CD, after a serious allergic reaction had forced me to leave the studio.
Pros:It was my great occasion of recording a debut album, and I worked frantically to realize it the best way I could. It was a quite successful album and created some buzz on this new band coming in the italian scene;  
Nevertheless the songs are quite original and nice, and I think that this album can still fascinate a listener in spite of the lackings of the production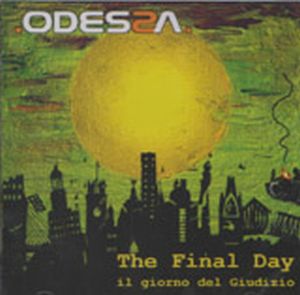 The Final Day from 2009
Odessa's style's still there, a blend of Italian prog, hard rock, pop and jazzy passages, in a very tight and coherent (in my intentions at least) songwriting.
The band' grown up a lot and this clearly shows in the album.
This time I feel that it is even more personal and less attached to the clichés of prog.
The production is totally different: this work has little compromises with what we had in mind.
Also I think that even if it is quite complex it can be easily enjoyed even by a non core prog lover.
I like it a lot ehehe
There is a ten years gap between these two albums. What happened ?
Well I'm the only composer in the band and I have had little time to focus on Odessa's originals for a long time; As I mentioned above, I had just bought a restaurant with my family in those years, so my spare time was quite reduced; In the meanwhile, I graduated at the university, and trained myself as a professional singer, with the help of the opera singer Letizia Sciuto;  
I also became a vocal coach myself and started teaching; Odessa continued gigging regularly, both originals and covers, and maintaining a high quality live band, renewing the repertoire, adding tracks, it required time as well.
I wanted this album to have no compromises so I took all the time I found necessary to have a product I could be proud of.
What is the latest update on your band and what is your plans for this year ?  
We've been touring in Jakarta, Indonesia in November 2009, and played in the prestigious festival Jak'Art 2009, fashion music and art festival. We are now trying to organize a gigs in America and Canada to present "The Final Day" live.
How was the writing and creative processes in your band ?  
I usually work alone for the general structure of the songs, melody, lyrics and rough arrangements, then I submit the stuff to Giulio, Marco and Vallo. After that, things can change because often what sounds good at home does not convince us when we play and have to arrange the song together. They are also great musicians and can find brilliant solutions to enhance a track or a passage. One exception is Senza Fiato. The first 50 seconds of this song come from a very talented English musician named Sarah Scutt, a graduate of Trinity College of Music. I came to know her in Urbino many years ago. She made me listen to the song on the piano, and told me she had composed it when she was 14. I was really intrigued, and asked her if I could make a song out of it, which I did.
In July 2009 we had a line-up change: our drummer, Marco Fabbri, left the band due to the overwhelming amount of work he is having with his other bands, which didn't make him available for the promotion of "The Final Day". So Odessa's new drummer is now Marco Pacassoni, who is a Berklee graduate drummer and vibraphonist. Marco is also a composer, so our way of writing songs might change…  
I give a lot of importance to the lyrics as well, as I believe that poor lyrics can ruin a good tune, and vice versa. Very often I write the lyrics after the melody, so they can be inspired by the music. In general, when I write some words I try to say something that belongs to my experience, or is important to me. I hate applying mannerisms or overused formulas, and try to stick to my emotions (and of course to the rhythmic structure of the song).
Compra is a special song to me. In Italian it means "buy", and it talks about what is happening in the whole world today, but especially in Italy: marketing is becoming the main communication model, not only in economics. So, for example, education and information are becoming persuasion that is to say poor, shiny, superficial and fast. Moreover, as a people we are not to be educated and informed, but simply convinced and allured, we are not treated as aware citizens, but rather as impressionable consumers.  
How would you describe your music and which bands would you compare your music with ?
Some reviewers labelled us as crossover prog, and I think we can feel comfortable with that. To us, progressive means freedom to express ourselves, to break the schemes without forgetting to communicate something true for the listener. It is not at all a matter of copying sounds and songwriting from the Seventies' golden repertoire.
As a young kid, I fell deeply in love with Deep Purple. Listening to this band really gave me the incentive to develop as a singer and keyboardist and be able to reproduce those sounds. My second love, at about the age of 17, was Demetrio Stratos. I studied these artists so much that I think they became part of my natural sound and songwriting. PFM and Dream Theater are a more generic influence; it's something like "If you like these, you might like us". There are many other influences in our style: great arrangers like Lucio Battisti, Quincy Jones, sophisticated pop-rock artists like Steely Dan, 10CC, Supertramp, even Dixie Dregs, Eagles and Toto to some extent.
How easy/difficult is it to promote your albums these days and how easy/difficult is it to get gigs ?
It is quite difficult and it requires lots of time and motivation; We have now a reputation as a live band, and in our area a nice faithful audience follows our performances. Still there are many bands out there and to reach a stage you have to be very focused in promoting the band and deal daily with agents, artistic directors, magazines..
What is your five favourite albums of all time ?
Too hard, I don't know…
Anything you want to add to this interview ?  
Thanks Torodd for this spot and cheers to all lovers of prog music.
Thank you to Lorenzo for this interview