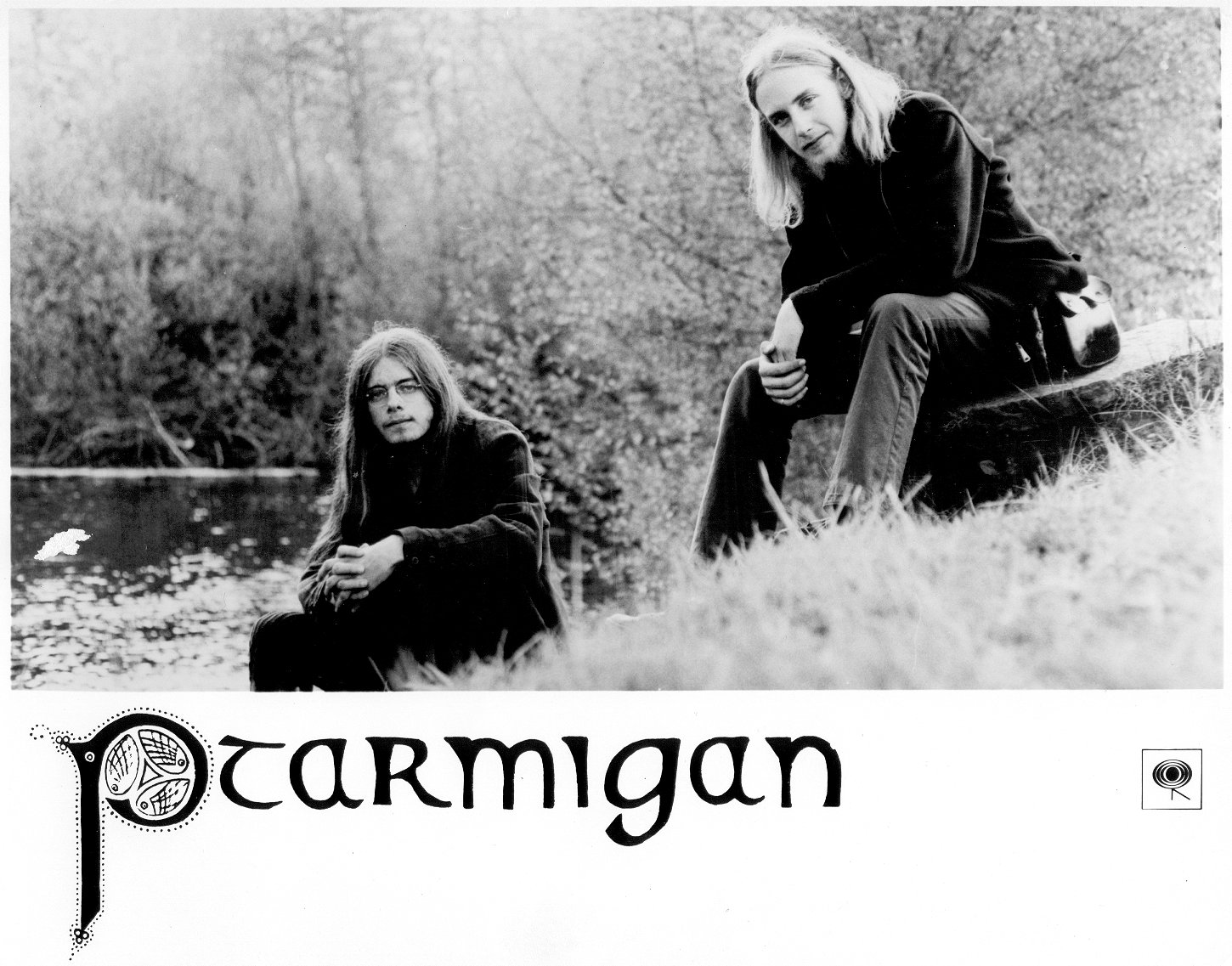 Ptarmigan was formed in 1970 when Michael Bieling introduced guitarist James Lithgow to vocalist / recorder player, Glen Dias. They began writing songs with Bieling accompanying on congas & soon added Dennis Lelonde on alto sax, piano & vocals; Monte Nordstrom on 12 string guitar & vocals with a second percussionist, Shawn Mullins. The sextet performed on Vancouver lsland & eventually came to the attention of the renowned flautist Paul Horn who had moved to Victoria, BC to escape the rigours of life in Los Angeles. He was impressed with the group's unorthodox style & encouraged the band to stay in touch. When the group fragmented with Lithgow & Bieling departing Peter Wheeler, an American percussionist, joined the band.

The first stop was Winnipeg & their first dates at the Ting Tea Room. They began writing new material immediately, developing harmony structures & establishing their eerie west coast sound.

The result was one highly regarded album. I got in touch with  Monte Nordstrom for the Ptarmigan story.
===================================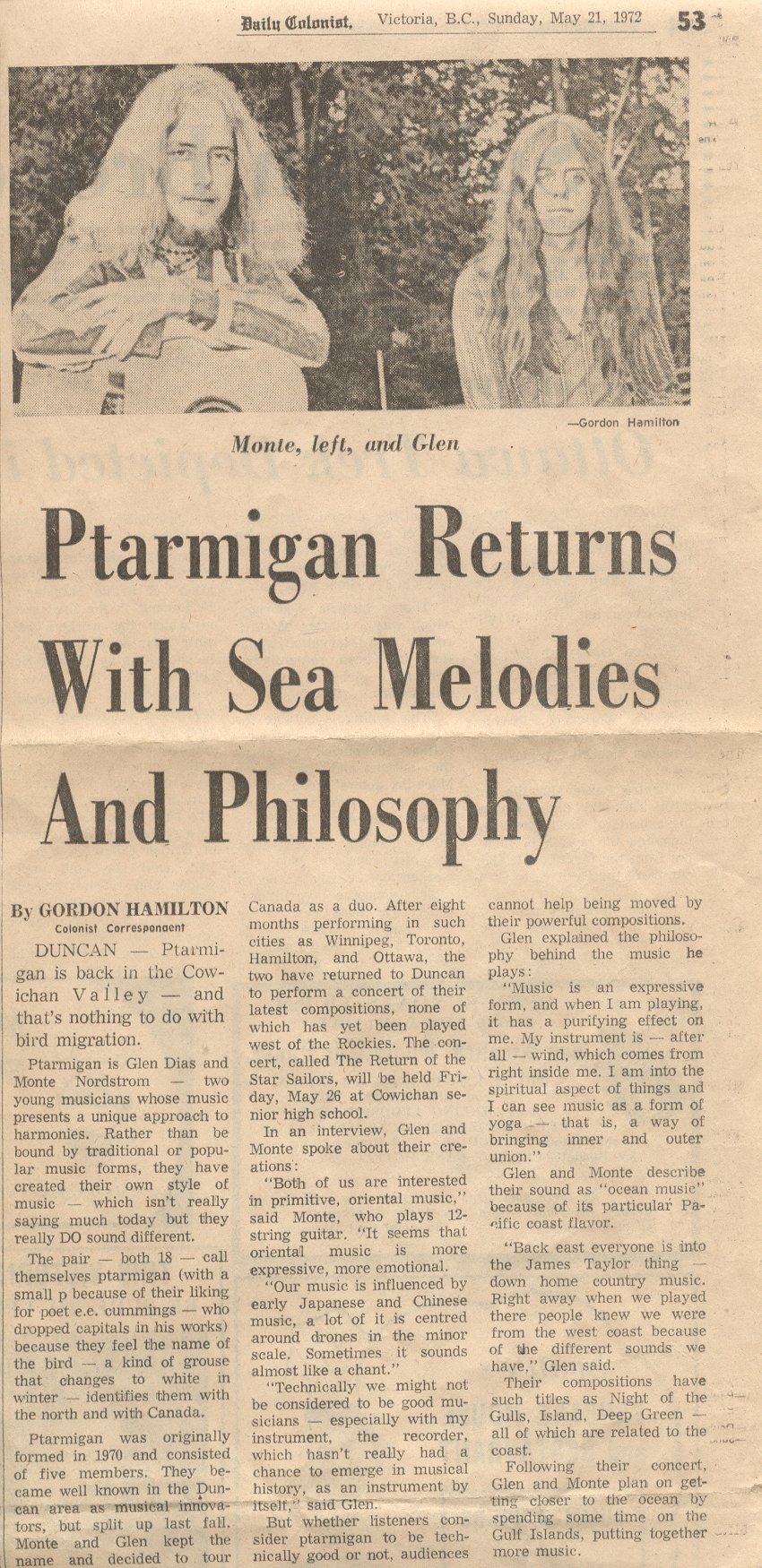 When, where and by whom was Ptarmigan created ? 
The original lineup of Ptarmigan began at Cowichan High School in Duncan on Vancouver Island in mid-1970. It consisted of James Lithgow, Glen Dias, Mike Bieling, Dennis Lelonde, Shawn Mullins & myself, Monte Nordstrom.
Why did you choose that name ? 
 We were looking for distinctive band names in a book about Canadian Birds & liked the sound of Ptarmigan. Unfortunately the misleading silent P became a problem for people trying to order & locate the Lp in record stores. It was also hard to pronounce if you did not know the name... 
What is your musical background and were you involved in any other bands before you started Ptarmigan? 
I started playing electric guitar & interacting with other players in various RnR & psychelic garage bands in the late 60s along with Shawn Mullins who was my neighbour out in the countryside near the town of Duncan. I acquired an acoustic 12 string guitar in 1968 & started writing songs right away, (starting with "The Waiting: Suite" which finally appeared on my CD release "After All" in 2004 -along with some other material Ptarmigan performed but did not record). In 1970 I joined the newly formed Ptarmigan & carried on from there. 
Which bands were you influenced by ? 
My early influences were Vancouver bands, the Collectors, My Indole Ring & Mother Tucker's Yellow Duck. Steppenwolf, the Doors & Quicksilver Messenger Service, Jefferson Airplane & the Grateful Dead were other influential west coast bands. Improvisation is something I have always enjoyed & Ravi Shankar's sitar also affected my modal stylings. I also was interested in classical, jazz & flamenco. This is why I concentrated on using my right hand so much & became a part of my style. Lenny Breau was a huge influence in approaching the guitar in a balanced manner, much like a piano player. His big influence was pianist, Bill Evans. Native American, Australian & African tribal chanting & rhythms were inspiring & also seeped into my original work with Ptarmigan. 
How did you get your record deal with Colombia ?  
Paul Horn had seen the original 6 member line-up of Ptarmigan in a talent contest in 1970 & was interested enough to say "stay in touch". After the group turned into a duo & Glen Dias & myself had recorded a demo of original work in Winnipeg we contacted him. He was interested enough to sign us to management, publishing & producing contracts. The Ptarmigan album was recorded on speculation. We started recording in the fall of 1972 with studio musician's  from Paul's band. We wrapped recording the album up in mid-1973. Paul shopped the album around for a few months until he leased it to Columbia of Canada & the LP was issued in 1974.   
How was your writing and creative processes ? 
I had a collection of instrumentals with some lyrical ideas & my co-writer, Glen Dias had a book of  poetry & a good sense of melody. His Recorder playing was very creative & my 12 string rhythms meshed well with it tonally. We would experiment with ideas until things clicked. Then the composition would take shape. Once it evolved to a performance state we would stick to the form in concert as a duo. Much of our music was recorded while we toured across Canada, playing in hippy Coffee House venues during the winter of 1971 to the summer of 72.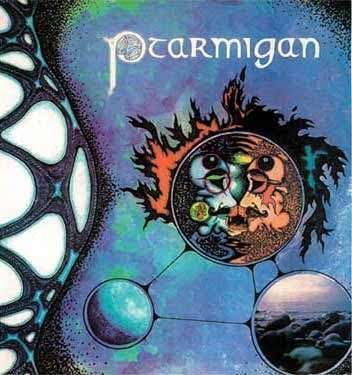 Please give us your long or brief thoughts on your only album Ptarmigan released in 1974.  
The creation of the music & it's recording were 2 different processes & both were very organic. The compositions evolved as I described above & the arrangements with the studio musicians were added to our recorded tracks with our direction & Paul's intuitive production. The talented musicians who joined us, worked very hard to follow what we described, which is an unusual way to achieve what we did.
How would you describe the music ?  
Ptarmigan managed to convey a certain worldly spirituality which seems timeless & unusual. It is satisfying to know that so many people continue to find this recording & enjoy it's resonance. Glen's unique album cover artwork has kept the visual aspect of the album interesting enough for people to pick it up & look at it, which is the first step to acquiring a copy.
This album was later re-released by yourself in 1999 on CD with two bonus tracks. Please tell us more about this re-release and how you managed to get the copyrights from the big corporation Colombia developed into.  
I contacted Paul Horn in the mid-90s when a Los Angeles label Synphonic Records expressed an interest in a re-release. Paul told me to contact the Toronto office of SONY CANADA  who had taken over the Columbia catalogue. Paul told me to try to get them to turn the tapes over to me for free if possible since the record was so obscure. When I contacted SONY they said they had the master tapes in their vault, but didn't know why, because they belonged to the producer, Paul Horn!
I instructed them to send the tapes to Paul Horn in Victoria & Paul then gave them to me. The deal with SynPhonic fell through so I did a limited CDR re-release with a 16 page booklet, to recoup some of my expenses, which included digital remastering in Victoria & a trip to Progfest in LA. I included a couple of live tracks featuring my first post-Ptarmigan band (& included Glen Dias guesting on percussion).
After a couple of years I was contacted by Vincent Tornatore of the Lion Productions in Illinois. He offered to rerelease the original recording from my digitally remastered source. There is talk of a vinyl re-release depending on the US economy.
Where can this album be purchased from and how is it's distribution ?  
This CD & others in my catalogue can be ordered by mail order through
my homepage
When did the Ptarmigan adventure end and what have you and other members been up to since then ? 
By 1975 Ptarmigan was finished. Our new bassist, David Aston had died in a car accident & I was disillusioned with working with Glen, on-on-one any longer. I went on to solo & band work recording a new self-produced album every 2 or 3 years. Glen went on to a career in musical theatre & eventually more band work in Ontario.  
I guess the new internet scene has meant a new interest in Ptarmigan and new generations is getting exposed to your band. What is your view on this new internet driven music scene and have you got many new fans ? 
It is fantastic that new people learn about Ptarmigan & get exposed to other titles in my catalogue. I continue to do original music & perform at special events. There will be new music in the NEAR FUTURE as my long-time collaborator, Jeremy Sagar & I get our new production facility up & running. I know my best work is yet to come, so it is very exciting. Stay in touch through my website &
email
to keep up on new releases.
To wrap up this interview, is there anything you want to add to this interview ?  
My website is rather out of date at the moment but be patient, as it is due to be retooled soon, adding new features & technology. Feel free to keep in touch in the mean time.  
Thank you to Monte for this interview



Edited by toroddfuglesteg - September 26 2010 at 12:05