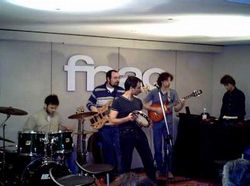 Ubi Maior were formed in 1999, when Lorenzo Marotta (vocals) and Stefano Mancarella (guitar) joined forces together with keyboard player Gabriele Manzini. Bass player Walter Gorreri came in a few weeks later, and at the same time Gabriele brought in his friend and old bandmate Alessandro Di Caprio to play drums. After some months spent rehearsing compositions by the great RPI bands from the 1970s, some new original tracks were written. The result has so far been two albums.
I got in touch with the band for the Ubi Maior story so far.
-----------------------------------------------------------------------------------------------
Your biography has been covered in your ProgArchives profile so let's bypass the biography details. Let's go straight to the first album.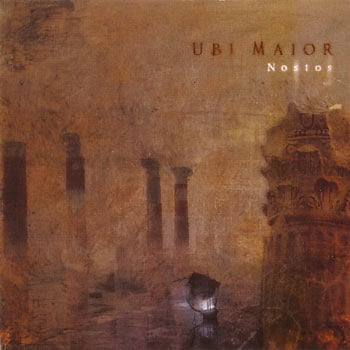 Please tell us more about Nostos from 2005

The recording of Nostos took place during the summer of 2005 but the first songs Vendetta, Terra Madre and Messia were written years back in 1998/99 with our first singer Lorenzo Marotta. We had a couple of demos before deciding to record our debut album. When the new singer Mario Moi joined the band we began to write the long suite "Nostos" and the other shorter pieces. We think it is still a good record with very good moments especially in the title track. We also enjoyed very much to record "La tua casa comoda" from Il Balletto di Bronzo. Gianni Leone liked this version and this was a very good compliment for us.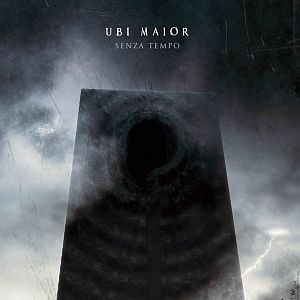 Please tell us more about your second album Senza Tempo from 2009

With Senza Tempo things were faster. Once we decided the concept of the lyrics we began writing tracks which reflected the weird gothic, yet modern, landscapes of the graphic novel Sandman. So the songs were crafted as we had to play in a gothic cathedral, in a dark atmospheres with sudden lights. Six major songs represent six of the seven main characters of the novel, The Endless, while the seventh track "Morte – Senza tempo" is split in four parts and stands for the last Endless, Death. 
Anyway we tried to keep the unique sound of Ubi Maior forged on seventies Hammond organ with hard rock edged guitars. Our roots were more evident on Nostos than on Senza tempo.
On our second album we've tried to refine ourself in order to reach a more personal kind of music based both on the old Italian dark-prog but also on the seventies british school such as Pink Floyd, King Crimson or Uriah Heep.

How is your creative processes from coming up with a theme/riff/idea to you got it down onto an album ?

It is very simple. We work both at home and in studio with the band. Sometimes Gabriele writes a complete song which needs only to be arranged, some other time the guitar player comes to the studio with an idea for a guitar riff and we follow him. We write music separated from the lyrics and then we try to mix them and to adjust them but it is not a fixed rule. We'll try for the next record to follow different way of writing. Melody lines from the moog or from the voice could be the start for new compositions.

Just to give those of us who are unknown with your music a bit of a reference point or two: How would you describe your music ?

Take some Biglietto per l'inferno, some Balletto di Bronzo, some PFM, some Pink Floyd, some King Crimson and then you'll have 50% of Ubi Maior music. The other half changes according with our mood. We want to sound personal as much as we can and the next album will be a step further in this direction.

What is your experience with the music industry and the new internet music scene ? 

We are an italian band that sings in Italian and makes progressive rock music. Do you know anything more ill-fated? Jokes apart, progressive rock is a small market and it is very difficult for an Italian band to find places, festivals where to play its music. It seems also that the same three, four bands make all the festivals in the world while the other good bands play only small clubs and pubs.Anyway we will carry on without surrender. The new internet music scene? It affects us as it affects big artists, we can't stop it. But internet is not only stolen music. Myspace and Facebook allow to spread legally music from many unknown bands and this is good, easy and fast.

Are any of your members currently involved in any other bands or projects ?

Our singer Mario is currently singing in an opera choir and in some vocal groups.
He also holds vocal and impro classes.
Our bass player Walter teams up with Marco Burgatto, an Italian composer, in a new rock opera "La sottile linea" ("The thin Line") which will be put on a theatrical show next year. He also cooperates as songwriter in a theatre company for children.
Our keyboard player Gabriele released last year his solo CD under the monicher of Archangel. The title is The Akallabeth and it features lead vocals from Damian Wilson (Threshold, Star One), Zachary Stevens (Savatage, Circle II Circle) and Ted Leonard (Enchant). All the Ubi Maior have played in the project.
He's now working on a cover version of a Pink Floyd number for a tribute CD that will be released next year by Mellow Records and also the Ubi Maior drummer Alessandro is working on it.

To wrap up this interview, is there anything you want to add to this interview
Oh, yes. I'm happy to tell you all that Ubi Maior are already working on their third album that will be a special one. Follow our
website
 and our
Myspace page
  for the latest news. We are always looking for festivals and avenues around the world where to play our music so please, invite us!
Thank you for the interview. See you all somewhere sometime.
Thank you to Ubi Maior for this interview