RC2 was formed in Caracas, Venezuela during 1999 as a result of Radio Clip's dissolution.
Radio Clip was an emblematic band that released four albums in Venezuela between 1988 and 1994. Wanting to be more than a Radio Clip spin-off band, Felix Duque (vocals), Eduardo Benatar (drums), Arturo Torres (base) and Demian Mejicano (guitar) contact Rafael Paz (keyboards) in order to work on a complete change of musical style. Accordingly, they begin composing in the music genre they had always longed to play: Symphonic Progressive Rock.
Two albums followed. I caught up with them and Richard Paz answered my questions.
-----------------------------------------------------------------------------------------------------------------------
I can safely say that Marillion, Genesis, Yes (old and new) and of course some classic rock, from the Beatles on... We chose Rc2 because it was 3/5 of the last Radio Clip lineup but it was very different music, so it felt like a second chapter.
Please tell us more about your previous band Radio Clip.
Radio Clip was one of Venezuela's leading pop rock bands from the 80s and 90s. They had number one singles and albums and did succesful tours. The only original member left in Rc2 is Felix, our singer. Arturo, the bass player, was in the band for a while before leaving for the states, and i was playing the drums for them for a year before the change of style.

Let's go straight to the first album. Please tell us more about RC2 from 2003
That first album featured mainly songs from our first week of rehearsals in December 1999. We got together with Rafael and Demian and everything seemed to flow, the songs started to pour. After that, Arturo left so i called Pedro and with him we started a covers band, but we sucked so we only did one gig. With the money from that gig we payed for the 3 songs demo we sent to Musea, and the signed us before having even played live. So we spent 2001 and 2002 composing, rehearsing and recording, and released the album in September 2003. Felix recorded his vocals first and he finished the day before moving to Spain! So we recorded backwards: first vocals and then everything else.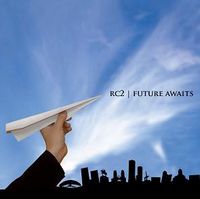 Please tell us more about your second album Future Awaits from 2008
Future Awaits was a really difficult album to make. Demian left the band and Felix moved to Spain right after recording the first one so Rafael, Pedro wrote it, arranged it and even recorded our parts in 2004 without knowing what we were going to do with the vocals or guitars... the we all moved to Spain and wrote melodies and lyrics to the songs and recorded them with Felix, but we still got no guitar player. After a while we found Eric Baule and he helped us with the guitars, with Kalle from RPWL, Pedro from Tempano and Mauricio (our touring guitar player) also helping. So it was a real labour of love finishing that album!
What have you been up to since 2008 ?
We played a lot live in Spain and even went to Venezuela to open for Dream Theater, and in 2009 we took the year off. Now we are starint to write the third album!
How is your creative processes from coming up with a theme/riff/idea to you got it down onto an album ?
Almost 95% of the material comes by a bass or keyboard riff (since 2001 we havent written anything with a guitar player), then i suggest things and arrange parts. We understand each other musically really well, so everything falls into place pretty easily.
Just to give those of us who are unknown with your music a bit of a reference point or two: How would you describe your music ?
Its really melodic and symphonic rock with some progressive passages, songs that hopefully will take you on a musical journey. Not really heavy but with heavy riffs, not folkloric sounding but with some venezuelan folcloric passages, not conceptual but with some ideas that are present trhu our albums.
What is your experience with the music industry and the new internet music scene ?
For a band like us, being from one country but living in another and with a record company in yet another one, the internet is basic. Also, our audience is all over the world, so we use internet to contact with all of them. Basically, if it wasn't for the internet, i think we couldn't do what we do, and I can even say without a doubt that this prog rock resurgence wouldn't be possible either.
What is your plans for the rest of this year and next year ?
Basically write and record our third album! we just started and so long we have a really good feeling about the material.
Are any of your members currently involved in any other bands or projects ?
Yes, Felix has
Roman(us)
, very spacey and trippy electronic music. 
Pedro and me have
Luz Verde
, a rock and roll band with Venezuelan musicians that is enjoying some popularity over there, and
The Gangsters of Love
, a band with three Americans that describe their music as postmafia swing...
To wrap up this interview, is there anything you want to add to this interview ?
I want so thank you for giving us the chance to spread the word on Rc2. This band is something we really enjoy doing, and we plan to be doing it for a long time. We have overcome a lot of difficulties just so the music could keep on going, so go ahead and listen to it! hahaha. Thanks and keep
in touch with us.
Thank you to Richard Paz for this interview