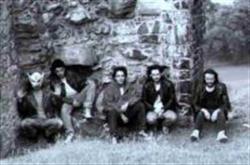 Citizen Cain is a Scottish symphonic prog band who has released some highly praised albums. They are not the band with an active public profile though and I hope this interview will give them the attention they deserve. 
The band is still active and I caught up with Stewart Bell for the story.
-------------------------------------------------------------------------------------- 
Where was Citizen Cain formed and by whom ? Why did you choose that name ? What was your musical visions/ideas and who influenced you most ?

The band was formed in 1981 by cyrus and gordon feenie, the original drummer. I was a bit young to join the band back then and, to be honest, at 10 yrs old my only notion of prog rock was bohemian rhapsody by queen. They split in the late 80s and Cyrus returned to Scotland. In the early 90's Cyrus bumped into old friend Frank Kennedy and formed Cain anew with Frank's buddys, Dave Elam and myself.
The name of the band is in reference to the biblical character of cain, son of adam and eve, and first citizen of earth to commit murder, as the story goes. Im not sure what relevance this has to our music, that would require a trip into the deep dark recesses of cyrus' mind, but im sure it is revealed in his lyrics if you can decode them (good luck!).
Growing up in the 80s i was forced to look back to the previous decade to find any music worthy of a listen, although at this time bands like marillion and rush were breaking through into the mainstream, with the likes of kayleigh and spirit of radio, which caught my attention. Initially i wanted to write music in that vein and needless to say the first album was heavily influenced by marillion. Of course once i had met cyrus i was introduced to the likes of genesis, yes, jethro tull, gentle giant etc and all of these had a big influence on the writing beyond that point.

Who is the members of Citizen Cain now ?

And then there were three... At the moment the lineup consists of cyrus (bass/vox/silly voices), phil allen (guitar/vox/trouser trumpet) and myself (keys/drums/anal flute).


Abel Ganz, Fish and Pallas was around the Scottish scene at the same time as you started. Was there a Scottish scene back then or just some bands who were accidently from Scotland, doing their own things ?

Cyrus and Gordon spent most of the '80s in London so they didn't see much of the Scottish scene. At that time fish was in London with Marillion, he was a friend of gordons so they had a few interactions along the way. There has never really been a scottish prog rock scene so i'd say that 'doing their own thing' is your answer to that one. 

How did you get your first record deal (with SI) and then with Cyclops after the demise of SI ? How is and was the income and business side of Citizen Cain at SI and later Cyclops ?

Haha, citizen cain a business, its an expensive hobby at best! We can honestly say we do it for the love of the music because there aint no money in it! Since the second album we haven't had a full line-up which has left gigging out of the question, so any money we've made is from album sales, which aren't brilliant.

The first record deal was a stroke of luck. A PR guy from SI was visiting a friend of his who happened to work in the studio in which we were recording the first album. He let him have a listen to the material so far, he liked it and the rest is history. I can't remember exactly how we got in with Cyclops, i have a feeling he got in touch with some ex-SI bands to propose re-release and subsequently released our next two albums as well. The fourth album, "playing dead", we released ourselves, which didn't sell so well, probably due to lack of publicity and promotion on our part.

How is your business model now ?

*sn****rs*

Please tell us more about each of the albums (a presentation of each of them).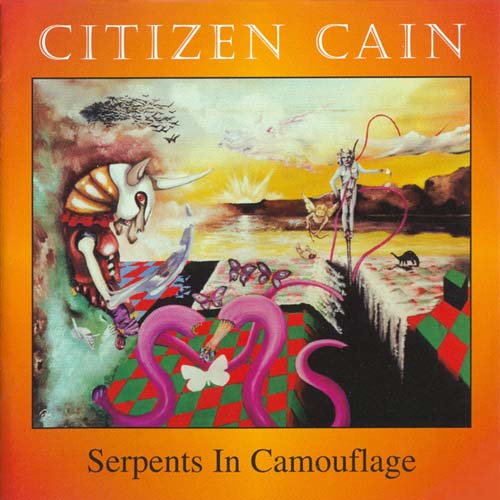 Serpents In Camouflage – our first album. Cyrus' old pal Frank found me up a hill and recruited me as drummer in his blues band. Cyrus showed up and encouraged me to work on some Marillionesque ideas I had written on the keys, Frank added some Genesis inspired guitar and with Cyrus' Gabriel sounding vocals the sound was complete. Not very original but complete for the time being.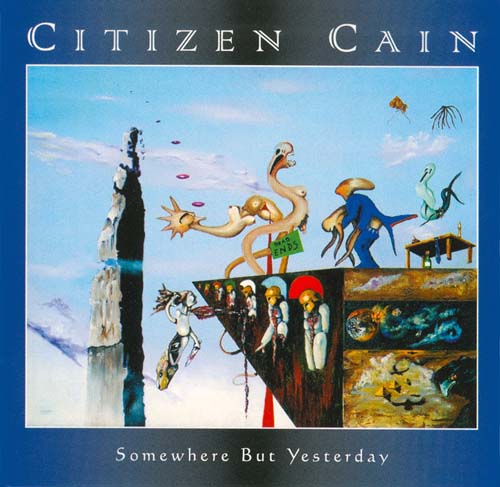 Somewhere But Yesterday – Our sound and writing skills matured a bit and inspiration was drawn from early Genesis, Jethro Tull, Yes and Gentle Giant to name a few. These were bands I had never really heard of until introduced to them by Cyrus while writing the first album. Frank had parted company and new guitarist Alistair Macgregor added a few ideas to the mix and also introduced me to a fine band named Dream Theatre.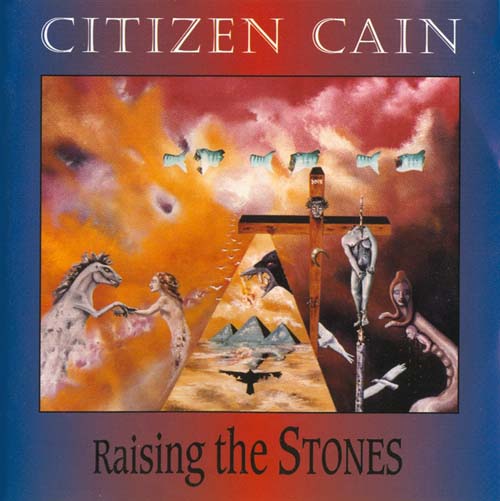 Raising The Stones – Ali had left for Australia and other members had moved on leaving Cyrus and myself to complete this one on our own. Cyrus took over bass and added a new element to the writing, more in keeping with the early Citizen Cain material (Ghost Dance album). Guitar took a back seat and the sound was driven by the keys and bass. I took on the challenge of drums which were mostly programmed 'live' to give a realistic feel.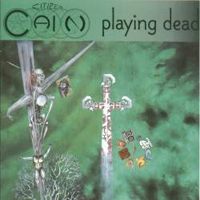 Playing Dead – Our latest piece of craftsmanship saw the introduction of fine metal guitarist Phil Allen. He added a heavier touch to the material which was going in a more experimental direction. We endeavoured to find our own sound rather than the classic prog feel we had maintained which led to an album quite a bit removed from the earlier work (some would say), while still retaining our trademark sound.

Your art work is pretty special. Please tell us more about them.

Cyrus does all the artwork. I guess you get a glimpse inside the strange and wonderful world that exists inside his mind. The cover art is always relevant to the lyrics on each album in its own way.

Were Citizen Cain a touring band ? If yes, please tell us more about your tours and gigs.

In the early days Cain gigged extensively in the London area as a three piece. When the band reformed up here in Scotland in the 90s we did a handful of gigs after the first album but since then the line-up has never been complete so we have remained a studio band unfortunately.


There is no denying that Fish, Genesis and Marillion has been mentioned in the reviews of your albums. Was/is this connection a blessing or a curse ?

Probably a blessing since most of the fan base are fans of Genesis from the Peter Gabriel days. Fish and Marillion were very much inspired by Genesis so I guess that's where the comparison comes in, given that I was heavily inspired by Marillion. Our last album was criticised for the fact that it moved away from this sound so I guess it's what the fans want.

Citizen Cain has gone through some line up changes since your debut album. Please tell us more about these line up changes and where your ex members are now.

Cyrus has always been very fussy about band members and each album has generally been followed by a major reshuffle. Frank and Dave from the first album are alive and well living 'ordinary' lives in Scotland somewhere. Alistair from 'Somewhere..' is currently living in Australia where I believe he plays in a fairly successful tribute band. Andy Gilmour, bass player on second album has been known to lurk around this very forum I believe! Last I heard Nick the drummer from the second album was teaching special needs kids drumming. Phil Allen is still working with us on the new album and Gordon Feenie, one of the original members was in touch via e-mail recently and was chuffed to receive a copy of the early material, 'Ghost Dance', which he wrote and played on.


There is talk about a new album "And The Skies Darkened" to be released by Festival Music. As we speak, it is still not out. Please tell us more about this album and the problems you have had recording and releasing it. How did you team up with Festival Music ?

The new album has been fraught with problems since its beginning and has almost been dropped a couple of times. The main problem is time, mainly the lack of it. Cyrus got married and I grew up and had to live a 'real' life. Phil works full time and we all suffer from one form of laziness or another! The youthful enthusiasm and energy ebbs away as the world pulls you into its trap.
We have known David from Festival for many years and we're very pleased to have him re-release the back catalogue after our Cyclops contract expired. The new album is close to being finished now but realistically it will not be out until next year.

Are you still based here in Scotland (hopefully not in the next door flat from me where a man is crying. If yes, help is on it's way) ?

Yes, that's me, I just found a bad review of playing dead *sob*, please come next door and give me a hug! Yeh, we are still based in Scotland, not far from Fish actually. I spotted him at the local cinema recently and proclaimed rather excitedly to my partner, "there's Fish!. She replied "Who?" and there was an awkward moment where Fish stared at me and I looked at my feet! I tried to find an opportunity to talk to him but we got caught up in the queue so it turned out to be a bit of a misplaced rendezvous. Cant complain though, the weathers nice up here and the music scene is spectacular....


What is the plans for Citizen Cain this year and in the future ?

This year will see the completion of the new album and hopefully it will be released early 2011 following the re-release of the back catalogue. This was to be our final work as Cyrus intended to take up residence in Australia but that plan has fallen through and he now intends to stay in sunny Scotland. I'd like to record some solo material, I have some nice ideas for a concept album based on my dream life. I've been a lucid dreamer since the age of 6 so have a lot of weird and wonderful experiences to draw from. Id like to try a slightly heavier approach to the writing. 

Have you had a stable fanbase during all these fifteen years ? Do you have much contacts with your fans ? What is your view on the renewed interest in the progressive rock scene and which of the new bands, if any, do you like ?

Yeh, I think the fans have stayed with us over the years and despite the big gaps between the later albums. They have generally been split between two sets; one set that wants us to continue with the early sound, continuing down the path that Genesis might have took had Gabriel never left, and those who prefer our later material which moves away from the neo-prog sound and sees us define our own style. That is of course a generalization which probably applies only to the few authors of the reviews and e-mails stating such a preference. The new album will probably appeal to boh groups as I think we have found an even ground between the two.
 
I'm not sure which bands you are referring to, I recently saw the likes of Muse, Radiohead and Biffy Clyro labelled as prog rock beside some of the classic prog names; Genesis, Yes, Pink Floyd etc, and more recent bands like Spocks Beard, Dream Theater (not so recent really!), but I'm not sure if I'd class them as prog personally, maybe commercial prog or accessible prog would be a better term. I did enjoy the last 3 tracks on the latest muse album but my sister loves muse and biffy clyro yet she hates prog so i'm not sure what's happening there! I think it depends on your definition of prog.

I guess you are familiar with the Anvil documentary film. What would a Hollywood made documentary movie about Citizen Cain be about ?

Haha, it would be more interesting if it was about the early days and it would have to include flash backs to my first band, me and my friend Pogo bashing away on some empty barrels singing 'Apache' at 9 yrs old, it was kind of a rip off of an adam and the ants song but we couldn't remember any of the other tribal names! Flash forward to my first piano at 13 yrs old and the various compositions that I tormented the neighbours with, it wasn't tuned very well which didnt help. Johnny depp would be cast as myself and maybe jack nicholson as cyrus. Lets face it though, it wouldn'k make very interesting veiwing! Some of the rehearsal room bust-ups would be entertaining no doubt!

Anything you want to add to this interview ?

Maybe just a little philosophy that has inspired me over the years and cheers me up when I feel like a big nothing. I'm not great with words (music's my thing!) but it goes a little like this;
Science has shown us that there is (probably) no god, no creator, there is no such thing as magic, there are no miracles. It has put us in our place and told us that we are but miniscule drops, all alone in this vast ocean of space, no more than a fluke arising in this system of natural laws giving us the illusion that we are alive.
But there is a conscious creative force in this universe. WE are that force. WE have become self-aware. WE are magical beings who have emerged from the fundamental rules that govern this reality and we have created so many new wonders and taken this whole thing in directions it may have never achieved on it's own. Life is the miracle, we are tiny parts of the universe that have turned around and said "I exist". We have defined, manipulated, named, discovered and come to an understanding of this miraculous place. Self-awareness is the magic and we are the creators so let's make it a good one.........take care.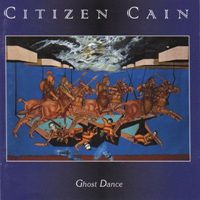 Thank you to Stewart for this interview
Their PA profile is here and their homepage here