This Dutch prog rock band is rooted in the late Eighties, the prime mover was guitar player Bastiaan Peeters and two American friends on drums and keyboards. They have so far released three albums and one EP. The band is popular here in ProgArchives.
I got in touch with the band and here is their story.
-------------------------------------------------------------------------------------------------------------------------
What are you up to these days ?
Well, we just finished our first gig promoting the 'Silence' album. We opened for Unitopia (from Australia) on October 15th. We did a lovely set, but sadly enough we've got some major setbacks that day regarding our show (beamer was not booked, arrangements for the lightshow weren't honored…). But the public gave us a very good response, which was very satisfying.
When was Odyssice born, how was your formative years ?
Odyssice was formed in 1986 by guitarist Bastiaan Peeters. The group had an enormous start when 'Track One' was played on the dutch radio-show Countdown Café in 1987. That night the phone didn't stopped ringing. In 1989 'Losing Her' was the new track on the 'Exposure'-LP from the magazine 'Sym-Info', and according to 'Sym-Info's' office 'Losing Her' was one of the best songs on the album. The huge interest lad to an invitation to perform at a 'Sym-Info's' festival at 't Noorderligt (now called 013) in Tilburg on June 16th 1989. The Noorderligt performance was a huge success. Requests for the live recordings of that show were enormous and it was sold out in no time.
The band was musically successful but musical differences caused us to disappear from spotlight for some time. Bastiaan decided to reincarnate Odyssice with new members. In 1995 the band completed itself with the addition of keyboard-player Jeroen van der Wiel.
Please tell us more about your debut demo Track One.
Track One is a very old demo tape we had released in the late 80s. We're surprised that people still remember that one, we would like to forget about it…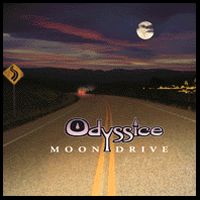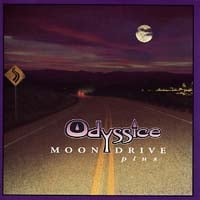 As far as I understand from the Odyssice biography; you self-released an EP called Moon Drive in 1996 and that EP attracted the attention of Cyclops. They re-released this EP as Moon Drive Plus with two extra songs as an full album in 2003. Am I right ?
Please tell us more about both of these two releases.
Yes, at the end of 1995 we finally managed to get a stabile and reliable composition of band members. It was also the first time the band really got very creative and focused on making a record. Since we had no idea how to work the music industry we decided to do everything by ourselves. That led to the 'Moondrive' release in 1996. We had 500 copies made and they were sold out within a couple of months.
That, of course, drew the attention of several record companies, including Cyclops.
But when talking to those several record companies it became clear that they wanted to have a strong influence on our musical creativity and direction, something we really didn't want! Except for Cyclops. They loved our music and they would give us the freedom to do what we wanted. So the choice was easily made. That led to the release of 'Impression' and later of 'Moondrive Plus'.
We decided to re-release 'Moondrive' because people kept on demanding that one, although the original was already sold out. Cyclops was very much interested in re-releasing it, but strongly advised us to add some extras because the original running time was little over 25 minutes, too short for a full album. So we decided to add the (by that time) hard-to-get song 'Losing Her', originally from the 'Exposure '88' album (vinyl only). We also took another non-album track, 'Powerloc', from one of our live shows we did in 2001. And with Jeroen being very up to date with the technology, and the influence of multi-media, he created a wonderful CD-Rom part for the computer as an extra feature on that re-release, containing band information, an audio demo song and several videos. This turned out to be the first Audio/CD-Rom release for Cyclops.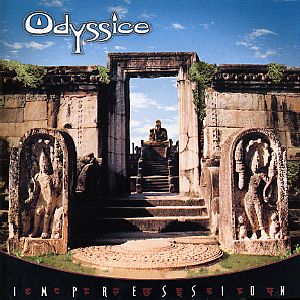 Your first full album was Impression from 2000. Please tell us more about this album.
This album was our first album were we actually wrote all the songs together, from scratch. 'Moondrive' existed of two songs from before 1995 and two songs originally written and demoed by Jeroen. Of course all four of us worked intensively on all the songs and everyone of us added his part to those songs. But the drawing was already made, we only had to colour it. But with 'Impression' all four of us were part of creating that music from the very first notes and you could feel the magic while working on the 'Impression' songs, some songs almost came naturally!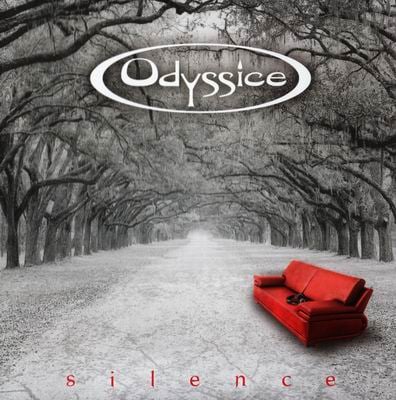 Your brand new album is called Silence. Please tell us more about this album.
Again this album was created by the four of us. The music was born and shaped in our rehearsal-studio and everybody contributed. Except for the song 'Memento' which was originally written and demoed by Jeroen, but still, while working on it in the rehearsal-studio, a lot was changed and everybody contributed his part.
'Impression' was more a musical journey travelling the world of culture, and 'Silence' is more a musical journey in moods and landscapes. What we try to do with our music is to give the listener a certain mood but we let him to 'paint' his own picture of the song. Therefore we get a lot of different reactions and different stories on one song, everybody 'hears' his own story. And in some occasions we hear someone talk about a song, his interpretation, which is in a direction we never thought of. That's what makes this instrumental music so interesting and satisfying.
To my knowledge, you have been around for twenty-three years. Please tell us more about what you have been up to during all these years.
Well, the period between 1986 and 1995 was a very wild one. We were exploring the possibilities with the band, had a lot of different musicians playing in the band. By 1995 we had a tight band, ready to take the big step.
1997 saw the arrival of Menno Boomsma on the drums.
At the end of 2002 the whole thing fell apart. Jeroen decided to leave the band, hoping to save his marriage. A year later he realized he made a wrong decision, his marriage failed anyway and he felt that his musical heart was still with the band. Since we weren't able to find a descent replacement, we welcomed him back with arms wide-open.
By that time our bass-player lost his faith in Odyssice and decided to persuade a different musical-direction, leaving the band without bass-player.
In 2004 we've found an excellent replacement in the person of Peter Kosterman. And with his arrival a new burst of creativity and energy generated Odyssice, and started to work on new ideas for a new album. A lot of delay occurred when we forced to change rehearsal studio, Bastiaan started to build his on recording studio and other private family matters. Therefore it wasn't until 2009 that we got the time to actually record the 'Silence' album.
So for the outside world it look like there is a big gap between 2001 and 2010, as if we totally disappeared, but actually we were very active and very busy working with Odyssice.
I think it is fair to say that your music have some strong Camel leanings. But how would you describe your music ?
Yes, many people compare us with Camel and in some occasions with David Gilmour. That's mostly because of the wonderful guitar sound of Bastiaan. But the thing is; we don't want to sound like Camel of David Gilmour, we intend to make music that's coming from our hearts. Of course we do listen to bands like Camel and Pink Floyd, but we also listen to music that you can't 'hear' in our music. Jeroen also likes to listen to Kiss or Rammstein, Bastiaan listens to classical music, Peter is also very fond of jazz-rock, Menno also likes country music.
Our music is the sum of the four of us. It is the result of the magic between us. We try to let the music go where it leads us.
Please tell us more about the gigs and festivals you have played ?
In 1989 we did our first real live gig in 't Noorderligt (now called 013) in Tilburg. With the release of 'Moondrive' we did a couple of shows, the very first edition of ProgFarm, Tivoli Utrecht, SympHel.
ProgFarm was a small but very intimate festival in the north of Holland. The harmony between the bands was very nice, as well as with the audience.
With 'Impression' we played SympHel (again), Hedon Zwolle, De Boerderij Zoetermeer.
De Boerderij is a very nice venue, excellent for rockmusic, great audience. The same goes for Hedon. And SympHel is just great as usual.
Now with 'Silence' we just did one gig in the Boerderij in Zoetermeer, again the audience was wonderful.
Just to wrap this interview up; do you have any regrets in your music career ?
It's just too bad that the prog-music isn't that popular anymore, as it was in the 70s. We love the music, but we have to maintain our regular day-time jobs. But no, cause we believe in what we're doing and it's great to see and hear that the music is still appreciated by a lot of people around the world.

What is your five alltime favourite albums ?
Nr. 1 Odyssice – Silence ;)
No seriously, difficult question cause there is so good and beautiful music available. And each album and each song is wonderful for different reasons. To choose just five wouldn't be fair for all those many other great albums.
Anything you want to add to this interview ?

Well ,we just would like to thank everyone that supports us (and other artists) by buying our music. Sadly enough many people download our music illegally from the Internet. And please let us warn you, there are websites that sell our music as download, but we have absolutely no deal with any of those websites. They charge you money for the download, but still it's an illegal download and we don't get any money. Those websites steal from you and us!
So, if you like the music you're listening to and you want those bands to keep on making that music, please buy that music. That's the only way to keep music alive!
Thank you to Odyssice for this interview



Edited by toroddfuglesteg - November 15 2010 at 05:27