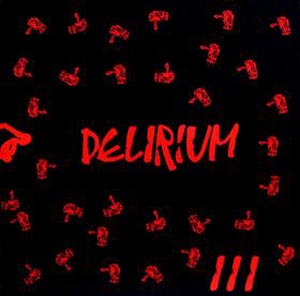 Delirium III: Viaggio Negli Arcipelaghi Del Tempo from 1974
Delirium 3 Was I think the result of the maturation of all the members of the band ,an album considered today as one of the top ten prog albums ever to come out of Italy. An album which included a full orchestra with some beautifull arrangements from maestro Farinati. An album were all very proud of.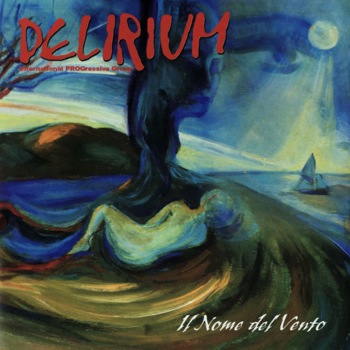 Il Nome del Vento from 2009
Il Nome del Vento. Was again almost forced upon us by Black Widow without whom we would not be around today and I wouldn't be here writing for you.I personally thought they were crazy, but non the less Ettore and myself decided to try after all these years to write some new material. We did so separately at first 4 or 5 songs each. We then put them together arranging each others, then with help from the other guys it began
To make sense. Of exstreme importance was that Mauro la Luce once again wrote all the lyrics creating the story. Plus we got the incredible voice of Sophya Baccini (her solo album "Aradia" is a masterpiece) to do the choruses and last but not least a beautifull all female string section. (which we often use in theatre concerts).
We must add our praise and gratitude to Verdiano Vera of Studio Maia Genova who did an amazing job recoding and mixing the album. We were all overcome by the exsremely positive response by all the music critics.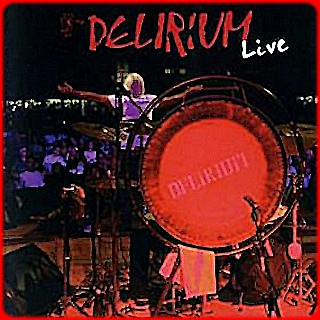 Vibrazioni Notturne Live from 2007
Is a result of Black Widow (Massimo Pino and Alberto) who liked the idea of doing a live album. These guys are amazing!They just picked the gig got the mobile studio and there you go. It was done quite simply but the result is astonishing because the atmosphere is electric, we played to our best, a great crowd. even we were surprised of the outcome.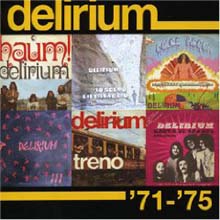 The compilation box '71-'75 from 2005
The other albums you listed are all compilations or remakes of the old songs. The one I think deserves a mention is Delirium 70-75 a double CD which contains all 3 albums plus some unknown singles for a total of 35 songs.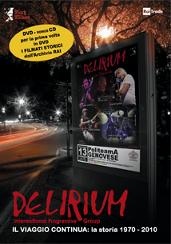 You have just released a live DVD + CD called Il Viaggio Continua - La Storia. Please tell us more about this release.
As always thanks to B.W. I honestly don't know what we would do without them(we love u 3 guys).
They chose the concert in our home town in the right theatre for the acoustics, bought in an expert film crew from Milan and we did our best to look fotogenic but failed miserably. But at the end I think we came out with a very live"live". Plus there are lots of exstras like old TV recordings from 70's, foto gallery and two extras from concerts after our reunion where we play a piece we all love "Kings' road" and "Viaggio negli arcipelaghi del tempo" from DELIRIUM III.

In your view, what is the best studio album Delirium have released ?
My personal choice would be between Delirium 3 and Il Nome del Vento there are 34 years between but I love them both..
Which periods of the scene do you prefer. The 1970s or these days ? What is the differences when it comes to promote and run Delirium ?
Well if you think about the 70's we were young, very popular .music was our bread and butter. Now were far from young and we don't really promote ourselves at all. Luckily we have BWR and a name that is still a trademark here and abroad
So we always have something to do.
What is your plans for the rest of this year and next year ?
Our future plans are that we continue to play concerts, our dream is tom play in some big prog festivals to USA and Mexico..lately we have done a couple of smaller venues unplugged and I personally loved it. We still get invited to TV shows and BWR are always finding prog festivals wordwide. What is important is still wanting to play and we still get a great kick out of just playing.
To wrap up this interview, is there anything you want to add to this interview ?
We would like to thank Prog Archives for this invitation and for your interest in our story.It a great satisfaction to be still considered by such a noble magazine.
Ciao and arrivederci.
----------------------------------------------------------------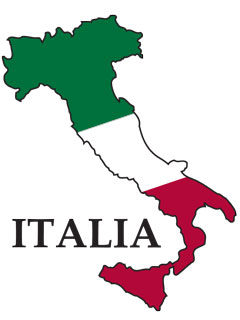 An interview with Ettore Vigo in Delirium
Pino and Ettore go all the way back to Sagittari. Tell us a bit about this group and your fond memories.
We were all very young and full of hopes, were covers of groups to which we were in love like Genesis, Jethro Tull, Gentle Giant, Manfred Mann, King Crimson, Chicago ... when we changed the name to DELIRIUM and recorded his first single "Canto di osanna to " some of our hopes really began to happen ... then with the album" DOLCE ACQUA "and the hit" Jezahel "really happened the end of the world.
We were ahead of all the charts, great time, definitely unique ...
Ivano Fossati joins the group. Tell us about the Fossati era, and what you felt was good and bad for Delirium as a band.
Ivano was our singer and front man, there was a good atmosphere between us all, even though they often quarreled. IVANO then went to the military and no longer fall in the group because he had in mind his successful solo career that continues today.
Us with the arrival of Martin Grice decided pointing sounds more progressive.
How do you feel about Ivano today? Is the band on good terms with Ivano?
We talk often with Ivan, but we saw recently at a concert.
We are still friends.
Is there any chance Ivano might join Delirium on stage for a brief reunion in the future?
VERY DIFFICULT BUT NOT IMPOSSIBLE.
Enter Martin in 1972. How did the band meet Martin and what were you looking for in him as a musician?
MARTIN was the perfect man we were looking for!
I've read of many English prog influences on Italian prog. But what was your relationship with your fellow Italian bands? Did you feel you had common goals and friendship with other Italian groups?
With other groups there were no pop or prog Italian special relationship, one could see at concerts and festivals, we talked about music and politics, of course we all felt united and form part of a new movement that was growing.

Which Italian Prog albums do you feel were the best from the 70s era? Which Italian bands do you guys enjoy most?

Surely the first album of the unforgettable AREA of Demetrio Stratos, then "Palepoli" Osanna "COLLAGE" footprints ... even the "Concerto Grosso" of New Trolls ...
Roberto and Fabio are the "new" members of the group. I believe you made great choices based on the new Delirium DVD. What do they bring to Delirium?
The two new elements have brought freshness and energy in delirium.
Fabio is a great bass player and also has a beautiful voice, Roberto is a rock blues guitarist, he loves Gary Moore, Steve Ray Vaughan, Thin Lizzy and Jimmy Page also his vocal timbre is perfect for our sound.
The string quartet was used on the DVD and the previous studio album. How did you find these delightful ladies and how do they enjoy playing with a veteran progressive rock band?
The idea of the female string quartet is mine.
They are friends of my daughter and all musicians absolutely prepared, you have seen and heard on the DVD.
We'd always take them in concert with us but unfortunately it is very complicated.
I think they are fun to play with us, it was still a great experience for everyone.
"Il Nome del Vento" is an absolutely fantastic album by anyone's standards. How did you accomplish this level of composition rather late in your career? Where did the inspiration come from?
I'm glad that our last studio album you like, the work comes from some of the tracks that we recorded in the 70s and never used .... we have taken, rearranged and then echoed other new songs were born but it took a long time, after so many years we were not trained much like the old days.
Mauro La Luce, our hystorical writer, wrote some great lyrics and concept.
In the end we were all satisfied and we would be able to present around the world, but the opportunities were far too few.
I assume in the old days before the Internet most Delirium fans were Italians. How does it feel in 2010 to have fans all over the globe?
GREAT! We love them all and we'd like to play live for them, we'd like they can see us in concert!! Concerts are the blood of music!
You have mentioned a great desire to play in the USA. What other aspirations do Delirium have? Do you wish to make another studio album?
We, despite the great success of some of our individuals, we have sacrificed our lives to the progressive, the sound we love the most and why we think you deserve the affection of all lovers of prog.Other Italian groups, who call themselves progressive, but instead they insist on the shopping street, maybe they do not like the prog so 'much.
Currently DELIRIUM after the reunion, have a live album, a new studio album and now a DVD, I think it's enough for now.
We must work for the promotion of these three important projects, with time ... then maybe think about a new album in the studio when the BWR will think that the time is right ones.
I was very moved by the Genoa performance on the new DVD. I sensed it was very special to the members of the band, to have this chance for collection expression, when so many other RPI bands have not. What does it mean to you to be able to play Delirium music to a packed theater,
and share that energy with guys you played with three decades ago? Is it still as much fun as the old days?
Playing for us is always a joy and that concert was a very important date because we played in Genoa, in front of our audience, but also because we played the first of a phenomenal group as the footprints and then we knew that the concert was recorded for a DVD , so we were all very excited but very tense under the strain.
We hope that during this concert, we managed to convey our feelings to the public.
Does Roberto feel much pressure when it's time to sing "With a Little Help from my Friends?" I imagine that is a very demanding vocal.
Roberto loves this song, he like to sing this song but i'd like to sing and play some more hard blues numbers….
What are some of your current day favorite Italian groups? I imagine you enjoy some of the other Black Widow bands very much.
We like OSANNA, we like IL BACIO DELLA MEDUSA a young band very brilliant and energetic on stage…we also like IL TEMPIO DELLE CLESSIDRE with the very talented Elisa on keyboards and our old friend Lupo Galifi of MUSEO ROSEMBACH.
Another band we like is IL CERCHIO D'ORO from Savona., we played a couple of gigs with them and they are great on stage!
We've heard much about the important Italian rock festivals of the early 70s. Tell us a bit about these festivals, and about the youth culture in Italy at that time. What do you remember about these large outdoor shows?
The atmosphere was magical, as I said before it was like to participate in the birth of a kind of magic that could not be touched but are felt in the air.
We all lived very spontaneously, without thinking too much, for us the most important thing was to be there and play the music that we liked and continue to do so today even though the times have changed.
Tell us one of your favorite memories or road stories about Delirium in their heavy gigging days.
Too many stories, episodes too, it is a story as if you forget all the others, making you prefer not to answer a sample in a single episode but know that at that time everything was mixed in and out of us:
Joy, excitement, anger, jealousy, love, politics, music, food and drink but no drugs.
here's the worst thing in those days was the discovery of drugs because of what we have all lost friends less fortunate than us.
The drug has been a loss for music and for life, stay away from drugs, listening to good music and hope to see you one day during our concert.
We love you all really. Ettore Vigo