The Morrigan is a British folk prog band with roots in both Celtic folk music and the olde British folk rock scene. They have often been compared to bands like Fairport Convention, Steeleye Span and Horslips. Their albums is highly regarded and they have a solid following too. † †
I got in touch with Colin Masson for the story and the latest updates.
I can remember exactly how the band got it's name. At the time we had already played our first gig under the wonderful moniker of the "Airport Convenience." (This joke was courtesy of Rick Sanders of the original Fairport Convention).
Anyway we were basking in the glory of our first gig, which if I remember correctly was on 1st December1984, at the Caribbean club in Basingstoke.
The Morrigan in 1985
Left to right: Cathy Alexander, Cliff Eastabrook, Colin Masson
We were sitting in the public bar of the Swan in Sherborne St John, trying to work out what we were going to call ourselves. At the time I was quite a fan of the works of Alan Garner. The previous band that I had played in, which had split up the year before, had been called Elidor,after his novel of the same name, so I suggested that perhaps we could use the title of one of his other books. Unfortunately there was already another band called "Red Shift", and nobody was going to play in a band called the "Wierdstone of Brisingamen" (at least none of us were). I thought some more, and suggested calling the band after the latter novel's principle villainess. Alan Garner gets a lot of his material from Celtic and British folklore, and a little deeper delving (bearing in mind this is long before the Internet), showed that the Morrigan was the Celtic goddess of death and destruction, war, pestilence, and any number of nasty things. She is supposed to manifest as either the maiden, the woman,or the hag, and given that we were a three piece of the time, it sort of seemed to fit .
(I don't know which of us was which however). It also meant that if we ever wanted to be a ceilidh band we could call ourselves Selina Plaice because that was the name the Morrigan chose when she was living in the modern world.
Your type of music is very special and not mainstream. Why makes this type of music your heart strings sings and/or what makes it so fascinating to you ?
I think that the Morrigan was always going to be a vehicle for doing pretty well what we wanted to.
Cathy had already been working as a solo artist on the folk circuit and had a strong grounding in traditional music, but she also wrote her own songs, and was a big Genesis fan. It turned out also that we both loved Sibelius, which was the start of a beautiful relationship.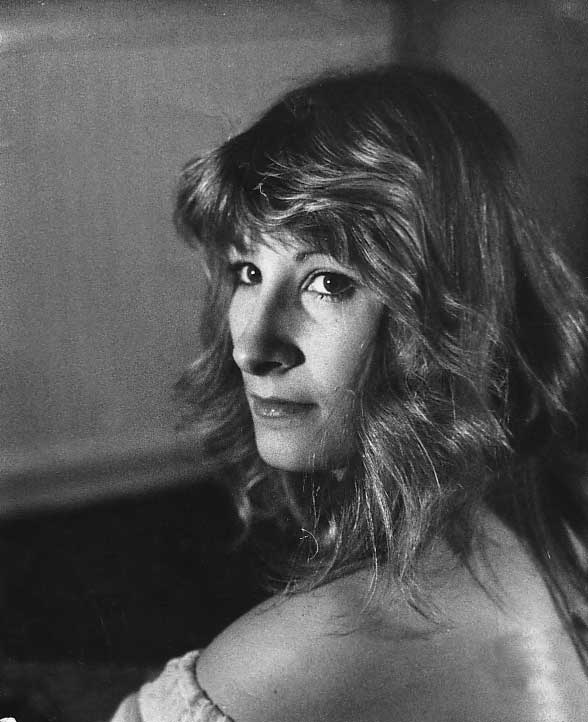 Cathy Alexander
Cliff Easterbrook, was one of the original members, and the newcomer Colin Masson (The narrator), had both been in rock bands of various sorts beforehand. Cliff was very much into Chris Squire, whereas I had been interested in the likes of Mike Oldfield, Steve Hillage, and Andy Latimer.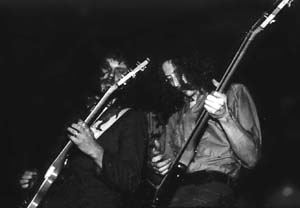 Colin Masson and Cliff Eastabrook at the Joiners Arms Southampton 1987
What is the whole ethos for your band ?
Anything goes! One minute we might be doing a huge great prog epic, the next we might be doing a piece of jazz blues, then we might be doing a song (unaccompanied of course) about fishing for fish fingers off the Isle of Wight. As long as we can do it live, it goes into the melting pot.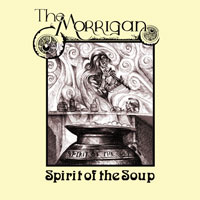 Over to your albums. Please tell us more about your first album The Spirit of the Soup from 1985
Spirit of the Soup was our first foray into the wonderful world of recording. At the time I think we hired a 4 track Tascam cassette Portastudio. Basically we were like a bunch of kids with a new toy. The lineup at the time was myself (Colin Masson), Cliff Eastabrook, and Cathy Alexander. The album was recorded over a period of about two weeks in Cathy's living room in Old Basing, and was released as a cassette album. To my mind the highlight track on it is "Cold Blows the Wind, which is a beautiful folk ballad, if rather morbid. The performance by Cathy of the vocal and also the recorder break (the whole lot done as a single take) is as good as anything we've ever done since. The other really interesting track is "The Great Sun" which is a setting of a poem by Charles Causely . This involved multi-layering of harmonies and unusual instrumentation and was a bit of a hint as to where the Morrigan would be going in the future. The rest of it could genuinely be called "slightly souped up folk with not much rock in it. Bearing in mind that this was 1984, absolutely nobody in the music business was even slightly interested. Remember that this was the period of the new Romantics, and punk was still around. We were about as fashionable Ted Heath's underpants.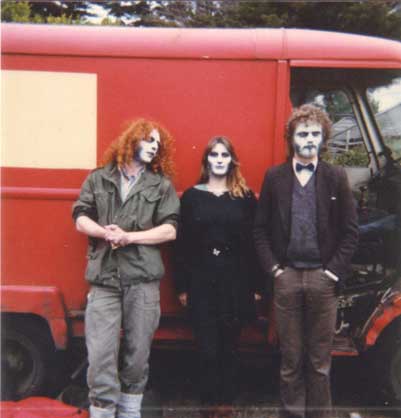 A Scene from our first video, Fortunately for us the video is long gone.
(if anyone has a copy of this video, please send it to us† - tf)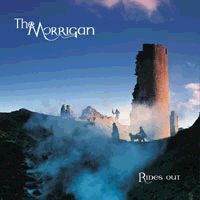 Please tell us more about your second album Rides Out from 1990
As you can see, there was quite a gap between the first album and the second. We had done a fair bit of recording on and off, but had increasingly come to the conclusion that a cassette portastudio was not going to give you a studio quality album.
In the meantime we had acquired a drummer, who came by the wonderful name of Arch (not his real name), he very quickly became Archie. We were getting distinctly rocky in our approach to music. At this time Cliff very much played a leading role in the development of the band, and it was his idea that we should try and put out a real, genuine, vinyl album. Largely through his efforts, we manage to obtain a backer who was prepared to put up the money to print a thousand albums. We had also met a young man by the name of Jon Hayward, who had been given a 2 inch Studer tape machine, and a 32 channel desk as an 18th birthday present by his parents. This might sound a little excessive, but you have to bear in mind that these particular pieces of equipment were already ancient by this time, having been built at the beginning of the 70s, they got it at a (relatively) cut down price. "The Morrigan Rides Out" took a long time to record, largely because the machinery kept breaking down. The "dicky pot" and "scritty slider" became part of everyday language. We consumed vast quantities of switch cleaner and beer.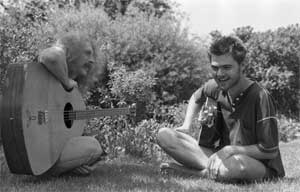 Cliff and Jon Hayward
Even so we managed to produce half of the album with this wreck of a studio (in his dad's garage to boot!) The title track however, was recorded on a hired 8 track machine in a beautiful farmhouse in Cornwall. That is a period that we remember with great fondness. During the recording of the album we were joined by Melanie Byfield. Although she did not stay in the band for long, she has remained a lifelong friend.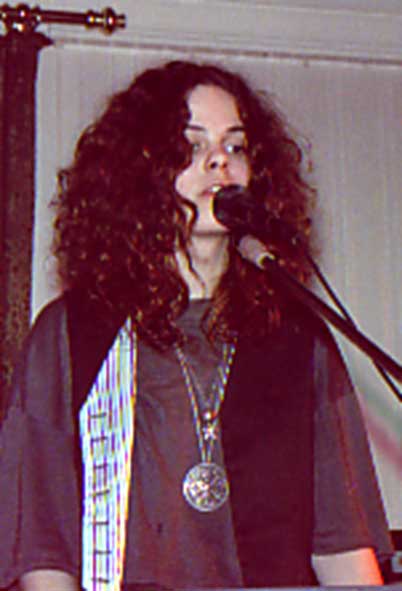 Melanie Byfield
After she left Jon Hayward joined the band. As well is owning an insane studio he was an absolutely brilliant classical guitarist, it's a shame that we weren't able to make more of his abilities, but during the time that he was with us tensions between various members of the band had increased and creative opportunities had lessened considerably. It was something of a missed chance that we did not use him more.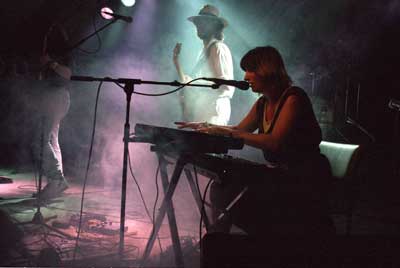 Avalon Stage Glastonbury Festival 1992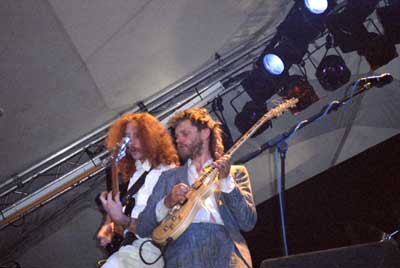 Avalon Stage Glastonbury 1993
At the end of this period Cliff left and indeed we very nearly called it a day (this would have been a roundabout 94-95) relations had gone into a somewhat downward spiral, a bit like a rocky marriage, and though Cliff was undeniably a superb bassist and theatrical front man, everybody was relieved (including himself) when he jumped ship and joined the Press gang. Like everything time tends to heal imagined wrongs, and we still keep in touch with him.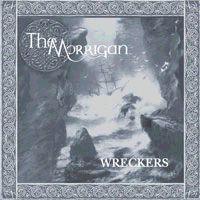 Please tell us more about your third album Wreckers from 1996
In order to say anything about "Wreckers", which was our first release on a record label, we have to go back to the "Spirit of the Soup". It turns out that somebody in Spain had made a vinyl bootleg of what must have been a cassette copy of an album recorded on a four track. The sound quality was absolutely awful! But it was selling on the collectors market. Maybe "like hotcakes" might be a little bit of an exaggeration, but it came to the attention of a record company, and to cut a long story short, we got a deal.
When we started recording, there were only three of us, Cathy and I had been on the verge of giving up, but Arch insisted that there was still a future for the band, and when we started recording, we tried briefly to see, whether we could work as a three-piece using only keyboards, guitars, and drums, which was something of a challenge. The opening track on the album entitled "the Millers Dance" was recorded in this way. the bass part is in fact played by Arch who was using a Yamaha MIDI drum pad attached to Cathy's Synth (whilst simultaeneously playing the drums). It's a really good arrangement and one of my favourite numbers.
However it quickly became obvious that we were not going to be able to do what we really wanted with the current lineup, so we started looking for a bass player. Cliff was going to be a hard act to follow, and indeed proved impossible to replace. All the bass players we saw couldn't play threes over Fours, or if they could, they only wanted to play jazz.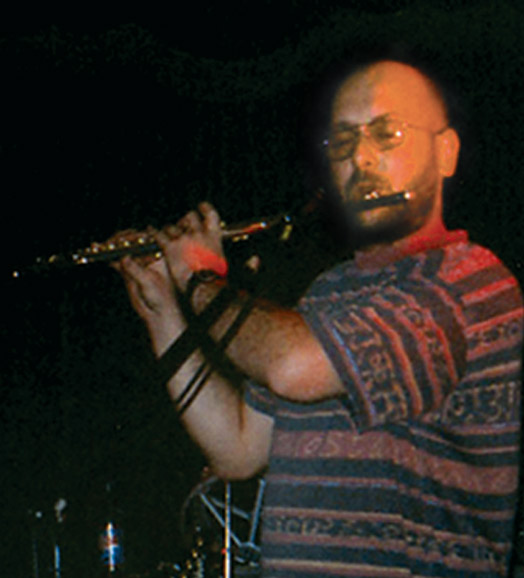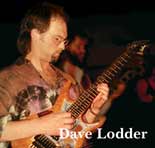 Mervyn & David
Arch mentioned at this point that he was playing with a covers band, under the wonderful name of "Bolton Parsnips", with two of his friends from his schooldays. These were Dave Lodder and Mervyn Bags (guitar and vocals respectively). Cathy and I went to one of their rehearsals, and jaws dropped when we realised how good Dave was on the guitar not to mention how good Merv was on vocals. Again to cut a long story short, they joined and I became the bass player. My reasoning was that I might not have been as good Cliff, but at least I knew the right things to play under a guitar solo. This is the lineup that we used to record the rest of "Wreckers". For me the stand out track other than the opener, is probably "The Agincourt Carol/La Rotta which is a piece of purely Medieval mayhem but with a very unusual instrumental lineup.This got played on Folk on 2.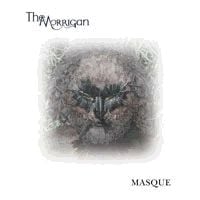 Please tell us more about your fourth album Masque from 1997
Masque was recorded at Greenacres farm near Salisbury, and was a very enjoyable album to make. The lineup was the same as the one that finished Wreckers, and to my mind this was a period when all our creativity seem to be working in the same direction. We had also acquired a Roland hard disk recorder, and though recording a full band was a little bit tortuous, it greatly improved the quality of the sound. I still enjoy everything on this album, but to me the first two tracks stand out especially. The title track "Masque" which goes from a moody intro,(Always Winter Never Christmas), Through a guitar led instrumental (Masque itself) into "The Boar's Head Carol" a 16th century Christmas Carol, finishing with a rennaisance dance known as a Bransles (pronounced Brawl), By the Flemish composer Tielman Susato. This is essence of Morrigan, and a real fusion of prog and folk. The second track is "Dever the Dancer" sung by Cathy, which evokes the spirit of winter, and was inspired by a walk through an ancient yew forest on a very cold winters day. On this track Merv persuaded his cousin to play, he just happened to be second violinist with the Bournemouth Symphony Orchestra! Consequently we double tracked the hell out of him and so the song comes complete with real strings on it. (I'd love to do something like that again!) Also Cliff put in a guest appearance as he had written the original bass line.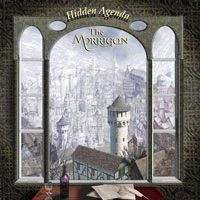 Please tell us more about your fifth album Hidden Agenda from 2002
This is certainly our most accomplished album but unfortunately up until now it is also the last (There are plans afoot to remedy this however). Funnily enough it was recorded initially on the same tape machine and desk as "The Morrigan Rides out". By this time John Hayward, and also our friend Luke Hardy, had managed to beat it into some form of submission (the full story of how we managed to end up living next to own recording studio can be found on the band website). I think of particular interest to all you itinerant proggers is the track "A Night To Remember," which is the story of the sinking of the Titanic. This number had a very long gestation period going right back to the time when Cliff was in the band. Therefore it considerably predated the film. In fact the title comes from a much earlier (and to my mind somewhat better) movie starring Kenneth More, which I think was filmed on the Mauritania in 1958. I think this track is the closest we ever got to being a full-blown prog rock band! However in one sense it follows the folk tradition in that it tells the story as truthfully as possible. These lyrics were particularily hard to write, as they have to scan, keep you interested, and yet not take too many liberties with the facts. It took me about four months to write (much longer than the music took, we had the bones of it done in about a week). The final part, which is brilliantly sung by Merv, is taken from the inventory of the ship, and includes the line "The biggest reciprocating engines in the world" it is my proudest achievement as a songwriter that I managed to get those engines to fit into the song!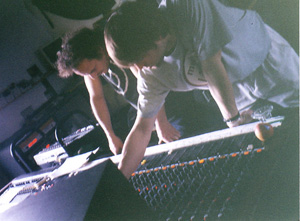 Arch with Luke Hardy, and the enormous Amek desk in 2001
Towards the end of this recording Dave decided that he wanted to pursue a more personal musical direction which was somewhat more Jazz Rock in style. He went on to form a three-piece with his brother John, and with Arch (who plays in a lot of bands). This combo is called Blue Drift. They released two very good albums for which I did the artwork (Plug). So we found ourselves looking for a new guitarist. Enter Matt Carter, multi instrumentalist extrodinaire. He had already played mandolin and banjo on Hidden Agenda and was an old friend from the folk scene. Things were complicated however by the fact that he had got fed up with folk sessions and banjo, and mandolin, and was far more interested in playing modern heavy metal and jazz (he introduced us to the delights of Rammstein and Weather Report). The other thing was that he got it into his head that he would rather play bass guitar.
So we had to go looking for a new guitarist. Fortunately I was available. That brings us more or less up to date.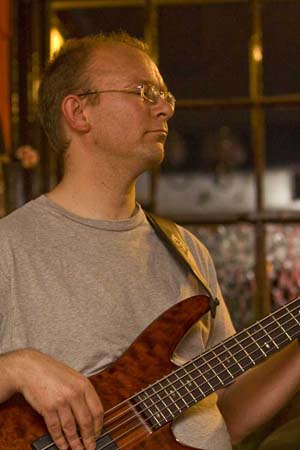 Matt Carter

What is the latest update on your band ?
At the moment I think you could say that we are in a sort of semi-retirement (we are not spring chickens) The renewed interest that has come about largely because of your website is making us think that there is at least one more album to come out of the old beast. And we should certainly gig again. Unfortunately one of two of the other members of the band have got priorities unrelated to the band itself, which is one of the consequences of not being carefree youngsters or rock superstars. We certainly haven't broken up though, and try to keep in contact with each other. On a more immediate note, we thought a Yuletide EP might be a good idea. As you will have gathered we have several songs related to the festive season,(including "Good King Wensceslas" which has not been included on any album). The artwork is done so it would be simple to put out and could be an effective taster to those who haven't listened to us before, to hear what we are about.
How is the creative process in The Morrigan from coming up with a theme/riff/idea to you get it down onto an album ?
I don't think that there is only one way that we write. Some of the pieces can start off being highly arranged, this is particularly the case with some of the songs, but on the other hand tune arrangements tend to be as a result of jam sessions that are then tightened up. Irish music particularly follows a certain number of conventions, so it's very easy to get up something that sounds quite decent very quickly. The trick is to try and find a new slant on it, to keep it from sounding like the Pogues or Steeleye Span. That's where most of the fun is.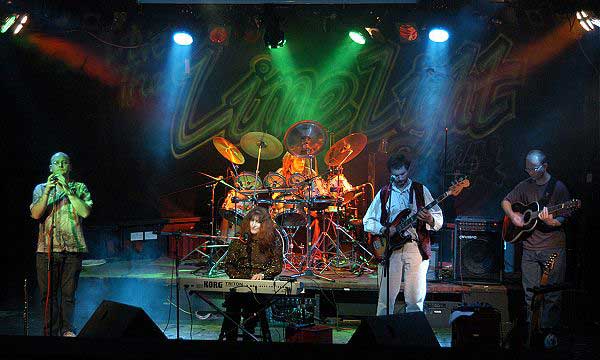 Limelight Club 2004

Just to give those of us who are unknown with your music a bit of a reference point or : How would you describe your music ?
In the past we have had comparisons (In no particular order) to: Jethro Tull, Genesis, the Pink Floyd, Mike Oldfield, the Bonzo dogs, Horslips, Rush, Steeleye Span, and Camel.
We sometimes do George Gershwin for an encore, along with a heavy metal version of a song collected by Ralph Vaughan Williams, in the Hampshire village of Axford (where Cliff comes from) at the end of the 19th century. I think that just about sums up our style.
How is your gigs situation ? Is there any plans or wishes to play gigs or festivals in and outside UK for the rest of this year and/or next year ?
Currently we are not gigging as a band, this is purely and simply because right now other events are rather taking precedence. We do hope to get back together within the next six months or so. In the meantime Cathy and I are planning to go out as a duo. This will be not unlike The Morrigan unplugged I expect.
How is the availability of your first albums and what is your experience with the music industry and the new internet music scene ?
Right now we have copies of all albums which you can buy from our own website Which is where we would like to get them from of course!, There are also quite a few floating around in the ether out there. I have seen albums on eBay, and the original vinyl version of "Rides Out" changes hands amongst collectors for around about 50 or £60 a throw. Unfortunately we see none of that money, and we no longer have any vinyl copies of our own to sell. Additionally all our albums are available as downloads on: i tunes, Amazon and several other music download sites. Fairly soon we will be putting the albums up as downloads on our own website, obviously cutting out the middleman.
Besides of Colin Masson's solo albums, are you involved in any other bands or projects ?
As I said earlier Cathy and I are planning to go out as a duo this year (Hopefully the proceeds will go towards a holiday in the Urbachtal valley in Switzerland). She and I have also been working with Max Hunt of Tantalus and Fragile, in an Arthurian project called Artorius for which we released an album about a year ago.
What is your plans for the rest of this year and next year ?
Really to carry on as we have been.
To wrap up this interview, is there anything you want to add to this interview ?
Just to say thank you to everyone on this site and for the interest that they have shown. For those who are interested you can find our website
here
. †Thank you very much to all of you!
Thank you to Colin for this interview