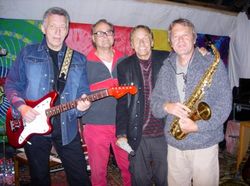 Guru Guru is one of the pioneering German space rock/kraut rock bands. They have released numerous albums and they really need no more introduction. 
I got in touch with Mani Neumeier  for a small chat about Guru Guru.
-----------------------------------------------------------------------------------------------------------
Let's start with your personal history. Where were you born and what was your introduction to rock music, which at that time was regarded as a bit "risky" for young people ?
I was born in Munich on 31.12. 1940. I came from the Irene Schweizer Trio and I was the 
first freejazz drummer in Germany and Europe. After I heard Jimi Hendrix I wanted to play electric/amplified music. We - Uli Trepte bass and I started the idea and concept of GURU GURU.
When and where was Guru Guru formed ? By whom ? Who was your musical influences ?
This was spring 68,our first concert was 4.aug. 68 in Heidelberg, Germany. We were influenced by Coltrane, Miles, Monk, Coleman, Taylor, also by indian,african +other worldmusic + stockhausen+all kind of natur + citysounds + noises.
How was your first gigs and how did you get spotted by your first record label ?
Our first gigs where very free,noisy,spacy improvised sounds,chaotic+loud and in the end always police came. The pope of ,krautrock, -Kaiser was running for weeks behind us to get us for his new label Ohr. First we did not want to make a lp.


Each individual Guru Guru studio album is pretty different from each other so it is only fair that we run through each of them and you just add your own, short or long comments to them and what type of music we can find on them. 
Please tell us more about UFO from 1970
A milestone of the space/acid rock with me, uli t.+ ax genrich guitar
…..Hinten from 1971
With Conny Plank on the mixing desk, very compact and a great,clear sound. One of my favorits.
…...Känguru from 1972
Also produced with  Conny, supersound,- sold ca. 20.000  
…....Guru Guru from 1973
First influences of rockn roll+others.
…...Don't Call Us We Call You from 1973
Influences of, world + red indian music to hear.
….....Dance of the Flames from 1974
With Houschäng Nejadepur on guitar. Influenced by Mahavishnu Orchestra.
…......Mani und seine Freunde from 1975
My first solo lp with musicians from, kraan, + moebius(cluster) a.o. -very groovy album!
….......Tango Fango from 1976
Rock, pop, worldmusic, good produced - sold ca. 20.000
…......Globetrotter from 1977
Rocky, spacy, with guests from kraan...etc
…....Hey Du from 1979
Many different stiles, good produced, sold good.
…...... Mani In Germani from 1981
Influenced by our USA tour, a bit punky..
…........Guru Mani Neumeiers neue Abenteuer from 1983
Thommy Patexx, key chowmeier, bass -diff.stile-psycedelic too
….......Jungle from 1987
With Hans Reffert, guitar + other line up new influences
…........Shake Well from 1993
With Luigi Archetti guitar.+ Rasem Rübel, voc, bass spacy + rockn roll influenced
….......Wah Wah from 1995
with roland Schaeffer guitar + others, psycadelic + rocky
…...... Moshi Moshi from 1997
+ l.archetti, Peter Kühmstedt bass+H.Reffert guitar., a very nice record, many stiles, influ.by our Japan tour
….......2000 Gurus from 2000
Same line up, used many loops + el.drums, a bit loungy, spacy
….......In The Guru Lounge from 2005
Same people, rocky, loungy, jazzy
….. and finally; PSY from 2008
Same line up with guests , Chris Karrer-Amon Düül 2- Helmut Hattler+Jan Fride- Kraan, Moebius-Cluster, Uchihashi Japan...


You have also released a lot of live and compilation albums. Is there any of them you highly recommend and is there any of them you would warn us against ?
guru guru 2008 live....

22..in work...doublebind.. dec.2010

30 years guru guru live-98 ,-2 from 98 finkenbach festival with g.g. +musicians from ,can, ,-1 cd guru guru live 1971,a good feeling! 


1live cd  75, outcuts, bootleg, not good
You have cooperated with Bo Diddeley and other greats from the history of music. Please tell us more about these co-operations.
no,,sorry ,we did not cooperate with bo diddley, we only gave a song on ,,HINTEN his name.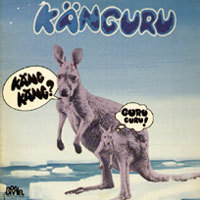 Was Guru Guru ever a part of a music scene or had any political affiliation during the 1970s which saw a a lot of political activities in the then West-Germany with the Baader-Meinhof gang and other leftist "movements" ?
Of course, we where and are still a part of the music scene, with over 3000 concerts since 1968, on our 40 years jubilee tour we had 69 concerts in 2008.
Yes, we had political affilations with the student movement and played sometimes in prisons.
What is your experiences with the record labels and the rest of the music industry ?
The experiences with the rec.labels was mostly not so good, they keep too much money for themself.
Your many live albums testify that Guru Guru was and is an active live band. Please tell us more about Guru Guru at stage.
Guru Guru on stage try to make more than only a concert, it is like a happening and I have a warm connection with the people. We want to make them happy.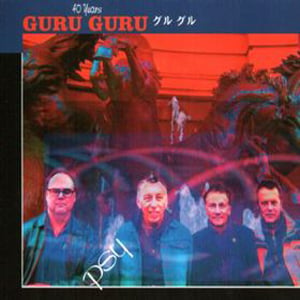 What is your memories of Guru Guru and how do you think Guru Guru will be remembered in the next 200 years ?
I have 1000 memories of Guru Guru. And people will may be remember us for that music we made up with other krautrockgroups and listen our cds.
And if my waxfigure in the Tokyo Wax Museum is not melting away, people can still look at me, ManiSan of Guru Guru.
Is there any of today's music and bands you like ?
I like many,for instance Acidmotherstemple or Afri Rampo of Japan or Gong...
What is the future plans for yourself and Guru Guru ?
We play as long we can, bring out a new cd ,doublealbum, make this year 55 concerts in Europe and I go to Australia, New Zealand & Japan in 3 months and have gigs holidays.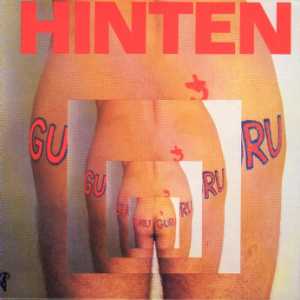 What is your all time five favourite albums ?
Hinten, Känguru, Mani + Seine Freunde, Moshi Moshi and the new one.
Anything you want to add to this interview ?
Thank you for your interest and questions and forgive me for my strange English.
Thank you to Mani for this interview
Their PA profile is here and their homepage here