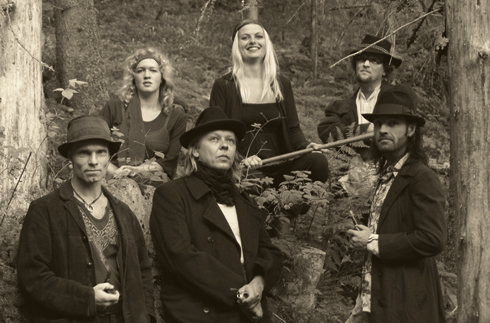 Nordagust is a new Norwegian band who has already created a lot of interest with their debut album In The Mist Of Morning released earlier this year. Nordagust may be the next big Made In Norway export success. I caught up with them for their story.
-----------------------------------------------------------------



To start with, please tell us when, where and by whom Nordagust started. What is your musical background, your musical inspirations and were you involved in any other bands before you started Nordagust ?


Daniel Solheim, Knud Jarle Strand and Ketil Berg started Nordagust in 1999, after the 5-piece symphonic progband "Ocean" disbanded the same year. The band was started in Nord-Odal, of eastern Norway.
Ketil:  I have been playing drums for 33 years, and have besides of Ocean – later Nordagust - been involved in various jazzrock-and bluesrockbands for the last 24 years. I`m also playing field drum, as they did during the wars between Norway, Sweden and Denmark 2-300 years ago. Grew up in a musical family with a father who played accordion, a mother who played guitar and bass – and a brother who is a guitarist. I am inspired by Norwegian traditional songs and folk music, old American blues, British prog and heavyrock from the late 60`s / early 70`s, the Swedish prog scene, the sounds AND silence in the woods. Roughly.

Daniel: I've been playing guitars for 27 years, been singing for 22 years, playing keyboards for about 17 years, and the last 15 years I have been trying to play almost any instrument I could find. I have been playing a lot of various folk music, heavy rock, symphonic rock, progressive rock, heavy metal, classical music, some blues, all the way trying to find my own style. Musical inspirations; I found out that I wanted to play guitar when I heard John Lees, David Gilmour, Ritchie Blackmore, Jimmy Page and Terje Rypdal. And when I heard Richie Havens, Roger Waters(because of the natural emotion in his voice), Robert Plant and Steve Walsh I wanted to sing, and later on I found inspiration listening to a lot of old folk singers. Tony Banks, Jon Lord, Wooly Wolstenholme and Mike Pinder inspired me to start playing keyboards. As a composer I find inspiration in norwegian and nordic folk music, and Grieg's way of composing. And though I try not to copy anything or anyone, I think I must have found some inspiration in many things I have listened to, such as Pink Floyd, King Crimson, Genesis, Jethro Tull, Led Zeppelin, Deep Purple, Uriah Heep, The third and the mortal, Arcturus, Mari Boine, Anglagard, Anekdoten, Landberk, Anathema. But a lot of the inspiration to Nordagust's music comes from our own various moods and the nordic nature.
Besides Nordagust I have been involved in a heavy rock band called Dream Valley, a symphonic rock band called Ocean, a gothic metal band called Mandylion, a folk rock band called Nafarr, a progressive rock/metal band that later became Frantic Bleep, a world music project called Ambient Winds, and also some other various projects.
Knud Jarle: Got my first bass at 13. Played in various local-bands, and formed Ocean with Daniel in 1991. My biggest inspiration is the German band Eloy, and groups like The Beatles, Rush, The Who, Yes, Marillion etc. My favourite bassplayer is Klaus Peter Matziol from Eloy.

Please give us your long or brief thoughts on your debut album In The Mist Of Morning released earlier this year.
Ketil: A redemption. We were in every way done with this material already in 2003. We discussed in conclusion if we should sample the sound of a stone that fell in the water, and began to wonder what type of rock that would sound most natural. That's when we realized that the CD were done. Maybe we could have done something more "perfect" today, but that`s not the point. In that case I think the original force more or less would have faded away.
Daniel: I remember struggling, trying to create music that would contain all the strange moods and emotions I felt inside, and make it sound like music I really wanted to listen to, something that could speak directly to my soul. I did get a lot of good help from the members of Ocean, including Ketil. And I think Ketil's sentence; "we must try to sound like the norwegian nature" was an essential key. When recording and producing "in the mist of morning" we wanted it to sound organic and dynamic.
How is your writing and creative processes ?


Ketil: Essentially, Daniel is the creative force. He has - more or less - all the music and the textlines in his head. At least, he has a basic idea about how it should be. I come up with supplemental ideas, and would suggest sounds, tones or fragments to complement the songs.
Daniel: Well, because of my endless struggle trying to find my own music, my own expression (in Nordagust's case; something that could wake the trolls and the wood nymphs), I always have a lot of ideas of music spinning in my head. And Ketil always comes up with supplemental ideas. But sometimes we find what we are searching for in a jamsession.
To me, your music comes across as a blend of Third And The Mortal, Genesis, Anekdoten, Änglagård and the darker end of the Rock Progressivo Italiano genre. But how would you describe your music ?
Ketil: Contrast-filled, emotional, melancholic, dynamic and haunting. Like the Norwegian nature.
Daniel: I would like to add; atmospheric, nordic, minor tuned, slow marching symphonic rock.
Norway have both a very strong progressive rock scene and a strong black/doom metal scene. Which of these scenes do you associate yourself with, and which scene do you get the feeling your fans and media associate yourself most with ?
Ketil: If I am forced to respond - with a grand piano hanging in a thin rope over my head - I would respond most to the progressive rock scene, of course with hints to the Swedish prog scene of the 90 `s. Difficult question, really, because we have elements in the music that clearly can be associated with the black / doom metal scene. I see - however - that we are sorted under "metal". As a main cathegory, this surprises me a bit.
Daniel: Ketil has already answered this question, but I have to mention that I never really felt we were a part of any scene, but I thought maybe people would call it alternative rock, atmospheric rock or maybe symphonic rock. We called it "woodrock".
What is your plans for this and next year?
Ketil: We have now got three new members: Jostein Skjønberg: Keyboards, guitars, voice. Sissel Os: voice, samples. Guro Elvik Strand: Guitars, keyboards. This makes it easier to perform our music live. And it would be great fun to play at a couple of festivals. We have been rehearsing the whole year on "in the mist of morning" material, and look forward to present it on stage. Surely we will play a couple of our other compositions too. Strange enough – for five years ago Daniel, Knud and I were sure of one thing: "We are never ever going to do this on a stage!". Based on the reactions we got under and after our first and only gig in Bergen, we changed our view.
We are also going to work on some new songs. And about our "new" material: Well - It is correct to say that "we are in the same landscape, but perhaps in other seasons" .

To wrap up this interview, is there anything you want to add to this interview ?
Ketil: I am personally more engaged in the past than the future, the approach to the history of the rural communities of eastern Norway comes in completely natural. The nature of mystery - and the thought that everything in nature has a rhythm and soul…. For less than 100 years ago, the consciousness of people were as different, as the consciousness of those who would appear in a spaceship today. The best ideas of nature sounds, beats and melody lines, for my part, appeared in the forest. Questions like "What kind of music or tones did people get into their heads In the 17th century? If I hear an really old clock ticking, I could be set out, thinking: What may the people who heard this sound first think of? Just food, sleep and work – or did they think of rhythm and music?
Nowadays we tend to think that musical power is associated to large racks of loudspeakers, but the same power was integrated in old songs or the old instruments – like fiddle, field drum or kantele. Words – said in the right way – had enough power to stagger blood from running, or stagger a bee from stinging. That is my objective.
Our expression is also a tribute to all free thinking people, trolls, wizards and wanderers who once were a natural part of our society. As a wanderer said: You could compare people with animals in one way: Most often the black sheeps are the wisest.
Thank you to Nordagust for this interview

Their homepage is here