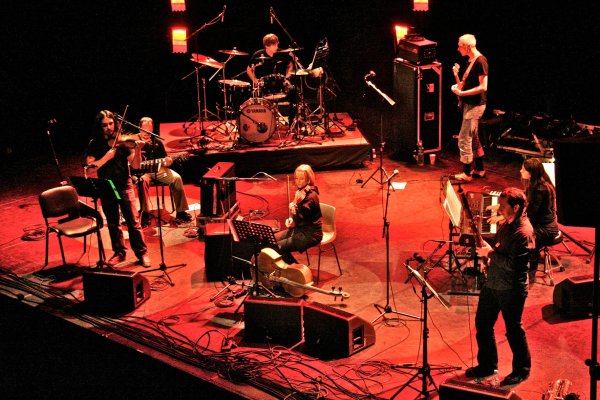 Rational Diet is a great RIO/chamber rock band with an impressive amount of album behind them. I caught up with the band through their label Altrock for their story.
----------------------------------------------------------------------------------------
Your biography has been covered in your ProgArchives profile so let's bypass the biography details. Why did you chose that name and which bands were you influenced by ?
The name does not mean anything. It is a random collection of words.
The impetus for the creation of the band was the acquaintance with RIO music in the late 90's. At that time to all Belarus there were only units of listeners of such music and performers were not at all. We could not keep quiet.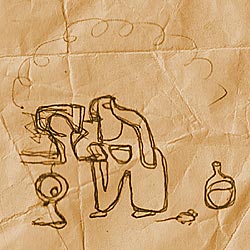 Over to your albums. Please tell us more about From The Grey Notebok from 2000.
"From The Grey Notebook"—Our first album, composed in 1998 and recorded in 1999. It has been pressed on audiocassettes by local enthusiasts and practically had no distribution. It consisted of 23 minute-length suite of a difficult design аnd of 23 minutes of noises, improvisations and so on. The main theme was the first "serious" product of the group and has been written by our main composer of that time-Maxim Velvetov. There were appreciable influences of RIO-monsters along with some melodic and harmonic innovations. As a whole it was first attempt of writing. It was performed by a standard rock-type band+bassoon+male singing of the poems of soviet avant-guardists repressed during the Stalin era. Recording was technically archaic and poor. Noise part of album was not published any more as invaluable.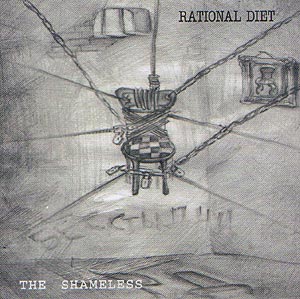 The follow up album The Shameless was released in 2003. Please tell us more about this album.
It was recorded down after 5-years stagnations (some theatre pieces was made in this period), the loss of old and findings of new team members (from students of the Minsk conservatorium). It was the first album made in new stylistic of chamber music, without a rhythm-section and practically without an electric amplification. Violin, cello, reeds , accordion and guitars was used. Four long (10-minute, approx.) and one short pieces were written by Vitaly Appow and the new member-Cyrill Crhistia. 75 % of the disk length was composed music, and 25 % - improvised. There were declamations of the texts written by the Soviet avant-gardists. One track contained -pseudo-folk female singing (never before and after we used folk elements in our music). It was recorded live-in-studio with overdubbing. The album was distributed independently and through the Internet label—Audiotong.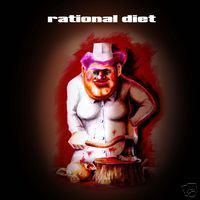 The third album was given the name Rational Diet and it was released in 2007. Please tell us more about this album.
Self titled album published by Italian label Altrock in 2007 – is an exhaustive compilation of early works of the Rational Diet (from "The gray notebook' and "the Shameless" albums). With this issue Altrock represented us.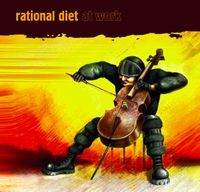 Your fourth album was given the title At Work and released in 2008. Please tell us more about this album.
At Work : New stylistics-chamber music plus the reunited rhythm section. Almost each participant has acted in a role of the composer. As the base of the disk we had the concert program of our band collected for the East Europe festival-Unsound, written for chamber ensemble(violin, cello, reeds, keyboards, guitar, voice). However, for stronger dramatic character and according to the advice of the publisher (Marcello Marinone from Altrok), we add a rhythm section from the first Rational Diet line-up. Despite of the heterogeneity of the pieces, the disk is perceived as an integrated, highly dramatic and melodic, conception. There were the minimum of improvisations. Style: formally it is RIO; but actually it is modern chamber music (something like Shostakovich, Stravinsky or Part may be found sometimes) borrowing a toolkit from rock-musicians partially. Singing-as an unobtrusive but steady integral element- arose since this album.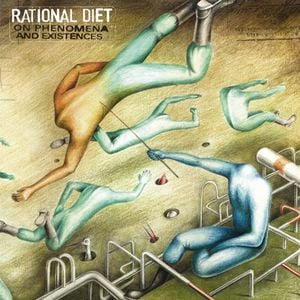 You released your new album On Phenomena and Existences earlier this year. Please tell us more about this album.
On phenomena…The same ideas as on previous CD. The same line-up. Seems Rational Diet found the ideal form of the band. 14 not long(2-5 min) tracks written by Christia, Podgaiskaja and Appow. A bit more complicated than in predecessor but still melodic and dramatic. No one per cent of improvisations. The texts we sang and the majority of the titles was taken from repressed literature (as well as the writers) of the Soviet Union.
How would you describe your musical journey and developments from debut album to On Phenomena and Existences ?
By the time of their first recordings Rational Diet did not have their own language, both in terms of composing and performing techniques. It's obvious listening to "From The Grey Notebook". Very considerably aspiration to play just Rock-In-Opposition, like Present or Henry Cow. By the time of recording this CD the average age of participants was around 19 years, and experience in composing and performing of complex music was 1 year (actually in the RD). Creating a second album(The Shameless), the band consisted of conservatory students with some experience, both in composition and performance. And it is obvious again. Since 2000, the team did not have drums and bass (the nucleus of the band move into another city while drummer and bassist -not ), only the acoustic structure . In such a form, the group played at the exhibitions, happenings etc., often in collaboration with the artists from non-musical genres. Rock music in this disc disappears almost completely. But the tracks are sometimes tight and boring (recitations of the texts were introduced to fill the empty places). The program was recorded live-in-studio, therefore there were a lot of improvised parts (as at a concert). From that moment the band began to get rid of emptiness in their music. This was facilitated by the introducing of strict compositional self-discipline and acquisition of a new member, composer, organist and singer Olga Podgaiskaja. Thus by 2007, we had a program suitable for recording and publishing, in which all the members of the band acted as composers. This set of the pieces was recorded in the spring of 2007 and sent to our publisher, Marcello Marinone (Altrock). He approved it, but advised to return the rhythm section. The album was recorded live-in-studio during three days, and over the next 3 months, drummer compose his parties. At Work --- it was the first work we were satisfied with. Own language, drama and melody are present there. The next disc (On phenomena…) is a logical extension. Probably it is a little inferior to its predecessor in emotionality (the musicians recorded their parties not together , not in the same time and using a metronome), but surpasses it in complexity (it even seems that we oversaturated with the ideas some pieces).
How would you describe your sound and music ?
About the sound. We try to sound rather clear and light as chamber band, being strengthened by the rock wing to enhance the dramatic character. Due to it we try to split the band on a scene on two half (loud/rock and quit/chamber). It's not easy and cheap to realize such a program (especially on a concert) and we are not sure we are doing it quite successfully now.
Music should be melodic , deep and mystifying. Simple but not banal. We try to avoid excessive complexity in our music and we are able to achieve it sometime.
Was and is there a like minded music scene in Belorussia and were/are you a part of this scene ?
The progressive rock music scene has never been in Belarus, especially RIO. Oficially: in the late 70's most well-known Belarusian folk-rock band--Pesnjary--recorded several rock operas with elements of progressive rock. Maybe, maybe ...we never heard it. There were and are the bands performing experimental (intuitive, noise or folk) music and they has a dance bias , almost always. "Serious" avant-gardists try not to betray the strict principles of serialism, dodecaphony or minimalism. Until recent years, we had no like-minders among our colleagues within the country. Only in recent years the bands playing progressive rock began to emerge. Listeners were always. They are, frankly speaking, not numerous, not enough to organize a massive festival of such music. RD is the official band of the Belarusian Unions of musicians and composers. It gives not too much, for example having such a status it's easier to obtain permission for the concert (every concert in Belarus should be admitted first by the department of ideology).
How is your writing and creative processes ?
On the one hand, each piece in the repertoire of RD has the author(almost every member of the collective-composer), on the other hand, none of our opus exists without an element of collective creativity. This method is not very original: the author brings his new thing to a rehearsal in the notes and rough recording. During rehearsals, we solve the question of the suitability of the composition for the band. We add to it the necessary and remove the unnecessary. Some compositions are written only for RD , another – has also an arrangement for orchestra.
How our authors come to the melodic ideas? It's a matter of magic or case. The methods of developing these ideas contain two parts: classic, obtained in the college/conservatory and some secret weapons in their minds.
Besides of Rational Diet; do you have normal daytime job or are you 100 % musicians ? Are any of you involved in any other bands too ?
RD is the main creative project for each of us. But it is not profitable, therefore everyone is forced to earn for life. Fortunately, everybody but the guitarist and bassist (lecturer at the university and programmer, respectively) are busy by the musical work (as a teacher, performer, sound engineer…)
What is your plans for this and next year ? Any chance we will see you live in one of the European festivals next year ?
Our plans include: recording of new things, one of which was presented at the RIO Festival 2010; work on a collection of works for the theater (started several years ago).The concert deals are worse. It is not easy - to organize the arrival of RD. It is a whole enterprise (8 musicians+ driver with a rented bus). Therefore, the RD is an infrequent visitor of European festivals.
Thank you to Rational Diet for this interview



Edited by toroddfuglesteg - December 21 2010 at 07:35