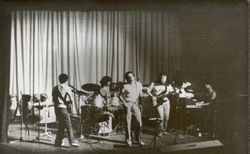 Redd from Argentina is one of the legendary bands from South America. Their two albums is essential listening for any prog rock fan. ProgArchives, that means myself and Cesar Inca, were therefore delighted when we got in touch with Luis Albornoz, guitarist of Redd, for an interview.
Redd one of the most celebrated bands from the Argentinean progressive rock scene that developed in the 70s. Redd hails from Tucuman, and now, as a reformed band, it continues to be a relevant name in the ever-marginal area of progressive rock in their country.
Most of the interview was done by Cesar Inca with a few minor inputs by myself.
------------------------------------------------------------------------------------------------------------
Hello, Luis, and thank you for lending some of your time for us in this ProgArchives interview.
Dear friend and brother, thank you for your interest and support.
You're welcome. Here in PA we are always aware of good music and the musicians behind it.
REDD's biography has already been covered at the band's entry in ProgAchives, so let's skip it now. Just some specific details: which bands influenced REDD and why was that name chosen for it?, what was your musical experience before REDD?
REDD was started by drummer Juan Escalante and bassist Esteban Cerioni; I was the last one to enter the line-up. I'm telling you this because Juan and I were the most experienced musicians in the band's early incarnation: Cerioni was also experienced but much younger than the other two.
We had played in school bands in the old fashioned way, that is, trying to find and recruit the best singer, the best guitar player, etc. – working like that actually was very professional. Juan had a band that surpassed the rest of them greatly in school parties, including 4-singer harmonies and covering material from Simon & Garfunkel and The Beatles. I vividly remember that Juan's band sounded live exactly like the old 60s records, even though the sound equipments weren't too proficient back then. As for me, I was also in a popular band that played many TV shows (black & white, of course). Later on, we made a remake of that band, but nowadays, the drummer is no longer with us and the Singer resides in Israel.
We came into the field of progressive rock as a matter of musical and artistic evolution even before getting acquainted with YES and other great masters of the genre. When the 'Fragile' album arrived at Tucuman's record stores, we had already played some experimental rock at the Barock Festival in a band called TRICUPA.
The name REDD came up as a reference to the crimson (Crimsonian) red color, but with two d's, so we wouldn't disappear before playing and recording. This image of disappearance was inspired by the military dictatorship that ruled our country at the time.
Concerning the other two members of the original trio, which were their experiences prior to REDD?
Juan and I had the same experience as members of the aforementioned TRICUPA, and of course, REDD. In between, we were in a Chicago-type orchestra in which we played gigs during carnival time in our city. Once Esteban came in and joined us, we started to jam right away and continuously, and that was basically how REDD was born.
Esteban's prior band was LA PIEDRA, which had a cult following, and I even attended some of their gigs: I felt impressed by the band.
As you mentioned earlier, Argentina was ruled by a military junta in the 70. How did it influence the band and its activities?
As you can see… a situation like that leaves a mark on everything you do because you cannot bring out a lot of stuff publicly. That is why Argentina's prog scene was essentially an underground thing. It really was a working style that became heavily imprinted in our heads. For instance, Roberto Giambastiani, who wrote music in TRICUPA, is currently residing in France since 1975. Some time in the 80s he had the idea of coming to Argentina and pay a visit to us, but first he asked us if it was a safe thing to do: you see, once in the early 70s he was arrested and tortured, and that event filled him with fear and made him a somewhat hardened person. He is actually a great guy.
So, meetings had to take place in relatives' houses and ateliers (a couple of friends were visual artists). Shows were promoted by word of mouth and the songs' lyrics were full of subtleties. We talked about surviving, which had become something too difficult to explain. On one occasion, I had an Itaka gun pointed at my head during a police raid, but luckily, the chief in charge of the raid happened to be an old school friend, so nothing happened to me at the end of the day.
That's really heavy stuff, man. The reality of military politics always embraces this sort of terror and violence. Moving to a more strictly musical topic, how would you describe Argentina's rock scene in those times?
We're talking about the late 70s. Spinetta, a major name in the rock scene, was focused on his solo career and experimenting with jazz-rock, alongside pianist Rapoport. REDD's debut was as an opening act for him in Tucuman. SERU GIRÁN was yet to be formed. The future pop bands of the 80s (such as SODA STEREO) were being just born, but by then, rock music usually remained very complex, very artsy: the fusion trend was the most recurrent. Johnnie Rotten was something of a "mortal sin" for us, an unbelievably laughable effort among all the British and European prog bands that we used to listen to.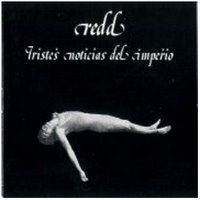 Now, let's move straight to the debut album. Please, share with us some thoughts about "Tristes Noticias del Imperio", released in 1979.
This album was conceived in 1977 and recorded in 1978. It was just something that cooked naturally, without a determined course of action. It was all about trial and error until we found the perfect mood and links between the written melodies. On rehearsals, we played all the melodies together and each time they turned out different. So, in order to avoid over-expenditure, we had to play them that way on pre-production; then, we took the best parts of each song and arranged them for recording. We continued to play other live versions of many songs: for instance, 'Kamala'. This particular song is a story within the story because I had never done something like that before, an acoustic improvisational theme. At the time I was very influenced by the MAHAVISHNU ORCHESTRA, and my wife even bore the devotional name Kamala when she studied Buddhism with Master Yagadeva at Ananda Marga – she still keeps this name nowadays. I wrote three pieces: Kamala I, II and III.
All in all, the prog jewel from the album is 'Tristes Noticias Del Imperio', the title track. Our lyricist Ricardo Gandolfo asked "who created this lunacy?" on the day we first showed us the music we wrote in our rehearsals. The original version is quite cathartic and overflowing: we never stopped stretching out the limits of the musical ideas involved in this song.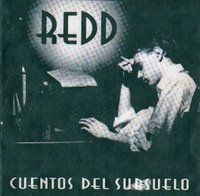 Now, tell us about the second album "Cuentos del Subsuelo", recorded shortly after the debut album but unreleased until 1996.
After Juan had left the band, the album's material was already written and ready for recording, even the studio time had been hired. Given that situation, we looked among friends and acquaintances for people who could help us record the album, and that was how Pollo Raffo entered as keyboardist and Marco Pussineri filled the drummer's role. Oscar Imhoff lived in Buenos Aires as member of the folk act VOCES DEL NORTE; he agreed to work with us, as well. We practically had to use some of the scheduled studio time to rehearse the material, but since the band was already a matured one, that was no problem, really. It is my personal favorite of both albums due to its urban feel.
Only as a reference for those who are still unfamiliar with the REDD albums: how would you describe the band's style?
It is authentic Argentinean prog. It sounds like nothing else, even nowadays, and I'm referring to the creative use of our combined influences, which turn out to be very subtle whenever they appear at the surface. There is an enveloping quality to it that makes it sound like an orchestra where every instrument and every note has a role within the whole: nothing is overdone and nothing is overextended. It was music that lived in our heads long before it was actually played: we never sat down and discussed what would come out before actually setting ourselves up to play it.
That is a very meticulous description, indeed. Well, REDD took a long, long break after their second album – what happened?
Esteban and I lived in Tucuman without any chance to move to Buenos Aires, while Oscar and the other guys lived in Buenos Aires: that distance diminished our strength until the band naturally got dissolved. But the passion was always there, it never faded away, so eventually we managed to organize reunions, first occasionally, then more often, and every time we get together and play it feels like we never really broke up. Of course, since we are more experienced musicians, rehearsing and playing live come out as easier tasks than when we were younger.
Juan Escalante, the original drummer, was also a lifelong friend and partner. He passed away in 2005. What are your memories of him?
There were ups and downs in our long friendship: that's a normal thing, I guess. Fortunately, we had the opportunity to meet and have warm conversations before his final hour. He was a great musician, a person full of love and affection for his fellowman. He had a very passionate personality. I still remember one afternoon in my house when we were playing guitar and piano (Juan was also a skilled pianist) in the backyard, entertaining my mother and a friend while drinking mate. Juan was an excellent musical arranger: that was arguably his most impressive skill. He was a great multi-instrumentalist and a great singer.
Any plans for 2011?, perhaps a new REDD album?
The new trio with Facundo Amaya is just terrific. Even Juan Manuel Escalante, son of Juan, played with Esteban and me for some time. Additionally, we have the constant support of Raffo, Garófalo and Pussineri. In short, we are rich.
To wrap up this interview, is there anything else you would like to add?
REDD is currently a rockier band. We have been rescuing material I wrote in other bands so they don't get lost in the haze of time before they get their proper recorded versions. Basically, I took that material, rewrote the lyrics and totally reshaped the music: in other words, I wrote new music with a basis on the moods that I find difficult to recreate because I am now an older man and have gone through a lot of changes in my life experience. It's been quite an experience, a very pleasant one, indeed.
All these years I kept on working on writing songs. Some of those compositions easily enable the use of string arrangements: Esteban and I intend to deliver them on analogue synthesizers when the time comes to record them as REDD songs.
We keep on working in our music despite the general lack of support, which is a sad aspect of our reality. Over and over we witness how the media and the industry are dominated by the same kind of people, which makes the redistribution of resources an issue too hard to understand in our country. Every time a rock festival is organized, most of the artists listed on the bills are from Buenos Aires, with almost no participation from local artists. A similar thing happens in the provincial gigs, in spite of having lost of great quality musicians and bands all over the places… and I'm not referring to REDD necessarily.
Thank you for allowing some space for my comments regarding all the things that concern me and the rest of the REDD boys in life and music.
Kind regards from Tucuman to all the PA people – and Merry Christmas everybody!
Thank you, Luis, for your time and your answers: all of them have been quite interesting and enlightening.
Merry Christmas and a Happy New Year to you and all the people of REDD and your families.


Edited by Easy Livin - December 23 2010 at 10:42