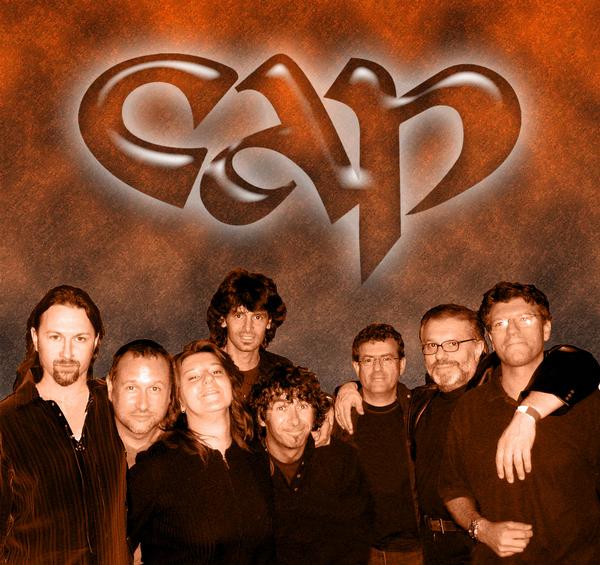 Consorzio Acqua Potabile is a band from Italy that never released anything during the 70's and was discovered in the 90's by the small Kaliphonia label. A 1977 recorded live CD was released and the band reunited with four of the five original members for a nice brand new album. After this, other CD's have followed in 1998 and 2003.
I got in touch with the band and Maurizio Venegoni (with English translations by his son Gabriele...... thank you !) answered my questions.

#################################################
Consorzio Acqua Potabile were formed in the 1970s but did not released anything before 1992. Did any of the Consorzio Acqua Potabile members have backgrounds from other bands and which bands were you influenced by?
All the members of the first nucleus were friends and we used to meet each other under the stage of the bands that had influenced our background like Banco, PFM, Orme, Genesis, Jethro Tull, Van Der Graaf and Gentle Giant being so young at that time
You did a rock opera in the 1970s called Gerbrand which was performed, but never released on an album. Please tell us more about this rock opera. Has any of this stuff found it's way to other albums ?
At that time it'was so hard to make an album. It was too expensive for us and it was so hard to find a producer really interested in this kind of project. Gerbrand was a rock opera tour in north of Italy with dancers, lights and slides show,movies and original live music around a fairy tale written by us. Unfortunately nobody recorded anything of these theater tour and now the only memory is the re-edicted track on Fafnir compilation CD from 1993.
Please tell us more about what you were up to between the 1970s and the release of your first album. You also had some other breaks between 1992 and 1998 and from 2003 to this date. Please tell us more about these breaks.
We played actively until 1980. From here the live music totally changed in Italy, so we changed too through different changes like the move of our kind of music to pop and then disco music. We recorded also the official theme of our football team of Inter Milano. We also played in different time a particular version inspired from the british invasion (Howard Jones) in Italian version although now we're not proud of it. The real stop of our breaks was from 1984 to 1989 when it revive the pleasure to hear and play the Italian prog music from 70s (especially thanks to all Japanese friends). From 1990 we didn't stop to write and play our music till now.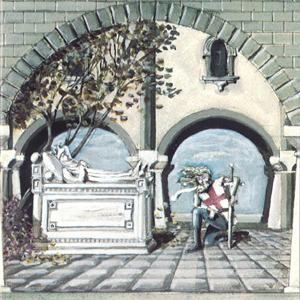 Please give me your (long or brief) thoughts and lowdowns on your first album Nei Gorghy del Tempo from 1992
A lot of the track of Nei Gorghi were born in 70s (look to the CD Sala Borsa Live '77) and had been a magic pleasure play it another time with a great vocalist (Paul Rosette) and with another great musician like Riki Roattino on bass and electric guitar.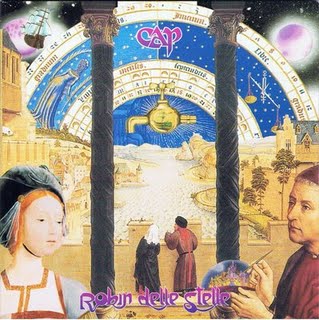 Please give me your (long or brief) thoughts and lowdowns on your second album Robin Delle Stelle from 1998
A new part of our path started with the writing of Robin Delle Stelle that ,as you know, it is inspired from a comic of the 70s , very known at that time and also now in South America, where it born as its original version. Maybe is for this reason that Robin Delle Stelle stills to be loved in those parts of the world. New and young musicians arrived from the near town of Biella, and they had helped us in this new adventure.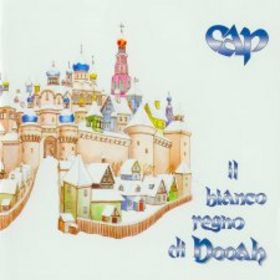 And the same for the third album Il Bianco Regno Di Dooha from 2003  
Bianco Regno is a story completely created by us around this fantastic reign that is present everywhere and everytime when arrive the first snow. It was a story written many years before and it ahs been a great pleasure to bring it in music with the new team.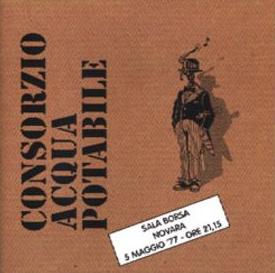 The live album Sala Borsa Live 77 from 1993 is recorded back in 1977. Please tell us more about this album.  

The Sala Borsa Live meant a point of no return: the prog music era was definitely finished and on that album I found and feel the melancholy for the end of the prog era for the most of Italian group, that it those years were our friend.
My italian is not good so I am not sure if Consorzio Acqua Potabile is still alive. Please enlighten us about your status now and what are you personally up to these days ?  
Like I've explained you I'm so in late in this answer because we're recording in these months a greatest hits of our story, completely played with vintage instrument on request from a Japanese producer friend , to preapare ourself to a little tour of concert on Japan for the next 2011. We have recorded for the French Musea and Finnish Colossus about an hour of new songs for their project like Odissea, Seven Samurai and Inferno. So if you want to take a look on those, search them or write me. I believe that these are interesting things, for the strictly vintage sounds (moog,mellotron,Hammond) and for the structure.

How was the writing and creative processes in your band ?  

We have always written in two people: at the beginning me and Romolo Bollea and today me,Massimo Gorlezza and all the other members.

All your album has this lovely old Italian sound which reminds me why the likes of Banco and PFM was so good. But how would you describe your music and which bands would you compare your music with ?

I've always loved Banco with which I lived the best music years of my life for the inspiration,suggestion and musically and hystorical sensibility . For this reason I describe our music very insipired by Banco over all.Also Orme and PFM remains always in my heart.

What is your experiences with the music industry and the many festival and gigs promoters in Italy ?
Today all is left to the random, friendly contact but not business and for money. Last summer we played at festival with Fish and it was a special experience for the friendly condivision of the stage: no stars, no soubrettes, only never ending lovers of this dream music. Without the international organization that brought us to play in different countries (USA,Spain,France,Belgique over all), in Italy we would have played not so much.
What is your five favorite Italian prog rock albums ?

Absolutely "Io sono nato libero" from Banco, "Maxophone" from Maxophone, and "Forse le lucciole non si amano più" from Locanda Delle Fate.  

Anything you want to add to this interview ?  
I just want to thank you for your patience of the waiting, for your friendly interest and for your love for this kind of music that help us to continue to make it.
Thank you to Maurizio Venegoni for this interview



Edited by toroddfuglesteg - December 28 2010 at 17:00