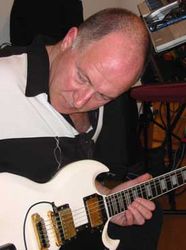 This project is actually Robert Burger. He stepped into the solo career in early 2000's. His albums under The Gak Omek project are entirely his songwriting units, and most of it was produced by himself; he also plays guitar and guitar-synth. His debut was entirely played by him; the second album features Glenn Robitaille on acoustic and electronic drums and Dave Cashin on additional keyboards.  
I got in touch with Robert for the Gak Omek story.
----------------------------------------------------------- 
Let's start at the beginning: When did your music career start?
My music career started when I was 6 years old and Santa Claus brought me a toy accordion for Christmas. When I was 9 years old my parents bought me a twenty dollar acoustic guitar and when I was 12 I bought a Tiesco Del Ray electric guitar and amp at Sears and then formed my first band with my dear old friend and keyboard player, Dave Cashin, who was kind enough to contribute his great talent to the first two CDs by The Gak Omek and will hopefully contribute to the fourth. Since then I have played in numerous musical configurations.
Music and art have been my passions throughout my life. I have been a professional freelance illustrator for over thirty years, with one of my claims to fame being the creation of the logo for the movie "Conan The Barbarian" starring Governor Arnold Schwarzenegger (but I digress). I recently completed my Master in Fine Arts Degree in Computer Animation, a medium in which I can combine both musical and visual arts into works of Visual Music. To that end I have created 3D animated videos for two of the songs from the most recent CD by The Gak Omek "Nonrenormalizability". The first song to be animated was "Bagudzinishinabe" which is a pygmy word for the "magical little people" and can be viewed here
http://www.vimeo.com/2510223
. The second song to be animated was "Alien Television" which is about the concept of "panspermia" and can be viewed here
http://www.youtube.com/watch?v=8d0NJPGo-JA
.
Where and why did you start up this band/project?
In 2002 a disembodied alien entity from the fourth density attached itself to my consciousness in a symbiotic relationship. It referred to itself as The Gak Omek and thus The Gak Omek project began in my basement studio, or mad artist's laboratory, where creating art and music have always gone hand-in-hand. My musical recording experiments had begun with an ancient reel-to-reel tape recorder, then progressed to a multi-track cassette recorder and now in the digital age all recording is done direct to computer hard-drive. The computer/internet age we live in has made it possible for independent musicians to create and distribute their creations worldwide, however the Internet is also a double-edged sword. Thanks to the Internet The Gak Omek has fans across the globe, but there also are download sites across the globe where music can be obtained without the artist being compensated for their work. Speaking of the Internet, The Gak Omek has a fully animated website where you can listen to music samples, view music videos, and read reviews at
http://www.thegakomek.com/
.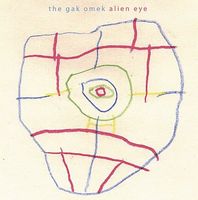 Let's go straight to your debut album "Alien Eye" from 2003. Please tell us more about this album.
All of the songs on this CD, with the exception of "Robotomy", were originally recorded on a multi-track cassette recorder and later remixed and re-mastered digitally. They were also created before The Gak Omek existed officially. While putting this CD together my older son who was about 3 years old at the time created an incredible drawing and when I asked him what it was a drawing of he quickly replied an "Alien Eye" and I thought, "Eureka, there's the title and the cover art for my CD!" The rest of the art for the CD was also created by both of my sons. There is a bit of a sci-fi theme to the CD as there is throughout all of the CDs and videos of The Gak Omek.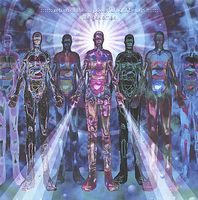 Please tell us more about the second album "Return Of The All-Powerful Light Beings" from 2004.
This CD was conceived as a musical journey from start to finish. I wanted to take the listener into the world of The Gak Omek for about an hour and then spit them out at the end having felt that they had been to places magical, unusual and stimulating. The theme here is sci-fi mysticism. I do extensive reading about lost civilizations, fringe science, ESP, UFOs and aliens, ancient astronauts, mythology, spiritualism, mysticism, quantum theory, barbecue recipes, and cosmology and sought to create musical realizations for some of these ideas and concepts. "Return Of The All-Powerful Light Beings" was voted one of the top ten progressive rock albums of 2004 by numerous reviewers.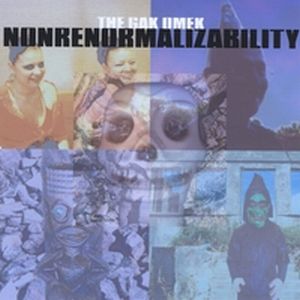 Please tell us more about the third album "Nonrenormalizability" from earlier this year, 2010.
Thematically "Nonrenormalizability" is very similar to "Return Of The All-Powerful Light Beings" in that sci-fi mysticism is still the ongoing concern with perhaps a little more emphasis on the disciplines of physics and metaphysics thrown into the mix and once again I seek to take the listener on a musical journey. With this album I created videos of Visual Music to accompany the songs "Bagudzinishinabe" and "Alien Television". At the present time I am busy working on a video for the song "The Tunguska Event" from the CD.
Where are the albums of The Gak Omek available?
The albums of The Gak Omek are available from
www.cdbaby.com
,
www.amazon.com
, iTunes, Rhapsody, Emusic, and various other digital music sites.
Please describe your creative process from coming up with an idea to it's being recorded?
Songs have different ways of being born. Some begin as ideas for melodies, chord progressions or grooves that I hear in my head, while some begin when I pick up the guitar and start noodling around and an interesting riff or chord progression will begin to come together. I conceive the songs as audio movies.  Sometimes I may just have a particular mood in mind. Once I have the seed of a song it then becomes time to start recording. My process is very similar whether I am creating music or visual art in that the process goes from idea to sketch to construction to refinement to completion. An important aspect of the creative process, whether musical or visual or a combination of the two, is knowing when to stop.
On "Alien Eye" I pretty much stuck to the classic song formula of verse-chorus-verse-chorus-bridge with repeating sections. On "Return Of The All-Powerful Light Beings" and "Nonrenormalizability" although I still used the song format I dispensed with that formula in that within a given song sections would not repeat or if they did it would only be one repetition but with variations. For the next album by The Gak Omek I plan to use more of a symphonic structure in that the album will consist of one continuous piece of music with various movements.
For those of us unfamiliar with your music, how would you describe your music and which bands would you compare yourself with?
The music of The Gak Omek can be described as instrumental progressive rock with elements of jazz fusion, world music, electronica and psychedelia. I wouldn't compare the music of The Gak Omek with anyone. I have so many bands and artists whose work I admire that the list would take up pages and pages. I have very eclectic tastes in music, which I believe is evident in the music that I create. There is a rather comprehensive review of "Nonrenormalizability" on The Progressive Rock & Progressive Metal E-Zine website written by Marcello Trotta that makes some musical comparisons that I consider valid. The review can be found here:  
http://www.progressiverockbr.com/previews2010.htm
, and It can also be found on The Gak Omek website in the reviews section.
What are your plans for 2011 and beyond?
As stated earlier I am presently working on an animated video for the song "The Tunguska Event" from the CD "Nonrenormalizability" which will be finished sometime in 2011. I have also begun recording the fourth CD by The Gak Omek on which I hope to have quite a few contributions from other musicians, since "Nonrenormalizability" was a completely solo affair, I would like to do things a little different for the next album. There will also be new videos to accompany the new music.
To wrap up this interview, is there anything you would like to add?
I subscribe to the concept that the artist/musician functions as a shaman who opens doors into deeper levels of reality or into alternate realities, parallel realms and dimensions and provides the audience with a perception of reality that they might not have otherwise experienced. The Gak Omek would like to take you on an audio-visual adventure into other worlds.
"The Artist is the antennae of the race." – Ezra Pound
Thank you to Robert for this interview



Edited by toroddfuglesteg - January 05 2011 at 08:50