Before we move onto the main meal, let's start with a post mortem on Antique Seeking Nuns. When, where and why did you start up Antique Seeking Nuns?
Matt - Joff and me were school friends and always jammed together in school holidays and stuff like that. But after I'd been to university for a few years and Joff had been working in various bands we started to realise that we probably should start putting something together. So, the original plan was to do an EP of various strange instrumentals and odd songs that we'd started working on. That would be back in 2001 and all done out of our respective homes in Oxfordshire in England.
Joff - As Matt says we began working on ASN back in 2001. I think at the time Matt and I were trying to earn a bit of cash playing jazz in bars and restaurants in and around Oxford. It was during the rehearsals for said jazz gigs that we would jam out ideas or just improvise music directly to cassette or 4 track. Some of these early improvisations wound up on Mild Profundities and others are floating about in the ether somewhere.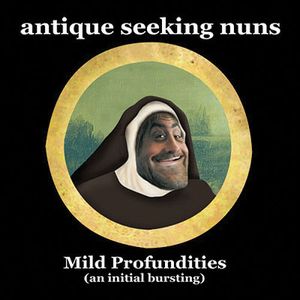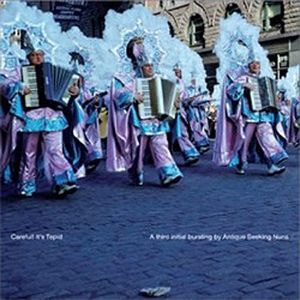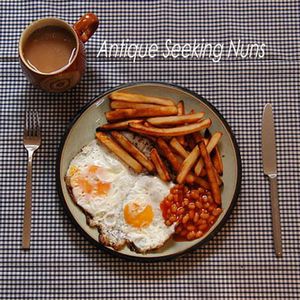 Antique Seeking Nuns released three Eps between 2003 and 2009. Please tell us more about these three Eps.
Matt - All of the music for them was mostly written in that early period we just mentioned, along with the start of an epic concept album called Buttered Cat. We managed to self release the first one "Mild Profundities" right at the start of 2003, but then as a band we followed a different opportunity to record for a publisher who had shown some interest in some early songs of Joff's which led to several singles and an album as Joff Winks Band. This meant that the EPs had to be done as and when we could fit them in: so, the Double Egg EP was recorded in 2004 but only put out in 2006 and Careful! It's Tepid was recorded in 2006 and had to wait until the end of last year to see the light of day. Stylistically, the EPs are pretty diverse – lots of Zappa esque instrumental stuff, some very surreal and absurd songwriting in the tradition of Robert Wyatt and Hatfield and the North, and a few ambient and classical elements thrown in too.
Joff – We had intended Mild Profundities to be an album length release. However, at the time we were still pretty green and only really getting used to the whole process of making a recording from scratch by ourselves. So, we axed some material and focused our efforts on a smaller release. We basically put together a whole team of people to cover everything from cover artwork to mastering and manufacturing a physical product. Relationships we very much rely on to this day! It was a tough balancing act to keep up the composition for the Joff Winks Band whilst trying to honor the remaining work by ASN. A situation that eventually became overbearing and has lead us to the renaming of the band after all of these years.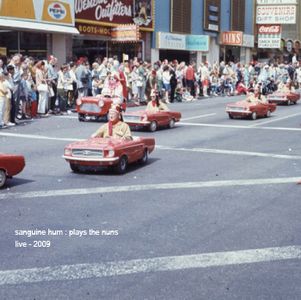 Please also tell us more about the live recording you did as Sanguine Hum, but which includes Antique Seeking Nuns material.
Matt - It wasn't planned as such but came about thanks to Al Heslop who runs the excellent progressive guitar trio Heights. He was mixing our sound at the gig and had brought along recording equipment. We'd been playing some of the early Nuns stuff for the first time that year – particularly from the first EP – but as that EP was just me and Joff these versions took on a different life as played by the full band. Our drummer Paul mixed the tracks and we thought it would make a nice transition to have Sanguine Hum playing some of the older stuff. It did a good job of bridging the gap between the two band names, plus it allowed us some extra time to finish off Diving Bell.
Joff - This recording was really a great opportunity that presented itself on the night of the gig. Al was there on hand and ready to try some recording, it was all pretty impromptu and off the cuff
You went from Antique Seeking Nuns to Sanguine Hum and a change of style. Please tell us more about this transformation and process. 
Matt - Firstly, I would say that it is essentially the same band but just coming from a slightly different angle. If you listen to our work in chronological order of the time it was written which would be the three EPs followed by Songs For Days by Joff Winks Band and even the Nunbient electronic stuff that me and Joff did then there certainly is a logical progression that can be heard. It was simply a case of us feeling that the Nuns stuff belonged to a different era and we'd learnt how to present ourselves in a more direct way. Sanguine Hum is about a fresh beginning that absorbs everything we've done into a more focused whole. Ironically though, this new album is certainly the most complicated thing we've done, but the trick is to make it all sound effortless rather than showy which I think we've achieved. We recommend that people check out the sleeve notes for the Careful! It's Tepid EP, which tells our story in some detail.
Joff – The change of style is really a work in progress. Matt and I are influenced by many artists and ensembles, the list seems endless, we're constantly evolving the listening experience and this has a big impact on the growth of new material. The more I take in the more I want to try something else. It's harder than might be expected to follow yourself. I mean to maintain expectations or produce what may be conceived of as a logical follow up. The entire process of making our work seems to have defied any sense of logical or methodical progression. Hopefully, one day we'll sit back with a massive catalogue of work and say, "nice one, it all makes sense"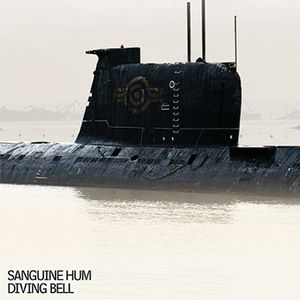 Please give us your long or brief thoughts on your debut album as Sanguine Hum called Diving Bell released some days ago. How would you describe the music and which bands would you compare yourself with?
Matt - Porcupine Tree certainly influenced a lot of the album as we've been fans of Steven Wilson since the mid 1990's, so that influence always seeps through. Listeners will possibly hear elements of King Crimson and the Mahavishnu Orchestra, plus we have always looked to American bands such as Tortoise and the Flaming Lips who have developed a progressive language for their music without sounding 100% like a traditional "prog" band. There's also a fair amount of Zappa and Canterbury sprinkled in there too. This album is something we certainly see as a starting point for people to get on board with what we're doing and part of the mission was to be as direct and melodic as the Beatles or the Beach Boys and yet instrumentally really push ourselves.
Joff – Matt seems to have got this question pretty pinned down. I would add however that it would be impossible to underestimate the impact of artists from outside the progressive scene such as Steve Reich, Miles Davis or Keith Jarrett and all of the Manfred Eicher releases on ECM.
How is your writing and creative processes?
Matt - Very varied, even more so on this new album. We all write bits and work on arrangements in rehearsal alongside Paul on drums and Brad on Bass. Some tracks come along quickly others take years to find their shape. There are some great moments on Diving Bell that came from improvising as a four piece, and other sections that required some more serious compositional thought to put it all together. We've fairly evenly split the lyric writing for this one as well.
Joff - This album is really the most colloborative effort we have done to date. It involves elements of input from all 4 of us although Matt and I do share the majority of the songwriting. It's been the first record where even lyric writing has been a collaborative effort something of an eye opener for us all!
Your album has been released through a company called Troopers For Sound. My guess is that this company is run by yourself. Please tell us more about the record label and where people out there can purchase your album from.
Matt - Yes, we set up Troopers For Sound to be an umbrella label for all of our projects so we could have a home for everything we've done which is currently a total of 3 singles, 5 EPs and 3 albums via a mix of downloads and CDs across four different projects (Antique Seeking Nuns, Joff Winks Band, Nunbient and Sanguine Hum). Everything features Joff and me and all of the band stuff also features Brad Waissman on bass and Paul Mallyon on drums. The album is available directly from troopersforsound.com but will also be available from selected online retailers as well.
Joff – Troopers For Sound is a labour of love for us. A place where we have total control where we don't have to compromise anything other than our wallets!
What is your plans for this year?
Matt - We're hoping to do some higher profile gigs in support of the album whilst also planning the recording of the follow up album – which is already completely written, and in fact is a concept album that we've been nurturing for the last 8 years or more. We're very excited to finally get the chance to present it to people.
Joff – I think 2011 will start with some major consolidation. We still have a lot of work that needs to be recorded and released before we can move on to new material. The music in back catalogue that needs to see the light of day is becoming a really important issue for myself and for the band. Fingers crossed we should see another full-length album this year with some smaller more eclectic releases alongside.
To wrap up this interview, is there anything you want to add to this interview?
Matt - Just to say thanks to those who've supported the band in all of its guises – and to say we're really excited about the bands' prospects for 2011.
Joff – Yes, thanks to all the people who help us in our musical endeavors and support our work.
Thank you to Matt and Joff for this interview