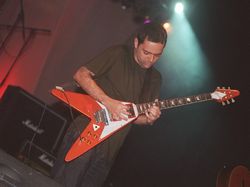 Raimundo Rodulfo is a Venezuelan multi instrumentalist born in Maracay in 1970, since the age of seven joined the Children Symphonic Orchestra as a violin player, at the age of 12 started to study by himself classical guitar and at the age of 14 moves to electric guitar.
From 1986 to 1992 he joins several bands where he starts to blend classical elements with Rock music and a strong touch of ethnic sounds from his country but in 1992 he decides to pursue a career as soloist.
His influences are pretty clear, the listener can easily notice strong elements from Steve Hackett (Mainly) but also from King Crimson; ELP and Ekseption but with an absolutely characteristic approach that makes his music so unique.
I got in touch with him for his story.
#################################################
You were born in and grew up in Venezuela and joined Children Symphonic Orchestra as a violin player. The rest of the story is well covered in our biography. You went solo in 1992, but your first album was only released in year 2000. What were you occupied with in those eight years?
I was busy with a lot of things, not necessarily music-related.  In the early 90's I was still attending university in Venezuela. I graduated as an engineer and started working in my field, and I have been doing that for the last 20 years.  I compose, play and produce music during my free time.  I wrote some of the music of my first albums during the 80's and 90's.  I started working on my first album around 1997, and started assembling a band of musicians to record and play live.

Your debut album was Dreams from 2000. Please tell us more about this album. 
It is an instrumental conceptual album, with 7 songs that I wrote together with a homonymous short book, included in the data portion of the enhanced CD.  Each song relates to a chapter in the book.  I produced and recorded that album in 1999 at my home studio while still living in Venezuela.  A group of good friends and musicians participated in the album on drums, percussion, flute, keyboards, violin, viola, bass, sax, etc.  I played all the guitars, mandolin, most of the bass, and some percussion, like on all my subsequent albums.  Peter Rodulfo created the paintings of the artwork, my wife Anabella created the illustrations for the booklet and the book, a colleague friend of mine created video clips for the enhanced data, etc. A family and friends joint venture, modest and ambitious at the same time. In that album you can find all the acoustic and electric, classic and contemporary elements that I always mix in my music, since I tend to incorporate a lot of different styles in my compositions, for my own entertainment and everyone else's confusion.  That album taught me how challenging and enjoyable is producing independent music with the intention (successful or not) of reaching high standards of quality.  Despite the limited resources and the naivety with which it was produced, it was well received by progressive rock media and audience of the time.  It was distributed by Musea Records in Europe, and they included it in their "Selection of the Month" of January 2000.  Some of the songs, such as "Laberynth" and "New Horizons," did very good too when we played them live.  All that good feedback motivated me to start working right away on a second studio album: The Dreams Concerto.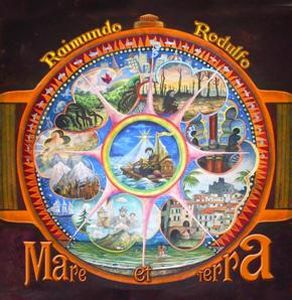 Your second album was Mare Et Terra from 2009. Please tell us more about this album. 
Mare et Terra is actually my third studio album, and The Dreams Concerto is the second.  It was released by Musea Records in December 2008.  There were also a couple of live albums between The Dreams Concerto and this one. Mare et Terra may be my most ambitious production so far, and the one I like the most.  I started composing the music in 2002 in Venezuela, but it was produced and recorded mostly in Miami, Florida, between 2005 and 2008 at my home studio, with other recordings made by guest musicians in USA, Spain, and Venezuela.  It is a conceptual album too, in a more introspective way than its two predecessors.  It is divided in 2 parts as the name suggests, each part composed of 2 long songs.  The Mare (Sea) first half is musically speaking closer to Mediterranean and Caribbean waters; it incorporates flamenco and a lot of Spanish guitar, plus a classical ensemble of strings, flutes, clarinet, saxes, trumpets, pianos, keyboards, minimoog, vocal harmonies, and traditional rock band instruments.  It starts with a 36+ minutes song called Náufrago (Shipwrecked,) that I wonder how many folks have the patience to listen to it entirely and resist the temptation of skipping to the next song.  It's like classical music to me, with some rock and flamenco twists.  The second part, Terra (Land,) is closer to northern lands, and it incorporates more urban elements from jazz, blues, rock, and other genres.  Twelve outstanding guest musicians participate in this album, including Carlos Plaza from Kotebel, Gerardo Ubieda and Pedro Castillo from Tempano, Yoel del Sol from Yanni's band, singers Minerva Borjas and Cristo Aguado, keyboardist Richard Marichal, classical players from different orchestras, and others listed on my Web site
www.raimundorodulfo.com
.  This album has fortunately gotten a lot of good feedback from the critics and the audience.  Among other favorable reviews, Progressive Magazine gave it a perfect rating of 16/16, and several sites named it in the list of the best progressive rock albums of 2008 and 2009.  I thank for that all the wonderful artists, friends and family that collaborated with its production and made it possible, and of course Musea and everyone who took the time to digest its 77 minutes and write nice things about it.  It also features a cover painting by Peter Rodulfo, photographs by Huba Rostonics, booklet artwork design by Davide Guidoni, and it was mastered by Boris Milan, Grammy-awarded engineer that have worked with many artists including Carlos Santana.  Due to all its convoluted composition and design, Mare et Terra required too much time and effort to produce, so I decided that my next album (Open Mind) was going to be a more simple and "normal" production: just a group of nice unrelated short songs that I have written during the last years.  I have little free time for my music, but I still want it to be so good that the guest musicians and I like it ourselves and feel proud of it, therefore it all takes a lot of time and effort to complete.

Back in 2002, you also released a live album called The Dreams Concerto. Please tell us more about this album.
It was actually a studio album.  It is shaped like a classical concerto, in 3 movements.  It was large in scale and conceptual like Mare et Terra, however it gravitates more toward classical music and symphonic rock.  Although pretending to be a classical work, it is mixed with rock, jazz, Latin folk, and some experimental ideas, like a mathematical model applied to music on a segment of the second movement.  It's classical music from the future, or from a madhouse if you will.  Its production was so intense and exhausting that after it I took a rest and slowed down for seven years before releasing another album.  The Dreams Concerto is hard to define because it has a lot of everything that I like and think about music, all together inside a classic dress, but eclectic and excessively free and adventurous in the inside.  It also got five-star ratings from specialized progressive and symphonic rock media, and the small audience who can fall in love with such an unconventional art package.  At that time I presented that album with an 8-piece band at BajaProg International Festival in Mexico, and the audience received the music with a big enthusiasm, specially the first movement that includes the suite "Sueños" (Dreams,) that has a strong lyrical flavor.  Renowned Venezuelan musicians such as Andres Briceño, Pedro Castillo, Pablo Gil, Carlos Orozco, Manuel Rojas and others participated in that album.  It has a 44-page booklet that includes a beautiful collection of Peter Rodulfo paintings inspired in the music.  There is a lot more to say about all my albums, that can be found at my Web site.
The art works on your albums is a bit special. Please tell us more about them.
I have the fortune of having Peter Rodulfo's extraordinary art work in my albums.  He is a British distant relative.  We met by serendipity around 1995 or 96, when I was searching for my last name in the Web.  I found a posting on a genealogical forum by a person called Peter Rodulfo, who was looking for far-flung relatives in Trinidad and Venezuela.  After we exchanged emails, I found out he was a renowned artist, painter and sculptor.  I later took the liberty of asking him to create paintings for my first album cover and artwork.  Since then on he has kindly created paintings for all my albums, inspired on my music and artistic concepts.  My wife Anabella also contributed a lot to the artwork in my first album and book, creating illustrations and designs, such as the awesome guitar-trees landscape featured in my Web site.
For those of us unknown with your music; how would you describe you music and which bands would you compare yourself with ?
My music is a free form of art, inspired by all the good music that I like, with a disregard for genres and style constraints, and reflecting also my own ideas and feelings.  It's serious music with good humor.  I don't compare myself with the great bands and artists I admire, because they are all incomparable and I will always fall short in my own judgment.  I better try to benchmark against myself, a good lesson I learned in the professional project management field.  Musical influences I have a lot: all the music I grew up with, and music I have enjoyed during my entire life, different genres and styles.  There are downloadable songs and samples of my music at
www.raimundorodulfo.com
and music sites such as iTunes, Deezer, Napster, etc. for the ones that want to give it a try.  I kindly invite you all to listen to it and send me your feedback to
[email protected]
.
Is music your fulltime occupation or do you also have another more sane job ?  
I kind of answered that prematurely at the beginning.  I work as an engineer and make music during my free time.  Some who don't know me better think it is just a hobby, but music is really important in my life and I try to be serious and professional about it.
What is the latest update and your plans for this year and beyond ?  
I am half-way of completing the recording of my new album, "Open Mind."  There are extraordinary guest musicians too in this album.  All drums have been already recorded by Gerardo Ubieda (Tempano, Odrareg).  Violinist Mariana Carrera recorded all the acoustic and electric violins for the songs, and we will soon start recording saxophones, flutes, and other instruments with other guest musicians that have tentatively confirmed their participation.  I just finished recording all bass tracks myself, and I will soon start recording guitars, keyboards, synthesizers, mandolins, and all vocals and percussions.  It should be finished sometime this year, but its released date will depend on finding a music company in America that likes the songs and wants to help distribute them to a wide audience.
To wrap up this interview, is there anything you want to add to this interview ?  
Thanks Torodd and ProgArchives for this interview, and Happy New Year 2011 to you and all ProgArchives members and readers!
Thank you to Raimundo Rodulfo for this interview