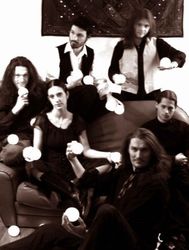 Created in 2001, Auspex was born from a meeting between two friends being both into classical music and metal.

The arrival of the different members makes Auspex complete and a period of hard work begins, leading to new songs and new stages.
In 2005, the band finally managed to achieve its first main project: the first mcd called "mysteries of the stars". The enthusiastic reviews and the good sales allow the band to plan the recording of a full length album.

In 2006, the first full length album is recorded with the help of the gifted producer Brett Caldas-Lima, allowing the band to sign a deal with Thundering Records.

I got in touch with the band and this is their story so far.
################################################
Your biography has been covered in your ProgArchives profile so let's bypass the biography details. But which bands were you influenced by and why did you choose that name ?

We listen to a lot of stuff from Metal to Classical Romantic Music but if we had to choose a few bands that really influence Auspex, they would be Pink Floyd, Queen, Metallica, X-Japan, Dream Theater, Symphony X, Sigh, The Beatles, but also musicians such as Danny Elfmann, David Bowie, Angelo Badalamenti, Joe Hisaichi, Berlioz or writers (Philip K. Dick) and filmakers (David Lynch)...
Auspex was the name given to priests in antiquity who were used to observe the phenoma of nature (like birds flights, leaves fall, clouds moves,...) to get elements on how things must happen in the future. We chose this name because it perfectly fits a number of feelings and question that we all have about life and its reality. It recalls us future, chance, time, choices, and questions the reality (or realities), perceptions, and existence.

Were any of you involved in any other bands before you started Auspex ?

Some of us used to play in bands before Auspex. For instance, Elodie and Lionel had a guitar / voice project in which they would cover 70s' rock or folk songs. Some of us also studied music in college and experienced music in group long before Auspex.
Anyway, Auspex's been for all of us the most important and biggest musical project so far...

Let's go straight to your debut release, the Mysteries Of The Stars EP from 2006. Please tell us more about it.

This is the first real recording of the band. It is composed of early materials and doesn't represents what Auspex sounds like now. It is mainly speed metal strongly influenced by Helloween and sounds really "young". It is part of our history and we acknowledge that, but we think that there's been an evolution since then.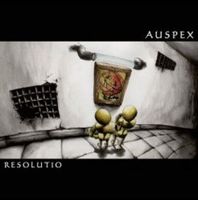 Please tell us more about your first real album Resolutio from 2007
Resolutio is our first full length album, and also the first opportunity to work with a label. Eventhough we produced the album ourselves, our label had the task to distribute and promote it. We had the nice surprise to get some good reviews and feedbacks. When we listen to it now, we once again feel like there's been an evolution between this album and Heliopause. This is another step on the path and it allowed us to know, if not what we want, at least a kind of music what we could hardly do anymore.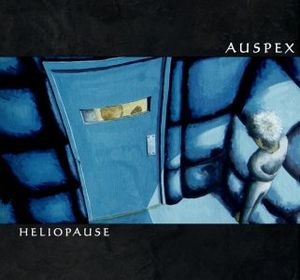 Please tell us more about your second and most recent album Heliopause from earlier this year.

With this album, we wanted to leave behind some of the heavy speed cliches and try to write something much more personal. We wanted something less "flat" with real variations from one piece to another. Apart of that, we didn't draw any borders and tried to explore less common schemes. We feel like this album is at the same time more Rock and more progressive than Resolutio. But we are still conscious that there a natural evolution since Resolutio and that there is a musical continuity which we wanted to highlight with Heliopause's artwork that is close from Resolutio's.
Concerning the lyrics and the overall "concept", we wanted to write something much more "genuine". Most of the songs deal with perceptions, questions about the meaning, the energies, the identity...

How would you describe the musical developments on the three releases ?

To sum up what's been said above, we could say that we evolved from a rather traditional speed symphonic metal to a more subtle and progressive genre.

How is the creative processes in your band ?

Pierre-Yves wrote all the musical material. He sometimes worked from Elodie's and Alex's lyrics, and sometimes from discussions with the whole band. Then, the material is submitted to the band and discussions and musical arrangements take place to obtain the final result that suits to everyone.

Just to give those of us who are unknown with your music a bit of a reference point or two: How would you describe your music and which bands are you pretty similar too ?

It is pretty tricky to compare Auspex with other bands... We wouldn't want to sound pretentious or give wrong ideas. We're trying to create different atmospheres, evoke different colours, different feelings, sometimes intimist and sometimes grandiloquent. We're trying to achieve these goals within some kind of metal rock symphonic progressive music. Hope it's attractive !
We can try to give some bands we feel sometimes close : Symphony X, Sigh, Dimmu Borgir, X-Japan, Japanese Anime.

How is your gigs situation ? Do you play many gigs ?

Well, to be honest, the situation is not at its best in France, especially for the underground. It's getting more and more difficult to find or organize concerts, it costs a lot and the audience is not always supportive enough to prevent the organizers from loosing money. Still we manage to play live as much as we can but lately, mainly in our area unfortunately.

Your albums is self-released as far as I gather. Please tell us more about your experience on your own without the support and the hassle of a record label ?

Actually, we signed a deal with Pervade Records for at least two albums (Resolutio and Heliopause). Both album have been self produced but the label takes care of their distribution and promotion. It is not a major but they are doing what the can and they were clear with us at the begginning, so we knew that we would have a lot to do by ourselves.
What is your latest update and your plans for next year ?
We're on an active search for gigs and we're always working on the set to offer something decent and original on stage. Next Year ? The writing of the next album and hopefully more and more gigs !

To wrap up this interview, is there anything you want to add to this interview ?
Thanks to ProgArchive, it is a pleasure to appear in such a great and informative website that helped us discover so much bands ! Thanks !!
Thank you to Auspex for this interview