INTERVIEW WITH NUOVA ERA
By Torodd Fuglesteg, Andrea Parentin and Jim Russell
Nuova Era were formed in 1985 in
Firenze
on the initiative of keyboardist Walter Pini. Their music was heavily influenced by Seventies prog and going against the tide in a period when prog was completely out of fashion. The band managed to release some very interesting albums and had a good live activity. After a long hiatus, in 2010 they released a new album on the independent label AMS/BTF,
Nuova Era
, with some new tracks and old stuff rearranged. The new line up features, along with founder member and composer Walter Pini, two former members of the Roman band
TAPROBAN
, Davide Guidoni (
Myspace
) and Guglielmo Mariotti (
Myspace
). We asked Walter Pini some questions about the band and the new album...
Please, tell us first about your earliest musical experiences.
My first musical experiences date back to 1978-1979 when I started playing with some friends including Pino Gulli, a good drummer who later collaborated with a well known Italian band called CSI. Progressive rock then was just old fashioned but I was composing my first pieces ("Il passo del soldato" was composed in that period) and I really wanted to play prog even though my musicianship wasn't so good yet. After that short period I played a bit of hard rock in Deep Purple style (I love Deep Purple) with another group but when they changed genre choosing a more commercial direction I left. Then, in 1985, I started looking for other musicians to form my own band, Nuova Era.
How did the band name (which means "New Era") originate?
The name Nuova Era was proposed by our drummer, the predecessor to Gianluca Lavacchi. When he suggested the name I immediately liked it because I was thinking about a new era of progressive rock... It was, as they say, well-wishing.
Please tell us more about your debut album L'ultimo viaggio from 1988.
The album was recorded in just one week and then in a certain hurry. It was our debut work but we had very clear ideas and our only regret was that we did not have the appropriate equipment. At that time I couldn't afford original instruments of the seventies and the keyboards with sampled vintage sounds were not the best. I had to play with what I had, mixing a bit seventies and eighties sounds. The CD sounds much worse than the master. Clearly during the printing phase they did some crap. To be honest, I've always wanted to re-record the complete album, even if it's not so bad on the whole. The story as you perhaps know tells about a drug addict, who when he comes close to death, ceases to shoot up. At that time I had some friends addicted to heroin. I've always been against hard drugs and I thought to devote an album dealing with this problem that has made so many victims. The idea of the art cover, featuring a chessboard and young junkie playing chess with Death, was mine.
Please tell us more about your second album Dopo l'infinito from 1989.
Dopo l'infinito is the album that gave us more satisfaction. In Japan they liked it very much and they even used a track for the advertisement of a car with passages on the Japanese TV. It includes, in my opinion, the best piece I ever composed, "Il pianeta trasparente", that I think is a little gem. For this album too I had to do with less than ideal keyboards. If I had a real Hammond the result would have been much better. Alex Camaiti played with a brand-new Fender Stratocaster. The album was recorded in the same studio as the previous one using a 16-track analog device but with a little more calm. The subject of space and solitude was natural because the pieces were fit for that and for me the lyrics are excellent too.
Please tell us more about your third album Io e il tempo from 1992.
Finally an album that we recorded with the real seventies sounds we loved so much. Here I could play a real Hammond and a real baby grand piano. Keyboards with sampled sounds were definitely improved if compared with the ones of the eighties and the studio was a 24-track. This work also features a friend of mine as a guest, Betty Cardelli on flute, to add an extra vintage touch to the overall sound. The subject matter of the album is one of my favourites... Time! Like Death, time passing by fascinates and frightens us and we are all involved. We split the work between memories / childhood ("Io e il tempo") and future / old age ("Domani io vecchio"). It's the last album with Alex Camaiti and it's a classic progressive album in perfect old-fashioned Italian style. The album was distributed by EMI and that's why they printed many more copies than our previous works. Unfortunately, in the same period our label Contempo Records went bankrupt and the band suffered this reversal of fortune.
Please tell us more about your fourth album Il passo del soldato from 1995.
It's definitely our most personal album because there is a great keyboards work in the arrangements. Although there's no guitar I think it sounds very rock and certainly very progressive. There's a new vocalist, Claudio Guerini, and a new label, Pick Up Records. Unlike the previous albums, unfortunately this work was released only on CD. "Il passo del soldato" is a conceptual work about war and features old and new compositions following a thread. It's not the usual album dealing with pacifism or politics but a collection of pieces about the eternal subject of war, every war in history, even if musically it could evoke the ninetieth century since the title track could remind of a Napoleonic campaign. This album sounds like I would have liked the others to sound... Timbres are ok!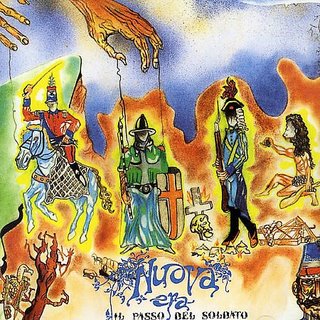 Why didn`t you use any guitarist on Il passo del soldato?
The first reason is that finding a substitute for Alex was not easy. There are many good and talented guitar players but to play prog in Nuova Era's way you need the right feeling. Besides, I wanted an album featuring keyboards in the forefront where I could arrange all the melodic and harmonic parts. So at length we chose to replace only the vocalist eliminating the guitar.
What happened after Il passo del soldato and why did we have to wait so long for another full length album?
We had a lot of problems. First of all we lost our rehearsal room since we were guests of our singer Guerini. Given the different view between us and him about the vocal parts he left the band and we had no more a place where rehearsing. Then our bassist Enrico quit as well because of health problems. In 1997 drummer Lavacchi and I managed to find another vocalist and another bassist and a new place for rehearsals. We had to work on a new concept album inspired by Jules Verne but there were some problems with our label Pick Up Records. So, with Riccardo Vello on vocals and Claudio Rovai on bass we recorded a remake of "Dopo l'infinito" and a couple of other songs which should have been released on Pick Up Records along with other stuff. However, after the recording sessions of the remake the band split up for many reasons, including the lack of motivation due to all the adversities we went through.
Please tell us more about your new album Nuova Era.
Thanks to Davide Guidoni and to BTF I could do what I wasn't allowed to do with Pick Up Records: release some old recordings of studio and live material as well along with the new pieces from Dante's trilogy. It's since 1997 that these pieces were supposed to be released, I was just tired of waiting and as I had the chance I grabbed it. I have to thank BTF and especially Matthias Scheller. On the CD you can find the new tracks I played with Mariotti and Guidoni, the remake of "Dopo l'infinito" recorded in 1997, a demo of "Io e il tempo" recorded in 1987 and three live tracks recorded in 1989 (not in 1987 as they wrongly wrote on the CD booklet). I also thank Alessandro Papotto (Periferia del Mondo, BMS) who played sax on "Inferno" and Salvo Lazzara (Germinale, Pensiero Nomade) who played guitar on "Purgatorio".
Who painted the covers of your albums? Tell us a bit about what they mean.
The album covers are works of different artists, I don't remember their names. The one I prefer is that of "L'ultimo viaggio". The cover should always reflect both concept and genre of music. I think our covers perfectly fit our music and the seventies style we deliberately chose as our main source of inspiration.
Just to give those of us who are unknown with your work a bit of a reference point or two: How would you describe your music ?
Nuova Era's music is characterized by my style of composition but also by a current of thought: we want to continue that kind of music that at the end of the seventies went out of fashion. We have always played because we love certain styles and certain sounds of that period from the late 60's to the mid 70's. When in 1987 we began our adventure everybody was against us. Talking about Hammond, mellotron or wha wha guitars in that period was like talking about prehistory, they used to say you were old. Today we know we were right since prog and certain sounds have reappeared. That's why, as we have always claimed, art is not fashion but just art... style! You can't say that what comes after is necessarily better than what was there before. Once, as a bit of a joke and a bit seriously I defined our album "Il passo del soldato" as an album of rock from the XIX century.
How does your creative process work from the time you come up with a theme/riff/idea until you get it down onto an album ?
I'm always very influenced by timbres, a certain kind of sound suggests to me a sequence of chords or a riff. However I've always composed on the keyboard. Of course, you need the right evening and once you've found the base of a piece then you can easily find the final touches in studio. Anyway, in studio the solos are usually improvised but this depends on the piece.
Who are your main influences on keyboard and which of the 70`s keyboardists do you like the most?
My idol has always been Keith Emerson, the first love you never forget. I think you can hear his influence on my way of playing and in my keyboard sound. Anyway I think that the most brilliant of all the keyboardists is Kerry Minnear of Gentle Giant, he's really terrific!! Well, the whole band is incredible... It's not only a matter of musicianship here but true genius!!!
The original Italian rock explosion of the early 1970s produced hundreds of amazing albums. Do you have any favourites?
Italy can boast really good bands and amazing albums. Among my absolute favourites I would say are Il Paese dei Balocchi, Biglietto per l'Inferno and Museo Rosenbach while among the best known "Darwin" by Banco del Mutuo Soccorso and "Felona e Sorona" by Le Orme.
Favorite classical composers?
My favourite classical composers are Beethoven and Rossini... Then I love very much Ennio Morricone and John Barry from whom I sometimes took inspiration for my arrangements.
Despite your love for vintage sounds, do you think it's possible to push forward the progressive boundaries and make something new, different from 70`s worth listening to?!
I also listen to hard rock (from the 70's as well) while post 70's I only like some heavy metal, for instance I love Judas Priest. Nowadays too much stuff passes for progressive, but not for me. Prog, as much varied it could be, must have some limits. If you stretch it too much it becomes another thing. So when they ask me "what kind of music do you play?" I say I play prog, the real thing!

The present Italian prog scene is very rich, many historic bands reformed and many new ones are emerging. In you opinion, what is the most important difference between the Italian seventies prog scene and the contemporary one?
Technically, there are good bands but I'm not excited about the song-writing. I do not want to name some bands because I don't listen very much to the contemporary music and I can't judge, I'm referring just to the little I know. The bands of the early 70's had the magic of their time, the taste, the fantasy that few have today. Regardless of genre and musicianship I start from a basic principle: when I listen to an album, it must stir some feelings in me. If it does that's good, if it leaves me indifferent it could be prog, metal of whatever you like but for me it's nothing of worth. In 2010 the only band that gives me some emotions are Judas Priest and they are not prog...
During the seventies in Italy politics influenced heavily the music scene but even later there were some problems. What is you experience with it?
Unfortunately, we had some troubles with politics as well. They couldn't do a worst injustice to us. Once in Firenze we couldn't even play because some people accused us of being a fascist band! For me the people who prevent the musicians from playing on account of politics are more fascist than the musicians, whatever the political faith of the musicians could be... but we as Nuova Era have never done politics! In the band there were those who sympathized with the right wing and those who, like Alex, came out of ultra-leftist circles. Now I'm completely apolitical as a person but the band has always been so! We played at some Feste dell'Unità (meetings organized by the Italian Communist Party), we played at gigs organized by Democrazia Proletaria (a party of the extreme left), at gigs organized by the right wing and at gigs organized by the Democrazia Cristiana (the Christian Democratic Party). We wanted nothing but to play... Prog, Yes! Politics, No!
How is your gigs situation ? Is there any plans or desire to play gigs or festivals in and outside Italy in 2011?
I'm working on a new line up of Nuova Era and it's still a work in progress. I can say that with me there will be another historic member of the band, the old guitarist and singer Alex Camaiti. We'll see the developments...
What is your experience with the music industry? What about internet?
As far as I'm concerned, I think that record companies should release less albums but do it better. A flaw of record companies is do not advertise adequately what they do. The Internet has destroyed the CD market... a real disaster. You go from one extreme to another, i.e. from too expensive CDs to wild illegal downloading. But fortunately the Internet helps to advertise your artistic activities.
What are the ex members of Nuova Era up to now ?
As I said before I met again with Alex Camaiti and I hope that we can do something good in the near future. I've not been in touch with the others for years. Every know and again I meet with Gianluca Lavacchi but recently he's "disappeared" as well.
Do you have any other plans for 2011 ?
Playing for sure... Whether live on stage or just in studio we will see, time will tell!
Is there anything you want to add to this interview?
Buy last Nuova Era's CD... Even better, buy them all!

A hug and thanks to all. Walter Pini
More info:


Edited by andrea - August 16 2012 at 10:02