Nine Stones Close is a Neo Prog band with two albums on their conscience. They met up on a Marillion convention. But the band is by no means a Marillion clone.
I caught up with Adrian Jones for the Nine Stones Close story.
@@@@@@@@@@@@@@@@@@@@@@@

Just to start with, please tell us more about your background and why you took up music.
I grew up in the north of England, near Sheffield. My father worked for various record companies as a rep throughout his working life so the house was always full of vinyl, which I still have a love for. I used to play just about everything that I could get my hands on and was always raiding my parents' record collection. Luckily they had pretty good taste so I grew up listening to Led Zep, The Beatles, and other classics. I didn't start learning the guitar until I was 16 years old. I went to see Led Zeppelin - The Song Remains The Same film at a local cinema with some friends and when I was watching Jimmy Page tear it up I thought 'I need to be doing this'. After that my Dad bought me a classical guitar for my 16th birthday and that's how I got started, just a guitar, a chord book and a record collection. I have always had an intense love of music, ever since a very early age, I had my first record player at age 4 and have constantly listened to music all my life. I think music moves me like nothing else can. I listen to lots of different genres of music and am constantly adding to my vinyl collection. Just about everything from classical to death metal.
You were active in a lot of bands, but a big car accident made you question your priorities and led to the establishment of Nine Stones Close. Please tell us about these bands, the car accident and the process leading to Nine Stones Close.
I was active in a lot of bands over the years, none of which had any real success. I played and wrote in bands of varying styles like sleaze rock, hard rock, blues, prog, metal, grunge and thrash, all of which I love. I recorded demos of varying quality over the years, always hurried one or two day affairs and none of them ever really sounded how we wanted. Most of the time was spent writing, gigging and rehearsing. After a while I got disillusioned with it all going nowhere and decided to take a break from it all. I think it had been about 4 or five years without picking the guitar up for more than a quick strum when life changed somewhat. My attentions had been focused on work and family for some time, then in October 2002 my family and I went for a short break near St Lo in France where my in-laws had just bought a house. We had a great time, then on the way back to the airport my father in law forgot which side of the road he should be driving on ... cue head on collision, near death experience, pain and misery. A life changing experience indeed. Luckily everyone survived the crash with mainly minor injuries, however I got the worst of the injuries. To cut a long story short, there were several operations and a painful process of healing and then eventually learning to walk again, which took over a year. It was during this time, especially in hospital, that my thoughts turned back to music and I realized how much I had missed writing and playing. I also had some surreal moments listening to music while drifting into a morphine induced sleep, one track by Peter Gabriel (Signal To Noise), whose album had just been released had a particularly powerful effect emotionally. It was in my hospital bed that I had an idea for a piece of music which eventually became 'A Door opens' on the St Lo album. As soon as I was recovered enough I started to look into setting up some sort of basic home recording set-up to get these ideas down and that's when I discovered that while I had been away from music digital home recording had become very affordable. I bought a DAW and a copy of Sonar and started to learn. The first thing I recorded properly was 'A Door Opens' and it sat on my hard drive for some time after that.
Then things changed again and in 2005 we moved to The Netherlands for a new start, now that I could walk again, albeit with a walking stick. I was then contacted by one of my long time friends and a musician I had worked and written with for many years previously. He came over for a visit with another friend, a singer who we had worked with before, and during the few days they were here we wrote and recorded 4 new tracks. This eventually became a 'band' and within 6 months we had written and recorded a complete album. The band was named Lie Big and we self financed and released the album 'Severed' in 2007. We started almost immediately writing and recording again and had a number of songs almost finished when things, for one reason or another, ground to a halt. I decided that while Lie big was on hold I would go back to the tracks I had recorded initially before Lie Big happened and maybe put them together into an EP. Once I revisited 'A Door Opens' the ideas started to flow for a concept piece and 'St Lo' was born. My wife named the band 'Nine Stones Close' and within around 4 to 5 months I had written and recorded the whole thing, taking on all instruments and even singing for the first time, and 'St Lo' was released in August 2008.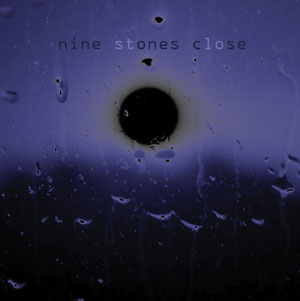 Please give us your long or brief thoughts on debut album St. Lo. How would you describe the music ?
It's a pretty stark and dark affair in line with the subject matter. The whole album is about the car accident that occurred in St Lo and the thoughts and feelings I had thereafter. I tried to capture the feelings of fear, anger, sadness, reflection and detachment in the music and lyrics. The whole album is a series of interconnected pieces which form a whole story. The music varies in style and tone throughout. There are some very heavy sections like in 'Remaining Days' and also very ambient sections all interwoven. Lyrically it's very minimal and the interpretation left quite open. I am really pleased with how it turned out considering it was basically a solo effort, I think it sounds great and holds up well. There are a few tracks on there I would like to re-visit live in the future with the new band.
Your new album was a more band affair (St Lo being a solo album, more or less). How did you meet up with the new members of Nine Stones Close and who are they ?
Traces is very much a band affair, yes. I had met Brendan Eyre at the Marillion Weekend in Port Zelande in March 2009 while I was promoting my St Lo CD. I had been giving away some free copies to the Marillion fans and we struck up a hangover conversation one of the mornings. We had a chat about the project he was working on (Riversea) and exchanged CD's with promises to keep in touch with a view to maybe working on something together in the future. About 6 months later Brendan contacted me and asked me to play on a prog Xmas track he was working on called 'The Magic Of Christmas'. I added my guitars to the tune and when it was complete asked him to play on a track I had just finished demoing for the new album. The track was what became 'Falling To Pieces'. Brendan sent back the track with the keyboards on there and I was blown away, I knew there was a serious chemistry at work. Then, without me knowing, he had sent the track to Marc Atkinson (vocals), who wrote some lyrics and sent back the track with the vocal on. Marc is a singer songwriter in his own right and also sings for Mandalaband and Riversea. I listened to it late one night when it arrived and was gobsmacked! Not only did it sound fantastic but the lyric was perfect for the concept I had in mind. I had just lost my dad to cancer the previous month and the lyric really moved me. It was perfect match for the other lyrics I was working on. After some discussions both Brendan and Marc agreed to join the project and things grew from there. I also met Neil Quarrell (bass) around this time. He was a friend of a friend and I contacted him to fix a couple of my guitars as my friend said he built and fixed guitars in his spare time. It turned out that Neil was also a musician and after a couple of visits, a few beers and a jam session I asked him if he fancied playing bass on a track. He lay down the bass to the track 'Traces' that afternoon and the rest is history. The songs might be written by me but make no mistake everyone's personality and contribution is in the music, it's Nine Stones Close, not Adrian Jones.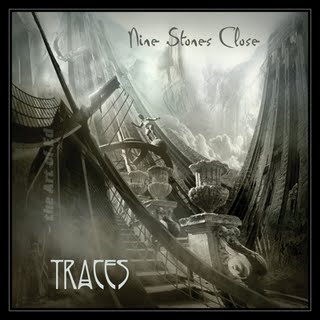 Traces is the new Nine Stones Close album. Please give us your long or brief thoughts on this album.
When I started writing the album I knew what I was looking for in terms of sound and concept. I wanted something much more layered and full sounding than St Lo. I had started writing the music during the summer, mainly on acoustic guitar, and I carried that acoustic through onto the final tracks to add an extra layer. The layers added by Brendan really started to give everything the epic quality I wanted, it's been a real pleasure working with him and the other guys on this. Lyrically I think I said what I wanted, I am really pleased with the lyrics, which is highly unusual for me. The loose concept of the album is loss, loss of loved ones, of innocence, of empathy, youth, in fact many things. Musically it's very rich and I am really proud of the finished album, I think everyone was at the top of their game. Having the band on board this time meant I spent more time on my guitar parts, especially the solos, and the mixing process in order to get it sounding as good as I possibly could. The feedback from the fans so far has been amazing.
How is your writing and creative processes ?
It varies. I tend to write by jamming a lot of the time. Quite often an idea will come while I am playing around on the acoustic guitar or maybe jamming along with a drum loop or something. You can never tell when it will strike. I have a hard drive full of bits and pieces of ideas and every now and again I will trawl through them to see if there is anything interesting. Often I will also write while I am recording a track, by working with it ideas will come along and change my flow and approach to a piece of music. Occasionally an idea will come to me in the middle of the night or something, like it did for the heavier section of 'Reality Check', but that's rare. When it comes to solos I almost always just play and play, take after take and pick the best one. I find it's usually one of the early takes that really hits the spot, sometimes you can try too hard. When it comes to lyrics I always write about what I feel or what is happening in my life. I can't write about something I don't feel, it's all about emotion for me, both the music and the lyrics.
It seems like you have a strong affinity for Marillion. But how would you describe your music and is there any bands you would use as reference sources for those who has never heard your music before ?
Yeah, I grew up with Marillion really. I saw them back in 1982 before Script was released and have been a fan ever since. I love the way their music has evolved over the years, through both the Fish and Hogarth eras. They have obviously been a big influence and part of my life for a long time. Their music is so emotive and layered. The Marillion Weekend was also responsible for getting St Lo promoted, getting radio airplay and for meeting the rest of the band, so they have also had an invisible hand in proceedings.
In terms of our music; in reviews and feedback we have been cited as having all kinds of influences. Depending on the track comparisons have been drawn with the likes of Pink Floyd, Marillion, Porcupine Tree, Camel and even Led Zeppelin. I think there are bound to be influences and elements of those influences in the music, but they are just that, influences. To me it sounds like Nine Stones Close.
What are your other plans for the next year ?
This coming year Brendan and Marc are finalizing their Riversea project in the spring and I am also looking to work on some collaborations with a few artists I have recently met, which is all very exciting. The main thing for me is to follow up Traces. The line up for the next album will be the same and I have already started writing some of the music. I hope to start the recording process again by the middle of the year.
To wrap up this interview, is there anything you want to add to this interview ?
Just to say thanks to everyone who has supported Nine Stones Close so far, especially everyone who pre-ordered the new album and who bought St Lo. Your support and feedback is what keeps me going. Thank you.
Thank you to Adrian Jones for this interview

Their homepage is here

St Lo is a free download from here