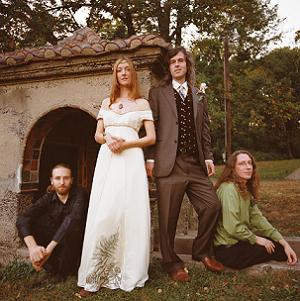 Fern Knight was originally formed by Margaret Wienk (Ayre) in 1999. Their debut recording 'Seven Years of Severed Limbs' was released by Normal Records in 2003, with a lineup consisting mostly of Wienk and accompanied by several friends. Following a self-released EP the group expanded to a quartet and recorded their second full-length album 'Music for Witches and Alchemists' supported by the Espers duo Greg Weeks and Meg Baird, as well as Alec K. Redfearn (the Eyesores) on keyboards (Redfearn had contributed accordion on the band's first record).

Also joining the lineup around 2006 was percussionist/guitarist Jim Ayre, who not only became a permanent member but also the spouse of Margie Wienk.
The band has toured in both the United States and Europe, appearing on both tour dates and at various festivals. Their fourth full-length CD 'Castings' was released in November, 2010.

I sent the band some questions and Margaret Ayre answered with their story. 
######################################################
Fern Knight started in 1997 as a fun recording project using mostly acoustic instruments -- acoustic guitar, cello, double bass -- plus my Fender Rhodes. The main core of the group was myself (Margaret Ayre) and Michael Corcoran. We had both played in Difference Engine, our shoegaze band that we formed in the late 80s in Ithaca, NY where we went to college. I was concurrently playing in The Amoebic Ensemble and then The Eyesores in Providence, RI in the late 90s. The name Fern Knight belonged to a friend's great aunt, which struck me as an old-soul name that fit my music. I also like the associations it brings up with the Green Man, and the Oak King, the lord of the Greenwood.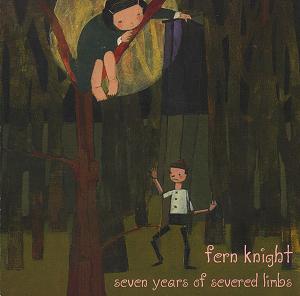 The songs recorded in this time period 1999-2002 became the album 'Seven Years of Severed Limbs', which came out on CD on the German Normal Records label in 2003.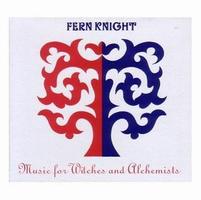 The second album, 'Music for Witches and Alchemists', was my solo effort. I started recording songs for it in 2003, but I ended up aborting the project because of problems with the tape machine. In 2005 I began again with Greg Weeks at Hexham Head in Philadelphia. I enlisted the aid of many Providence and Philly musicians for this album. M4W&A came out as my first vhf records full-length CD release in 2006 (LP on Eclipse Records in 2008).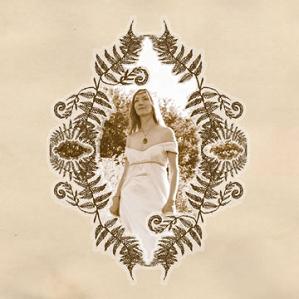 I went back to Hexham Head in 2007, this time with a band -- Jesse Sparhawk on harp, bass and drums, Jim Ayre on guitar, percussion and drums and James Wolf on violin -- the current touring and recording quartet lineup to this day. We recorded Fern Knight s/t, which was released on vhf in 2008.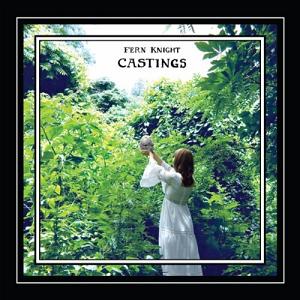 Our fourth album 'Castings' we recorded ourselves at a friend's parents' Gothic mansion in the Brandywine valley of PA in January 2009. The snowy landscape, stone floors and huge wood-walled rooms with Mercer-tiled fireplaces provided the perfect backdrop for the songs. Mostly the album is a song cycle dealing with the ancient art of the Tarot, its many archetypes, and how these memes continue to flow through our modern lives.

For the creative process, I usually bring fully-formed songs with orchestration ideas to the rest of the band at a rehearsal, having usually sent demos ahead of time. Many times we'll loop one song part until we light upon the sound we're looking for, jamming on different ideas.

I think of our music as progressive folk-rock, and I think we fit in next to such classic bands as Comus, The Strawbs, Asgard and Sourdeline, as well as modern-day cohorts Fursaxa, PG Six, Arborea and United Bible Studies.


When it comes to live shows, we hope to appeal to both the folk and prog communities, and have done well with the Goth/Steampunk audiences as well.
We're hoping to play more local/East Coast shows in 2011 and to go over and tour the UK and Ireland later in the year. We would like to perform at more festivals in the coming years.
We're currently in the studio working on our fifth album 'Solstice', and we're rehearsing for a local show we have in early Feb with a new drummer and backing vocalist/flutist.

Thanks so much for the interview~

Fern Knight
http://www.fernknight.com
http://www.myspace.com/fernknight
http://twitter.com/FernKnight
Thank you to Margaret for this interview

Their PA profile is here