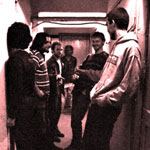 Calomito are a six-piece Italian band who bring a high degree of eclecticism to an overall avant-prog sound, which is made clear even with the instrumentation: in addition to the usual rock accoutrements, one hears a Fender Rhodes, soprano sax, and violins/violas. The influences of RIO greats like Zappa, Henry Cow, and their countrymen Stormy Six are clear, yet they also infuse their music with flavors from the Middle East, and even some klezmer at times, thus bringing a world/folk aspect into an avant-jazz basis - and of course, a bit of humor sprinkled in every now and then.
I got in touch with the band and Tommi answered my questions.
#################################################################
Your biography has been covered in your ProgArchives profile so let's bypass the biography details. But which bands were you influenced by and why did you choose that name ?
From the very beginning the sound of calomito should have no influences at all, at the time we decided to work on music we felt free from any preconceived genre... it was later when the first reviews came out that we realized we were similar to a band or to a particular genre, at the time we were into deep listening of mr.bungle, magma, zorn and lot of jazz like frisell, baron but also ecm records...
the name calomito came from a funny drawing that a friend of mine did at school... a little linear kid with a really big head... 

Were you involved in any other bands before you started Calomito ?
Everyone of us at the time were involved in other projects, someone with folk music, someone with rock, someone wtih jazz.. we had the fortune to meet  and have the need to put our creative push into the band, some of us were schoolmates.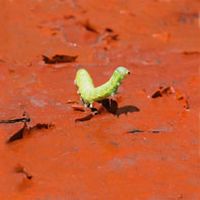 Let's go straight to the only official album to this date, the Inaudito from 2005. Please tell us more about this album.
It was our first experience in recording an album, we had the fortune that Paolo Piccardo, our drummer at that time, that is a really good sound engineer, had mics and the recording system... we went to the country and recorded "inaudito", and we didn't expect a good result as it was... 
the searching of a label was really long lasting, but finally Megaplomb made it. then we also found some really good people helping us to spread our music, like Steve at Cuneiform, Marcello Marinone of Altrock and Raoul Caprio.


What have you been up to since 2005 ?
We played the songs of inaudito in the next two years, but with a really unstable line-up, some of us left italy and we had many different reincarnation of calomito. from 2007 we started working with the new line-up, with Nicola Magri on drums, Ferdinando Magni on trombone, Filippo Cantarella on violin, Marco Ravera on guitar and Tommaso Rolando (me) on bass. in the meantime we played in other bands and projects; i started playing a lot 'round the world with Orchestra Bailam (
www.orchestrabailam.net
), an oriental-oriented and really funny band, we had a live record last year, i made also a record with Aparecidos (
www.myspace.com/aparecidos
), with argentinian musicians, in wich also Marco Ravera is involved.. new upcoming record also from this latin-oriented and lovely band. Nicola Magri were into K.C.Milian, great post-rockers from Genoa, and into Numero6. We also for a period had a new impro-band with a lot of electronic stuff called Soyuz. For me is so important to continue working on improvisation, in this direction i have a solo project (Stoni) for contrabass and electronics, sometimes with italian voice improviser Patrizia Oliva, in the Toba project.
Just to give those of us who are unknown with your music a bit of a reference point or two: How would you describe your music ?
 

The music of the forthcoming album "cane di schiena" is a little bit different from the previous one, in wich there were lot of saxophone solos, some jazzy touch of rhodes and really crazy but polite compositions; the sound of today's calomito is stronger and closer to rock, every composition has its own features and particular sound. surely the sound of calomito is really characteristic, rich and has some jazz reference, some heterodox zappian way of composing, lot of energy and unexpectable music evolution. 





What is your latest update and the plans for the rest of this year and next year ?

We are planning to promote the new record the more we can, it should come to life on february, on Altrock / Megaplomb. A co-production for two really different labels, we're really happy they succeeded to make it together.

we're finishing the graphic stuff, everything is ready, we also had the fortune to meet really good-working people in the studios, rico at fiscerprais, bandiani at apollo, mattia cominotto at green fog and finally udi koomran made a great cd master...





To wrap up this interview, is there anything you want to add to this interview ?

"Cane di schiena" will blow your mind... from spring we're going to be on tour, book us!