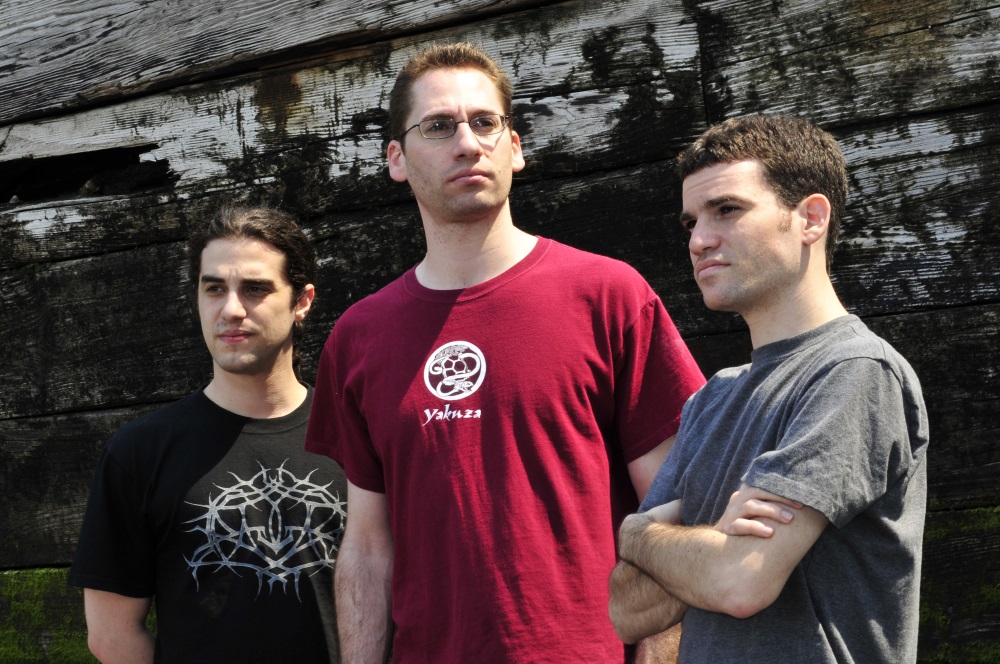 Zevious are a trio based in New York City, consisting of cousins Jeff and Michael Eber (drums and guitar respectively) and Johnny De Blase (bass). Mike Eber and DeBlase first met in 1999 when attending college in Allentown (Pennsylvania), and, over the following years, played together in several rock, funk and jazz projects. Eber eventually moved to NYC in 2004, while the following year DeBlase moved to Philadelphia. On the other hand, Jeff Eber, who had been extensively touring the USA with his experimental progressive metal band DYSRHYTHMIA, settled in NYC in 2005, where he met up with his cousin and DeBlase with a view to starting a jazz-rock project. So ZEVIOUS was born.
The band's first gig took place in the summer 2006 at Teaneck (New Jersey), with all the band members playing acoustic instruments. DeBlase decided to move to NYC in 2007, and shortly afterwards ZEVIOUS started recording their self-titled debut album, released in 2008.

I got in touch with the band and Mike answered my questions.
~~~~~~~~~~~~~~~~~~~~~~~~~~~~~~~~~~~~~~~~~~~~~~~~~~~~~~~~~~~~~~~~~
When, where and by whom was Zevious started ? Did any of you, past and present Zevious members, play in any other bands before joining up in Zevious ? Why did you choose that name ?


Zevious was started in 2006 by Johnny DeBlase, Jeff Eber, and myself (Mike Eber). Johnny and I had been playing together for years after meeting in college and Jeff was (and still is) a member of Dysrhythmia. Jeff is my cousin and we had been talking about starting a band together for a long time before all three of us wound up in New York City. Once we were all living in the same city, we started playing music together immediately. The band started off as a "working jazz band" with the intention of playing jazz and potentially getting paid (we even recorded a demo of standards that vanished at some point) but it was only a matter of weeks before we started writing music and leaving "standard jazz" behind. "Zevious" is a play on the name of a great arcade game from the '80s that had some hypnotic qualities and weird music.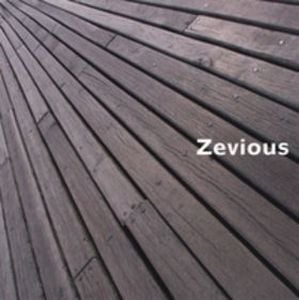 Over to your two albums. Your debut album was Zevious from 2008. Please tell us more about this album.


We made this album while we were still more of a "jazz" band. The compositions are all our own, but Johnny was playing an upright bass and I was playing an archtop guitar. Overall, I am still happy with what this album represents because it documents a period in the development of the band (and at times hints at where the music would go in the future) but the music lacked the complexity we would begin exploring after its completion. Even at this stage, we were experimenting with form, rhythm, and harmony but compared to where we were heading, this album is much more straight forward.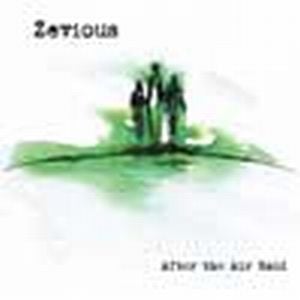 Your second and most recent album is After the Air Raid from 2009. Please tell us more about this album.

For our second album we were lucky enough to be picked up by Cuneiform records who released it to a much wider audience. This album represents what we do now more accurately. The music has gotten louder and more complex as the compositions have become more conceptual. Johnny ditched his upright and I started using a Telecaster while both of us began using distortion (and various other effects to some degree). The chordal harmony on "After the Air Raid" breaks from any sort of traditional harmonic language by replacing it with our own approach to creating function from non-function and creating melody out of dissonance. At the same time, the rhythms have become much more layered so the music has a gravitational center that stems from where all the parts line up. From playing more straight ahead on our first album, this is more of a progressive experimental rock album. One specific area that we began exploring on this album is giving the illusion that there are more parts than just those being played. The interaction between each instrument leads to implied or perceived parts that are not actually there.
How is the creative processes in your band from coming up with an idea to it's being recorded ?

Johnny and I write all the music for the band separately. We both score everything out (generally including the drums) and then bring it to rehearsal where everyone has a say in what the finished product will sound like. Frequently, before writing a note, we will come up with conceptual material that is either abstract or tangible as a foundation for our compositions. This is something we do on our own for our individual pieces, but Johnny and my processes tend to be pretty similar (which is why our music, though somewhat different, always seems to compliment each other). For example, we may base our writing on a dream or a book we've read or we may take inspiration from physics or mathematical constructs. Even though Jeff doesn't write any music, he always has a hand in the creative process by offering suggestions for the arrangements and by interpreting the written parts in his own way. After rehearsing each song for 3-6 months we tour with the new music and then plan a recording for a few months later. The whole process takes a while, but once the music is memorized, it is incredibly fun to play. It seems like we are always trying to top what we have done in the past so the new music becomes more difficult and therefore takes even longer to rehearse. Hopefully, by the time we perform it, no one in the audience will know how difficult or complex the music is - we want people to relate to the music on a purely visceral level.
For those of us unknown with your music; how would you describe you music and which bands would you compare yourself with ?


I would describe our music as being most influenced by 20th and 21st century composers like Stravinsky, Bartok, Ligeti and many more. Of course, we are a "rock band" so we are not presenting it in that way but most people don't realize what our main influences are when making comparisons. As far as bands and musicians go, we listen to Meshuggah, Magma, Vijay Iyer, Ben Monder and a ton of others. It's always difficult to compare ourselves with other bands because we are playing music that is very personal but some bands we enjoy playing with include: Algernon (post-rock prog from Chicago), Seabrook Power Plant (heavy banjo shredding from NY/Boston), and Old Man Lady Luck (loud and brutal rock from Connecticut). Our music tends to be on the darker and heavier end of the spectrum but only because we are drawn to that type of imagery.

Also, the three of us play in other bands that, although stylistically different than Zevious, relate to the kind of music Zevious plays. I play in a band called Smother Party which is a micro-tonal instrumental rock band that is about to release our first album. Johnny plays in Many Arms, a free jazz shred band, who just put out their second album a few months ago. And, as I mentioned before, Jeff plays drums in Dysrhythmia, an intense instrumental prog/metal band that has been around for over ten years.  All are highly recommended! 

You are currently planning a US tour. Please tell us more about this tour and what we can expect from a Zevious gig.




Yeah, we are doing a full US tour from mid-March to mid-April from the east coast to the west coast and back (up to date show listings can be found on the Cuneiform Records tour page). We are really excited about the tour and have been working on a whole bunch of new material that will be debuted and played throughout. A Zevious show is always very high energy so even if there are people who don't know or understand what we are doing technically, they can still relate to the music. We definitely try to create a setlist that flows and maintains both energy and interest so the audience remains captivated. Hopefully, listeners get the sense that they are being told a story despite the fact that there are no vocals. I always find it fun to play for new people (especially when they have not seen or heard us) because our set frequently comes as a surprise and I think the amount of hard work we put in to preparing the music comes across.
What is the latest update and your plans for this year and beyond ?

The new material that we are preparing for tour will make up a little more than half of our next album. After we get back, we plan to finish another batch of compositions so we can record again either at the end of this year or early next year. Then, our hope is to put together a tour in Europe for sometime in 2012.
To wrap up this interview, is there anything you want to add to this interview ?  

Thanks a lot for the interview!
Thank you to Mike for this interview