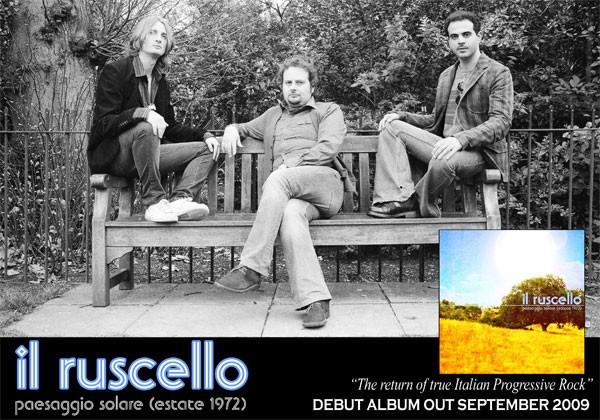 Il Ruscello is a new Rock Progressivo Italiano band. Their only album to this date has raised some eyebrows among the RPI gourmets in ProgArchives. Their story is also untraditional, to say at least.
I got in touch with the band and the band answered my questions.
=========================================================
Did any of you play in any other bands before joining up in Il Ruscello ? Why did you choose that name ?

We all have been involved in many bands and projects, but Il Ruscello is our first attempt to RPI and prog in general.
We chose the name Il Ruscello (The Stream) because it hides a whole world of meanings like: fluidity,transparency, beauty; and also, the stream is a very common lyrical image used in many italian progressive albums from the early 1970s, to express a return to a nature friendly way of living.

The inlay booklet of our debut album contains a statement in Italian that decribes what "The Stream" means to us. Here it is, translated:
'The stream flows... life flows... the stream is life.

Fluidity, transparency, beauty...

An uncontaminated landscape, creation at its most splendid: this is the home of the stream.

The stream flows in balance, not caring what it finds in its way: the stream is unconditional acceptance.

The stream has no boundaries and is free to create new pathways...

The stream is the joy of discovery'.

So you met up in London, a city where Karl Marx, Lenin, various muslim fundamentalists, some kings and and other deposed heads of state's sought refuge from persecution. Why London ?


Well, Luca and Giampaolo already lived in London and Silvio chose to move there for an year, so we've been neighbours for the time it took to write and record the album. That gave us a lot of flexibility in terms of coming up with ideas and immediately go to the studio and build the songs together, which have been created in no time. London is a great place for music, there's a vibrant scene and you can find everything you want to listen to there. It's an inspiring and exciting city, in our opinion the most international in Europe, literally the whole world is there. Also a lot of great 70's prog music came out of London, think of Yes, king Crimson... should we add more?!

You were in fact plotting an overthrow of the status quo in Italy, is not that the truth and the reason for your clandestine activities in London ? So which bands from the 1970s were your favorites and the ones you were inspired by to make your album ? What is your views on the current RPI scene ?

The banner on our myspace page states "The return of true Italian Progressive Rock". Somehow we felt like exiles in a foreign country trying to keep up with our national prog tradition. The album wanted to be a statement of our way of seeing and feeling RPI, regardless of trends of whatsoever. So instead of being in Italy absorbing the music from abroad we did the other way around. And we tried to be 100% true to that sound we love so much, in fact there's an awesome review on Progarchives reading "This is not a clone of a 1972 RPI album; it IS a 1972 RPI album". That's exactly how we felt when we did it, we were thinking as if we really made it in 1972.
Our favourite bands from the 1970s are Blocco Mentale, Alphataurus, Premiata Forneria Marconi (PFM),Balletto di Bronzo, Le Orme and many, many others. We really think that in the early '70s there was something really special in the air! We believe that the most beautiful melodies and musics were conceived in those years, that's why we can't help being inspired and influenced by that atmosphere and that period's distinctive sounds.
We do not have a real point of view about the current RPI scene because we're still very busy in dicovering and listening to all the early '70s bands and albums we're still not familiar with! Apparently the list is neverending so it might take us a while, which is a good thing. It's incredible how many albums were released at that time and the fact that most of them have been hidden gems for decades before they've been re-released on CD. Luckily things have changed!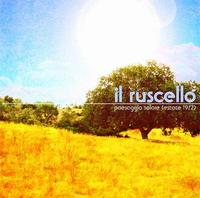 Over to your album Paesaggio Solare (Estate 1972) from 2009. Please tell us more about this album. Where is the gorgeous cover shot taken from ?

"Paesaggio solare (estate 1972)" is our tribute to that great period we mentioned before, great music, musicians, creativity and enthusiasm. Music and lyrics came out easily from our deep souls… it was like the album created itself, although there are many difficult and complex riffs in it, so we had to use our brains quite extensively and push our arranging abilities to the best we could do! All we had to do was absorbing the music and thinking of the best way to arrange it and make it happen on record. The title came from a vision that Silvio had about a group of young boys and girls living as a community in deep and true contact with nature in a bright, sunny and sultry place somewhere on the hills of central Italy. The song is set in the summer of 1972 and depicts the sensations these people had while experiencing life in a totally different way from the modern ways and its values… Working for growing their own food, living a day-by-day life with a joyous and thankful attitude, rejoicing and respecting nature. Work is seen as an act of love, and not as a constriction. It's a liberating song that fully captures the desire to be free from a society that since the 70's was starting to increasingly become less and less man-size and brought people away from their basic needs.

The cover shot is a 400 years old oak in the Apulian countryside. It's a beautiful and magic place we know very well and where we spend a lot of time specially in the summer!


What is your plans for this year and beyond ? Any gigs or albums ?

We really hope "Paesaggio Solare" will have a follow up! We are currently writing some new riffs and getting the right inspiration for new stuff to be conceived, created and born. Some of the new ideas are very exciting already, we're just waiting for the right time to record them.
Talking about gigs what really prevents us from playing our songs live is that "Il Ruscello" is composed of three multi-instrumental members only (Silvio - voice, acoustic guitar, drums; Luca - guitars, piano, synthesizers; Giampaolo - electric bass, orchestrations) and performing live with this line-up would be really difficult! That's why we're considering to invite some new musicians to join the band: they must be good musicians and good progressive-addicted minds though!!

To wrap up this interview, is there anything you want to add to this interview ?

We're really happy about our work and the world-wide interest it aroused. Thanks to our label AMS-Vinyl Magic too. It's a great thing for us and we really appreciate it. We got some great reviews in many different places (USA, Japan, Brasil, France, Europe, even New Zealand!!!). We also appreciate the ones from ProgArchives, which we consider one of the best and most complete sites for RPI and progressive music. We'd like to say thank you for your sincere interest and appreciation; we'll try to keep doing our best!! Keep following us and Prog on!!
Thank you to the band for this interview

Their PA profile is here and their homepage's here