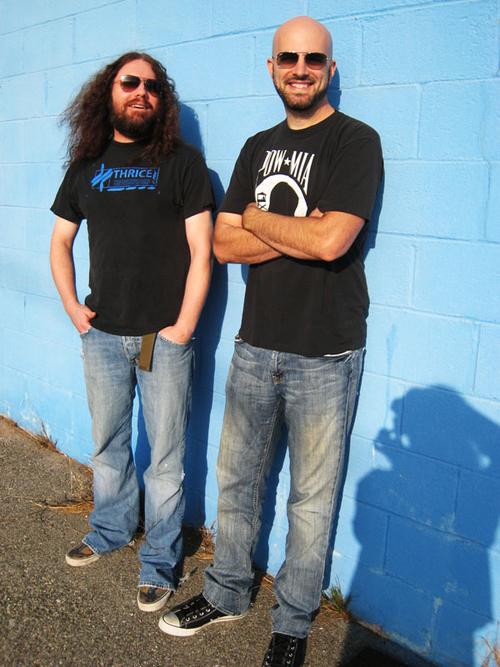 Heart of Cygnus are an American progressive heavy metal act formed in 2005 in Los Angeles, California by Jeff Lane ( Vocals, guitar, keyboards, bass) and Jim Nahikian ( Drums). They have since added Aldo Galatioto( Lead and Rhythm Guitars) to the lineup. The band site Iron Maiden and Rush among their prime influences.  Heart of Cygnus released their debut full-length studio album "Utopia"through Astral Knigt Records in September 2007. Their second and third full-length studio albums, "Over Mountain, Under Hill" ( March 2009) and "Tales From Outer Space!" ( November 2009) are self-released.

I got in touch with the band and Jeff Lane answered my questions. 
~~~~~~~~~~~~~~~~~~~~~~~~~~~~~~~~~~~~~~~~~~~~~~~~~~~~~~~~~~~~~
When, where and by whom was Heart of Cygnus started ? Did any of you, past and present Heart of Cygnus members, play in any other bands before joining up in Heart of Cygnus ? Why did you choose that Rush associated name ?
Heart of Cygnus was started in the winter of 2005 by Jim Nahikian, and myself, Jeff Lane.  Jim and I had played in previous bands together, but they were more of a pop/power rock style.  We grew tired of playing styles that were not reflective of our musical tastes and influences, so we set off to start a band/recording project that did just that.
Jim actually came up with the name "Hearts of Cygnus" while reading through an astronomy book.  We're both fans of the stars, space, Sci-Fi, and the like, so that was a natural place to start.  After hearing his idea, I was reminded of the lyric from Cygnus X-1 from Rush's "A Farewell to Kings" and suggested we change it to "Heart of Cygnus" as a tribute to one of our biggest influences, and so we went with it.
How was the music scene in Los Angeles when you started up Heart of Cygnus ?
Honestly, from a hard rock/metal perspective, it felt pretty dead. Maybe it's not even the styles per se?  It seemed like years ago, this was probably the town to come to in order to "make it" in the music industry.  But I don't think it is any longer.  Most of the famous clubs on Sunset Strip in Hollywood have dumbed themselves down, allowing any act to play as long as they can pay for a certain amount of tickets.  This is also true of a lot of outlying clubs (although not all).  It's rare to find clubs who will actually pay you and not require a certain number of tickets sold up front.  So it can be difficult for an unknown act to acquire a following.   That being said, when we started out, we were a project, so our focus was on spreading the word via the internet, magazines, webzines, etc. rather than live performance.  So it was that we formed a following overseas while being relatively unknown in our own backyard.
Over to your three albums. Please give us your long or brief views on your albums, starting with.......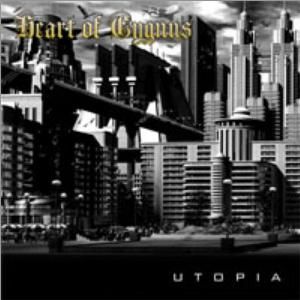 Utopia from 2007
Utopia was definitely a work from the heart for us.  Frustrated from experiences both in our personal lives and the music industry, we set out to write a metaphor of individual expression vs. pressure to conform to corporate/societal norms; the struggle of the individual vs. the powers that be, so to speak.  The metaphor is that of a futuristic society who are kept beneath the surface of a planet and deluded from birth to believe that theirs is the only world.  Their dreams are controlled by "The Lords of Utopia" and "The Fathers of Science" who urge them not to think for themselves or dream their own dreams but to merely accept and serve their given place in society (thus serving and benefiting the elite who are in control).   But, as is inevitable in real life, those who seek to control others will ultimately lose control.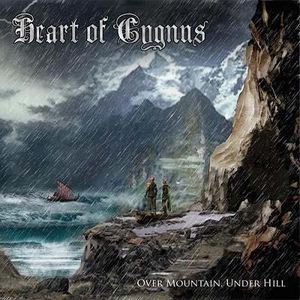 Over Mountain, Under Hill from 2009
The overall feel and theme of this album was brought about by the two opening (title) tracks.  These were songs I had written years ago before we started HoC, loosely based on a chapter out of The Hobbit by J.R.R. Tolkien.  We built on these themes and wrote and recorded the songs over the course of half a year.  The most notable track is "Lost at Sea" which has been, by far, our most popular track as of yet.  That song was inspired by an article I read about an old Viking ship being restored in Denmark, and then being sailed across the North sea.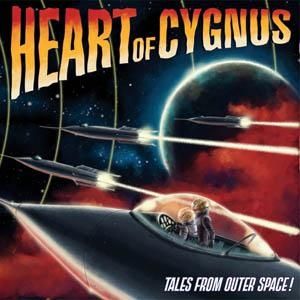 Tales From Outer Space! also from 2009
This album was a bit of a surprise for us.  It was not really planned, it just sort of happened.  We had just released Over Mountain, Under Hill on March 31st, 2009.  Almost immediately afterward, ideas for a space theme started popping into my mind.  I had glanced at my bookshelf, and seeing "Space Trilogy" by C.S. Lewis, I began writing what would become "Space Trilogy" on the album, although not directly related to the stories.  We were both inspired by images from comic books and space movies from the 1930-1950's eras, so I ran with that in mind as I approached the rest.  I wrote and we recorded over the Summer of 2009 and released it in November of 2009.  It is a shorter record, running a little over 30 minutes.  I wish every record was that easy!  I've never had ideas pour in to my head that easily.  I'm sure years of being a Sci-Fi/Fantasy enthusiast helped.
According to a one year old message on your own homepage, you are currently working on your fourth album. What can we expect from this album ?
We've been working on this album going on about 7 months now.  The reason this one has taken a bit longer is because we're doing a concept, so that means I've been working on a back-story in addition to writing the songs.  I even created a history and a world map to back it up; I might write a novel for it once the album is released.  The album is a fantasy story of the journey of a young dreamer who sets out on a chance meeting in the hopes to find that life holds more promise and adventure than what he's always known.  As it is for all of us, life isn't always what we expect, but it is an adventure nonetheless.  For now, the working title is "The Voyage of Jonas."  Musically, I'd say it's a blend of rock/metal with some orchestral interludes.  We're going for a "big" sound on this album.  A bit over-the-top perhaps or bombastic.
How is the creative processes in your band from coming up with ideas to commiting the songs to an album ?
So far, it's been a fairly simple process.  I usually come up with a concept or Jim suggests one, either based on a story or a common theme.  Then once I have a picture fixed in my mind of the album theme, I start writing songs in keeping with the theme, then Jim and I start imagining the artwork which is something very important to us.  We usually engage our artist (John Day) early on before we've even started recording the CD.  From here our process typically goes this way:  I write and record a demo and share it with Jim.  It usually consists of guitars, bass, vocals and some ambience with a looped drum machine track.  He gives me feedback, and I take it and develop it from there (or throw it out if we're just not feeling it).   
With the past three records, in a way, you could call them glorified demos.  The process was that most of the demo work I recorded would serve as the final tracks.  Jim would record his drums along with it, then I would record the final touches.   For this album we're taking a different approach, which is part of the reason it's taken us longer.  We decided to record simple demos for all the songs first, then live with the songs for a while so we could really develop our parts (by the way, Jim is recording drums while I write this).  Once all of his parts are complete, I'm going to re-record all of the songs on the guitar and bass; the final takes (most of the orchestrations and keyboards are already finished). Our intent is to get a consistent sound throughout the album so that it will sound like one cohesive work.
Your 2009 albums was self released. How do you find it going independent vs having a record label doing all the "dirty" work for you ?
Actually, all three of our released albums are self-released.  We had a label moniker we ascribed to ourselves, "Astral Knight Records."  For whatever reason, we left it off the CD cover on our last record.   
We've enjoyed being independent.  In a perfect (fantasy?) world, you'd love for some rich label to come along, see the immense potential you obviously have, and throw a bunch of cash and sweetheart deal your way!  But honestly, those days are probably long gone, unless your riding the wave of a current trend.  With the current industry atmosphere in the States, the great acts of the past would have small chance of signing with a major label today.  Or so I believe; I could be wrong.  Nonetheless, with the advent of services like TuneCore and CD Baby, etc. it's much easier for independent musicians to write, record, and release their own material and make it available worldwide.  And it allows you, the artist, to have full control over your works.  That, along with affordable digital recording equipment, software, and a good ear (and hopefully, most importantly, good song writing), has leveled the playing field, giving the little guys a chance to compete.  Not only that, many of the major mastering houses make their services available and affordable for indie/self-released acts.  For example, our last CD was mastered by Chief Mastering Engineer, Andy VanDette at Masterdisk in New York. 
Still, having the major money to promote yourself ever and anon so that you become ubiquitous is an advantage that major labels have over all of us.  But I guess that can be a good thing.  You have to get creative and find another way.  Facebook and YouTube (and formerly, MySpace.... RIP) are obviously great tools to reach out to new fans.
I find your music is a bit difficult to describe, so how would you describe your music and which bands would you compare yourself with ?
We tend to like to describe our music as a mash of our influences; Rush, Queen, Iron Maiden, Led Zeppelin among others.  I think of us as being a blend of Classic Rock, Progressive Rock, and NWOBHM.  That being said, I think it's pretty much relative to what the listener feels we sound like.  One might hear one style, another might hear a different one.  Although a friend of mine coined a new style for us:  Hobbit Rock.  Hehe...
How is your gigs situation now and in general in California ?
Well, for now, gigs are not happening because we're back to being a two-man recording project; especially as we focus on finishing this 4th album.  It'll probably be our biggest work yet.  But we still feel and believe that we should be a touring band, and we're looking for the right people to join.  Or, at least, to find a couple guns for hire when the opportunity to tour comes.  But we definitely feel that Heart of Cygnus is more than just a recording project; it's a live touring act itching to happen.  We played the "Keep It True XIII" festival in Germany last year, April 2010.  We had such a good time, we knew we needed to get our act on the road.  We've played a number of small shows here in Los Angeles, and are ready to grow our following after the release of our 4th album.
Besides of a new album, what is your latest update and plans for this year and beyond ?
As mentioned above, after we release the new album, we plan to take our show on the road, one way or another.  And beyond that, our plan is simple:
Write, Record, Release, Promote and Perform.  Repeat.
To wrap up this interview, is there anything you want to add to this interview ?
Thank you to Jeff Lane for this interview

Homepages is as listed above and their PA profile is
here