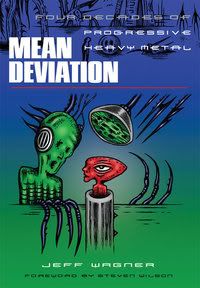 Have others around heard of this book? It's a book about the History of Progressive Heavy Metal. The author is Jeff Wagner, who used to write for Metal Maniacs and now is involved with The End Records.
And the radio show, Used Bin Radio, is a cool music talk show, mostly discussing progressive rock and metal, every Tuesday evening 7pm-10pm (Pacific Time).
So Jeff's going to be a guest on their show tomorrow evening, February 1st. It should be cool to hear what he has to say, and all the research he did in writing this new book.
http://usedbin.com
http://www.bazillionpoints.com/progress
http://allmediareviews.blogspot.com/2011/01/jeff-wagner-mean-deviation-progressive.html


Edited by SoundscapeMN - January 31 2011 at 21:37