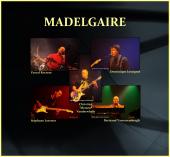 A group founded around the millennium change, Madelgaire chose its base in the small town of Soignies (some 50Km southwest from Brussels), but the members come from a 40 km-wide area, overlapping their buddies of AmAndA's area, to which they bear some sonic similarities, not least choosing to profess their love of the French language, even if this group also delve in the English realm. Madelgaire took their name from a local medieval hero, and it's not fortuitous since they have a certain medieval-folk and Raconteur-Troubadour side to their music with two distinctive singers: frontman Dominique Lossignol and drummer Pascal Rocteur. 
I got in touch with the band and Stephane answered my questions.
###################################################################
When, where and by whom was Madelgaire started ? Did any of you, past and present Madelgaire members, play in any other bands before joining up in Madelgaire ? Why did you choose that name ?
The band started playing together in 2001, after the involuntary and completely silly dismembering of S£aw (pronounce 'swaf'), a previous band of which Stef and Chris were members.  It all came gradually with the passing of time, Pascal arrived in 2000 at the end of S£aw as new involuntary drummer, then involuntary singer (because Chris threatened him), we then started playing covers from bands like IQ, Camel, King Crimson… and started composing little by little, while still playing old S£aw pieces as well.
Things really started to evolve into Madelgaire's prog sound with the arrival of Patrice, our first keyboardist and Dominique, playing guitars and violin (before it got accidentally broken) and also singing.  Madelgaire came a bit out of nowhere, just because we couldn't stop playing music, and then had to change the S£aw name. Vincent Madelgaire is the old founder of the town where we rehearse : Soignies, taking that name was a private joke at first, then it stayed as a banner for the band. After all, it's a chain of unvoluntary events, we're not even sure we really did want to do this interview either.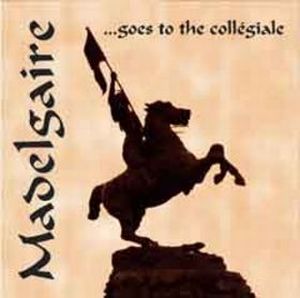 Your debut album was the Goes to the Collégiale from 2002. Please tell us more about this album.
It wasn't much an album, more a live-studio opportunity to lay down our first music drafts on cd, that is why you can already find titles on 'goes to…' that still appear on (im)patience like 'vae victis'. Those songs are pieces that were completely recomposed throughout the years since then. 'Goes to…' is just 30 minutes long and was used as a visit card for concerts, radios… it was our debut in personal composition and a test for the band, to prove our existence.  
What followed next was an eight years long silence. At least for those of us who does not live in Belgium. What were you up to during these eight years ?
We were on holiday ! No, seriously, we were too busy giving silly interviews to explain why we didn't do that much during 8 years. Oh stop it !
Seriously really, as we said, things really started to evolve around 2002 with the recording of 'goes to…', to convince ourselves that the little local band we were could make it with personal compositions, search a sound and a personality. It wasn't easy, we had to rearrange the band we were then, to get away from the cover sound and spirit, and start composing original music. Added some casual problems like the departure of Patrice in 2003, replaced by Bertrand only a year later.  When new musicians arrive, things aren't as easy as to say « well, you play the same things with the same feeling and sound, lad », oh no, changing members is always a deep « rework the roots » thing, endless discussions and new sounds on the table, then rework on the same songs again and find other interesting themes or sounds.  We also have to admit, none of us are professionals, we do it for the pleasure and the sake of art, really. It is a wonderful but very slow process, since we all have other professional activities, and especially because of the « free and difficult » nature of prog rock itself.  Upon that, we really have to add that we cannot leave a single note uncarefully thought, plus the lack of money and technical means, well, compile all those reasons together and you will find easily why it took us that long !  Had we been a blues band, we would probably have released 2 or 3 albums by now, and we are sometimes astonished to still be together after that time.  Man, you really have to love what you do sometimes, especially when playing with such foggy brained musicians more eager on spending time with journalists and girls, gosh !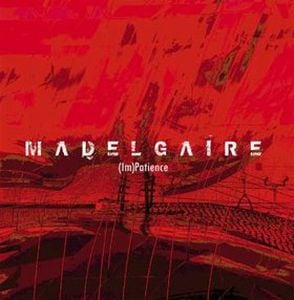 Your second and so far latest album (Im)Patience was finally released in October 2010. Please tell us more about this album.
It is the result of those 8 long years of work and (im)patience. When we were finally pleased with the the bunch of compositions we had, we took the final decision to turn it all into a cd, which wasn't easy. We didn't want to redo the same quick and clumsy « demo thing » as we did with 'goes to…'.
It then took time to gather some means and technical aid. (Im)patience was recorded bit by bit here and there with a method close to professional ones, we first recorded the drums nearly all in a row, with rough melody and harmony guide tracks, then the basses, bits of guitars and keyboards, came back on the drums for details, reworked the basses and guitars, added vocals to see how it all fit, improved the melodies, added keyboards, found some more money… etc… and time passed quickly. It was at the same time a dizzying creation process but also an agonizing and endless work, but a technical well mastered one. 
We're really proud of it especially because most of it was recorded in our own rehearsing room by ourselves during that 2 to 3 years time.  The result is coherent, not at all the kind of kaleidoscope-like cd recorded at different places and different times we had first feared, we finally avoided that.  For the rest, it is our composing efforts up to this date, with all the good and bad things, it's up to you to criticize the whole thing and tell us what you like or not.
One of the main regrets (sic) is to have chosen the order of the tracks in a quick way, many people tell us now we should have put all the english tracks together for instance, or sing only in french, since barely no one cares for english lyrics here around, and also because of the concept album touch of the 'Banquets d'Equinoxe'.  There's now much arguing within the band about the choice of french or english for future compositions. But the cd is what it is, the sum of the best things we made so far, french lyrics came little by little especially with Dominique's touch, while english is still the language of the first reworked songs we love so much, which is why you still find songs from 'goes to …' on this cd.
On another hand, we also had other recorded material ready for mixing sessions, but decided not to put them on the cd, hard but necessary decisions we keep for the legend…
As a conclusion, the good thing is that we now have a work method for all that, we finally managed to now whose fingers were to touch the mixing tables and all that (also explaining the 8 years, sorry), and the good things is that we are already working on the next recordings, which should come out in less time… we hope.
How is the creative processes in your band from coming up with an idea to it's being recorded ?
Long. Veeeeery long, unless Chris gets angry, which is the only way we know to work faster, since the day Dominique's violin got accidentally broken.  For the rest, we do things as usual we guess : we come up with lots of melodic and riff ideas, search and assess their quality, or should we say  their « beauty ». We don't care to discard melodies or ideas if they are weak, and then, we put what we have kept together to build a song or instrumental structure that is original and especially strong in emotion. That is the first long and hard step, then come the arrangements, who's gonna play this and that… the sounds are fun to search for, then comes the other painful step : lyrics or no lyrics, in french or english, what theme… and much discussion sometimes, unless as we said, Chris gets angry, which usually speeds up the whole process.  Afterwards, we fugure out the beauty of the piece or song.
We wasted much time in the past on uninteresting melodies or riffs, trying to have quickly made songs, but the result is poor and we don't want that anymore, since we hear it everyday on the radio. After all, it's all a matter of inspiration, you don't really have a grip on inspiration, it is there, or it is not.  
For those of us unknown with your music; how would you describe you music and which bands would you compare yourself with ?
Well, in a word, Madelgaire is all about a classical strong sense of melody and structure mainly, more a mainstream band than an experimental one. We compare our writing with novel or storytelling. We knew you'd ask about the influential bands, and you know what you'll get, don't you. All right, so here it goes : we all love the old Genesis, Yes and Crimson sounds and tones of course, Bertrand loves mellotron as used by Anglagard and modern prog bands like Beardfish, Chris and Dominique love Magma and Ange. Pascal loves  vocal harmonies, major classical masters and odd rythms. There's also a clear fondness for powerful present bands like Spock's beard, Transatlantic or even Muse, Stef likes to put his fingers on the mixing table and move all the switches and buttons up and down for fun, but that is another topic… Clearly, despite all those influences, Madelgaire is an evergoing adventure with no real plan or concept for the future, so who knows what will come next, atmospheric or more folk-oriented songs maybe, 30 minutes instrumentals, at least we hope we won't end up doing the same thing over and over again…  
What is the latest Madelgaire update and your plans for this year and beyond ?
We have a couple of special live perfomances here and there, on local tv and radio for instance, and we're already at work on new titles, hoping seriously to work faster without decaying the quality, we want to give something better to the audience.  We really have no plan for a career or commercial development, as we said we are music craftsmen and intend to remain so.  Apart from that, other plans include usual stuff like avoiding Stef to put his fingers everywhere on the mixing tables, or Dominique to buy a new violin,  pull the girls a bit, not to irritate Chris, give interviews about why we work so slowly and make Pascal and Bertrand's hair grow up again, about all that.
To wrap up this interview, is there anything you want to add to this interview ?
Yes…no.
Er… Yees.  Let us think…
Well, after second thought, no.
YES… oh no, we forgot again.
We'll think about it and call you back if we think of something.
Thank you to Stephane for this interview