Xang is a new young quartet playing an instrumental prog close to PENDRAGON coming from the north of France. The French guys are offering here all that the heart desires: Mysterious chords envelop strong guitar riffs, melodies on which we can dream and all kinds of varieties, that results in the listening of demo there is no boring. The guitar playing recalls very strongly Steve HACKETT and bass and keyboard players let themselves be inspired by MARILLION. It's complex, sometimes quiet, sometimes loud and always very intriguing, like a mix between ARENA, DREAM THEATER, FLAMBOROUGH HEAD, GENESIS, IQ, LANDS END, RUSH and SPOCK'S BEARD, but all instrumental.
I got in touch with Emmanuel for the story.
=================================================
When, where and by whom was Xang started ? Did any of you, past and present Xang members, play in any other bands before joining up in Xang ? Why did you choose that name ?
XANG started in 1995. Vincent(keys) and me were playing in a jazz-rock band, Anima cry. We were listening prog bands at this time. We talked together to the opportunity to create a band. Matt(Vincent's brother) joined us
to play the bass. And then a very long delay to find a guitar player. We tried many guitar players, and it was very difficult to find a good player, but before all, a person to play with the same point a view about music and simple things about life. Finally we found Antoine.
About the name it's a very old story. 30 years ago, I was playing like others teenagers with a OUIJA game. The supposed spirit who was talking about my future talked to me with the name of XANG.
I find funny the choose this name for the band 20 years after.
How was the music scene in your area when you started ?
At this time, the music scene in Northern France(close to Belgium) was essentially turned around
rock and hard rock music. The progressive was not in the air. So, when we arrived with strange musical structures and typical sound of keys it was evident we had to play not only in our region, but everywhere in France and crossing the frontiers.

Let's go straight to the first album. Please tell us more about Destiny Of A Dream from 1999
We recorded a demo one or two years before and sent to fanzines and magazines. We were invited
to the Prog festival of Sarlat. We played two or three times at the off festival and then, Patrick BECKER contacted us a few weeks later to helped us to do an album. And then creation of GALILEO RECORDS to help to reach this purpose. And that's we did. We recorded this album very quickly in studio because we were playing this tracks since many months.
Bob KATZ did the mastering in Florida(what a chance to work with this kind of master) and then this CD was released.
Despite the fact we were totally unknowned and the music was instrumental the reviews were great, the public reaction too. We sold 5000 copies of this opus, played in France, Belgium, Holland
and Brazil for a small tour after the Rio Art Rock festival. It was fantastic, a great period for the band.
And then there was years of silence. What happened ?
Simply life, like everybody... Each was very busy with our work(we are not pros musicians), work and renovation at home, family, kids... I really know waiting a long time was a great error, one or two years was a decent delay, longer is an error. We ever playing tracks of The last of the lasts in festivals and gigs during these years, before the released of the second album. It was difficult to find the motivation again, but it's very difficult to do an album, not really and excuse but simply obvious for us.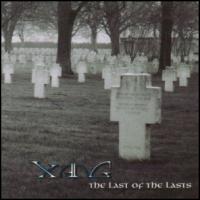 You returned again for the 2007 album The Last Of The Lasts which is also your most present album. Please tell us more about this album.
WWI. This theme was really important for me. I made my military national service in 1990 in the Verdun region. This part of our country is incredible. I was not able to believe it. Hills and craters as results of explosions, parts of metal in the forest, many places still no mans land 90 years after, ossuaries, huge fields of crosses, villages totally destroyed and missing under tons and tons of bombs.
It's very difficult to decribe what I saw. How to survive in these conditions? How to continue to fight and die for the human kind madness?
I took my camera 15 years after my military service and took pics of cemeteries in my region(french flanders and hainaut), took pics of British, French, Canadians, Russians, Germans military cemeteries...
All for the booklet with the CD.
All of this is still incredible, but more incredible is we never learnt something. The history did it again in 1939 for 6 years of nightmare.
For the music, I think we did something a little bit different, more mixes and influences. Sometimes jazz-rock, industrial, metal or neo progressive. Sometimes north african percussions, accordion, spanish guitar.
How is the availability of your two albums ?
The reviews were great again, but for the sales(vital for us to produce an another album) it was different with internet 8 years before, like the high speed donwloading for example. Our second album was available very quiclky on illegal websites and downloaded several thousand of times. An album is many costs; internet is a fantastic
tool but in the same time a threat for small bands. In one minute you can donwload an album for free. I perfectly understand it's easy and cheap, but this kind of things killed the band.
Our first album « destiny of a dream » is now out of print(still a small quantity at home). Our second one « The last of the lasts » is still available by the way of our record label GALILEO RECORDS in Switzerland.
What have you been up to since the release of that album ?
I sold my house in town and built a Finnish wooden house in a small village!
I stoped playing during two years but we decided to play again with Vincent and Matt. Vincent now is playing guitar, found a female singer. We will playing some covers but decided to make compositions very soon. We're all very excited.
Antoine is now a guitar teacher and playing in a national academy, but stoped playing for XANG.
Just to give those of us who are unknown with your music a bit of a reference point or two: How would you describe your music ?
Instrumental progressive music for the first album, maybe a mix of several influences for the second : progressive, folk, rock, folk, metal, industrial. Music for illustration of stories in the booklet of the CD.
It is my understanding Xang is on a long holiday. Do you believe Xang will ever return to do a third album ?
For now we stop XANG. We found a female singer and start playing again with Matt on bass guitar,
Vincent on guitar(and not keyboards), me on drums. We'll play some covers and stop festivals, to play in pubs and clubs. Maybe we will work on new compositions. Not really important aims
for the moment, just playing for fun. I think we'll recording something one day, but absolutly don't
know if it will be under the name of XANG. Not sure at all in fact...
To wrap up this interview, is there anything you want to add to this interview ?
Playing music, talking with people before or after the show was really great, sharing feelings and emotions. I think we learnt
many things about us during all these years, despite the fact it was at our humble level. We just want now start to play again(our last show was in Paris at LA LOCOMOTIVE in may 2008).
Just playing music and leaving the exclusive progressive « etiquette ».
Thank you to Emmanuel for this interview