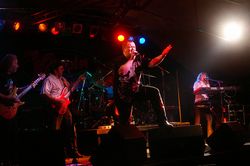 Despite being a Neo Prog band, the history of this British musicians goes back to 1971 when Tim Birrell (guitar) and Jim Murdoch (bass) members of the Scottish band ARMAGEDDON, but as they say in their site, none of them were able to play decently until a couple years later, but discouraged because of the lack of success, the band split soon.
In 1977 the two musicians decided to embrace music again, but there was a long path to go trough, after some tome the talented keyboardist and lyricist Mick Stovold joins them and is followed by Paul Clark (drums) and even before they had chosen a name, Mark Colton joins the band.
Credo has been interviewed for ProgArchives some years ago. But there has been some developments and I therefore got in touch with Mark for their story.
~~~~~~~~~~~~~~~~~~~~~~~~~~~~~~~~~~~~~

Your biography in ProgArchives is very extensive so I refer everyone to the PA profile. But the choice of name has not been explained. So, why this choice of band name ?
Well, good question, the name was not designed as being a nod to FISH, but obviously as he was a great influence, particularly on me, and probably on the sound of the band, it was just a happy coincidence.
When I first joined the band (Tim, Jim, Mick Stovoldt and Paul Clarke) the band was quite a long way from the sound that we developed for Field of Vision and then took forward when Mike Varty and Martin Meads joined.
Tim and Jim had been playing together for years and the band I joined was more about a bunch of guys just playing for fun rather than trying to get our sound across the world, we were called "Ad Hoc", I think, when I joined, and did a gig or two, certainly a recording as "Chequered Past", but as the sound became more clearly identifiable as Neo Prog and we were being compared to Marillion, Twelfth Night and IQ we wanted a new name.
As I say, it was around the time that Internal Exile was released, with CREDO on it, and although I was (obviously) aware of it, that's not where the name came from; there are a number of amazing instances of a strange set of circumstances assisting the development of CREDO and this is just one of them.
From what I remember, Tim and I were sat in the office in his house typing words into a computer thesaurus and pressing enter, and the word CREDO came up, and we just liked the sound of it, the look of it and the fact that it reflected our views as a band "To Believe...." I guess with close to 150 years worth of playing experience in the band, and all the sh*t we have survived, we wouldn't still be doing it if we didn't believe there was a value in what we do!
Just to start with; please give us your long or brief afterthoughts on......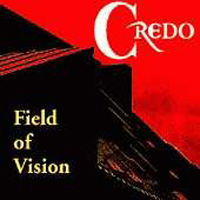 Field Of Vision from 1994
It all seems such a long time ago now, but then I guess it was! We originally recorded the album to release it on cassette (remember them!) at our gigs. Some reviews of it that have appeared since RHETORIC raised the profile of the band are VERY unfair on the album, it is VERY raw, almost neo "Punk Floyd", but its where we were at, during the week we recorded it we did three gigs, which was pretty much par for the course, and I did the vocals in three hours, all of them!!! And yes my voice is raw, but it's a great indication of where we were at at that time, remember being in a Prog band wasn't really acceptable in 1992/3/4, even less so than now, there was no internet, and we survived by playing pub gigs in the UK which was bloody tough, the band could rock with the best of them, and we played with Thrash Bands, Glam Bands, Punk Bands as well as Prog Bands, and always went down well, which I think is a testament to the band and the songs.
I think the songs on the album are very good, and have stood the test of time, as I say, they are raw, simple even, neo prog, but I am fiercely proud of the album, and people who criticise it are entitled to do so, but also need to understand the background that it was recorded against!
I have seen it going for silly amounts on ebay, but save your money! There are plans to re release a remastered version, with an amazing additional treat some time in 2011....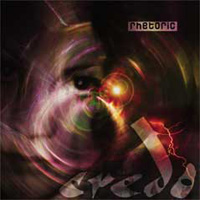 Rhetoric from 2005
I am so proud of this album, and so proud of what we achieved, especially considering the turmoil and sh*t we had to survive to get the album out. I guess it is the reason that most if not all prog fans know of the band, and the album opened all sorts of doors for us, if anyone had told me when I was laying in my hospital bed during the period of my illness I would be fronting the band doing those songs in Poland, Holland and America, I would have thought they were joking.
We really did not know what people would make of it, music, prog, production, everything had moved on so far in the eleven years between releases, and in the five years of recording the album, and we didn't know if people would like it. We knew the songs were good, we had confidence in the production and quality of the produce, but we also knew the songs were distinctly based in the so called second wave neo prog, and none of those bands existed anymore, or if they did, they sounded very different now to how they did in the 80's.
Maybe that is one of the things that people liked about the album, I don't know, but we only got one bad review, and that was a bloke I have known for years and was entirely based on a personal grudge he has against me!
Kudos to the people who picked up on the album, and backed us when to many people we were dead as a band, Dave Robinson, Will Mackie, George Roldon, Martin Hudson, and the others who all know who they are!
It was the album I had dreamed of making since I started in bands when I was 15, I only co wrote the lyrics on FoV, but here was my opportunity to have my say. My health issues made the album even more important to me, and the fact that the album continues to sell in high quantities and we still receive emails from people hearing it for the first time makes it all worth while.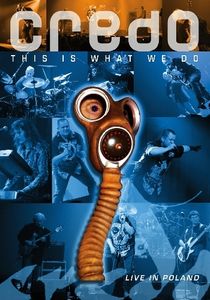 The DVD This Is What We Do from 2009
Poland was an amazing experience for us and the culmination of an amazing period for the band where we had got the opportunity to do lots of things we had never believed we would have the chance to do at our ages. The venue was amazing, and the people really looked after us, the whole show seemed to race past, it was the longest show we did on the tour and it was the last time that RHETORIC will ever be played live in its entirety. The response was great and it was a very emotional night for all of us – a great night and the DVD is a great souvenir of the show
There has been some breaks in your release schedule. What happened between the albums ?
Well mostly the delays were caused by my ill health, I had five major operations in a seven year period, and ended up spending months in hospital – There were times I doubted I would ever get onto a stage again....
Besides of yourself, who else are involved in Credo now ?
Well, I am pleased to say we have had a stable line up since 1999, Tim Birrell on guitar, Jim Murdoch on Bass and backing Vocals, me on vocals, Mike Varty on keys and backing vocals and Martin Meads on the drums. Its a great line up, and we work together well.
How would you describe your music and who would you compare yourself with ?
Well people regularly compare us to the classic British Neo Prog Bands, so a bit of Marillion, Pallas, IQ, Twelfth Night, Pendragon etc. I guess there is a bit of all of them in there. Its not intentional, we are the same age as most of those guys, and I guess we all grew up getting the same influences as those guys
You toured with Paul Young. How was that tour and how was it playing to his audience?
Blimey, you have done your home work lol – he was great, a really nice guy, and to be fair the audience were very good, respectful and seemed to enjoy what we were doing, it was a great experience!
Just to find out some more about you, please give us your opinions on........
Progressive rock
Love it, great bands, great people, great music, emotion, power, melody, excitement....
Record labels
Ours is great, but I worked in the music industry for twenty years, and the big labels have got what they had coming to them for years, they became arrogant and complacent and the great thing now is bands like us can now survive and thrive in a sector where twenty years ago we were starved of the opportunities we now have
Music festivals
Love playing them!
The British pub culture
Sadly disappearing due to punitive legislation, which means less and less venues......
Boris Johnson vs. David Cameron
Laurel & Hardy
The new football season
England are rubbish, the money has gone mad, but I still love the same club I have supported since 1968!!!!
Cricket
A game for people who aren't good enough to play football with small balls!
The British weather
Love it – changes a million times a day!
After these rather untraditional – and very nerdy- questions; what is your plans for the rest of this year and next year ?
Well, the new album Against Reason is released in April with a full supporting tour and plans to do a few tours in the next eighteen months till the new album is started.
Just a quick note to say that there's a new Credo track that can be downloaded from our website
www.credo.gb.com
if any of you are interested in what we've been up to lately. The mp3 is about 23MB, so if you prefer just to listen, it's the first track on our myspace music player
www.myspace/credogb
. It's also on the cover CD of Classic Rock Prog Issue 14 (track 4), if you want a 'hard copy'.
I hope you like it. All the best,
Thank you to Mark for this interview