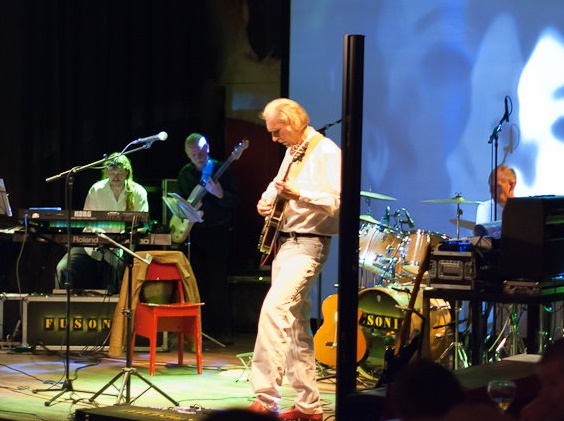 Fusonic is a symphonic band from The Netherlands based in Hilversum.

Two members Harry Ickelsheimer and Ronald Hoogwout had previously played in a SymSellah.
After leaving the band in 2008, a good friend of Harry named Teo joined them and the three of them started to make music in the attic of Teo's home.
With guest musician Sjak Franssen (family of Dick Franssen, keyboardplayer in Alquin),Fusonic was complete.
After two years of rehearsals and recording the debute CD Desert Dreams was finished and is availlable for Symphonic fans.
##################################################################
Your biography has been covered in your ProgArchives profile so let's bypass the biography details. But how was Fusonic created ?  
Early 2008 Harry and Teo met during a horse riding event and started to talk about music and play together. In the summer of 2008 Ronald joined and the band Fusonic was founded. Sjak soon joined our jams and the musical click was there, resulting in a stream of new progrock ideas, melodies and compositions.
But why did you wanted to play this type of music instead of any other form of music?
As long as we listened to music, we loved and were fascinated by the symphonic style, in the form of classic composers as well as the early bands in the late 60's as King Crimson and Pink Floyd, Genesis and Yes in the early 70's. We feel that the introduction of this music during our teenage period is so strong that you keep it with you all your life. For instance, the impact of hearing the first time "Selling England by the pound" or e.g. "Atom Heart Mother" is a unique experience and confirms this is the type of music we want to make and to be inspired by. We simple have no choice than playing symphonic rock music
What is your musical background and were you involved in any other bands before you started Fusonic?
Teo: Listened very early to classic music and started to play classical guitar aged 13. He had classical guitar lessons from conservatoire students like Erik Rosaria and conservatoire teacher like Ruud Verhelst, I took violin lessons from Jeanine Grabowski and played for 7 years in Krashna Musica, the student orchestra from the Delft University of Technology. Later I focused some years on flamenco techniques, and played in free jazz groups. I started to experiment with midi guitars in the 90's inspired by e.g. John McLaughlin. My jazz influences come from e.g. Terje Rybdal, Keith Jarrett and Bill Frisell. The most prominent inspirators of the symphonic era are with no doubt David Gilmour followed by Steve Hackett and Steve Howe.
Harry Ickelsheimer: He started with classic piano lessons when 7 years in Naarden and discovered the classical guitar when14 years old. He played keyboards in school cover bands and recently in the progrock band Symsellah from 2006-2008 where he met Ronald. His early inspirations were Focus, Jan Akkerman, Ekseption, The Doors, and Harry Saksioni.
Ronald Hoogwout: He started to play drums in cover bands in the 80's and 90's named "De Aansl*g., "Time Connection" and "De Zaak" and discovered Genesis when he was 11 years old. This was the music which he has been searching for, but also bands as Camel, Marillion and Pink Floyd left deep impressions. The way Phil Collins was playing the drums was and is his inspiration. Other hero's are Ian Mosley and Neil Peart. Later on he played in Symsellah from 2007-2008 and joined Fusonic in 2008.
Sjak Franssen: He comes from a musical family, plays keyboards, guitar and bass guitar. His earlier bands were "Cleopatra" (with Erwin Java from Cuby & the Blizzards), "Hot Shot", "Y-crack" and "No id too". He brings a long and interesting musical experience and creativity into the band.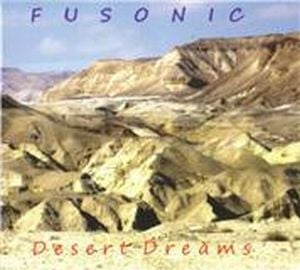 Please give us your long or brief thoughts on debut album Desert Dreams released earlier this year. How would you describe the music?
The first thought about the thematic of Desert Dreams originate from the occasion were we had to compose and play a piece for a horse riding event. Harry came with the first schemes and this piece was born and developed through adding melody lines and rhythm patterns into "Yellow Horses". In that period we had many rehearsal sessions and even more musical idea's came to life. For some reason many had to do with desert like environments, so the Desert Dreams theme was there. The music can be described as melodic atmospheric symphonic rock. We love to create many layers and melodies so that the listener can discover every time some new elements.
How is your writing and creative processes?
We do our recordings in our own studio, a very relaxed environment we can use almost all times when inspiration comes up. Source of new songs are unstructured improvisations in which we explore chords schemes, rhythm patterns and melodies, as well as new sounds. Often new sounds are the inspiration for creative ideas. We usually record these sessions with a simple recorder and afterwards select the best parts which we use later to further work them out and fix a structure.
We all have many ideas from the past we never realized and which are floating in our minds. On certain unpredictable moments they fall together as a new piece. A really surprising and amazing process! In many situations one of the members comes with a new idea and based on that we add layers, melodies and discuss the structure until its final form has arrived.
Of course we are influenced by all the music we listened to and by the great musicians we admire. We try however to create our own musical language with no intention to copy or misuse existing music.
Other ways are that we record a jam session on a digital multi-track recorder. We then keep the best parts add tracks and new sections later, or record some tracks again. This is a new process we discovered and is possible due to the modern digital technology.
From where can your album be purchased from?
What is your other plans for this and next year?
We are preparing a theater tour called the Desert Dream Tour. Based on the music of the debut CD, we envision and are working on a new concept, the combination of symphonic rock and theater were we add dancers, exotic musical instruments, video & light artists, recitals of poems and a singer in some new songs.
We are working on the next album, likely a double concept album for which many pieces are already recorded and we are working now to complete them. We also introduce some other guest musicians on some of the songs.
To wrap up this interview, is there anything you want to add to this interview?
We also introduce a new phenomena (as far as we know) called "Free Symphonic Rock", where there is during the performances freedom not only for improvisations on composed schemes but also for introduction of new melodic themes. This freedom for the players to improvise on the melodies while keeping the chords progression structure intact. This results in creating a relaxed (some say psychedelic) atmosphere.
Thank you to Fusonic for this interview