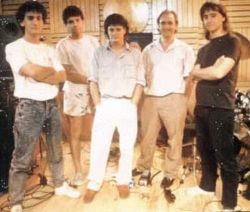 Sophisticated Neo Prog band from Spain, with vocals in English and Spanish, pretty much on the Jon Anderson style, but the music is not YES like. GALADRIEL's sound is soft and very well elaborated with dynamic changes and nice accoustic passages. Their music is more in the vein of the classic Italian progressive sound (like early PFM, for example). "Chasing the Dragonfly", the 2nd album from this Spanish band, combines ethnic flavors with a very mundane neo prog style for an overall sound that is unique.
.....so said the biography. I got in touch with band member Jesus Filardi for the full story.
#######################################################
When, where and by whom was Galadriel started ? Did any of you, past and present Galadriel members, play in any other bands before joining up in Galadriel ? Why did you choose that name ?
Galadriel didn't kick off officially until summer 1986 in Madrid (Spain).  Before that we all had small bands trying out whatever skills and perspectives we had at that time.  Young people, quite naïve and immature.  Just like anybody else I guess.  Guitarist Manolo Pancorbo and I (Jesús Filardi), along with some other school friends, came up with "The Magic of Fire" to name our first attempt at a prog.project.  This band never recorded anything but was definitely a milestone to understand what future Galadriel would be about.  I simultaneously sang in a band called Algor.  That was early '83 and '84.  I was merely stepping in for their singer tied up in his one year military service.  Some members from Algor have played in Galadriel over the years and some have even collaborated on recent recording sessions.  Anyway, back in '85 after I finished with Algor, Manolo Pancorbo and I teamed up with a keyboardist called David Aladro, drummer Oscar Pérez and bassist Pablo Molina.  They had a band called "Dantalion".  Finally, guitarist Manolo Macía came into the picture with his progressive rock craving as well and we hit the road.  As to the term Galadriel, back then Tolkien's books weren't that well known compared to today and I had grown up as a big "Lord of the Rings" fan so the name just seemed to click graciously.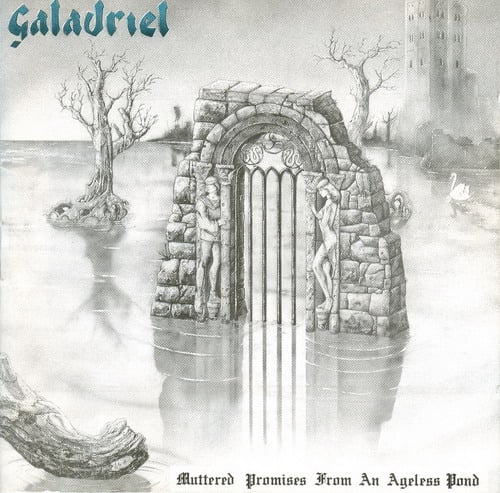 Over to your albums. Your debut album was Muttered Promises From An Ageless Pond from 1988. Please tell us more about this album.
"Muttered…" was our first real shot at making an album.  Before that we had recorded a demo tape in '86 called "Unfolded Visions of Fire and Steel".  3 songs were on it:  "Those who forge Steel", "Nunca de Noche" and "Virginal".  We also managed to slip in another one of our tracks "Summit" ('87) on to a compilation album called "Exposure", but "Muttered…" was our first big step in the studio.  Or should I say studios.  We lacked any sort of serious funding at the time so we stepped into different studios, whenever and wherever we found a decent deal.  Drummer Oscar Perez didn't make it to that stage though.  Instead, brazilian drummer/percussionist Cidon Trindade found a direct path to our hearts through a very unique approach to the world of rhythm.  We were all very attracted to somebody who could play a good set of drums but also to somebody who found things to do in the more quiet sections.  To put it short let's just say Cidon marvellously enhanced the more ambient side of our music.  However, putting a collection of songs together for the album wasn't that easy.  There were two different styles clashing together constantly:  on one side there were some of us more closer to bands like Genesis or Yes and then there were other members who were very fond of E,L & P.  I tried to pick out an equal amount of songs from both worlds so nobody got too pissed off.  Balance was in my mind while trying to sort out the differences.  Like most bands starting out on their first album, this music is probably for the more die hard fans.  It was way too influenced by bands from the 70's.  There was a long way to go; to carve out a personal sound is no easy task.  Half way through the recording of the album we lost Pablo Molina.  We carried on without him.  There was no stopping us.  We had a huge amount of determination.  We even played live several times Manolo Macia dishing out bass and guitar on a double-neck contraption we bought for this purpose.  But in 1988 Manolo Macia also abandoned ship and we found new replacements like Barcelona based Alfredo G.Demestres (keyboards/gtr.) and bassist Marcos Do Santos, yet another brazilian musician.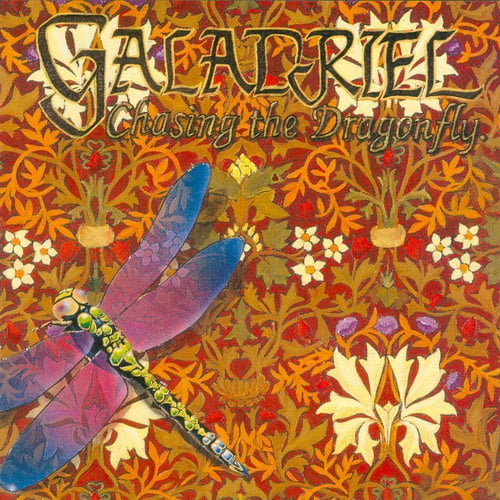 Your second album was Chasing the Dragonfly from 1992. Please tell us more about this album.
"Chasing the Dragonfly" was about taking musical risks.  Classic prog.rock consumers were caught a bit off-guard with this album I might say.  They were expecting more of what we had             released on "Muttered…".  But we were extremely proud as to where we were heading; a more personal direction, offering our own musical blend.  We mixed ingredients in a different way.   Probably lost some fans on the way but the results were more promising, in my opinion that is.  Getting things into perspective I guess I should start off mentioning the loss of keyboardist David    Aladro.  He left us in 1990.  From the very beginning we knew it was going to be a hell of a challenge for us in the composing department but we were determined to stretch out and make ends             meet.  We got better results out of our rehearsals, more discipline as to arrangements.  We dived into computers and MIDI and marvelled at how technology was growing more than ever.  A pre-     production process began with keyboardist Javier Quero.  This step was essential at structuring the whole plan.  Alfredo G.Demestres would occasionally come over from Barcelona and inspire us     all.  After a first frustrating two day experience recording we decided to try a better studio.  We took on Red Led, a state of the art studio in Madrid fully equipped for such a crazy and demanding        project.  By then drummer Cidon Tridade had brought in a fantastic piano and keyboard player by name of Santi Pérez who helped us finish off some tracks and co-produce the album with us.              Production was something we hadn't paid much attention to in the past.  With this recording we started working on other levels we didn't even have a clue to.  But this was also going to be a       collaboration album with many other invited guests, too long a list to remember off by heart at this moment I'm afraid.  Each and every one of them enriched our songs tremendously beyond our         wildest expectations.  We were damned satisfied at that time but hey,…it was only our second album.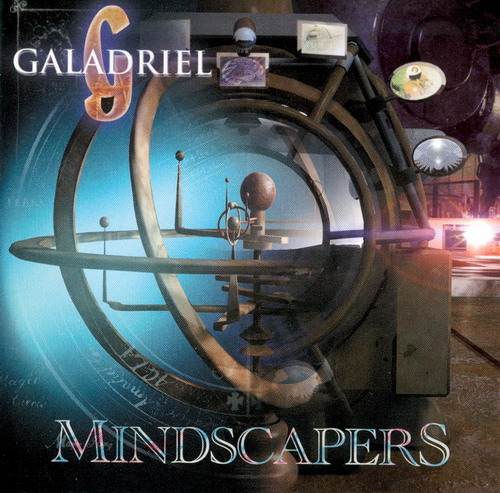 Your third album was Mindscapers from 1997. Please tell us more about this album.
By the end of October '93 a major crisis hit us.  Band dedication was clearly interfering too much with our private lives.  Everybody had one reason or another to stop.  Down to one band member, I began writing new music and searching for new people.  From that period I remember a lot of people coming and going.  I interviewed a great deal of musicians telling them about this unique opportunity to take on a real challenge, but it was extremely hard to get anybody interested.  Finally, things started to brighten up with bassist Jose Bautista.  He has definitely played a key role in Galadriel's history.  Jose and I started working on the ideas I had been developing on my own.  We got along very well.  Each session with him was so stimulating.  He's also a computer wizard and boy can that come in handy nowadays.  A young, new guitarist by the name of Nacho Serrano joined us eventually.  He proved to be one serious, committed partner in crime.  Then came Alejandro Román on keyboards, drummer Renato Di Prinzio and Tommy Caggiani on percussion.  This line-up was responsible for the1994-1997 period.  We gigged, performing "Mindscapers" live and eventually made it to the studio.  We visited "Red Led" once again.  I went through several deja-vu's mixing different moments and episodes with past and present band members.  It was a weird trip, full of up's and downs as usual but in the outcome a hell of an experience.  After recording this third album I had the feeling I was no longer in the back of the car wondering where we were heading.  I had jumped into the front seat.  I deliberately steered the band into a more contemporary territory, trying to avoid as many prog. clichés as possible.  I'm sure there are still traces of our influences but as somebody put it to me once, we had come a long way… 
And then there was a ten years long break. What happened and what were you up to during those years ?
Lots of things happened.  On one hand some band members got restless with how decisions were taken regarding compositional activity.  Others insisted on not releasing "Mindscapers" with Musea and others simply had to make too big an effort to rehearse.  Tommy Caggiani for instance was living in Rome at that time and although very happy with being a permanent band member it was stressing us all out a bit.  In order to understand how things ended up we have to go back to the first months of my relationship with Jose.  At some point during 1995 Jose bought himself a synthesiser and started writing his own music while we were structuring "Mindscapers".  He threw a cassette tape at me several months later asking me to consider the possibility of using some of his material for "Mindscapers".  I must say I was very impressed.  The music had a strong personality to it.  I felt it as a whole, and as a piece of its own I suggested we could use it for our fourth CD in a near future.  Most of the other band members didn't like Jose's ideas that much.  I think they just didn't listen to them properly.  Anyway, that was the last straw for most of them as Jose and I continued as a team.  Proper replacements were never to be found.  We lost a lot of time calling new people.  On the other hand my private life was taking on new twists and turns.  My pregnant wife and I bought a new house where I was planning on building our own studio.  This way I wouldn't have to spend so much time away from home while rehearsing and we could really cut down our recording expenses.  A few months before moving in, our first baby girl Sara was born with a severe brain malformation.  The impact it had on us was devastating.  It was almost impossible to write any music at all during the 2 years she lived with us.  This is actually the first time I've been able to write down this chapter of my life.  Before passing away in dec.2001 our second baby girl Veronica was born.  Ronnie luckily came to this world like any other healthy baby.  Construction on the studio took place during 2002.  It took us a whole year to finally get things into full speed.  Simultaneously we tried to make a comeback live (2003-2004) with some new band members and a promising manager but things didn't come out as we expected.  More precious time down the drain…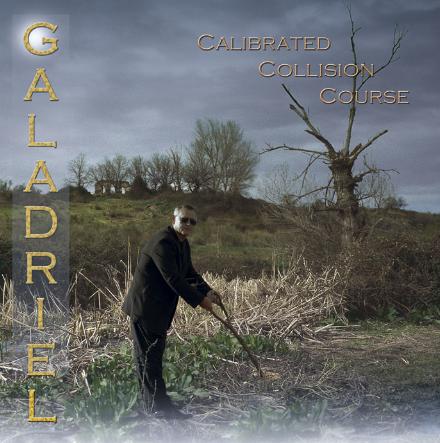 Your fourth and newest album was Calibrated Collision Course from 2008. Please tell us more about this album.
CCC was about taking even more musical risks than ever.  When I listened to the basic demo versions Jose had handed to me in '95, I remember thinking how much of it did not relate to classic prog. at all.  I even thought it was too risky.  But then I realised what prog. is really all about.  It's about going forward and leaving the obvious behind, right?  No matter what or who, right?  Oh, by the way, this is how I came up with the title for the CD.  So we went down that path and came up with a very personal piece of music.  After structuring the songs on the computer Jose and I looked into who would actually record this for us.  We had a drummer from our last period called Javier Iñigo who was willing to record his bit.  As to the guitars, I was dying to ask french musician and friend Jean Pascal Boffo to lend a helping hand.  I've been a big fan of his work from his very first recordings on the Musea label.  We had even made an attempt to have him produce our second CD but it never happened. This time however, things clicked.  Nacho Serrano offered himself up to record a couple of tracks, so the guitars would be sort of 60% for Mr.Boffo and 40% Nacho.  But a guy called Javier de las Heras unexpectedly stumbled across our path and did Nacho's parts.  Javier was supposed to play with us on a small tour we were planning so it was just natural he played on some songs.  Still another guitarist was called in to fill in some last minute takes:  Chema Arribas from my Algor period.  We also dragged in once again Cuban-American keyboardist Santi Pérez who had already played on "Chasing…", as well as a guy called Miguel Afonso from the Canary Islands who played accordion.  And last but not least, Mr.Andy Sears who surprisingly lived only 30kms.away from my place also fell into the Galadriel net.  For years I had been wishing to properly tackle some decent backing vocals.  Andy put the star on the Christmas tree.  We were prouder than ever at how things had finally turned out after such a long time working our way around this CD.  This time we took yet another step forward in terms of production: Simon Heyworth mastered our songs at his studio in the south of England.  Jose and I spent a friendly and very professional week-end with him learning a bit more of what sound is all about.  An unforgettable experience.
How is the creative processes in your band from coming up with an idea to it's being recorded ?
In the old days, we all used to jam a lot more together.  Nowadays it's either Jose or I who bring in a track and we work around it directly in the studio.  Shaping definitely takes its time though.  You may even come up with several different approaches to one song.  This happened for instance on CCC's "Leap of Faith".  We had three different versions to choose from.  Then you need some more time to see if it still stands up after you've wrestled with it.  To me it's something special.  It's like a therapy to life itself.  Playing with the chords and the melodies is like disconnecting yourself from everything else.  Time literally flies when I sit down at the piano and fool around with a synthesizer.  The possibilities of where a song can go are endless.  Sorting everything out can de-stress and take you to another dimension.  It even makes me forget about my mortgage payments man (!).  Having our own studio makes things easier to visualize.  Now we record at the same time we compose and arrange.  Modern technology has really made a huge difference compared to years back when it was so expensive to get into a studio.  Composing is one of my favourite moments, very intimate.  Some times I miss having several composers in a band like when we first started out.  It was very enjoyable but also extremely hard to make definite decisions.  Having less composers in the band today makes it easier to handle.
For those of us unknown with your music; how would you describe you music and which bands would you compare yourself with ?
I'd say Galadriel's music is hard to pigeon-hole in.  I like to think that our first musical references are thinning out as time goes by.  We were influenced by early Genesis and Yes patterns but we have clearly evolved from that stage.  This is the main issue in any band's career.  If you make the same music over and over again, you'll eventually tire people out.  I think we've taken and still are taking enough musical risks to make our own personal brew.  Each new CD gets better in terms of maturity on all levels.  I wonder what the future holds for us.  I just can't wait to find out!
What is the latest update and your plans for this year and beyond ?
We're taking a small rest after releasing and promoting our last CD "Calibrated Collision Course".  A lot of work went into the last stages of the recording, mixing and mastering.  Then we went on a small mini-tour that demanded an enormous amount of energy and money from us.  By the end of that we were totally exhausted, wasted.  However, music is inside us and we can never really stop completely.  I'm writing some new music for a future Galadriel release and I'm also working on a side project with one of our first Galadriel guitarists: Manoel Macia.  We're planning on releasing a CD together.  We've kept in touch throughout the years ever since he left the band in '88.  Our relationship has always been a strong one and I suppose it was just a matter of time until we got back together again.  We have a personal musical vibe that bonds us in a special way.  I'm having a great time with the first new tracks that are hatching already.  
To wrap up this interview, is there anything you want to add to this interview ?
Sure!  For those of you who do not know what the Galadriel dream is all about, head for our
homepage
 and check out what this band can offer to your progressive musical craving. 
Thank you to Jesus Filardi for this interview