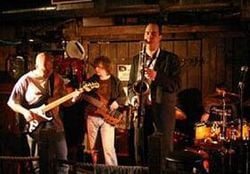 Watertouch is a Swedish band based in Borlänge; arguably best known as the home town of Swedish act Anekdoten.

Eiron Johansson (drums, percussion), Peter Holmstedt (bass), Per Wiberg (organ, piano) and Patrick Salin (guitars, vocals) make up Watertouch, who issued their first and only album in early 2005.

I got in touch with the band and Patrick " Salle " Salin answered my questions.
################################################################
When & where and by whom was Watertouch started ?
Watertouch started around 1991-1992 by me , Patrick " Salle " Salin. I was starting to write songs in all different genres ( mostly instrumental stuff in progrock-folkmusic-light jazz style and so on... ) and i wanted a venue where a could play the tunes as opposed to the other band i was in that time, Junction , who played more classic rock style with vocals. In the beginning Watertouch was just a three-piece and it was a playground for my musical ideas.  
Did any of you , past and present members , play in any other bands before joining up in Watertouch.
Ohh...There´s so many and i don´t recall half of them. But here is a few though. I myself played in Junction for a couple of years , with Jan-Erik Liljeström from Anekdoten amongst others. We recorded a couple of demos , released a 7-inch and contributed with two tracks on a compilation cd  ( eleven on a one to ten ) with bands from our hometown , Borlänge. Anekdoten is also on the cd as Per Wibergs current band at that time , Boomclub. Per Wiberg also released two albums with his own band , Death Organ. Peter Holmstedt , the bass player was a session guy and released a cd with the funk-soul-outfit : Downtown Express. Eiron Johanssson / drummer / played with lots of guys, The famous gunslinger Tomas.Larsson from Glenn Hughes fame to mention one. You can enjoy Eiron on the T.Larsson album " Freeride ". Our current keyboard player , Klas Hägglund , played bass with our producers band " Stonecake - Swedish Grammy winners. Klas was on  Stonecakes first two albums. And Klas also plays a lot with swedish blues hero " Klas Yngström from Sky High. Talk about unfamous namedropping..laughs !
Why did you choose that bandname ?
Well we in the band have what you might call a pubertal liking / he..he.... / to the more norty & corny zappa-lyrics as you can find in the Zappa-title " I promise not to come in your mouth ". Our bandname concerns what might hit the toilet-water in the loo...And i also recall that that the frase watertouch has some kind of meaning in religious matters. I don´t recall if it´s buddism , hinduism or something else. But in the end , without water no life would occured on this planet. And music is life for me.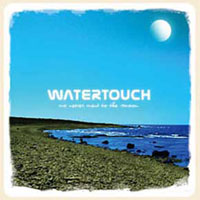 Your only album, to this date, We Never Went To The Moon, was released in 2005. Could you tell us a little bit more about the album.
Well the album was actually recorded already in 96-97. But we ended upp with legal hasels with the record company we had , they didn´t keep their end of the bargain. So after a long time , we ended up in court and finally got the rights to the mastertape. After that i decided to start my own label , Watertouch productions. We were not happy with the mastering of the album , so the album were remastered by me and the producer at Fredrik. Aspelin studios before it´s release.
Well the album consists of seven tracks , five instrumentals and two with vocals. The producer sings  on the title track and plays sitar on the opening track , Maybe i´m a muslim. He´s a real contender for the cover of next Sitar Player magazine..laughs. And we also had the fortune to work with  Tomas Alm on saxophone. He wrote the horn arrangement on the Miles Davis influenced tune : Just before cleavge hill. Well all in all it´s a mixture between Focus , Deep Purple , Zappa with Swedish , Irish , Oriental folkmusic / worldmusic in between.
How was the distribution and marketing of the album ? Is it still avalible ?
Well...after having gone to court , starting my own label , taking a bankloan and so forth...The energy to promote and find distributors were absolutely lacking ! I was just pleased to FINALLY have i copy of my own. I did my reserach though regarding the promo cd:s i sent out to the press. It´s a versatile album that consists of many genres and you have to be able to appreciate good music in genres such as 70:s Hard rock , Instrumental guitar stuff , jazz , world music , funk. Many purists in prog/symf tend to be a litte narrow minded , they just listen old school Yes and Genesis or the neo-symf bands. And when a saxophone solo breaks or if i´s bossanova they scream right out ! I just tried to find journalists who like the same music as me and were open-minded. And it paid off ! All  of the reviews were favourable ( except the one on the progarchives.site - but he did not get the copy from me ) , we got terrific response from John " Bo Bo " Bollenberg from Progressive.world.net and the DPRP-Pages to name a few. Yes the album is still avalible , but only from my website at the moment /
www.watertouch.net
/ . Some day maybe i  will get a round to get a proper distribution channel. I´m a rather good musician , but a lousy salesman..laughs.
What have you been up to since 2005 ? and what is latest update ?
Good question...Well i´m a jack of many trades , not to everyones liking maybe ? We recorded a full-lenght with a band called " In flight entertainment " that was never released. But that was that before 2005 ? , well anyway... It´s a little bit more " commercial " in the rock-pop-funk-jazz mode with vocals. It`s me and the producer  / Tommy Liljegren from Stonecakes / baby. We were working with a lovely female vocalist at the time . Åse Hegle. But after 2005...well i did a couple of Thin Lizzy Tribute-gigs under the name : Fred´s Perfect with my dear friend , and long standing musical companion , Jan-Erik Liljeström from Anekdoten. He´s does such a great tribute to the late Phil Lynott , both on bass & vocals. So i just could not say no. And  also had the pleasure to work with guitarist Peter Åkerberg , an acomplished player , He`s now in a band called Reform. I  have written a original track , in the Lzzy vein , based on the same chords and scales. We have to finish it someday.  But to go back to your qustion regarding the Watertouch-camp. Since 2005 i´ve been setting up my own little studio at home. Recording with me , myself and I ( laughs ) on bass & keyboards & drum-programming, besides the guitar of course. And now and then guest apperances are made by dear musical friends. Right now i have maybe five or six songs that have undergone the Watertouch-treatement. These are gonna form the basis of a follow up to " We never went to the moon ". The latest update is the title track from the album on You tube. Just search for Watertouchify...And amongst other things a demo of a new song called " Owed to B " . A tribute to the late and great Tommy Bolin. And you can also check out our contribution to the Gillan´s Inn competetion that took place a couple of years ago. The task was to record a version of " smoke on the water ". We did it in  Zappa-Lounge-Bossa-Nova style / of course..ha..ha../. Sadly they changed the rules midthrough , so we were unable to competete. Anyway the overall Watertouch-demos i recorded so far sounds better than i expected , i must say. More versatile, more symphonic , more hard-rocking , jazzier , more dynamic, proggier , better arrangements etc. But that´s not so strange since our debut was recorded so many years ago. It would be a shame if i hadn´t learn a couple of tricks on the way since then..laughs.
For those of us unknown with your music , how would you describe it and which bands would you compare yourself with ? 
The foundation it´s based on  Classic Rock bands like Purple , Zeppelin , JethroTull , Floyd . The vintage loose , jammy attitude , with a good melody & interesting harmonies ,  and a decent organ solo when necessary. In my opinion almost always..laughs. I´m a sucker for vintage keyboards , organ , fender rhodes , mini-moog , clavinet. I ended up playing the wrong instrument , the curse of my life..ha.ha.. Well in short as it says on our homepage : If you imagine the scenario that Ritchie Blackmore was raised in the swedish woods , listening to Focus & Frank Zappa albums...you get a little hint of what the music sounds like.
And don´t take my word for it...Joris Donkel ( DPRP ) : Often the promotional lines are just commercial sales talk and lack considerable touch with reality , but in this case there´s something to it !
To wrap up this interview...is there anything you want to add ?
Well first of all Torodd , thanks for showing interest & and your questions. Well it´s hard to describe music. For those about to prog..pour up a large Gin & Tonic , get mellow and visit our websites. 
www.watertouch.net
and
www.myspace.com/watertouch
. Cheers ! 
Thank you to Patrick " Salle " Salin for this interview